Part six of this eight-part series as we breakdown each division in the NFL giving you one player on each team to target and one to avoid this upcoming fantasy season.
This version features the AFC South, but in the event you're interested in checking out the first five divisions we've covered, be sure to check out the links provided in the next paragraph.
AFC East
NFC East
AFC North
NFC North
NFC South
As always, let us know your picks for players to target/avoid in either the comments section below or on Twitter!
Enter code LOADED when you register to earn $5 towards an auction item!
Indianapolis Colts
Target: Devin Funchess, WR, Current ADP – 12.05, WR54
There are plenty of Colts' players I'm targeting this fantasy season, but when you consider how low his current ADP is, I'm definitely targeting Funchess as one of my team's backup wide receivers. Funchess has been fantasy relevant in the past, and now he's getting the chance to play with the best quarterback he's played with in his NFL career, and is not going to be seen as the threat at WR opposing team's defenses are going to focus on taking away. You'll likely keep him as a bench stash the first few weeks of the season, but don't be surprised if you're tempted more often than not to insert Funchess into your starting lineup as a fantasy owner.
Avoid: Eric Ebron, TE, Current ADP – 6.11, TE7
One thing I didn't say about Funchess in the paragraph before is that I think he'll be a nice redzone threat for Andrew Luck. The combination of Funchess and the return of Jack Doyle makes be believe Ebron isn't going to repeat his breakout season from 2018, leaving fantasy owners that selected an average tight end at the end of the sixth/early seventh round very disappointed. You're better off waiting another two/three rounds, scooping up some depth at running back and wide receiver, and selecting a tight end like Doyle or David Njoku who I predict will finish similar in total fantasy points this season as Ebron.
Houston Texans
Target: Keke Coutee, WR, Current ADP – 9.09, WR42
Your obvious answer here is DeAndre Hopkins, but when you factor in their current ADP's, Coutee is definitely a wide receiver on my target list this season. His ADP has been rising throughout the offseason, but if you're able to land him in the ninth round, you're getting a guy Deshaun Watson already has loads of faith in; proving it in the most important game of the season last year targeting Coutee 15 times in the Wild Card matchup against the Colts. A healthy Will Fuller is likely the team's primary WR outside the numbers after Hopkins, but keep in mind the word healthy. Coutee will give you great depth at the wide receiver position and provide a nice fill in during your top WR's bye weeks/in the event of injury.
Avoid: Deshaun Watson, QB, Current ADP – 5.09, QB4
It feel like we debate Watson and his fantasy value on the podcast quite often, and while I like him as a quarterback and think he'll provide fantasy owners week-winning performances, he's just not consistent enough for me to spend a fifth-round pick on. When you consider the fact that you can select multiple QB's that'll likely put up more consistent week-to-week numbers than Watson a few rounds later, it makes passing up on a solid RB/WR in the fifth round feel way too costly. Watson was definitely drafted too high last season, and it looks like we may be going down the same road again in 2019. Remember, you can't just look at where players finish the season in rankings. Fantasy football is (most often anyways) a week-to-week game and more often than not you need your quarterback to be your weekly constant.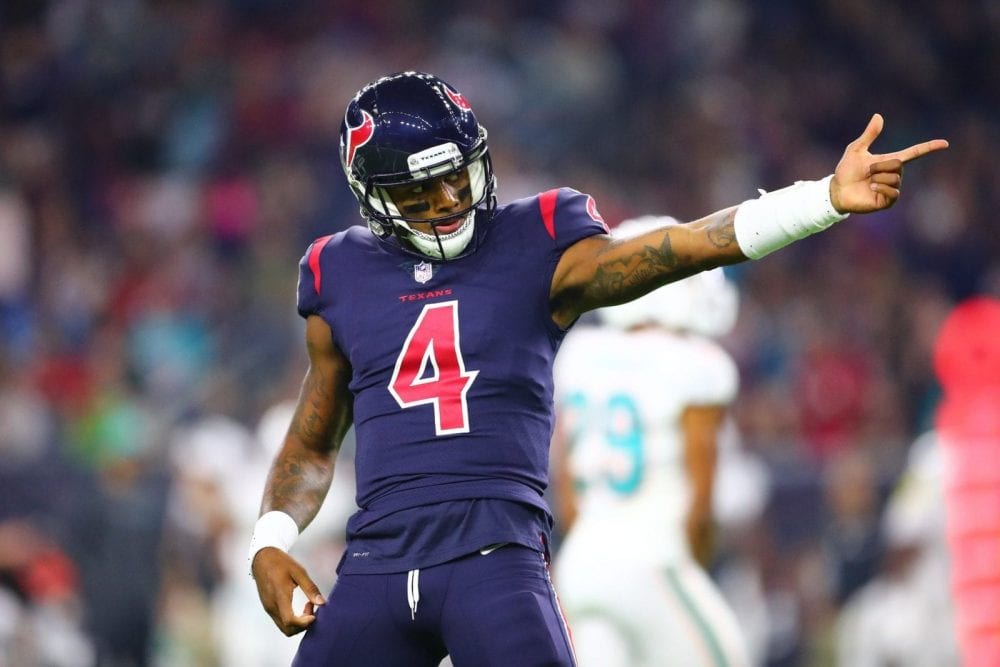 Jacksonville Jaguars
Target: Leonard Fournette, RB, Current ADP – 3.02, RB15
I actually shocked myself a little bit with this selection considering the fact that I was one of the many that used a first-round pick on Fournette last year and paid the price. However, I'm going to put the injuries behind in my analysis and not let being burned last year cause me to miss out on a player that has great top-10 running back potential. Despite the offseason addition of Nick Foles, the Jaguars still project to be a run-first team (well, relatively speaking compared to the rest of the teams in the NFL) and Fournette is one of the few RB's that isn't expected to have to share a large percentage of touches/snaps. Going early in the third round, it isn't unrealistic that the core of your team could be Saquon Barkley, Mike Evans and Fournette – and I'm totally fine with that.
Avoid: N/A
I promise that this is not a cop-out response. Go ahead and look at player's current ADP's. There are currently just four Jaguars' players that even warrant an average draft position, and I can't possibly disagree with any of them. We already covered Fournette, I can't hate on taking DeDe Westbook in the 10th round, and no one would blame you for taking Fournette's backup, Ryquell Armstead, in the 14th round. And while the Jaguars' defense is going a little early in the 11th round, I believe they are set for a nice bounce-back season after disappointing fantasy owners as last year's preseason consensus No. 1 D/ST.
Tennessee Titans
Target: Corey Davis, WR, Current ADP – 9.05, WR40
We talked about this on a recent podcast, but the hype surrounding Davis as a former first-round selection of the Titans has really made him a polarizing player when it comes to fantasy football. He's rarely warranted a roster spot let alone a spot in your starting lineup since joining the league, and he's always had a fairly expensive price tag. But here we are in Davis' third NFL season and we've finally seen his ADP slot into a more reasonable location. Is Davis a wide receiver that you're going to want to use every week? With the likes of Marcus Mariota and Ryan Tannehill (because we all know Mariota is already questionable for Week 2) at quarterback, the answer is no; but we often see the game slow down for WR's in year three and we know Davis has the talent to one day be a very fantasy-relevant wide receiver. I'm willing to take a chance on him in the ninth or tenth round as a guy I can plug in on one of my main WR's bye weeks.
Avoid: Derrick Henry, RB, Current ADP – 3.08, RB19
This selection stings since I've gone to bat for Henry his entire NFL career, but a third-round selection for a player that accumulated 55 percent of his rushing yards in the last four weeks of the NFL season doesn't add up to me. To be fair, yes, he did actually post great numbers Weeks 14-17 and we can't take that away from him, but imagine what his average draft position would have been without this very small sample size. From Weeks 1-13, Henry totaled just 474 yards on 128 carries, that's just 3.7 yards per carry. Additionally, seven of his 12 touchdowns came over the last four weeks of the season. I'd also be willing to bet that the majority of fantasy owners left Henry on the bench in his Week 14 explosion against the Jaguars when he rushed for 238 yards and four TD's. So while I like Henry and think he'll be fine in fantasy football this season, I can't risk a third rounder on him.
Be sure to check out the latest episode of the Loaded Box Podcast as the guys discuss their top fantasy football positional rankings discrepancies heading into the 2019 season!
Check out our 2019 fantasy football position-by-position rankings
QB Rankings
RB Rankings
WR Rankings
TE Rankings
Ben Morgan is a co-host and blogger for the Loaded Box Podcast. Check out his article archive and find more from the Loaded Box on Twitter & Facebook