Part two of this eight-part series features the NFC East as I give you one player from each team you should be targeting this upcoming fantasy season, and one player you should try to avoid.
If you missed part one, take a look as we broke down those in the AFC East; but take a look below and let us know your thoughts in the comments section below or on Twitter!
Enter code LOADED when you register to earn $5 towards an auction item!
Dallas Cowboys
Target: Dak Prescott, QB, Current ADP – 12.07, QB20
Is there a quarterback that gets disrespected more in fantasy football than Prescott? He finished as a QB1 the last three season (QB10 in '18, QB9 in '17, QB6 in '16) and is still being viewed as a lower-end QB2. Even if you don't have faith in Prescott being your every-week starter, go ahead and grab an early QB and come back with Prescott in the 12th round to secure a healthy backup for your bye week/in case of injury. This selection is an easy one for me; load up on RB's and WR's early in your draft and grab a proven QB1 in the 12th.
Avoid: Jason Witten, TE, Current ADP – N/A
As you can see, Witten isn't even slated to be drafted in fantasy football this year, so don't be the guy who sees a familiar name and pulls the trigger on Witten late in your draft. I'm all about waiting as long as possible to select a tight end that you have a good feeling on, but Witten does not make this list. It's honestly hard to find a Cowboys' player this fantasy season that I'm not on board with selecting at his current ADP, so Witten is taking this spot by default.
Philadelphia Eagles
Target: Alshon Jeffery, WR, Current ADP – 6.10, WR29
The Eagles took a step back offensively last season, and he only played in 13 games, but Jeffery still managed to finish as WR26 last season. With Carson Wentz and the Eagles' offensive line (hopefully) returning back to a healthy status, look for Jeffery to build on the chemistry he formed with Wentz back in 2017 when he finished as WR22, posting nearly 800 yards and nine touchdowns. Selecting Jeffery at the end of the sixth round means he's likely your second or third wide receiver, so you'll have the luxury of inserting him into your starting lineup at WR or Flex based on matchups/hot streaks throughout the season.
Avoid: Miles Sanders, RB, Current ADP – 7.06, RB33
This selection may be a little biased since I wasn't very high on Sanders coming out of college, but I'd feel more comfortable drafting the likes of Jordan Howard, Royce Freeman, Darrell Henderson, and Jerick McKinnon who all have lower ADP's than Sanders. Sanders will likely pop off with a nice game a few times throughout the season, but good luck predicting when due in large part to a backfield that may take a running back by committee approach with Howard, Sanders, Corey Clement, Josh Adams and Wendell Smallwood.
Washington Redskins
Target: Derrius Guice, RB, Current ADP – 5.08, RB28
I'd typically avoid players coming back from a serious injury that forced them to miss the entire previous season, but Guice is likely the only Redskins' player on my fantasy radar in '19. Selecting Guice in the fifth round likely means you'll be using him most weeks in your starting lineup, which may not be the worst thing in the world when you consider the fact that they used a second-round pick on him in the 2018 NFL Draft so they were likely counting on him to be a workhorse RB sooner rather than later. It's unlikely that I'll be rostering any Redskins on my fantasy squads this season, but if I do, it'll be Guice.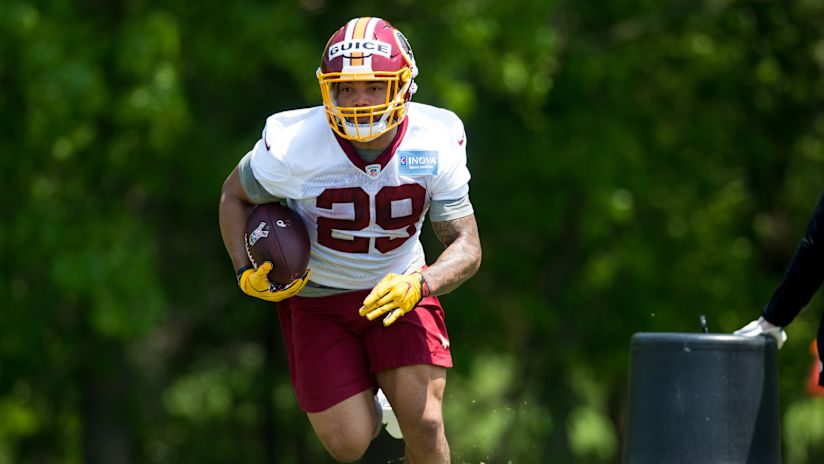 Avoid: Adrian Peterson, RB, Current ADP – 9.10, RB43
Much like I'm avoiding most Redskins this fantasy season, AP is definitely a member of this list. He recently claimed he'd like to run for 2,000 yards this season, and I'd like to officially claim that I'd like to go out with Rachel Bush. Guess what, AP, it ain't gonna happen. Peterson did top 1,000 rushing yards and totaled eight touchdowns last season, but expect a significant decrease in touches this year with a healthy Guice and Chris Thompson – along with the selection of Bryce Love in the fourth round of April's draft. He's had a hall-of-fame-worthy career, but Peterson's time of being fantasy relevant is about up.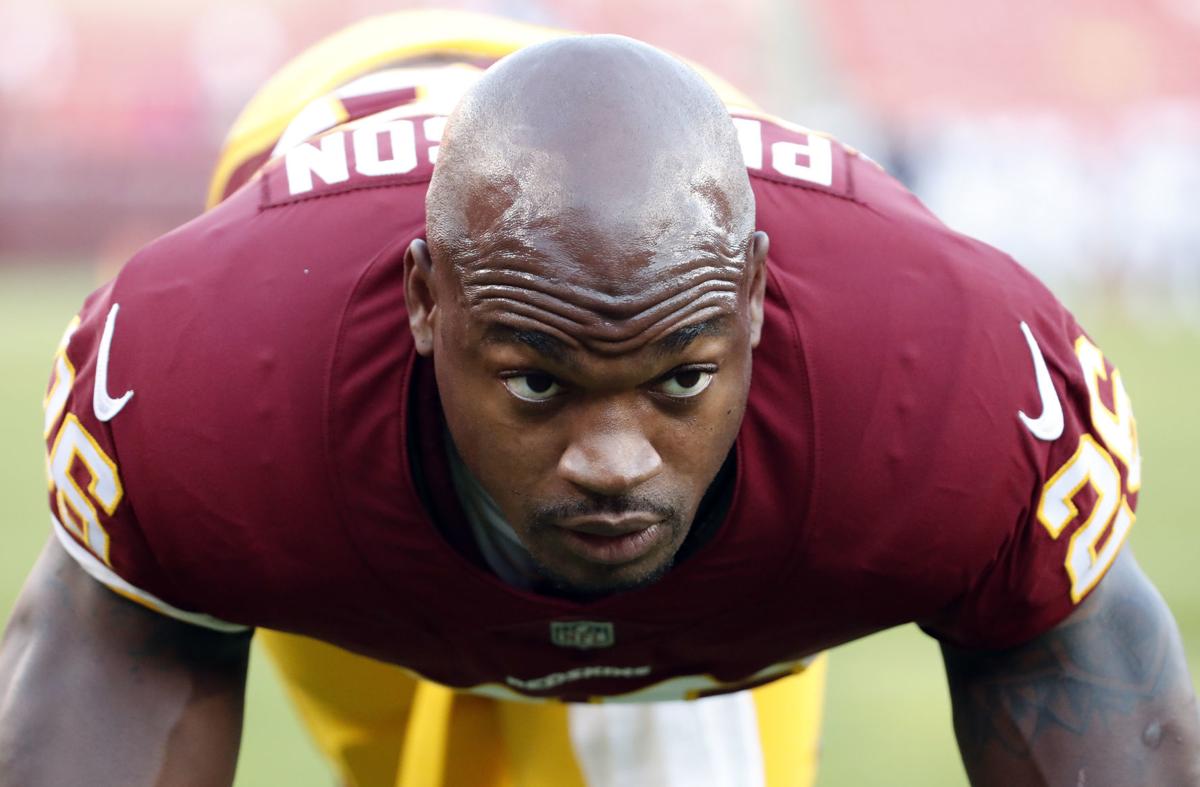 New York Giants
Target: Saquon Barkley, RB, Current ADP – 1.01, RB1
This selection is obvious for a couple of different reasons. First, if you have the first-overall selection in your fantasy draft, don't overthink it – go ahead and queue up Barkley. He's going to continue to be the team's workhorse and most consistent player on a week-to-week basis due to his ability as a natural runner combined with the fact he can get it done as a pass catcher out of the backfield. Second, what other Giants' player are you honestly considering in fantasy football this season? I can understand grabbing Evan Engram, but as a fantasy player that prefers to sit back and wait to select a tight end, he's likely out of my price range. I'm not breaking any news here, you won't face any criticism taking Barkley No. 1 overall. In fact, you'll likely be laughed out of your draft room if you don't.
Avoid: Golden Tate, WR, Current ADP – 10.02, WR44
I feel like I was pretty clear about how I feel about Giants' players in fantasy this season outside of Barkley and Engram in my writeup above. But for context regarding Tate specifically, look no further than the signing of Tate in general. The team already had its slot receiver in Sterling Shepard when they signed Tate this offseason, so now you have two WR's whose strength is playing from the slot to go along with a handful of misfits competing for snaps on the outside. Outside of Barkley, I envision New York's offense struggling in 2019 regardless of who's playing quarterback. Avoid the newcomer Tate and side with Shepard in the event you find yourself in the position of drafting a Giants' wide receiver (or just take your chance with the WR just below Tate on your cheat sheet).
Be sure to check out the latest episode of the Loaded Box Podcast as the guys are joined by Kristopher Hopper of the Beer Fueled Fantasy Football Podcast to discuss second-year QB's & WR's!
Check out our 2019 fantasy football position-by-position rankings
QB Rankings
RB Rankings
WR Rankings
TE Rankings
Ben Morgan is a co-host and blogger for the Loaded Box Podcast. Check out his article archive and find more from the Loaded Box on Twitter & Facebook