The NFC South possesses several players that are sure to be key components to championship-caliber fantasy football teams this upcoming season, so this was definitely the most challenging division to select a single player from each team that you should target/avoid.
But the Loaded Box Podcast doesn't pay me top dollar to make excuses, so here I am, providing you part four of this eight-part series that'll (hopefully) help guide you to fantasy football glory this upcoming season.
In case you missed the three previous articles, get caught up by clicking the links in the next paragraph. And as always, let us know your thoughts in the comments section below or on Twitter!
Enter code LOADED when you register to earn $5 towards an auction item!
New Orleans Saints
Target: Drew Brees, QB, Current ADP – 7.08, QB7
After a 2017 season that saw Brees finish as QB11, the Saints' signal caller proved the doubters that believed his best was behind him wrong last season with a QB8 finish. Brees should once again live up to his ADP and provide consistent week-to-week scores as he continues to turn Michael Thomas into a star while also successfully utilizing Alvin Kamara out of the backfield as a pass catcher. The seventh round is typically about as early as I'll select a QB, and depending on the makeup of my team after six rounds, I wouldn't hesitate to make Brees my team's starting QB in round seven.
Avoid: Jared Cook, TE, Current ADP – 7.04, TE8
Cook leads off my run of avoidance of NFC South tight ends. Despite a TE5 finish last season in Oakland, I think he'll fall short of the 900 receiving yards and six touchdowns he posted with the Raiders in '18 and fall back to the TE8-12 range, making him a huge reach in the seventh round. He'll definitely be given the opportunity for the majority of targets at the tight end position in New Orleans, but I think you'll be able to fetch a different tight end that'll post comparable numbers a few rounds later, allowing you the opportunity to add depth at running back and wide receiver.
Carolina Panthers
Target: Christian McCaffrey, RB, Current ADP – 1.04, RB4
I'm now on record a couple of different times saying that I'm not opposed to taking McCaffrey No. 1 overall in fantasy drafts this upcoming season. He's consistent, durable, the team's top playmaker, and is the prototypical running back teams are looking to utilize as the game evolves to more of a passing league. I wouldn't blame you for taking Saquon Barkley, Alvin Kamara or Zeke Elliott ahead of CMC, but the Panthers' do-it-all running back is definitely on my short list of players that deserves 1.01 consideration.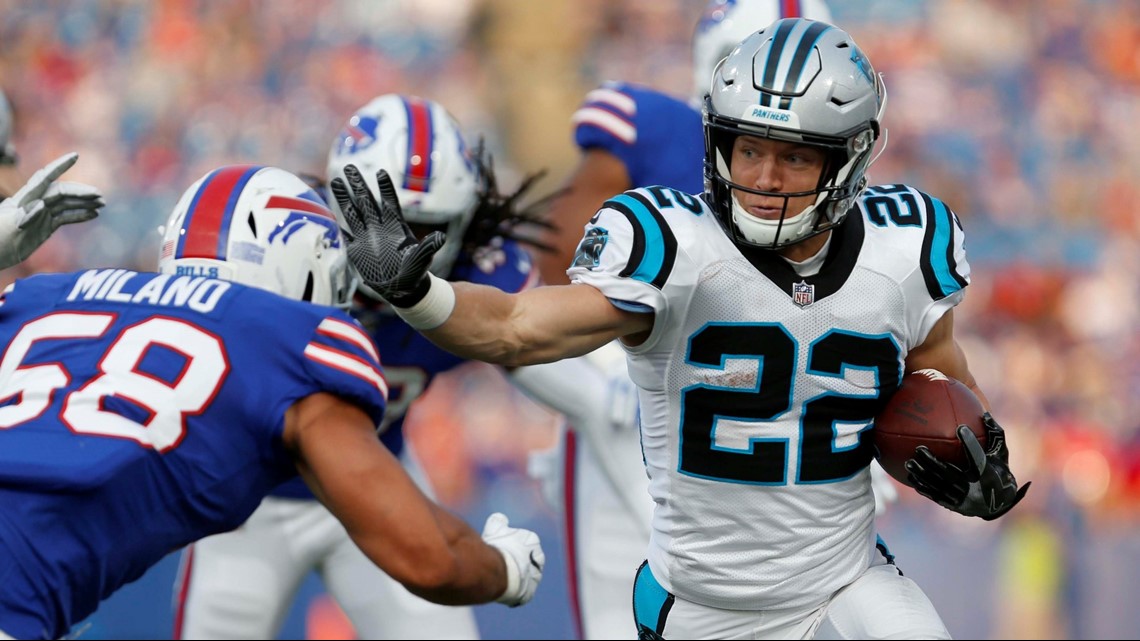 Avoid: Greg Olsen, TE, Current ADP – 12.08, TE14
I can't hate too much on the idea of taking a tight end near the end of the 12th round, I just like the upside of those with similar ADP's to Olsen more than I like what I think I may be getting out of a 34-year-old whose combined to play just 16 games over the last two seasons. With the options of Noah Fant, Jimmy Graham and Jack Doyle likely still on the board, I'd prefer to wait and take one of these guys who possess more upside, in my opinion. Outside of Olsen, I'm 100 percent on board with the team's fantasy-relevant player's average draft positions.
Atlanta Falcons
Target: Calvin Ridley, WR, Current ADP – 5.12, WR26
Another player I've been high on this offseason, Ridley has the makings of a perfect WR2 for your fantasy team. Everyone knows his issue in fantasy football last season was his consistency on a week-to-week basis. But with a year of experience under his belt, his natural ability to beat any cornerback due to his elite route running, and with the team likely to showcase him in a more prominent role after a very productive rookie campaign, Ridley is primed to not only put up solid WR2 numbers, but also become a more consistent weekly option. I'm all in on trying to draft Ridley in as many leagues as possible at his late-fifth, early-sixth round ADP.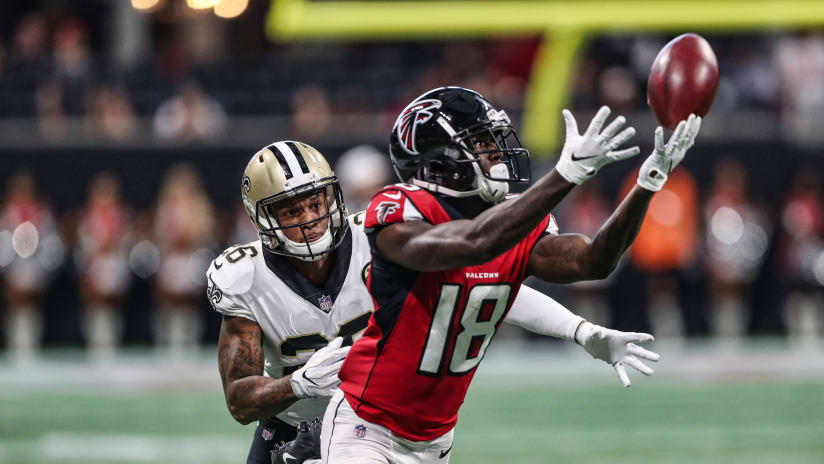 Avoid: Austin Hooper, TE, Current ADP – 13.09, TE16
Alright, I promise this is the last tight end I'll tell you to avoid in the NFC South. And like I said about Olsen, there's very little risk taking a tight end towards the end of the 13th round – but rather – I'm just a really big fan of the Falcons' skill player's current ADP's. A portion of my distaste for Hooper comes from last year as I was really high on taking him as my starting TE towards the end of drafts, it just didn't work out as I had hoped. There's always been some hype around Hooper and Matt Ryan, it just hasn't clicked yet. So I'm not sure why we think 2019 will be any different?
Tampa Bay Buccaneers
Target: Mike Evans, WR, Current ADP – 2.08, WR7
Evans has carved out a role as the stud player stuck on an average/below average team that consistently puts up solid stats at the wide receiver position. Andre Johnson and Calvin Johnson previously held this title and have now passed it onto Evans with the Buccaneers. He'll put up a clunker here and there, but more often than not he's going to post double-digit fantasy totals with the Bucs playing from behind and a lot of targets heading Evans' way. I don't expect much to change in 2019, as Evans is a solid wide receiver to select later in the second round after snagging your stud running back early in the first.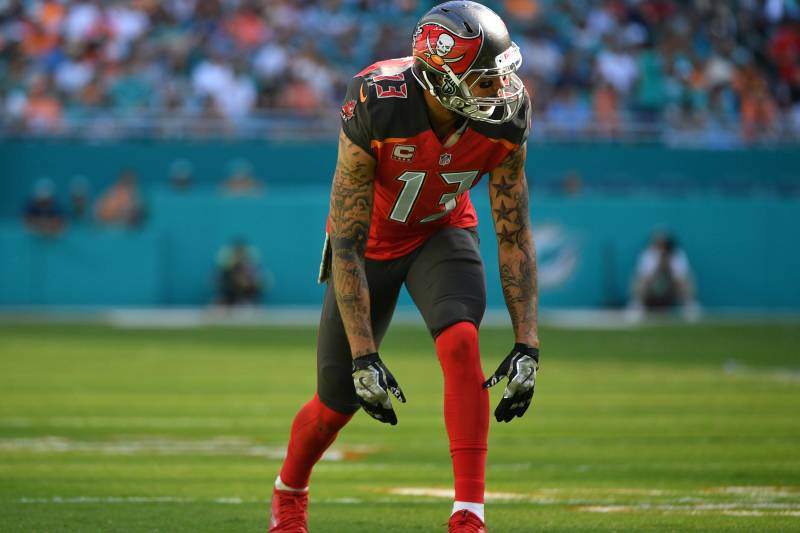 Avoid: Jameis Winston, QB, Current ADP – 10.04, QB13
It's not like he's going early, but there is more hype than I anticipated surrounding Winston this offseason in regards to fantasy football. The only explanation for the hype is that Winston is teaming up with new head coach Bruce Arians – who several believe can be the coach that helps take Winston to the next level as a competent starter in the NFL. I'm opting to tread lightly on the hype and avoiding Winston as I believe there are plenty of capable QB's, both with similar and later ADP's than Winston's, who will finish higher in the fantasy rankings when it's all said and done. If you decide to go the route of drafting a second QB to serve as your team's backup, go ahead and take a chance with Winston, but do everything possible to ensure he's not the one leading your squad this fantasy season.
Be sure to check out the latest episode of the Loaded Box Podcast as the guys discuss second-year RB's & TE's and how they'll factor into the 2019 fantasy football season!
Check out our 2019 fantasy football position-by-position rankings
QB Rankings
RB Rankings
WR Rankings
TE Rankings
Ben Morgan is a co-host and blogger for the Loaded Box Podcast. Check out his article archive and find more from the Loaded Box on Twitter & Facebook