The AFC East marks the first of an eight-part series of articles where I'm identifying a player you should target and a player you should avoid on each team for the 2019 fantasy football season.
Selections are based on each player's current average draft position, so I'll be making my targeting selections based on those I believe are most likely to outperform their ADP and my avoiding selections based on those I believe are being selected too high and won't warrant the selection at their current ADP.
Let's kick this off with the Patriots, Dolphins, Bills and Jets.
Enter code LOADED when you register to earn $5 towards an auction item!
New England Patriots
Target: Sony Michel, RB, Current ADP – 4.04, RB21
Michel finished as RB28 his rookie season, but that was in large part due to appearing in 13 games while sharing snaps with James White and Rex Burkhead. Both of those players are still currently in the mix, and the Patriots added Alabama's Damien Harris in the third round of the 2019 NFL Draft, but Michel proved his worth his rookie season – especially in the playoffs where he turned into a workhorse totaling 71 carries for 336 yards and six touchdowns in three games. Michel should prove to be a more-than-capable second running back for your fantasy team in '19.
Avoid: N'Keal Harry, WR, Current ADP – 9.03, WR41
You'd think selecting one of Tom Brady's pass catchers in the ninth round would be a smart move, and while it may pay off since Brady has a way of making most any wide receiver fantasy relevant, you may want to tread lightly with Harry in year one. Keep in mind that it's rare for rookie WR's to step into the league and instantly produce significant fantasy stats. Additionally, coach Bill Belichick won't hesitate to throw another body in at receiver if he feels Harry isn't producing or is struggling to pickup the playbook or the nuances of the NFL. So while Harry may wind up warranting his ninth-round selection, try to temper your expectations of him stepping in from day one and producing consistently for your fantasy team.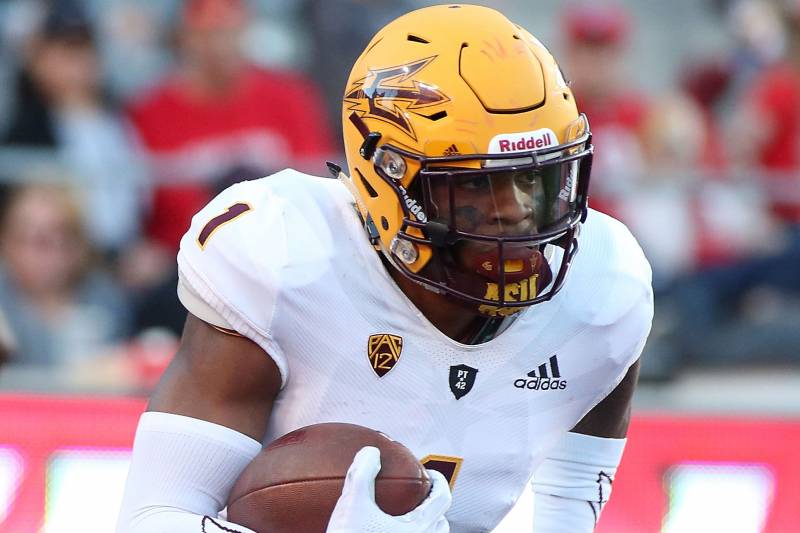 Miami Dolphins
Target: Kalen Ballage, RB, Current ADP – 14.01, RB56
There's not much to go off from Ballage's rookie season as he finished with just 191 rushing yards on 36 carries and a lone touchdown, but he's likely in for a larger workload with Frank Gore heading to Buffalo. We're also likely in store for a much different looking offense now that Brian Flores is leading the way and Adam Gase – known RB killer – has made his way to New York to coach the Jets. Kenyan Drake stands in the way between Ballage and a heavy workload, but selecting Ballage near the end of your draft and having a running back that'll likely see a nice number of snaps in what could turn into be a bit of a timeshare makes Ballage the Dolphins' RB to own this fantasy season.
Avoid: Kenyan Drake, RB, Current ADP – 5.01, RB26
Drake sort of falls into this selection by default, as there aren't too many Dolphins slated to factor into fantasy football this upcoming season. So while I'm not totally against having Drake on my fantasy roster in '19, I believe you're better off grabbing Ballage nine rounds later in the event the team opts to go with a running back by committee approach.
Buffalo Bills
Target: Josh Allen, QB, Current ADP – 11.01, QB16
While I'm not sold on Allen as an actual NFL franchise leading quarterback, I'm willing to take a chance on him on my fantasy squad – preferably as a backup. What makes Allen intriguing is his ability to make plays with his legs, and while this isn't traditionally what you're looking for from your fantasy football quarterback, it's hard to argue with the amount of points running QB's can produce. The issue with Allen is consistency as you can't always predict when he's going to put up a week-winning performance thanks in large part to his ability as a runner, but if you can secure Allen as your backup QB that you can plug in on a bye week or if your starter gets injured, I like the selection in the 11th round.
Avoid: LeSean McCoy, RB, Current ADP – 9.03, RB41
The Bills are another example of a team where it's difficult to find a player you should absolutely avoid since the majority of their players are being selected in the late rounds of fantasy drafts, but if I'm picking one to lay off of this year, it's McCoy. I was saying the same thing last year about McCoy when he was being selected in the second and third rounds of fantasy drafts, and while his ninth-round ADP this upcoming fantasy season makes him a bit easier to take a chance on, keep in mind that the Bills added T.J. Yeldon, Frank Gore and rookie Devin Singletary who all have plans on dipping into McCoy's touches. The Bills' backfield has the makings of one I'd like to avoid this fantasy season, so let McCoy be someone else's issue in 2019.
New York Jets
Target: Robby Anderson, WR, Current ADP – 7.01, WR30
This choice came down between Anderson and Sam Darnold, but I've oped to go with Anderson and his 7.01 ADP. I'm not opposed to selecting Anderson this season since he'll be in year two with Darnold, he's shown flashes of being fantasy relevant in the past, and the Jets did next to nothing in terms of bringing in competition for Anderson's targets outside the numbers. He may not be a guy you want to have to rely upon on a weekly basis, but I think Darnold has the makings of an above-average NFL quarterback and will find enough success with Anderson this season to warrant his seventh-round ADP.
Avoid: Le'Veon Bell, RB, Current ADP – 1.09, RB7
While the Bell truthers may disagree with this pick, this was my easiest selection in the entire article. I said in our Fantasy Football Would You Rather – RB Edition Podcast that there's no way I'd take Bell – as a running back for the New York Jets – in the first round of my fantasy draft. Did you see how new head coach Adam Gase utilized RB's in Miami? Have you read about how Gase wasn't on board with signing Bell this offseason? There's zero chance I'm making Bell my RB1, let alone my first-overall pick. If all goes well I'm sure he'll rack up some nice yards and catches, but the risk outweighs the reward for me this season, so you won't be seeing Bell on any of my fantasy squads in '19.
Be sure to check out the latest episode – No. 200 – of the Loaded Box Podcast as the guys play the fantasy football version of "Would You Rather" – WR edition!
Check out our 2019 fantasy football position-by-position rankings
QB Rankings
RB Rankings
WR Rankings
TE Rankings
Ben Morgan is a co-host and blogger for the Loaded Box Podcast. Check out his article archive and find more from the Loaded Box on Twitter & Facebook