We've reached the second half of this eight-part series identifying a single player from each team in the NFL that you should target and one that you should avoid heading into the 2019 fantasy football season.
This articles focuses on the teams in the NFC North, but in the event you've missed the first four divisions we've covered, the links to each previous article is just one click away in the paragraph below.
AFC East
NFC East
AFC North
NFC South
Be sure to let us know which players you're targeting/avoiding this upcoming fantasy season either on Twitter or in the comments section below!
Enter code LOADED when you register to earn $5 towards an auction item!
Chicago Bears
Target: Tarik Cohen, RB, Current ADP – 5.10, RB27
I expect the Bears' offense to be a fairly spread-out attack in year two under Matt Nagy, and while that doesn't bode well for fantasy players, I believe Cohen will end up being the most consistent of Chicago's offensive weapons. The team added Mike Davis and David Montgomery to the backfield this offseason, but I see Davis as a serviceable backup while Montgomery rotates in on more of the traditional "running downs". Cohen will never be utilized like a prototypical running back, but that's fine in today's pass-happy NFL where head coaches and offensive coordinators scheme creative ways to get their best playmakers the ball – and that's what Cohen is. I'd be thrilled to land Cohen as my fantasy team's third RB that I can rotate in as a starter or use as a flex play based on matchups.
Avoid: Defense/Special Teams, Current ADP – 8.10, D/ST1
This feels like cheating since it isn't a specific player, but since most fantasy football starting lineups require a defense/special teams, I'm going to insert the Bears' D/ST into my avoid slot. It's not that I don't think the Bears' defense isn't one of the league's best or doesn't have the potential to finish the season as the league's top-scoring fantasy defense, but rather, I just don't think you should be the first person in your fantasy draft selecting a defense – especially in the eighth round. You want to have a good fantasy football defense? Fine, just wait three or four rounds later and get Baltimore or Minnesota. Fantasy football defenses are hard to project – just look at Jacksonville last season – and there are plenty of quality skill-position players that you'll inevitably need to rely on down the line either due to poor matchups or injury. Do yourself a favor and let another fantasy owner be the first to claim their defense.
Minnesota Vikings
Target: Adam Thielen, WR, Current ADP – 3.03, WR11
Remember the stretch of games Thielen put together to begin the 2018 season? If you were a fantasy owner you definitely do. And while I'm not predicting Thielen to return back to his pace from the first half of last season, I do believe he'll be the team's most consistent fantasy scorer over the course of the '19 season. I'm a big fan of Dalvin Cook as low-end RB1/high-end RB2, and I like the big-week potential Stefon Diggs possesses, but when it comes to consistency on a week-to-week basis, give me Thielen all day.
Avoid: Kyle Rudolph, TE, Current ADP – 14.06, TE22
Given his average draft position, it's not like fantasy owners are rushing to select Rudolph. But in the event you see his contract extension as a sign that you should add him to your fantasy roster, I'm here to tell you to go another direction. The Vikings added Alabama's Irv Smith Jr. in the second-round of the 2019 NFL Draft, so besides the fact that he may dip into Rudolph's targets, keep in mind that Rudolph is likely the team's fourth or fifth option when it comes to getting the ball to offensive playmakers. Either draft a tight end earlier that you can feel comfortable using throughout the season, or go another direction for your backup tight end.
Green Bay Packers
Target: Geronimo Allison, WR, Current ADP – 8.11, WR37
The battle for the Packers' No. 2 wide receiver position is one to keep an eye on this training camp/preseason, but at this point in time I'm really liking the idea of adding Allison in the 8th/9th round. Some reports have Marquez Valdes-Scantling working as the other outside WR opposite Davante Adams, but with the Packers likely to run a high percentage of three-wide receiver sets, I really like Allison being the guy running from the slot. Allison has flashed when given reps in the past and has significantly more NFL experience than any of the other Packers' wide receivers – who are mainly second-year guys. Keep an eye on this situation throughout the offseason, but definitely keep one of these secondary Packers' WR's on your radar later in your fantasy drafts.
Avoid: Aaron Jones, RB, Current ADP – 3.04, RB16
This selection may get me in trouble with Packers fans, but hear me out. I'm a big fan of Jones as a running back, and I really do believe that the running back that gets the majority of the team's snaps will be a very fantasy-relevant RB, but here are a couple of reasons I'm hesitant on Jones early in the third round. First, I'm fairly high on several of the running backs with ADP's similar to and later than Jones' including Devonta Freeman, Leonard Fournette, Kerryon Johnson, Mark Ingram and Phillip Lindsay. I feel that all of these guys are safer options and provide just as much upside to your fantasy lineup as Jones. Second, with how good Aaron Rodgers is as a true passer, you've gotta believe that regardless of what any offseason report says, the Packers are going to be a pass-first/pass-heavy team once again in 2019. So while a significant reason for Jones being my Packers avoid selection is due to the fact that I'm not really opposed to any of their current ADP's, I do believe he carries the most uncertainty for being a third-round selection.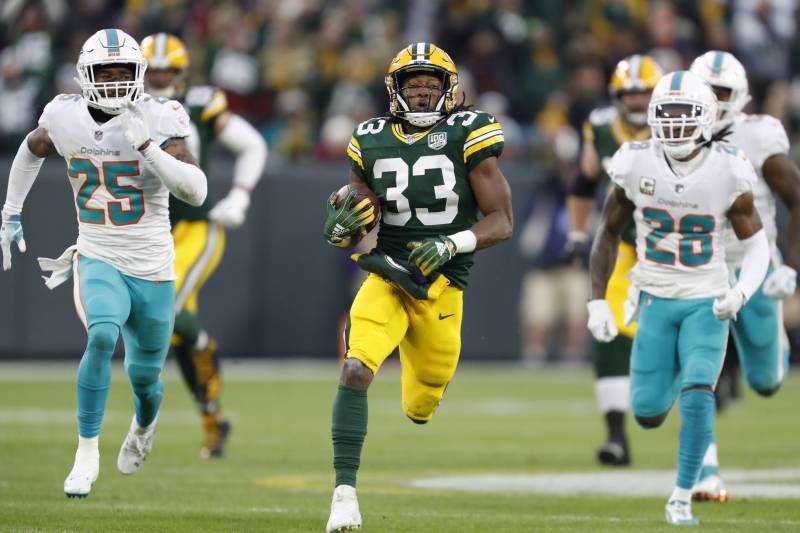 Detroit Lions
Target: Kerryon Johnson, RB, Current ADP – 3.08, RB18
My infatuation for Johnson (that doesn't sound right) started a few years ago while he was at Auburn and has carried over to his second year in the NFL with the Lions. The third round is a little pricey for a guy that hasn't proven much as a professional, but the expected volume of touches and the potential of what Johnson can do with those touches has me intrigued as my team's second running back. The offseason addition of C.J. Anderson doesn't pose a large threat to Johnson, and the flashes he showed his rookie season leads me to believe the team has big plans for him in 2019. A new offensive coordinator, a healthy offseason, and a clear path to consistent touches on a weekly basis are all reasons to believe in Johnson this upcoming season.
Avoid: T.J. Hockenson, TE, Current ADP – 12.03, TE13
It's not that I don't have faith in Hockenson as a capable tight end at the next level, it's more so that I like other options at TE with lower ADP's that I think will see similar volume as Hockenson does his rookie season. Additionally, has Matthew Stafford supported fantasy-relevant tight ends in the past despite the team using high draft picks on players at the position? That's a rhetorical question, but in the event you're not up to date with Lions' tight ends and their relevance in fantasy football, the answer is no. Tight end is a finicky position in fantasy football, as we're all aware, but I wouldn't suggest reaching for Hockenson solely on the fact that the Lions used a top-10 draft pick on him. Opt for another option at the position and consider giving Hockenson a year to prove himself before making him your fantasy team's starting TE.
Be sure to check out the latest episode of the Loaded Box Podcast as Mikey Ostrowski from Goal-Line Fantasy Football joins the show to talk biggest sleepers and busts from the AFC for the 2019 fantasy football season!
Check out our 2019 fantasy football position-by-position rankings
QB Rankings
RB Rankings
WR Rankings
TE Rankings
Ben Morgan is a co-host and blogger for the Loaded Box Podcast. Check out his article archive and find more from the Loaded Box on Twitter & Facebook