We are in it. We are stuck in the dog days. What an old phrase, yet a phrase I cannot stop using whenever my podcast partner, Ben Morgan, asks me to do something useful. Whenever I use this response, I buy myself about 24 hours before he asks me this question again.
So what are these dog days? It is middle of the summer and the only sport on TV is baseball. You are watching NFL redzone and jerking your chain to mock drafts every day just so you can deal with your football withdrawals. As an adult, summer doesn't matter anymore because you still have to work and all you can think of is football.
You have that itch to start betting, drafting, and sit on your couch for 12 straight hours, sipping on beers and putting the fact the you have to go back to your miserable job tomorrow out of your mind. Because you and I both know… if football didn't exist, you and I would probably be in jail right now for putting someone through a wall for finally saying the one little thing that pushed you over the edge. Did I cover it or is that not even close to as dark is it gets?
Hopefully this article prevents you from committing the aforementioned crime. Today we are going to dive into a few of the burning questions I have going into the 2019 NFL season.
Enter code LOADED when you register to earn $5 towards an auction item!
Who Will Emerge as Aaron Rodgers' No. 2 Target?
This one sticks out to me because this is one of the most fantasy relevant offenses that had a terrible fantasy season at the receiver position outside of Davante Adams last season. Also, I am a diehard Packers fan, so of course we are going to talk about the Packers first. I am only considering years where Rodgers plays an entire season.
I do not see what happened last year repeating itself. So who is the second guy? To me there are four potential guys that can take this title: Jimmy Graham, Geronimo Allison, Marquez Valdes-Scantling and Equanimeous St. Brown.
Graham has shown that his second year in offenses is usually when you see his stats go up. Add to the fact that he has a coach who has been really successful with tight ends and I can understand why people would choose Graham. He is an experienced guy who can relate with Rodgers and trust is a huge thing in Rodgers' eyes. My worry is we are adding tight ends all around him and his ability to separate isn't what it used to be. Will we see a revitalized Graham? I hope so.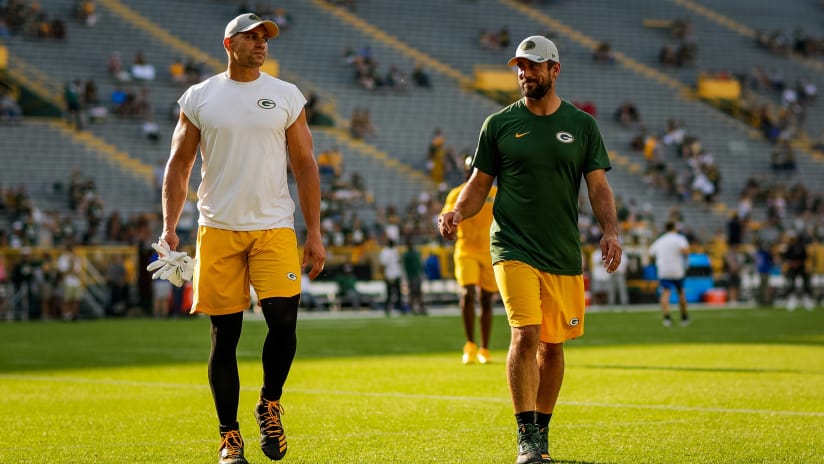 Allison seems to be the forgotten guy. He got injured after the fourth game of the season and was on pace for a great year. He had around 300 yards and two TD's through a quarter of the season. That put him on pace for 1,200 yards and eight TD's. While I highly doubt he would have reached those marks, even 900 yards and six TD's is a great season for a guy who people are seemingly forgetting exists.
One thing that could hurt Allison is that the Packers are considering moving him inside the numbers. That is a spot he has never played in his college or NFL career and could affect his output. The positive thing is, this is a guy Rodgers trust and clearly the Packers see as an important piece of this offense.
A lot of your fantasy analysts are convinced MVS could be that guy. I am not in this crowd. This is a guy I will not have on my team in any fantasy leagues. MVS had a few very solid statistical games last year, but in the second half of the season he disappeared. He seems to be a one-trick pony, similar to how I view Mike Wallace. I would love to hear all arguments against me.
Last, we have St. Brown. This is my guy to keep an eye one. To me, he is the most talented WR on this team outside of Adams. His biggest issue going into the NFL Draft was his attitude. One thing I noticed was Rodgers' trust in EQ in clutch situations. In turn, EQ came up big in said situations. I do not remember the exact stat, but I know EQ had a ridiculous stat in regards to his drops. If I remember correctly, he didn't drop a ball all season.
I truly believe that the combination of EQ and Adams can be comparable to that of Greg Jennings and Jordy Nelson. EQ clearly has the talent, he just has to get there mentally. When EQ goes off, please credit me as the one and only guy who made this prediction.
To Trust or Not to Trust Raiders' Weapons
One of the questions I was recently asked was, "Is the Raiders' offense a fantasy trap?" This is a tough question to answer because of the historic stigma Oakland has established. Players who have had incredible years will go to Oakland and look like average or even below average. My answer this to this is no. Let me tell you why.
It really comes down to the basics. A lot of the guys that the Raiders added were successful because of the system around them. It shocks me to see Antonio Brown's fantasy football average draft position drop the way it has. He should remain a top-three WR in all drafts. This is a guy whose work speaks for itself and beats cornerbacks and finds holes on his own. His stats have come because he is that good not because of Big Ben.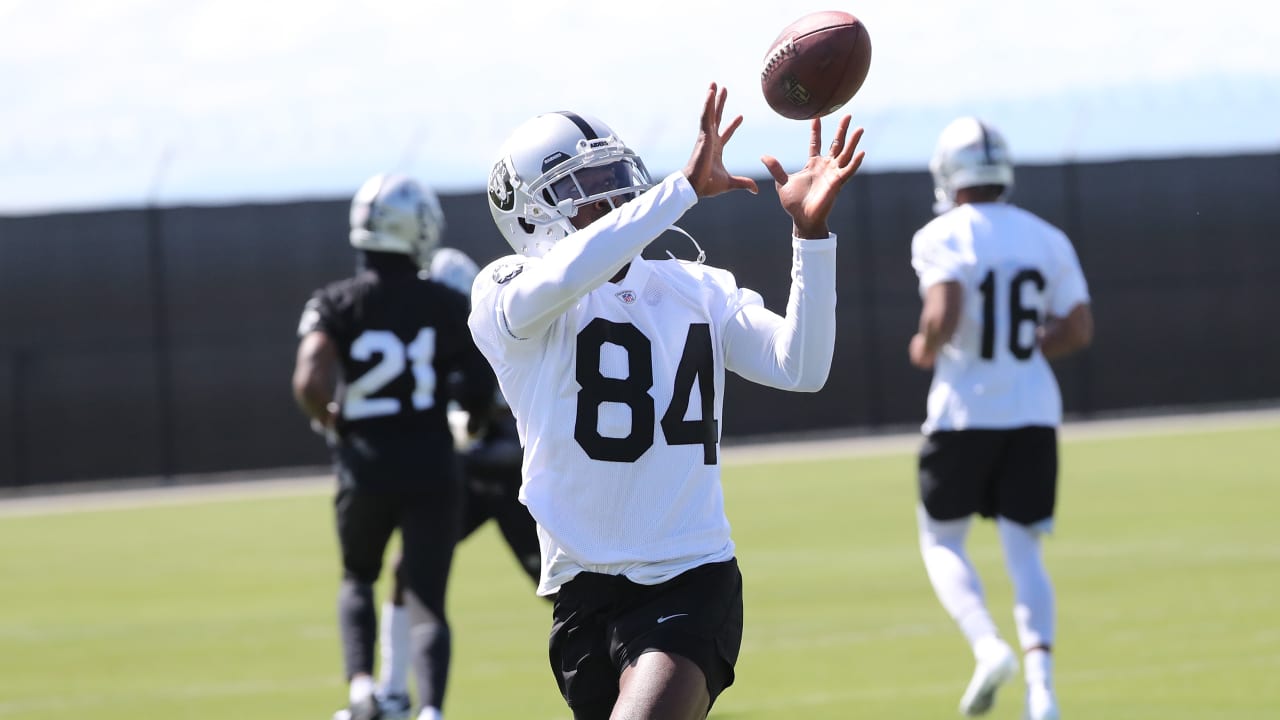 I was also recently asked about Josh Jacobs. I have seen comments about him not being a workhorse ever in his career. My response to that is, isn't that a good thing? Jacobs went so high because of the talent he portrayed on the field at Alabama. Now he has no competition, fresh legs, and in my opinion, one of the best offensive lines in the NFL. I will break my arm reaching for Jacobs in fantasy this year.
That opens up questions on Tyrell Williams and J.J. Nelson. Look, I have been a Derek Carr truther for a long time so take my thoughts for what you want. This is the best offense he has had around him yet and he's had a season in the past where he was in the MVP discussion. I truly believe he will get back to that level of play this year; so Williams, a true deep threat, will shoot up my fantasy rankings for that reason.
When it Comes to Redraft Fantasy Leagues… Is There a Rookie WR I Can Trust?
I am going to make this answer as simple and quick as possible. Mostly because I am tired, but also because this is the hardest I have worked for over a year. The simple answer is, "nope."
Year after year I express how dumb it is to reach for a rookie WR. Year after year I see NFL analysts along with your standard fantasy drafter reach for one of these guys. Everyone wants to be the guy who can say, "I told you so" to everyone at the end of the year.
I am here to ruin this. Don't do it. N'Keal Harry, D.K. Metcalf, Andy Isabella, Parris Campbell. DO NOT DO IT. It is so hard for a WR to come into the league and learn an offense that's language is ten times more complicated than they have ever seen. In college, everything is about scheme. In the NFL it's about scheme, timing and trust with your QB.
These guys may be stars in the future but the smart thing to do is give yourself one year to see which one has flashes and sticks out; then you can put stock in them in year two or three. But do yourself a favor and let someone else draft that guy while you draft a player who has actual potential to remain on your roster past week three.
Be sure to check out the latest episode of the Loaded Box Podcast as Mikey Ostrowski fills in for me to discuss the AFC's top sleepers in busts this upcoming fantasy season!
Check out our 2019 fantasy football position-by-position rankings
QB Rankings
RB Rankings
WR Rankings
TE Rankings
DJ Premo is a co-host and blogger for the Loaded Box Podcast. Check out his article archive and find more from the Loaded Box on Twitter & Facebook