Written by Mikey Ostrowski
I can't say I agree with the fantasy football community's consensus on the order of their rookie running backs (for example, I'm #TeamEtienne while most seem to be #TeamHarris), but I will say that the consensus' top five does consist of my personal top five… so I'm going to talk about them in the order that I'd rank them ahead of the NFL Draft.
If you'd like to take a look at my full rookie dynasty rankings click this link right here. If you've only come to read about some running backs… well, you're in luck.
Running Back #1: Travis Etienne – Clemson
Pro Day Results: Height: 5'10", Weight: 215 lbs, 40-yard dash: 4.40
Etienne may not be the best "true running back" in the class, but he may be the best back from a fantasy perspective. Most leagues these days are at least set to .5PPR, which means backs that can add a decent amount of receptions get an automatic bump in fantasy points. Etienne is arguably the best pass catcher out of the backfield in the 2021 class. This aspect of his game was leaned on heavily at Clemson, where he reeled in 85 balls for over 1,000 yards and six scores over his last two seasons with the team. Etienne also has multiple 1,600-yard rushing seasons on his resume and looks incredibly explosive every time he touts the rock.
He's quick, has great balance, and is fast as all hell for his size. Etienne's talents will likely lead him to being one of the first two running backs off of the board on draft day and he should be an immediate starter for whichever team drafts him.
There's not much to dislike about Etienne, especially since he bulked up for his pro day. His vision could use some work, as this part of his game seems a bit inconsistent. You can easily tell when he gets impatient/too excited at the line which almost always results in a wasted play. Etienne may be too quick for his own good; slowing down his game a bit in the backfield could work wonders for him as a pro.
Overall Pros
Overall Cons
Excellent Pass-Catcher

Shifty

Explosive + Downfield Speed

Proven Numbers on the Stat Sheet

Potential 1st-Round Pick

Inconsistent Patience

Coming Off of a Statistical "Down Year"
Running Back #2: Najee Harris – Alabama
Pro Day Results: Did not participate. Estimated Results Height: 6'2", Weight: 230 lbs, 40-yard dash: 4.45
I'm a bit disappointed we didn't get to see Harris at his pro day, but we all kinda know what we're going to be getting from him anyway. He's an absolute bulldozer and is currently the consensus' RB1 overall from a dynasty standpoint. Harris has the best chance of being the first running back selected on draft day and has made a legitimate case for himself to be called on day one. Not only is he a bruising back, but he's also a smart one. Harris is very patient at the line of scrimmage, and while he can gain extra yards with brute force, he has shown that he can wait for the play to develop for some easier yards. He's also a better-than-average pass catcher for a guy of his size, leading many to believe that he could see a true three-down role as a pro. Another thing to note about Harris is the heart he plays with. You can tell that he doesn't take any plays off, and the fact that he drove nine hours to his team's pro day just to support his teammates (he did not participate) speaks volumes to the type of player and person he is… and NFL coaches eat that up.
Much like Etienne, you're going to have a tough time poking holes in Harris' game. I personally don't see the same elite-level pass catcher in him that I do in Etienne, but there are plenty of people that would argue against me on that. He's also not the shiftiest guy out there, which will likely lead him to using his body more often than he needs to to shed tackles. I have faith that he'll figure out a way to get hit/initiate contact less as a pro, but his current playstyle would suggest a potentially short shelf life at the elite level.
Overall Pros
Overall Cons
Great Vision

Total Bulldozer

Good Enough Hands to be a Three-Down Back

Pretty Decent Speed for his Size

Back-to-Back 1,200-Yard Rushing Seasons

Potential 1st-Round Pick
Could be More Agile

Playstyle Could Limit Production Down the Road

Lacks Burst

Running Back #3: Javonte Williams – North Carolina
Pro Day Results: Come back March 29th – Estimated results: Height: 5'10", Weight: 220 lbs, 40-yard dash: 4.52
Williams is a powerful runner that is more than capable of being a solid pass catcher out of the backfield. He's made plenty of difficult catches throughout his time at North Carolina and I'd expect more of the same from him at the next level. Williams has excellent vision and shows a decent amount of patience at the line before making a decision. He combines those skills with excellent burst, which helps him shoot through the offensive line for big gain after big gain (his 7.3 yards per carry on over 150 carries can attest for this). The UNC running back also has excellent contact balance and is good enough at pass blocking to warrant a spot on passing downs as a pro.
The biggest knock on Williams would be his lack of agility. It's not an incredible weakness, but it is far from his best strength. I'd definitely like to see some improvement on that moving forward in order for him to make defenders miss more often. His decision making, while great most of the time, definitely lacks some consistency so I'd like to see less wasted opportunities when he joins his new team. Still, you can't argue with the effectiveness and production he's had over the last two seasons. There are some that could argue that Williams is the RB1 of the class. I won't rule it out, especially before we know landing spots, but from a talent/size perspective, he's firmly planted as my RB3 (for now).
Overall Pros
Overall Cons
Explosive Runner with Great Burst

Legitimate Dual-Threat Back

Good Vision at the Line

Bruising Playstyle gets the Extra Yards

Capable as a Pass-Blocker

Lacks Agility – Concerns in the Open Field

Not the Fastest Back of the Class

Lapses in Decision-Making
Running Back #4: Kenneth Gainwell – Memphis
Pro Day Results: Height: 5'11", Weight: 201 lbs, 40-yard dash: 4.42
One of the things that everyone was waiting on from Gainwell was what he was going to weigh in at on his pro day. To our pleasure, he increased his weight from 194 lbs to 201 lbs. The biggest knocks on Gainwell included his BMI (but that's obviously trending in the right direction) and his small sample size. We had only seen one season from Gainwell, but those numbers definitely left a lasting impression.
Gainwell was the leading rusher on his team (significantly ahead of Antonio Gibson), running the ball 231 times for 1,459 yards and 13 touchdowns. What's even more impressive is that he caught the ball 51 times for 610 yards and three additional scores. Gainwell sure as hell seems like the do-it-all type back that NFL teams ask for these days and should be a popular day-two target for many GMs. Gainwell was able to combine quick feet and speed with great vision to find success as a sophomore, but that was the last time we got to see him play. Gainwell opted out of the 2020 season and has been preparing for the NFL Draft.
Overall Pros
Overall Cons
Patient at the Line

Elusive in the Open Field

Legitimate Dual-Threat

Kept Antonio Gibson on the Bench

Dedication to Increase BMI is Admirable
Despite Adding Weight, He's Still on the Small Side

Could be Viewed as a 3rd-Down Back

Likely Will Never Have a Workhorse Role
Running Back #5: Michael Carter – North Carolina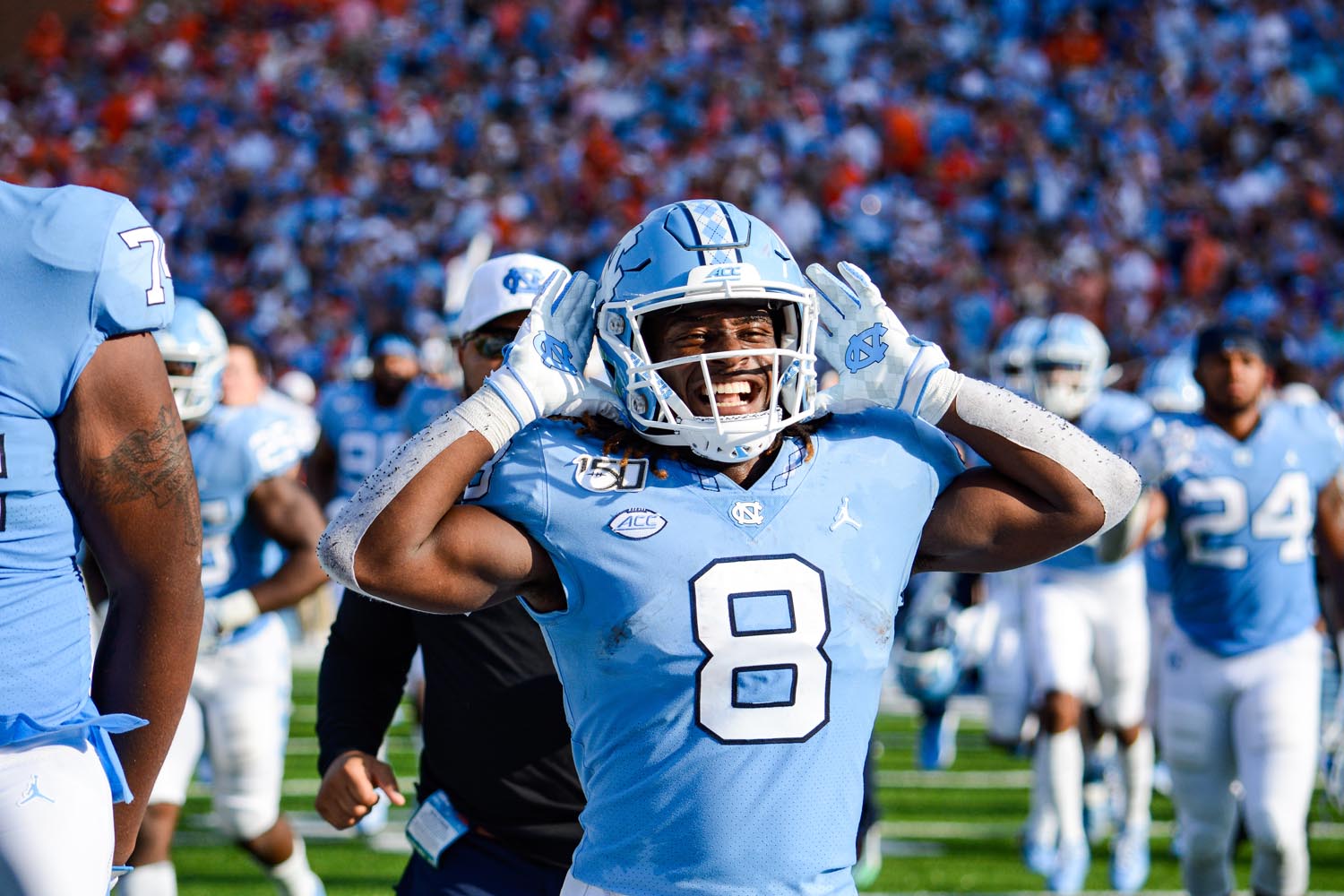 Pro Day Results: Come back March 29th – Estimated results: Height: 5'8", Weight: 200 lbs, 40-yard dash: 4.53
Carter is not the fastest guy out there but he sure as hell might be the most explosive. He managed over eight yards per carry in his senior year despite carrying the rock over 150 times. His speed is nothing special, but his acceleration is a thing of beauty. You won't get many long touchdowns out of him, but you'll get plenty of long runs. Carter's ability in the passing game is arguably the best part of his game, which should say something given that he was so effective on the ground. He's got excellent agility and knows how to make a man miss, which should be enough to make up for his small stature and less-than-bruising playstyle.
His small frame and lack of contact balance will be a concern in the NFL, which could ultimately limit his usage on first and second downs. It's entirely possible that Carter's ceiling is being used purely as a passing-down back, but he's talented enough to rotate in with a bigger back on early downs. His touchdown upside will be limited since he likely won't see many goal-line touches, but he should be able to make up for that in PPR leagues with the amount of receptions he'll reel in. The biggest knock on Carter is his pass blocking, which is definitely something he'll have to work on if they're going to rely on him on third downs. Overall, I like Carter and think he'll be a great value at the beginning of the second round in dynasty rookie drafts.
Overall Pros
Overall Cons
Burst, Burst, Burst!

Great Agility + Ability to Make a Man Miss

Tremendous Pass-Catcher

Should Find a Role Early in his Career

Great Route-Runner

Versatility to be Used in the Slot

Did Technically Out-Produce Javonte Williams at UNC
One of the Smaller Backs of the Class

Pass-Blocking Needs Improvement

Rough Contact Balance/Inability to Keep Moving When Hit

Could Get Stuck in a 3rd-Down Role

Landing Spot Dependent to Hit his Ceiling
If you haven't already, check out my articles on The Top-25 Most Consistent Receivers, The Top-20 Most Consistent Running Backs as well as The Top-15 Most Consistent Quarterbacks to get an in-depth look on some of 2020's best players as well as their future outlooks.
Be sure to check out our brand new YouTube Channel, where Dylan and I post weekly dynasty content and the founders of LBP (Ben and DJ) livestream our podcast. Most recently we've discussed our favorite value players from each NFL team in dynasty start-up drafts as well as highlighted some of our favorite buy-low and sell-high options at this point in the offseason.
Mikey Ostrowski is a blogger for the Loaded Box Podcast. Check out his article archive and find more from the Loaded Box on Twitter & Facebook