Written by Mikey Ostrowski
One of the things that I have found throughout my many seasons of fantasy football is that consistency is often overlooked. A few years ago, I created a system that adjusts and ranks players of each position based on consistency.
This system gives players a grade of 0.00 to 4.00 and I have used it around draft time every single season since I figured out how to formulate it properly. I wanted to present my findings at each position, and I figured I'd start with the wide receivers.
WR25: Brandin Cooks, HOU (Score: 2.21)
Cooks has been the epitome of consistency ever since he entered the league. His first four seasons were spent within the top-15 receivers in PPR leagues on a consistent basis, and while he's no longer a world breaker, he's still a pretty damn good receiver. There will be a lot of question marks in Houston this season, but it seems like a pretty safe bet that he'll factor in as their WR1.
WR24: Tee Higgins, CIN (Score: 2.21)
I know I am nit-picking my own data here, but if we measured Higgins from weeks 3 to 10 (after he became a big part of the offense and Joe Burrow was still healthy), he'd come away with a consistency score of 3.14. For what it's worth, I'm acquiring him, no matter the cost, in as many leagues as I possibly can this offseason. Kid is going to be a stud in this league.
WR23: Jamison Crowder, NYJ (Score: 2.27)
The most "meh" name you can think of, yet, he's been a monster for consistency ever since he joined the Jets last season. Although the new coaching staff will surely be bringing changes, it seems likely that Crowder will remain atop the pecking order, at least in check-down situations, for the Jets moving forward. He's not a sexy player to have, but he sure is a safe one.
WR22: Robert Woods, LAR (Score: 2.33)
What we used to expect from Brandin Cooks is now what we expect from Woods. He keeps finishing as a top-15 receiver with the Rams and will likely continue to do so, even with a change at the quarterback position. Woods will forever be one of the most underappreciated fantasy football assets (and yes, this is your sign for today to try and grab him for cheap in your league).
WR21: Justin Jefferson, MIN (Score: 2.33)
I played hypothetical with Higgins, so it's only fair if I do the same with Jefferson. From weeks 10 to 16, Jefferson was shot out of a canon, and had a consistency score of 3.43 over that span. If you cheated and looked at this entire list already, you'd know that the top dog on here finished the entire season with a grade of 3.33. I feel like it's okay to knit-pick for the rookies, as a seven-week sample size seems fair enough to gage them. Either way, Jefferson is on the rise, big time, and will likely finish in the top five on this list next season.
WR20: Adam Thielen, MIN (Score: 2.36)
Thielen was largely boom or bust last season, and while I think he's a great receiver, the trend of him being a weekly boom/bust option will likely be the role that he takes on moving forward. He was equivalent to a WR1 play seven times last year, but was a complete bust five times. It's tough to know what you're going to get with him on a weekly basis with Jefferson around, but he's a fun player to have that could pop off for you at any minute.
WR19: Julio Jones, ATL (Score: 2.44)
Julio is STILL a beast despite his injury issues. His health has always been a question with him, and with his age not slowing down, he's becoming more and more risky to own. His dynasty value is still decently high, but you may be able to haggle on the price depending on who has him in your league. When he's on the field, he's still a top-20 guy that offers a safe floor and an obviously high ceiling.
WR18: JuJu Smith-Schuster. PIT (Score: 2.47)
Honestly, I was surprised that JuJu came in the top 18 on this list. I'll forever be way too low on him. He was actually a "boom" player just as much as Thielen was and had one less "total bust" game. I'll never be able to treat him as the elite receiver so many want him to be, but I'll admit that he's a player that will do more good than harm for your fantasy squad. It feels like a decent time to buy JuJu in dynasty leagues… maybe I'll have to reconsider my personal position on him.
WR17: Terry McLaurin, WFT (Score: 2.50)
Terry continues to "wow" us despite being the only legit receiver on a team with a revolving door at the quarterback position. If they can get him a solid WR2 to work with and a quarterback that he can really develop with, McLaurin will climb his way into WR1 territory in no time. His price tag is fairly steep, but I think he'll only get more expensive as each season passes by. There's no time like the present to get your hands on him.
WR16: Diontae Johnson, PIT (Score: 2.50)
Johnson has factored in as the WR1 in Pittsburgh and could see even more opportunities if JuJu actually does walk in free agency. DJ's hands were a big issue last year, dropping a handful of balls seemingly every week. He's got the ability to be a top receiver in this league, but he's definitely gotta work on his mental game. I like his odds at remaining in the top-16 most consistent receivers moving forward.
WR15: Brandon Aiyuk, SF (Score: 2.58)
Aiyuk is a guy that so many are raving about, but I'd actually consider selling high on him this offseason. Am I crazy? Maybe, I mean, this dude was the most consistent rookie receiver in all of football last season. However, that 49ers team is changing. Deebo Samuel was out most of the year and so was George Kittle, not to mention that they did not have the same involvement out of the backfield that we've come to expect from San Fran over the last couple of years. I just feel like the success is unsustainable for Aiyuk and that the stars aligned perfectly for this to happen. I'll probably get dragged for this take down the road, but sell Aiyuk, he won't stay in the top 15, or even top 20 on this list next season.
WR14: Robby Anderson, CAR (Score: 2.60)
Anderson came to Carolina last year and was written in perfectly in Matt Rhule's new offense. The coaching staff in Carolina knows how to use him and I'd expect him to remain a big factor moving forward. As a Panthers fan, the lack of involvement from DJ Moore for most of the year was frustrating, and I do think that Moore will steal a handful of Anderson's targets next year. With that being said, I'd imagine that Anderson will remain a safe bet to be on this list next year, as the Panthers' offense is one of the most explosive in the entire league (and imagine if they get Deshaun Watson…).
WR13: Mike Evans, TB (Score: 2.60)
It turns out, those Tampa receivers were just fine without Jameis Winston. Evans averaged over 16 PPR points per game and comes in as the 13th-most consistent receiver of the 2020 season. I feel like Evans is one of the most underappreciated elite players to ever exist for fantasy football. This dude shows up and balls out every single year and we never seem to give him the respect he deserves. He's as safe of a bet as anyone to continuously be a top-15 receiver for fantasy purposes.
WR12: AJ Brown, TEN (Score: 2.62)
Brown is the first "consistency WR1" on this list and it should come to no surprise. He battled injury at the start of the year, and if you take away the week one performance (where he should NOT have played), he'd be the WR5 on this list with a score of 2.83. He's an elite receiver in the NFL and he's just getting started. Between his age, his talent and his situation, I'd have confidence putting AJ Brown in my top-three overall dynasty receivers ahead of the 2021 season.
WR11: Keenan Allen, LAC (Score: 2.64)
Remember when we were all fading Allen because he was going to be "stuck" with rookie quarterback Justin Herbert? Man, don't we feel silly now? Allen has been playing elite ball for the last four or five years now and doesn't appear to be slowing down anytime soon. He's a high-volume target that is insanely effective with the ball in his hands. Allen's only bust weeks came in week one and 15… and those weeks were with Tyrod Taylor and an early injury. Dude is good, real good.
WR10: Amari Cooper, DAL (Score: 2.67)
Cooper's reputation as a boom/bust receiver seemed to completely fall off this season. In the past, we've seen him either explode or completely fizzle out each week – there was seemingly never an in-between – but he only churned out a dud three times in 2020. The quarterback situation for him was less than ideal, but he made it work. Moving forward, I'd expect to see more CeeDee Lamb, but make no mistake, Cooper is one of fantasy's top receivers. I'd expect him to revert a bit back to his boom-or-bust ways, but he's a guy that's worth the headache.
WR9: Chris Godwin, TB (Score: 2.73)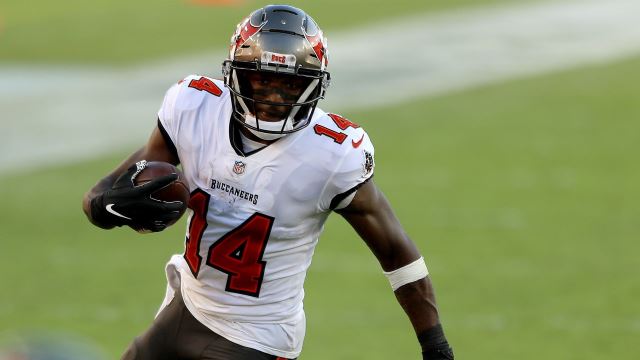 Godwin coming in at WR9 surprised me in the best possible way. I personally was looking to see what I could get for him in my leagues, but kept finding myself unsatisfied with some pretty decent offers. I had thought that his 2019 season had left a stain in my mind, but it turns out, when he was on the field this year, he was still balling out. Godwin didn't have as many massive weeks as we would have liked him to, but he finished as a WR2 or better in all but three games that he had played in last season. His future with Tampa is a bit hazy, but I'd imagine they figure out a way to retain him, at least for 2021. Godwin is a top-10 receiver that could see an even bigger role if he moves to a new team this offseason.
WR8: Allen Robinson, CHI (Score: 2.73)
Last year, I was shouting from the rooftops that Robinson would be a top-five fantasy receiver in 2020. He finished as the overall WR7 and came in as the WR8 on the consistency-adjusted rankings…so I'll chalk it up as a major win. His future is arguably the most confusing out of any receiver in the entire league, but he has proven time and time again that he is an absolute force no matter who is throwing the ball to him. A-Rob is an elite receiver in the NFL, put some respect on my man's name!
WR7: DeAndre Hopkins, ARI (Score: 2.73)
I'll be honest, I thought Hopkins would fall off a bit in Arizona, but he seemed perfectly fine. He finished the season as the WR4 in general and still showed up consistently enough to be a top-seven receiver in terms of consistency. I won't go into detail with him… we all know he's a damn good football player. Anyone who faded him (myself included) should be ashamed.
WR6: DK Metcalf, SEA (Score: 2.80)
DK is a baller, but I'm nervous. Not about him, but about what's going to happen with Russell Wilson. I can't imagine that Seattle actually deals him away, but it's definitely something to monitor. Regardless, Metcalf is a big, bruising receiver that should excel with any quarterback they give him. I can't imagine he stays in the top six on this list, but also can't imagine him falling out of the top 12. He's an incredibly safe WR1 to have in fantasy.
WR5: Will Fuller, HOU (Score: 2.82)
Uhhh, who else is surprised? Meh, I guess that's what performance-enhancing drugs will do for you. Fuller has always been good at football, but the health has always remained a serious risk with him. He's never played in a full season, and will continue that trend in 2021 while his suspension sidelines him for the start of the season. He'll likely be on a new team in the next few months, but if you can stand the risk and uncertainties, he's a great guy to go after. A repeat in the top five is highly unlikely, but if he lands in a good spot, Fuller should remain as one of the league's top-25 most consistent receivers.
WR4: Calvin Ridley, ATL (Score: 3.14)
It was the Ridley breakout season. Seriously, he only scored less than a 3.0 in a game twice, and one of them he got injured in. He's clearly shown that he can step up and replace Julio Jones as the WR1 in that offense. There will likely be a change at the helm at the quarterback position, which may temporarily bring down Ridley. Then again, we said the same thing about Keenan Allen last year… so don't do anything stupid this offseason when Atlanta drafts a rookie quarterback. Ridley is here to stay and will be a top-10 player on this list for many years to come.
WR3: Davante Adams, GB (Score: 3.31)
Honestly, I was surprised that Adams didn't finish as WR1 on this list… then again, being only 0.02 away from the top ain't too bad. This monumental season was the result of him being a complete stud and Aaron Rodgers having an MVP season. He won't be 29 until the end of the 2021 season, which leads me to believe that we're going to see more of the same from Adams for at least another two or three years. Adams is currently my dynasty WR1 overall.
WR2: Stefon Diggs, BUF (Score: 3.33)
"Fade Diggs" was the WORST take of the 2020 offseason. He's going to be an elite fantasy option in Buffalo for the foreseeable future. Shame on almost all of us, we really botched that one. Diggs was tied for the most-consistent wide receiver in the league and finished with the third-most fantasy points. Diggs was the only receiver on this entire list that had ZERO bust weeks.
WR1: Tyreek Hill, KC (Score: 3.33)
I'm very surprised that Hill is the top dog on this list. We've always known what he's capable of, but I didn't think he'd ball out in nearly every game. Hill only had one bust game, but was able to pump out massive numbers in a majority of his games this season. He and Diggs share the title for fantasy's most consistent receiver heading into this offseason and are both firmly planted in my top-five dynasty rankings.
Honorable Mentions (Score of 2.0 or Higher): Cooper Kupp, CeeDee Lamb, Corey Davis, DJ Moore, Tyler Boyd and Antonio Brown
A Brief Overview of the Grading Process:
I group together the top 12, 24, 36, and 48 receivers on the season and average out the weekly points they'd need for a WR1/WR2/WR3/WR4/Bust week. Then, I go through each week of the season and am able to give a grade of zero to four for each week based on weekly production vs the season averages for the entire position. I'll then take the average of the players' entire season to find their overall consistency grade.
Be sure to check out our brand new YouTube Channel and take a look at our most recent videos. Most recently, we've discussed our top-18 incoming rookies for fantasy as well as went over some of our favorite buy-low targets. Also, be sure to check out the latest episode of the Loaded Box Podcast as the guys are joined by John Chapman of the 49ers Rush Podcast to discuss some of the top QB's in the 2021 NFL Draft!
Mikey Ostrowski is a blogger for the Loaded Box Podcast. Check out his article archive and find more from the Loaded Box on Twitter & Facebook