Written by Mikey Ostrowski
In my last article, I covered the most consistent receivers from the 2020 season and now I'm going to dive into the quarterbacks. Not all of us can have a stud QB carrying our dynasty roster, but we sure as hell might be able to find a consistent option out there.
This system gives players a grade of 0.00 to 4.00 and is a tool that I've often used in the offseason to help me find my potential trade targets. I'll be presenting my findings and thoughts on each position, and this week, the quarterbacks are up.
QB15: Mitchell Trubisky (Score: 2.56)
What a way to start this list, huh? I've gotta admit, I was just as surprised as you are. From a fantasy perspective, Trubisky was actually pretty damn good in the games that he was "on". Throughout the weeks where he saw playing time, he had four great games, three "meh" games and two downright awful games. That may not sound like the epitome of consistency, but getting average-to-great play in seven of his nine games was probably more than most expected from Trubisky. If he stays in Chicago or gets a shot somewhere else, he's worthy of, at least, a top-24 QB tag for fantasy purposes. Whether or not he stays on the consistency list next season has yet to be seen.
QB14: Ryan Fitzpatrick (Score: 2.56)
The only thing crazier than Fitzpatrick cracking the top 15 is that from weeks two to six, he was the QB2 overall (only behind Kyler Murray) in the consistency-adjusted rankings. Then again, should we be surprised? Fitzpatrick does the same thing every year; puts together an insane four or five weeks in a row and then completely fizzles out. Seriously, I think this is the third or fourth year in a row with him doing something like this. While there has been recent talk about Fitzpatrick returning to football in '21, whether or not he's able to land a starting gig is a big unknown.
QB13: Gardner Minshew (Score: 2.67)
I like Minshew… and so did a lot of people when they were able to use him for fantasy football. While he was starting for the Jaguars between weeks one and seven, he was actually a QB1 for fantasy. However, it was very clear that Jacksonville wanted to go after the #1 selection in the draft, which ultimately led to them not using Minshew at all. I think he's good enough to get a starting job somewhere if the Jags decide to trade him, but for now, he's nothing more than a bench stash.
QB12: Ben Roethlisberger (Score: 2.67)
Big Ben's big days are behind him, but that doesn't mean that he can't be a good fantasy option. That offense is oozing with talent, and even though he's way over the hill, a good supporting cast was able to land him as a QB1 on the consistency-adjusted rankings. 2021 will likely be his last season in the NFL, and with that being said, I'll be shying away from him and/or trying to move on from him if I've got him on a roster somewhere. Regardless of the talent around him, I'm not banking on him touching this list in 2021.
QB11: Tom Brady (Score: 2.87)
Brady has been an under-appreciated fantasy asset for the last few years now, but he's shown us that he's still got it and that he'll likely be in the league at least another couple of years. He's a fantastic buy-low option in dynasty leagues as a short-term option, and will likely continue to pump out near-weekly QB1 numbers with the Buccaneers. We'll definitely want to pay attention to what happens with Chris Godwin, but Brady can be treated as a back-end QB1 regardless of who he's throwing to until the day he retires.
QB10: Kirk Cousins (Score: 2.93)
This one was definitely a surprise, but it really shouldn't have been with how well his offense played this year. Still, it's wild to see him land in as a top-10 fantasy option here. The real surprise, however, is that he was the QB2 overall (only behind Aaron Rodgers) over the last six games on the season, where he scored a massive consistency score of 3.67 during that stretch. Cousins really ain't too shabby, and having guys like Justin Jefferson and Adam Thielen to throw the ball to sure as hell doesn't hurt either.
QB9: Ryan Tannehill (Score 2.93)
Tannehill has been criminally underrated since he took over the starting QB role in Tennessee. He's been as consistent as they come as a back-end QB1 over the last season and a half and it really doesn't seem like that's going to change anytime soon. I'd be more than happy to roll with him as the top quarterback on my dynasty roster for the next two or three seasons, and he remains a tremendous buy-low option ahead of the 2021 season.
QB8: Justin Herbert (Score: 3.07)
Nobody expected this, but nobody is going to complain. Herbert was fantastic as a rookie and comes in as one of only eight players to have a season-long consistency grade of 3.0 or higher. His last handful of games were shaky to say the least when it comes to fantasy production, but make no mistake, the kid can play. He's likely to be a top-10 dynasty quarterback for the foreseeable future.
QB7: Russell Wilson (Score: 3.20)
Consistency score? It's great, but Wilson deserves a deeper look. His score is largely carried by the first half of his season, where he scored a 3.88 between weeks one and nine. However, the rest of his season tells a different story. Had we only pulled his numbers between weeks 10 and 16, he would have only held a 2.43 ranking. So, yes, Wilson was technically a top-seven quarterback on the consistency-adjusted rankings, but it really was a tale of two seasons for him. There's a lot to monitor with him being potentially on the move, but no matter where he takes his first snap of 2021, he'll still be locked into, at least, a top-15 quarterback role.
QB6: Lamar Jackson (Score: 3.21)
You'd think that Jackson's slow start would have affected his spot on this list, but the start wasn't as bad as we all initially thought. Our expectations were obviously through the roof for Jackson in 2020, so it only makes sense that we were left desiring a bit more from him at the beginning of the season. Baltimore will likely look to improve its receiving room this offseason, which should be an obvious uptick for Jackson's production. He also did not show signs of slowing down in his running game (which is where the majority of his fantasy points seem to come from) so I'd consider him as a bounce-back candidate for 2021. Still, a top-six finish on the consistency-adjusted rankings is far from terrible.
QB5: Deshaun Watson (Score: 3.33)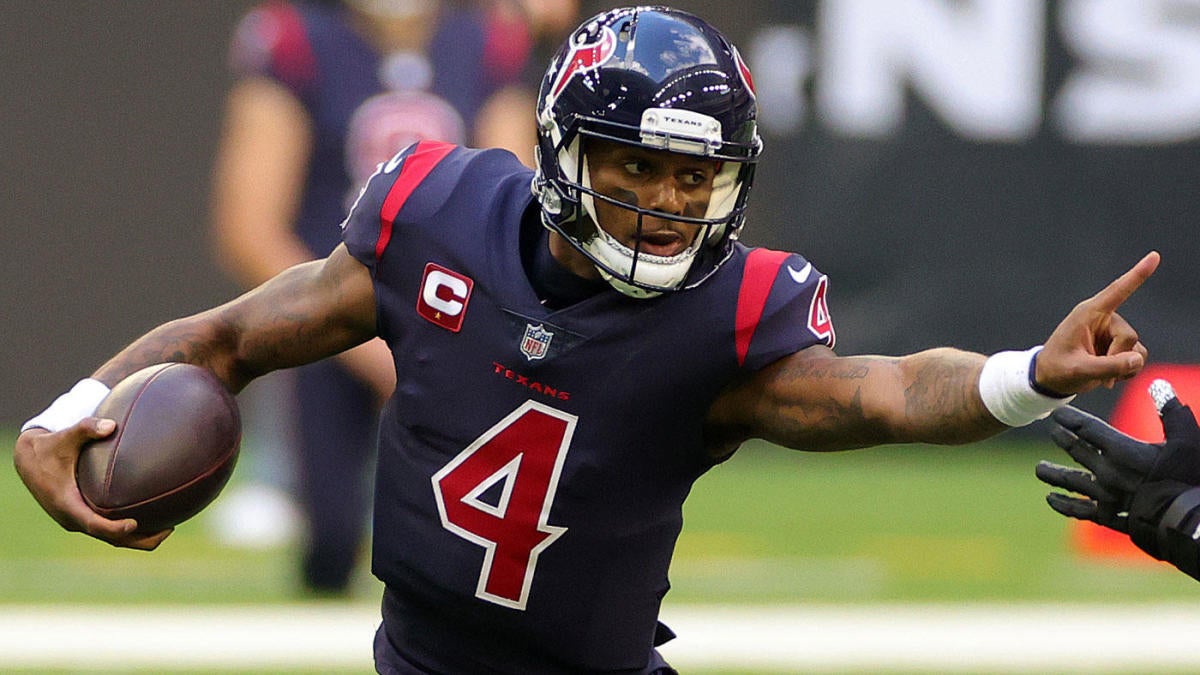 I don't need to tell you how good Watson is. I also don't need to tell you that we have no idea where he's going to play in 2021 and that there seems to be a legitimate risk of him sitting out for the entire season. If I'm being honest, this is one player that I could not even begin to offer advice on, just know that if he plays anywhere in 2021, I'd be shocked if he wasn't a repeat name on the top five here.
QB4: Patrick Mahomes (Score: 3.33)
Mahomes is the dynasty QB1 in nearly everyone's rankings. He's got skill, he's got talent around him, he's got an excellent situation and a very long-term contract. I'll only ever be surprised with him if he's not a top-five name on this list, so yeah. Moving on.
QB3: Kyler Murray (Score: 3.40)
Weeks one through 10 Murray had a perfect score of 4.0, which might be the only time I've seen that happen for any position over a 10-week span. There's no debate that Murray is an incredible quarterback for fantasy and a pretty decent one in real life. However, he is definitely a guy to monitor. Much like Wilson, Murray's numbers are a tale of two seasons. His 10-week 4.0 carried him to a top-three spot on this list, but if we were to only use his second half of the season, he would have landed as the QB17 on this list. We'd definitely like to see more consistency from him for the entire season in 2021, but his rushing upside and rapport with DeAndre Hopkins is enough to keep him ranked as a top-five quarterback in most rankings out there.
QB2: Josh Allen (Score: 3.40)
Dude is an absolute stud and I love him, but is he due for some regression? Probably. I mean, with how he was playing and with Buffalo adding legit receiver assistance, this was an entirely new offense that teams simply could not have expected. I still think he'll be a top-10 quarterback, hell, if I'm being honest, he's actually my QB3 in my offseason dynasty rankings, but there's almost no way that he can sustain his massive 26.5 PPG pace. Like I said, dude is a stud, but insane production like that is hardly replicable in back-to-back seasons.
QB1: Aaron Rodgers (Score: 3.60)
Speaking of numbers that are hard to replicate, Rodgers was an absolute animal in 2020 and is this year's king of consistency at the quarterback position. He scored a perfect score in all but three games, and only had a particularly bad score one game throughout the entire season. If I had to pick one player to see the biggest change on this list, it'd be Rodgers. I think he's still going to be playing elite ball in 2021, but I just have a hard time believing that he can stay within the top five. Can he at least stay in the top 10? Sure, but then again, he's only one season removed from putting up a ton of stinkers. I guess we'll see what happens with Rodgers, but it definitely seems like a great time to sell high.
Bonus QB: Dak Prescott (Score: 3.20)
Dak's sample size wasn't big enough to actually grant him a spot on the list this year, but for what it's worth, he was posting top-seven QB numbers through week five.
Honorable Mentions (Score of 2.35 or Higher): Drew Brees, Teddy Bridgewater, Carson Wentz, Matt Ryan, Derek Carr, Cam Newton
If you haven't already, check out my article on The Top-25 Most Consistent Receivers. This one breaks down the receivers and gives a brief overview as to what my process is for determining the consistency-adjusted rankings.
Be sure to check out our brand new YouTube Channel, where Dylan and I post weekly dynasty content and the founders of LBP (Ben and DJ) livestream our podcast. Last week, we discussed some of our favorite Buy-Low Options for this offseason and this week we discussed some of our favorite Sell-High Candidates.
Mikey Ostrowski is a blogger for the Loaded Box Podcast. Check out his article archive and find more from the Loaded Box on Twitter & Facebook