Written by Mikey Ostrowski
This is my third of four articles regarding the league's most consistent players (for fantasy purposes of course), and today, I'll be highlighting the top-20 running backs based on their consistency score.
This system gives players a grade of 0.00 to 4.00 and is a tool that I've often used in the offseason to help me find my potential trade targets. Consistency scores are awarded to players by factoring in a handful of data and statistics from their weekly outputs, to expected results, to season-long expectations for the position. The minimum amount of games a player must have played in to be considered for this list is six. Let's dive on in.
RB20: Kenyan Drake (Score: 2.57)
Drake, whether we want to admit it or not, was perfectly fine as a team's RB2 last year. However, his ADP was in the top-20 picks in redraft, which means we thought we would likely see low-end RB1 numbers from him. His season with the Cardinals was disappointing, but only based on the high hopes that we had for him. He wasn't much of a force in the passing game, but he stayed consistent on the ground and snuck into the end zone a fair amount. It'll be interesting to see where he takes his first snap of 2021, but I've gotta imagine that he won't have an RB1 role wherever he lands.
RB19: Miles Sanders (Score: 2.58)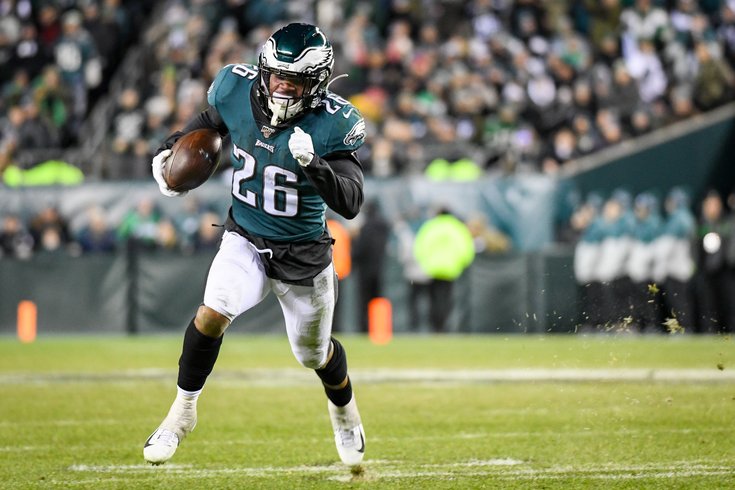 Sanders had a pretty up and down season in 2020, but could be in line for a much better stat line in 2021. There's a new coaching staff, a new quarterback and a new philosophy… hopefully this philosophy includes giving their stud running back more touches each game. I would definitely expect his position to improve on this list, though there's no telling what that offense could look like in week one. The good news is that I think RB19 on the consistency-adjusted rankings is his floor and the time to buy low on him is now.
RB18: Kareem Hunt (Score: 2.60)
Hunt is only 25 years old, is a massive part of a very young offense, and is under contract through the next two seasons. He's a PPR magnet and has formed one hell of a 1-2 punch with Nick Chubb. While I can't imagine his ceiling getting much higher, he's about as safe as they come as a mid-range RB2. He's honestly so underrated and is a guy that I'd try to trade for this offseason if the price is right.
RB17: Josh Jacobs (Score: 2.64)
Jacobs has been good but hasn't really lived up to his ADP of rookie 1.01 in 2019. He was the RB15 in points per game (PPR) and RB17 on the consistency-adjusted rankings, which is nice, but it really leaves something to be desired. He's such a weird option, as I wouldn't trade him for a back end first-round pick, yet I feel that that's all I'd actually offer for him if I were trying to acquire him. The good news is that he's just fine to have as your RB2 if you can stand having him on a few "bust" weeks each season.
RB16: D'Andre Swift (Score: 2.67)
Honestly, I thought Swift would be a bit higher on this list since he looked pretty great each time he got opportunities, but I guess when a handful of your games is spent behind Adrian Peterson, there's only so much you can do to be considered consistent. It's highly likely that Swift is leaned on as a workhorse moving forward in Detroit, as the new coaching staff has called him a "300-touch kind of back". I don't know about you, but I'm hella excited. I'd expect him to creep into the top 10 on this list by the end of the 2021 season.
RB15: Clyde Edwards-Helaire (Score: 2.69)
Conversely, I thought CEH would be lower on this list… but as someone who was (foolishly) taking him at 1.01 last season, I'm pretty pleased that he came out in the top 15. Edwards-Helaire definitely slowed down by the midway point of the season, but you can't blame him too much. He fought injury, a hobbled offensive line, and two other running backs for carries even though he proved himself to be a good runner a majority of the time. Things are going to get complicated once Damien Williams comes back next season, but I'd imagine that Andy Reid will be ready to hand the reins to CEH. I'd expect him to stay in the RB13-RB16 range for 2021. EDIT: Damien Williams has been released by the Chiefs.
RB14: Antonio Gibson (Score: 2.69)
I'm guilty of not hyping up Gibson, but I was wrong, and I'll openly admit that. Gibson was stellar with Washington and I'd have a hard time believing that that'll change any time soon. He handled the lion's share well and put up pretty big numbers despite J.D. McKissic stealing a lot of the passing work. If Gibson becomes more involved on third downs, he could take an even further leap as a pro… and I really think that he will.
RB13: Ezekiel Elliott (Score: 2.79)
Zeke is being slept on way too much these days, but people are starting to hype him back up with Dak Prescott officially returning. For what it's worth, he had a perfect 4.0 score between weeks one and six… where he had Dak in the game for five of them. He's still a top-five option at the position for fantasy purposes, and if you can get him cheaper than the typical top-five price in your league, I would totally do it.
RB12: David Johnson (Score: 2.82)
Huh? Anyone else's mind completely blown by the fact that DJ even made the top 20, let alone the top 12? While he didn't crank out elite numbers, he did produce enough to teeter the line of RB1/RB2 in pretty much every game of the season. There were only three games where he didn't have a score of at least 3.00, which is actually pretty damn good. He is, by no means, an RB1 moving forward, especially with the dumpster fire that will be Houston in 2021. However, he's a lock for a solid workload and should be considered as a volume-based RB2.
RB11: Jonathan Taylor (Score: 2.86)
Yeah… this guy should've been the 1.01 last year. I'm not going to overthink that ever again. JT was electric when he was finally handed the reins to the backfield in Indy… and by electric, I mean he posted a score of 3.80 between weeks 11 and 16. We're all excited to see this man have a full workload, but I think I can speak for everyone when we say that we're concerned Nyheim Hines will continue to be a thorn in his side. Nevertheless, Taylor is considered as a consensus top-five running back for most people (RB6 overall if you're me) and will be one of the toughest players to acquire via trade this offseason.
RB10: Chris Carson (Score: 2.91)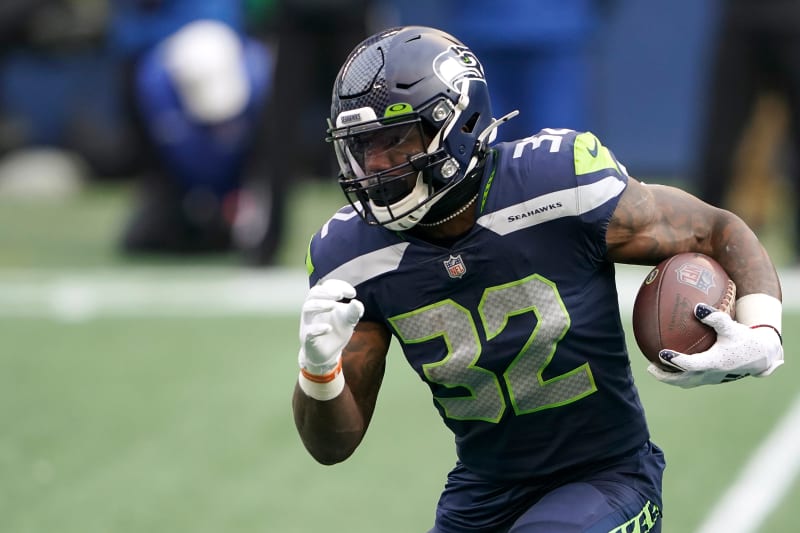 Carson's future is a big ol' question mark right now. Seattle likely won't be bringing him back, but with his recent health issues, you have to wonder if there is a team that will invest any legitimate money in him. He's been one of fantasy's best kept secrets over the last couple of years, but I'm finding it tough to imagine that he'll land in a starting role somewhere. Nevertheless, when he was on the field, he did insanely well for fantasy owners and is a guy that I'll be tracking very closely in free agency this year. The buy-low window is open, but it's a risky one… then again, that window could slam shut once he finds a new team.
RB9: Austin Ekeler (Score: 3.00)
Ekeler is currently my RB13 to own in dynasty formats, however, I have a feeling that he'll be moving up a couple of spots the next time I revise my rankings. He fought injury last year, but was great on the ground and an absolute force in PPR leagues with Justin Herbert throwing the ball. Ekeler is still under contract for another couple of years, and with the Chargers having much bigger needs elsewhere, I'd imagine Ekeler to remain the top dog of that backfield for the foreseeable future. I'd be shocked if he falls out of the top 10 of this list.
RB8: David Montgomery (Score: 3.00)
Monty's late-season heroics were the definition of a "league winner". He was lights out once he returned from injury, racking up a perfect 4.0 consistency score between weeks 12 and 16. Granted, he had some very easy matchups, but he still had to have an elite showing to put up the type of numbers that he did. Some are calling him a sell-high option, but I'm calling him a buy low. My most recent Twitter poll showed that people would rather have the 1.10 and 2.10 over Monty, and that's just… absurd for a guy that finished 2020 how he did. If I need an incredibly solid RB2, Monty is one of my main targets this offseason.
RB7: Derrick Henry (Score: 3.07)
Derrick Henry is Derrick Henry. He's not much of a PPR machine, but he still does perfectly fine, and has been absolutely killing it for the last few seasons now. Despite his bruising playstyle, injury has not been a concern for him. That team has been using the pass a bit more, but I'd still consider them a run-first offense, which obviously bodes well for the next couple of seasons for Henry. He's got a relatively safe floor with week-winning upside any time he steps foot on the football field.
RB6: Nick Chubb (Score: 3.09)
Chubb was fighting injury for a good portion of the season, but was playing some exceptional football once he was back on the field. Admittedly, he's a guy that I've never gone after in my leagues, but he consistently shows up on gameday and is an incredibly safe play in most weeks. My knock on Chubb has been his lack of contribution in the passing game, but who needs it if you're going to put up stats like he does. Chubb is entering a contract year and will be an unrestricted free agent in 2022. Staying in Cleveland is probably his most desirable fantasy destination and I imagine they won't let him walk if he shows more of the same this season.
RB5: Myles Gaskin (Score: 3.33)
Woah. Gaskin went from undrafted in most leagues to being an every-week starter off of the waivers. Gaskin did some incredible things with the starting role last year, totaling a perfect 4.0 score over his last five starts of the season. Granted, he did barely make this list, as my criteria is that the player will have had to play at least six games (Gaskin was active in eight), but he was fantastic whenever fantasy managers were able to use him. His future outlook is definitely hazy, but there is a world where Miami continues to roll with him. Even if they bring in a new running back, I'd expect Gaskin to retain at least a Nyheim Hines-esque role with the Dolphins, and is a guy I'm still interested in having on my roster in PPR leagues.
RB4: James Robinson (Score: 3.36)
Woah. Again. Robinson was either picked up right before week one in your league or right after… regardless, Robinson may be the all-time, waiver-wire hero in fantasy football. I think he played well enough to warrant some job security, but there are many out there that think the Jaguars are still a candidate to invest in a running back this offseason. He's being ranked as a top 15-18 dynasty running back in most places, but I've gotta imagine that skyrockets if the Jaguars leave the draft without a running back. Time will tell, but this dude is one hell of a football player.
RB3: Aaron Jones (Score: 3.38)
Jones seems to be the favorite non rookie to take either Gaskin's or Robinson's job in 2021, but with what he's done in Green Bay the last couple of years, I can't imagine they're going to let him walk. Sure, they did not use the franchise tag on him, but contract talks are still in full swing. Anyway, Jones is the PPR version of Derrick Henry… an incredibly safe weekly play with week-winning upside. He's only 25 and with how his workload has looked in Green Bay, will likely remain a force to be reckoned with at least another three seasons or so. No matter where he ends up, he's going to, at the very least, be a team's 1A running back. Look for him to stay in the top 10 of this list with ease. EDIT: Jones has signed a 4-year extension with the Green Bay Packers.
RB2: Alvin Kamara (Score: 3.60)
Kamara was so disappointing in weeks 11 and 12…. But was literally perfect in every single other week of the season. I don't need to tell you how incredible Kamara has been for fantasy over the last three or four years… so I won't. I will say, however, that I couldn't care less who his quarterback is in 2021, as he's still going to be a lock-and-loaded, top-5 running back for fantasy purposes.
RB1: Dalvin Cook (Score: 3.86)
Cook is this year's king of consistency, and is anyone surprised? He played out of his damn mind last season, finishing with a perfect score in all but two weeks of the season. He did have a slightly smaller sample size, though only missing one game won't skew the data that much for him. Cook is locked into a top-five role for fantasy backfields, but is also my favorite sell-high candidate of all of them. I genuinely think he'll stay very high up on the consistency-adjusted rankings next year, but his history with injuries is what deters me. Unless you're a surefire top-four team in your league, I'd explore some trading options. Cook's value is sky high right now after signing a new contract and having an absolutely bonkers season.
Bonus RB: Christian McCaffrey (Score: 4.00)
Obviously, I couldn't include C-Mac on the list since he only played in three games… but for what it's worth… he held a perfect score in all three of those games. Dude is damn good at football.
Honorable Mentions (Score of 2.25 or higher): Joe Mixon, Ronald Jones, Melvin Gordon, James Conner, Mike Davis, JD McKissic, Raheem Mostert
If you haven't already, check out my article on The Top-25 Most Consistent Receivers, as well as The Top-15 Most Consistent Quarterbacks. These ones break down the receivers and quarterbacks and gives a brief overview as to what my process is for determining their consistency-adjusted rankings.
Be sure to check out our brand new YouTube Channel, where Dylan and I post weekly dynasty content and the founders of LBP (Ben and DJ) livestream our podcast. Last week, we discussed some of our favorite Sell-High Candidates and will be examining our favorite Buy-High Candidates this week.
Mikey Ostrowski is a blogger for the Loaded Box Podcast. Check out his article archive and find more from the Loaded Box on Twitter & Facebook