The NFC East is a true mixed bag when it comes to predicted fantasy success for the 2020 NFL season.
There are players I absolutely love and will likely overdraft (to an extent) due to how much I like them; and then there's the Washington Football Team…
Keep in mind that the players discussed below are the players I feel are best to target based on their current average draft position and not necessarily the players that will lead their respective teams in fantasy scoring.
Before we get started, be sure to check out the divisions we've previously covered in the event you missed them earlier.
Dallas Cowboys
Target: Michael Gallup, WR, Current ADP – 6.05; WR29
Are people really scared of CeeDee Lamb invading the space that last year's WR22 carved out for himself? Look, I love Lamb just as much as the next guy, but you're not just going to ignore a guy that posted a 66-1,107-6 stat line as a 24 year old because of the selection of a first-year wide receiver. There will be plenty of opportunities for Michael Gallup to shine once again this season, and selecting him as the 29th-overall receiver makes him one of the top guys that you can have as a WR3 or flex play. Draft Gallup with the confidence that you'll be able to use him as an every-week starter.
Avoid: None
Sorry for taking the easy way out, but there's no way I can tell you to avoid any Cowboys' players at their current ADP. Let's take a quick look at the skill players with ADP's so I can justify my "none" selection. Dak Prescott is currently going at the end of the fourth round as the third quarterback off the board. While I'm not typically big on using this high of a draft pick on a QB, you'd have a hard time convincing me that Prescott won't live up to his current ADP after consistently being one of the top fantasy QB's since entering the league, and completing last year with a career-best QB2 finish. Speaking of consistency, Zeke Elliott has been just that since entering the league in 2016 finishing (in order from rookie season through last year) as the overall RB2, RB10, RB5 and RB4. Good luck finding much better production than that out of a running back over a four-year span. Amari Cooper's current ADP is 3.02, but he's been lights out since coming over from the Raiders, and is a quarterback's dream with his combination of size, speed and route running. He's consistent in all aspects of fantasy (catches, yards & touchdowns), and provides solid week-winning potential. Moving onto Elliott's backup, Tony Pollard. The team's No. 2 option in the backfield, behind one of the league's best offensive lines, at the end of the 10th round? There's little-to-no risk in making this selection. I already mentioned that I'm a Lamb fan, and taking a swing on him in the late 10th-early 11th won't raise any eyebrows. Lastly, Blake Jarwin going at the tail end of the 13th round provides some pretty remarkable value. My advice on tight end this season would be to wait until the double-digit rounds and then double down on tight ends that you can platoon in and out of your starting lineup based on hot streaks and matchups. Jarwin may be the perfect candidate for this strategy as your fantasy squad's second tight end. So there… I didn't take the easy way out. In fact, this is my longest writeup of all eight versions of this article!
Philadelphia Eagles
Target: Boston Scott, RB, Current ADP – 13.08; RB53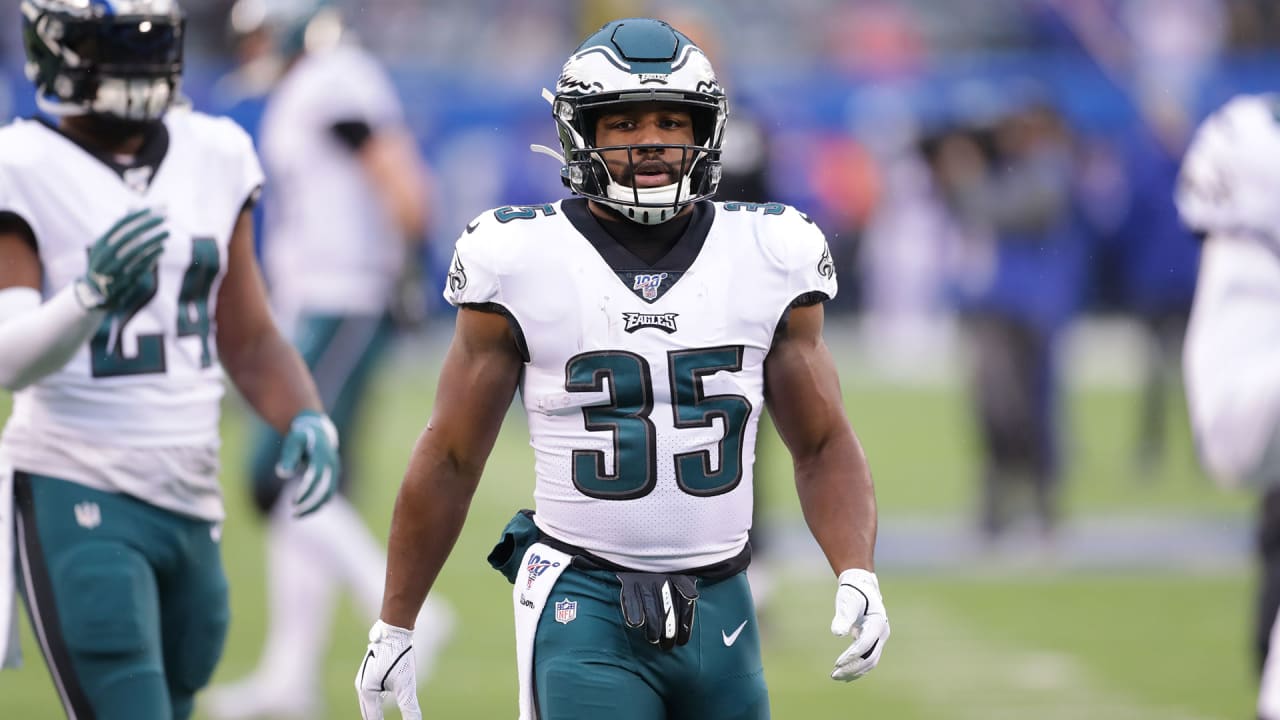 I was basically at a three-way tie for this pick between Boston Scott, Carson Wentz and Dallas Goedert. Wentz is super consistent with boom-week potential, when healthy. Goedert has top-10 tight end potential, despite being the second option at tight end on his own team. But the value I believe Scott can provide your fantasy team, especially when you're drafting him midway through the 13th round, is too hard for me to pass on. Scott is going to get touches, obviously not to the level of Miles Sanders, but the team isn't going to run Sanders into the ground. Additionally, look behind Scott on the depth chart. See anyone that catches your eye? Yeah… not so much. Scott appeared in 11 games last season and racked up 245 yards on the ground and an additional 204 yards through the air while adding five total touchdowns en route to finishing as RB48. Now he's going as RB53 and he's the clear No. 2 option behind Sanders? Even if Sanders stays healthy and receives bell-cow treatment (which he won't), Scott will have no issues living up to his ADP. And if Sanders gets hurt? You've just stumbled upon a potential gem in Scott. Shoot your late-round shot on him this season.
Avoid: Alshon Jeffery, WR, Current ADP – 10.09; WR48
The end of the 10th round isn't a terrible price, but already being placed on the PUP list with the possibility of missing the first six weeks of the season makes the 30-year-old Alshon Jeffery an easy pass for me this year. Jeffery hasn't played a full 16-game season since 2017, and has done so just three times in his eight-year career, which is a shame because a healthy Jeffery is fun to watch. There are plenty of guys coming off the board around the same time as Jeffery that are safer and have similar boom-week potential, so take your chance with the likes of Jamison Crowder, Jerry Jeudy or Preston Williams rather than Jeffery in 2020.
New York Giants
Target: Sterling Shepard, WR, Current ADP – 10.02; WR44
I'm not going to go out of my way and jump a bunch of receivers in my rankings to land a guy like Sterling Shepard, but if he's on board in the 10th round and there's not a quarterback or tight end available that catches my eye, I'm more than comfortable adding Shepard for depth at my WR position. Shepard still finished with more than 50 receptions for over 500 yards and three touchdowns last year despite playing only 10 games, and that was on a fairly poor Giants' team with a rookie quarterback leading the way. The Giants' offense should take a nice step forward in year two with Daniel Jones, and if Shepard can stay healthy, I wouldn't be surprised if he posted a 70-900-5 stat line, which would more than suffice considering the 10th-round selection you used on him.
Avoid: Golden Tate, WR, Current ADP – 11.02; WR50
For how much I like Shepard and Darius Slayton, I'm really not a big fan of Golden Tate at this point in his career. Granted you're hardly using any draft capital on him in the 11th round, I still think you're better off going another direction and letting Tate sit on someone else's bench. The 32-year-old receiver hasn't played a full 16-game season since 2017, and will likely be the fifth option in this offense behind Saquon Barkley, Evan Engram, Slayton and Shepard. While I mentioned the Giants' offense will be improved in 2020, I don't think it'll be improved to the point where it supports five players on a consistent basis.
Washington Football Team
Target: Adrian Peterson, RB, Current ADP – 13.08; RB54
What year is this? Regardless of what you think about the 35-year-old running back, there is room for Adrian Peterson on fantasy football rosters this season; especially since Derrius Guice is now out of the picture. I'd anticipate his ADP rising as draft day approaches, but I still think he's worth drafting as basically the only proven option in Washington at the position. The love for Antonio Gibson is through the roof right now, but the safer, and likely more rewarding play, is drafting Peterson. Peterson has carried the ball over 210 times in both years in DC, including a 1,000-plus yard season two years ago and nearly 900 yards last year. He should once again see around 200 carries, flirt with 800+ yards and record at least a handful of touchdowns. He's not a sexy pick anymore, but he's a great bench stash should you need him to fill in due to injury or bye weeks.
Avoid: Terry McLaurin, WR, Current ADP – 6.02; WR27
Terry McLaurin is another perfect example of a player I really like in real football, but want nothing to do with this year when it comes to fantasy football. Currently going as the 27th wide receiver off the board, McLaurin is my WR39, which translates to, there's no way I'm going to end up with McLaurin in any of my redraft leagues. McLaurin was great in 14 games as a rookie, snatching 58 balls for 919 yards and seven touchdowns, but I have a real doubt in this offense in 2020, and I think it'll be hard for McLaurin to duplicate these numbers, even in a 16-game season. I'm sure he'll be fine some weeks, but the numbers won't be there consistently enough to warrant him being the 27th WR taken. Numerous players going shortly after him such as JuJu Smith-Schuster, Michael Gallup, Jarvis Landry and DeVante Parker are better options with this draft capital.
For more fantasy football coverage leading up to the 2020 season, check out the following podcast episodes:
Ben Morgan is a co-host and blogger for the Loaded Box Podcast. Check out his article archive and find more from the Loaded Box on Twitter & Facebook