It's pretty safe to say that numerous players from the AFC West are going to play a large role in how the 2020 fantasy football season plays out, but luckily for you, I'm here to let you know which players you should target, and which players you should avoid come draft day.
There are some obvious choices from the AFC West, especially when you look at an offense as loaded as Kansas City's, but keep in mind that I'm trying to help you find the best value based on average draft position.
Lastly, before we get started, make sure you check out the AFC East version of this article as we breakdown which Dolphins, Patriots, Bills and Jets to target/avoid this fantasy season.
Kansas City Chiefs
Target: Travis Kelce, TE, Current ADP – 2.06; TE1
This list could be much longer than just Travis Kelce. However, if I'm picking just one Chiefs' player at their current ADP, I like Kelce due to what he provides your fantasy squad on a weekly basis when it comes to having a positional advantage. The only other tight end that can compete with Kelce on a weekly basis is George Kittle, so while you may be missing out on a running back like Miles Sanders or a wide receiver like Chris Godwin by selecting Kelce in the middle of the second round, you'll likely have a much easier time trying to find other RB's or WR's later in the draft than you would finding another high-quality TE.
Avoid: None
I can't honestly tell you to avoid anyone in this offense and feel good about it. There's a solid chance Mecole Hardman doesn't live up to his 8.08 ADP, but there's also a good chance he's a steal at this point in the draft if one of Patrick Mahomes' top targets goes down to injury for any significant amount of time. I wouldn't go out of my way to overdraft a guy like Sammy Watkins, but if he's the top-ranked options on your board when you're on the clock and you're looking for a guy that can fill your flex spot on some weeks, go ahead and select him.
Denver Broncos
Target: Jerry Jeudy, WR, Current ADP – 11.08; WR53
It's typically not a best practice to go out and target a bunch of rookies for your fantasy squad, but grabbing Jerry Jeudy at the end of the 11th round is low risk with WR3/flex upside. Currently going as the 53rd wide receiver off the board, I have Jeudy ranked as my 44th receiver, and I'm pretty confident he'll be able to live up to this ranking. Yes, Denver's offense is considered to be loaded with skill players, but Jeudy's ability as a route runner, and what he can do after the catch, is already so advanced in just his first year in the league, that Drew Lock will realize quickly what kind of asset he has in Jeudy. He'll likely begin the season as a bench stash for you, but it'll be just a matter of weeks before he becomes a viable starting option.
Avoid: Noah Fant, TE, Current ADP – 9.08; TE11
I believe Noah Fant is a good player and has a nice future ahead of him in this league, but I can't justify a ninth-round selection on him based on two things. First, we're working with a very small sample size when it comes to Fant. We're looking at a guy with 40 career receptions and three touchdowns while starting just 11 games. Sure there was some solid promise from his rookie season last year, but I'm not quite sold on him being my fantasy team's TE1 on a weekly basis just yet. Second, with the number of mouths to feed (Jeudy, Courtland Sutton, K.J. Hamler, Melvin Gordon, Phillip Lindsay, etc), I'm don't believe the volume will be consistent enough for Fant. I'm much more comfortable with the next six tight ends (based on ADP: Hayden Hurst, Mike Gesicki, Rob Gronkowski, T.J. Hockenson, Dallas Goedert on Jonnu Smith) than I am with Fant this season.
Las Vegas Raiders
Target: Hunter Renfrow, WR, Current ADP – 14.10; WR70
I've talked about this numerous times on the podcast, but I truly believe the Raiders are going to spread the targets out fairly evenly this year. They've added so many new faces on the offensive side of the ball, but none of these new faces screams alpha male/target monster. So while I think we'll see numerous Raiders' shine throughout the season, I think your best bet for consistent fantasy production will come via Hunter Renfrow. He put up pretty solid numbers last year for a fifth-round rookie (49-605-4), and seems to have become a fairly safe security blanket for Derek Carr. I think you'd be lucky to get any more than 6-7 touchdowns from him (on the high side), but I believe the receptions and a modest yards total will more than warrant his current 14th-round average draft position.
Avoid: Darren Waller, TE, Current ADP – 5.05; TE5
This selection was one of the hardest I had to make while writing these articles. I'm not totally opposed to selecting Darren Waller here, but what holds me back is the quality of player you can select at the position a couple rounds later that I believe have a good chance of matching Waller's production. The Raiders spent this offseason surrounding Carr with skill players on the outside, and while I think Waller still has a solid chance of leading the team in targets, I do believe the opportunities will be spread out fairly evenly.
Los Angeles Chargers
Target: Austin Ekeler, RB, Current ADP – 2.12; RB13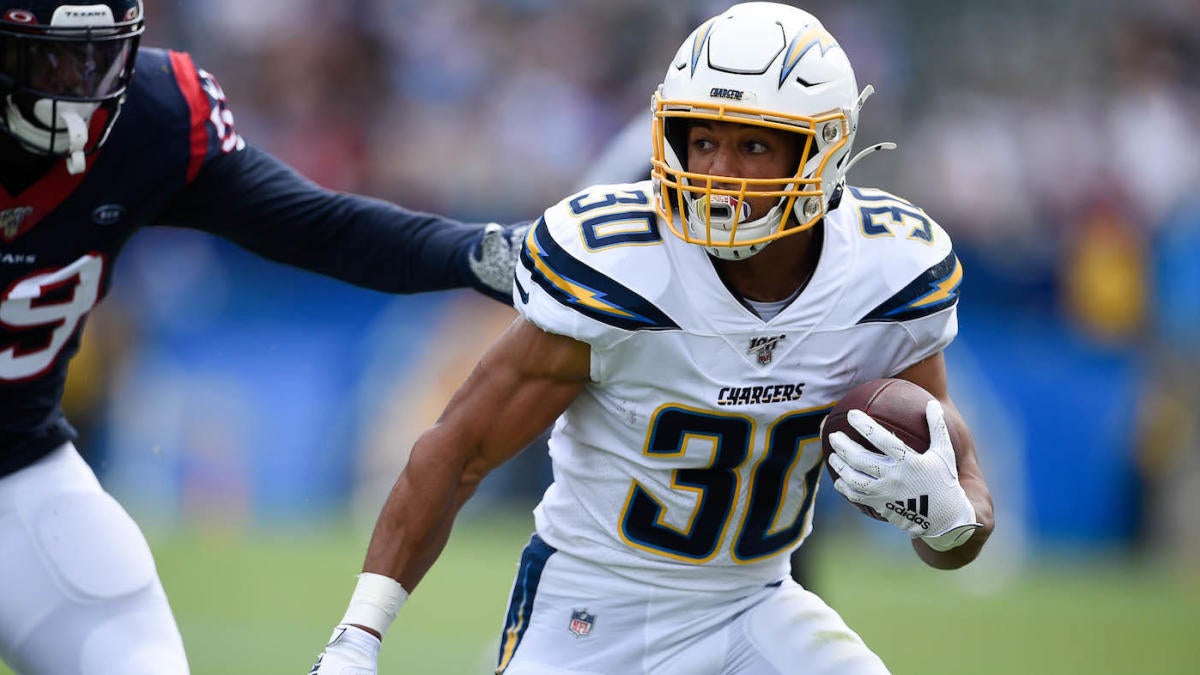 Not sure I can be much higher on Austin Ekeler than I already am at this point. You're going to have to take him early if you want him, but look at all of the positive things he has going for him. He was last year's RB6 while Melvin Gordon was (at least somewhat) still in the mix. He's fantastic as a pass catcher coming out of the backfield (92-993-8). And he's playing in an offense with a brand-new quarterback, so more carries and check downs seems fairly likely for Chargers' running backs. Drafting Ekeler at the turn of the 2nd/3rd round is the perfect selection for anyone with a top draft spot this season.
Avoid: Keenan Allen, WR, Current ADP – 4.05; WR18
I love Keenan Allen as a wide receiver in this league, however, I'm thinking I'll let him be someone else's this upcoming fantasy season. Tyrod Taylor doesn't have the most consistent history when it comes to supporting fantasy receivers, and if the plug is pulled on Taylor and Justin Herbert steps into the starting role, I'm not all that confident in him supporting fantasy receivers in year one, either. Additionally, there are numerous alternative options with similar ADP's that provide just as much, if not more, consistency and boom-week potential as Allen (ex: D.K. Metcalf, Tyler Lockett, Odell Beckham Jr, and Robert Woods to name a few).
Be sure to check out the latest episode of the Loaded Box Podcast as we match up the top-12 QB's based on similar ADP's and breakdown who we'd take if deciding between them on draft day!
Ben Morgan is a co-host and blogger for the Loaded Box Podcast. Check out his article archive and find more from the Loaded Box on Twitter & Facebook