Part three of this eight-part series as today we identify one player from each team in the NFC West to target, and one to avoid for the upcoming fantasy football season.
Keep in mind, these selections are what I consider to be the best value based on average draft position, not necessarily the player that's going to lead the team in fantasy scoring.
Also, if you missed any of the divisions we've already covered, get caught up with the AFC East and the AFC West!
San Francisco 49ers
Target: George Kittle, TE, Current ADP – 2.09; TE2
I'm not typically one to grab a tight end early in drafts, however, when you're selecting the likes of George Kittle or Travis Kelce, I can get behind the logic of it. The positional advantage they give you on a weekly basis is pretty remarkable, and the fact that the 49ers didn't add much in regards to veteran depth at receiver this year, makes me believe Kittle is once again going to flirt with 100+ targets, over 1,000 receiving yards and a handful of touchdowns. Fantasy owners would love to see a bump in Kittle's touchdown production (career-high five in both '18 and '19), but his reception and yard totals make him a very safe selection. Additionally, there is good reason to believe that the 49ers will be more active in the passing game this year, and more pass attempts leads to more targets and production for guys like Kittle.
Avoid: Deebo Samuel, WR, Current ADP – 5.05; WR24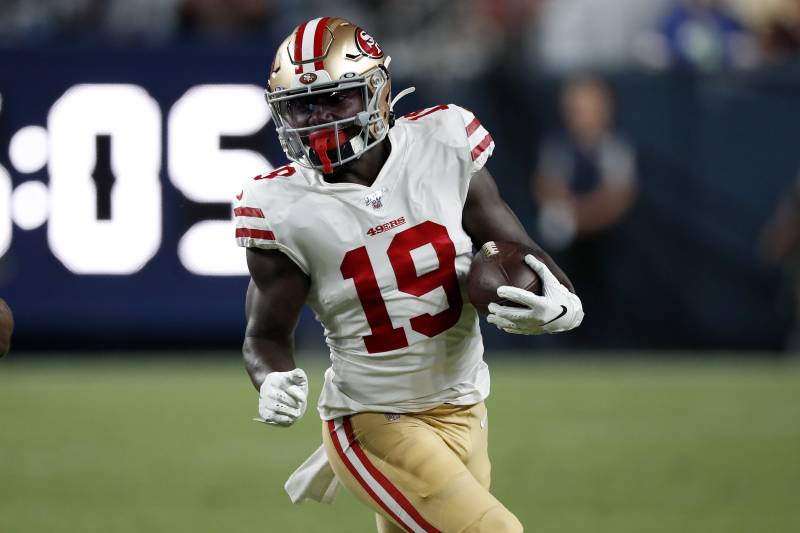 This selection has more to do with current injury status than anything as I was a big Deebo Samuel fan coming out of college and owned him in numerous fantasy leagues last year. While the payoff was great last year, based on his extremely low ADP, the middle of the fifth round seems fairly high for Samuel in year two. If he's healthy and is able to give you a full season he should finish as a low-end WR2/high-end WR3, but health is a huge concern right now (same injury that Trent Taylor went through last year). Also, keep in mind that while Samuel has the ability to beat defenses multiple ways, he did score a decent amount of his fantasy points on what I'd label as "non-traditional plays" which makes trusting him to produce as a typical receiver a bit worrisome. Samuel is super talented and a player I'd want on my favorite football team, but I'm leaning away from him when it comes to fantasy as I'm more confident in several receivers being drafted after him (Robert Woods, JuJu Smith-Schuster, Michael Gallup, DeVante Parker to name a few).
Los Angeles Rams
Target: Robert Woods, WR, Current ADP – 5.05; WR25
Sorry for the spoiler alert above in the 49ers' section, but drafting Woods halfway through the fifth round is a steal. Woods finished WR17 last season despite scoring just three total touchdowns. He hauled in over 1,100 receiving yards on 90 catches last season, and not only should those numbers stay consistent with Brandin Cooks now out of the picture, but I think it's inevitable that his touchdown total rises in 2020. He's been the model of consistency (WR17 and WR10) in his two full and healthy seasons with the Rams, and there's no reason to believe that he'd finish any lower than a low-end WR2 this season. Do everything you can (while staying true to your board) to draft Woods in 2020.
Avoid: Tyler Higbee, TE, Current ADP – 7.08; TE8
Are there really people out there that are comfortable making Tyler Higbee the eighth tight end off the board? Sure he's never truly been the featured tight end in an offense, but despite his 69-734-3 stat line from last year, I simply can't justify taking Higbee as a top-12 tight end. I have no doubt that Higbee has the capabilities of finishing in the top eight at the position, but I'm just as comfortable with several guys going 2-3 rounds later that I believe have just as good of a chance at finishing in the top eight. He'll be a guy you're likely comfortable using at the TE position on a weekly basis, but I have a hard time believing that he'll live up to his current ADP.
Arizona Cardinals
Target: Christian Kirk, WR, Current ADP – 8.07; WR37
There are few guys that I'm higher on at their current ADP than Christian Kirk. Currently going as the 37th receiver off the board, I'm not sure there's another player in the entire league that'll have an easier time living up to and exceeding his price tag than Kirk. I personally have him ranked as my WR27 as I think he has a legitimate chance of finishing in the top 24 at the position. He's a guy that you can currently get in the eighth round, with basically no pressure to have to start on a weekly basis, that I think will quickly turn into a guy you're looking to get into your starting lineup each and every week. We're going to see this Cardinals' offense take a step forward in year two of Kyler Murray and Kliff Kingsbury, and the addition of DeAndre Hopkins will open plenty of space for Kirk to operate as the team's second-best option on the outside. Target this man in every league you can.
Avoid: Kenyan Drake, RB, Current ADP – 3.05; RB15
Before you get too upset at me, please understand that I truly felt like putting "none" as the Cardinals' player to avoid this fantasy season. However, if I had to select a player to avoid at his current ADP, it's gotta be Kenyan Drake. Making Drake the 15th running back off the board is risky for multiple reasons. You're looking at a player that's never reached 700 rushing yards in a single season. The Cardinals' offense is loaded and appears to be in position to be a pass-first team. And despite looking promising in a partial season with the Cardinals last year, four of his eight touchdowns game in one game. Like I mentioned earlier, I can't completely hate picking Drake in the middle of the third round, especially when you consider the other RB's with similar ADP's, but I feel more comfortable passing on him and taking my chances with a player such as Chris Carson or Devin Singletary.
Seattle Seahawks
Target: Tyler Lockett, WR, Current ADP – 4.12; WR21
I still haven't quite figured out why D.K. Metcalf's ADP is higher than Tyler Lockett's. Metcalf is a great player and should once again have a solid fantasy season, but Lockett has combined for over 2,000 receiving yards and 18 touchdowns over the last two season's as the team's No. 1 receiver. He's consistent, has boom-week potential, and has excellent chemistry with one of fantasy football's top quarterbacks. How confident am I in Lockett this season? He's currently running as my overall WR12 and I don't plan on making much of an adjustment to this ranking leading up to draft day.
Avoid: Greg Olsen, TE, Current ADP – 14.12; TE23
The Seahawks were a difficult team to find a player to avoid as I feel most of their ADP's are pretty much spot on, but if you're considering drafting Greg Olsen this season, throw another dart at the board instead. It's not like you're spending high draft capital on him, but you can take a swing at another player with this draft pick rather than taking Olsen, who you'll likely cut after week one when making your first waiver claims.
Be sure to check out the latest episode of the Loaded Box Podcast as we match up the top-12 QB's based on similar ADP's and breakdown who we'd take if deciding between them on draft day!
Ben Morgan is a co-host and blogger for the Loaded Box Podcast. Check out his article archive and find more from the Loaded Box on Twitter & Facebook