Written by Mikey Ostrowski
Season-Long record: 54-42 (56%) on Start Ems, 63-33 (65%) on Sit Ems
*All season long, I will be keeping track of all of the starts/sits I get correct. I like to keep myself honest here…*
So last week wasn't the best outing I've ever had, but we still had a winning record in both the starts and sits columns.
I managed to go (9-7) in the starts and (11-5) in the sits… not great, but far from bad so we'll take it.
Week 7 holds four different teams on BYE so it's looking like those deep benches we've all been stashing are finally going to hit the field for us in this one. Let's get into it.
Week 7 BYEs: Indianapolis Colts, Miami Dolphins, Minnesota Vikings, Baltimore Ravens
Quarterbacks:
Start of the Week: Matthew Stafford (DET) vs ATL
You could arguably make the quarterback playing against Atlanta the start of the week every single week. While I think that may be a step too far, that statement will be true for week seven. Stafford gets to take on an absolutely abysmal secondary and should be firing on all cylinders. This will likely be one of the highest-scoring games of the week, which means you should get pretty damn excited from a fantasy perspective. He's a great option if you have Lamar Jackson on BYE this week.
Start: Justin Herbert (LAC) vs JAX
Speaking of great options, the rookie out of Los Angeles can also fall into that category. A game against Jacksonville should be a relatively easy one for him to handle, especially if he gets Keenan Allen back in the lineup. Herbert should be treated as a QB1 this week and could post some big numbers with a full supporting cast (sans Austin Ekeler, of course).
Start: Matt Ryan (ATL) vs DET
Like I mentioned earlier, this game should be a total shootout. Combine that with the fact that Julio Jones appears to be healthy again and you'll have yourself one hell of a start in Matt Ryan. It's also reassuring that his dreadful stretch of mediocrity has finally come to an end.
Start: Teddy Bridgewater (CAR) vs NO
Teddy is a very matchup-based play, however, this is a matchup that offers tons of upside. Carolina will be playing from behind in this one, meaning Teddy is going to be forced to show up in a big way. Not only that, but it is a sort of "revenge game" since New Orleans recently decided to keep Taysom Hill and signed Jameis Winston rather than retaining Bridgewater to become to starter in Louisiana in a season or two. I like Teddy B's chances in this one to post big numbers.
Sit of the Week: Baker Mayfield (CLE) vs CIN
I know this may seem like a cop out, but c'mon. There's four QBs on BYE, a handful of the one's playing this week aren't real fantasy options for anyone, and I refuse to put a name on here that I genuinely don't believe will be a sit option. Mayfield is my scapegoat for "sit of the week" at the QB position in week seven. Deal with it.
Sit: Jared Goff (LAR) vs CHI
Goff, like Teddy B, seems to be a matchup-based starter. This is not one of those matchups. Chicago has played fairly sound defense throughout this season and I'd expect that to continue. In fact, I wouldn't be surprised if this is the lowest-scoring game of the week. I have concerns in this one, especially for quarterback production.
Sit: Daniel Jones (NYG) vs PHI
Philly hasn't played great defense, but New York hasn't played great offense. I think this could actually be a pretty decent Thursday Night Football game, but I'm still shying away from Danny Dimes. Admittedly, I won't be surprised to see him make me look dumb for saying this, but I personally don't have enough guts to start Jones this week.
Sit: Derek Carr (LV) vs TB
Carr has played great football to start 2020, but the Bucs' defense is going to be riding the high of shutting down Aaron Rodgers straight into this primetime Sunday night game. It's also worth mentioning that I think Josh Jacobs could struggle in this one, which will inevitably make Carr's life much harder. It's just one of those games I'd stay away from with Carr.
Running Backs:
Start of the Week: Ronald Jones (TB) vs LV
People who are taking RoJo victory laps are just the worst… so call me the worst because LET'S FREAKIN' GOO! RoJo is coming off of his third consecutive 100-yard game and will have a very plus matchup in week seven. It is worth mentioning that Leonard Fournette will likely be back, but Bruce Arians is going to continue to let RoJo eat while he's playing his best football to date. Don't let Fournette scare you off; RoJo is for real.
Start: David Johnson (HOU) vs GB
Speaking of RoJo, I'm bringing up another running back with a matchup against Green Bay. David Johnson will likely find success against the Packers this Sunday, and while he hasn't been an amazing start every week, he has been serviceable. I'm expecting him to go out and put together a top-15 week at the running back position. He should also be more involved in the passing game than he was last week (only 2 targets) so I'll be keeping him in my lineups wherever I've got him.
Start: D'Andre Swift (DET) vs ATL
😊 All I can say is 😊. I am SO PUMPED that the Swift breakout game has come EXACTLY where I thought it would. Seriously, there is footage/recording somewhere of me predicting a week six breakout game all the back from this summer. There's also an article of me explaining why Swift can be the top-scoring rookie running back in 2020. Granted, this was from before Peterson signed… nonetheless, I am one of the biggest Swift-truthers you will ever find and I am amped up to list him as a start this week. He's coming off of a massive game, gets an incredibly easy matchup, and is likely Matt Patricia's ticket to keeping his job a little while longer. Don't look now boys and girls, but it's finally #SwiftSZN!
Start: Antonio Gibson (WAS) vs DAL
Speaking of stud rookies (even though I don't actually think Gibson is a stud), Gibson is also a fantastic start in week seven. Dallas is a cakewalk matchup that should result in some big numbers for Gibson. I'd also expect him to be fairly involved in the passing attack in this one. He has some sneaky upside this week and should be considered a top-20 option.
Sit of the Week: Le'Veon Bell (KC) vs DEN
Bell is an exciting player to have these days, but you can't start him just yet. He'll likely be working off of, at most, two days of practice with the Chiefs. While I won't be surprised to see him get a few touches, he will likely be working as the RB3 of the team in week seven. He's not startable this week… next week could be a different story though. Stay tuned.
Sit: Darrell Henderson (LAR) vs CHI
I'll keep saying it; this is a backfield to avoid. Sean McVay is playing musical chairs with his running backs; you never know who's going to get the seat each week. While Henderson most definitely has the highest upside, he's just too tough to trust. Pair that with a rough matchup with Chicago and you've got a guy that needs to be planted on your bench.
Sit: David Montgomery (CHI) vs LAR
Monty was listed as the start of the week last week, and while he put up respectable numbers, he did disappoint with only 13.5 PPR points. He could've had a score on the day but was inches short twice in a row before Nick Foles vultured a score from him. Monty is a volume-based RB2 that is reliant on finding the endzone. I wouldn't start him if I have better options in week seven.
Sit: Devonta Freeman (NYG) vs PHI
This game could be a shootout or an 18-15 type of game. I can't tell. One thing I can tell though is that I do not want Freeman in my lineup. He's a desperation play at very best but is behind a league-worst offensive line and will be very dependent on catching dump passes to secure some PPR points. He's outside of my top 24 at the position this week.
Wide Receivers:
Start of the Week: Terry McLaurin (WAS) vs DAL
McLaurin was my start of the week last week, and while the performance wasn't that of a superstar, I'm going to keep rolling with him. Dallas has a bottom-three defense, and without Dak Prescott, may be a bottom-three team in general. I'm expecting Terry to have a field day against Dallas and will be keeping him in any lineup that I have him.
Start: Robby Anderson (CAR) vs NO
This should be a very high-scoring game, meaning Anderson could see a big day at the office. While he saw less targets than DJ Moore last week, it is worth noting that Anderson is still Teddy B's go to receiver and will be leaned on heavily for chunk yardage as Carolina battles with their division rival. While Carolina's defense has looked decent, I think this will be a fairly back-and-forth, high-scoring game that should result in plenty of fantasy points.
Start: Tyler Boyd (CIN) vs CLE
The Browns are starting to look like that Browns again, which is great news for Tyler Boyd and the Bengals. Boyd has been Joe Burrow's favorite target through six weeks and I can't imagine that changing anytime soon. Boyd is a very safe option with a great ceiling as well. He could go off for 20+ in this one but should be a lock to finish as a top-24 receiver at minimum.
Start: Darius Slayton (NYG) vs PHI
One of two things is going to happen; this TNF game is going to absolutely suck, or it's going to be very exciting. I'm banking on seeing some excitement, and what player is more exciting than Slayton between these two teams? When he goes off… man there aren't many players that can top him in fantasy. It's also worth noting that I like Travis Fulgham fairly equally in this one. Hopefully we see a receiver showdown on Thursday night.
Sit of the Week: Julian Edelman (NE) vs SF
Edelman has looked… well, bad this year. He's shown a couple bursts here and there, but for the most part, he's been disappointing. He's also been dropping balls seemingly more than he's actually catching them. I don't think you can trust him this week, especially in a tough matchup.
Sit: Odell Beckham Jr. (CLE) vs CIN
Speaking of tough matchups… OBJ has one… and that's a matchup with his own quarterback. As I mentioned before, Baker can't be trusted to produce fantasy points, and this is going spread into his receivers as well. With the exception of a couple blow up games, OBJ and co. have been kept fairly quiet and will continue to struggle finding production in one of the worst passing offenses in the NFL.
Sit: Jarvis Landry (CLE) vs CIN
Read the above but stick "Landry" wherever I wrote "OBJ". Now take away the part where I used the term "blow up games" and you'll have my writeup for Landry. One of my favorite fantasy assets has been rendered useless… screw you, Mayfield.
Sit: Jerry Jeudy (DEN) vs KC
We were hoping to see the connection with Drew Lock break through last week, but alas, we were all disappointed. Jeudy cannot be trusted until Lock can start playing like an actual NFL quarterback. This team is very worrisome, especially after many had dubbed it "the breakout offense of 2020" this past offseason. I, for one, had a feeling it was going to take a while for it all to come together, and while I won't take a true victory lap (an injury to Courtland Sutton definitely didn't help them), I'll still continue to bring up the fact that I was saying not to buy into Denver in 2020.
Tight Ends:
Start of the Week: TJ Hockenson (DET) vs ATL
Hock scored a touchdown last week, and while he's had a nose for the endzone in 2020, there's still a little left to be desired. That's where a matchup with the Falcons come in. I'm expecting big things in this game for both offenses and am going to confidentially dub Hockenson as a top-5 tight end for week seven. The only players I'd play ahead of him this week (if healthy) are Travis Kelce, George Kittle, Darren Waller and Jonnu Smith. (Mark Andrews is on BYE, don't get all worked up.)
Start: Hunter Henry (LAC) vs JAX
Henry is very consistent, and while he isn't relied on as heavily as I thought he would when Herbert took over, he's still seeing his fair share. There's not many scenarios where someone is deep enough at tight end to consider benching him anyway, but you've gotta make sure he's a starter for you against a middling-at-best Jacksonville defense.
Start: Noah Fant (DEN) vs KC
Okay, so maybe there's one Denver player I'm buying into. Fant should be back on the field this week and could quite literally see a billion targets. He's seemingly Lock's only reliable target and was on fire before getting injured a few weeks ago. Fantasy players everywhere should be pumped to get their tight end back. Plug him in immediately.
Start: Evan Engram (NYG) vs PHI
Again, this game could be sneakily fun. I'm anticipating a decent amount of offense… or at least a handful of big plays given the fact that both of these defenses are "meh" at best. Engram hasn't had a big game yet this year (highest point total was 12.5 PPR points in week two) but I think that's about to change this week.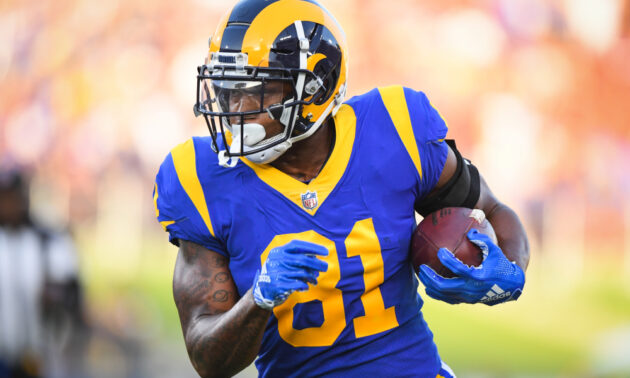 Sit of the Week: Gerald Everett (LAR) vs CHI
Eh, I just don't know what's going on with this tight end group. One week it's Tyler Higbee, the next week it's Gerald Everett… ugh, I just don't know what to make of it. Until things are figured out, I just can't get gutsy enough to slot Everett into my lineup. Despite him having a decent showing a couple of weeks ago, he just can't be considered a starter.
Sit: Robert Tonyan (GB) vs HOU
I had a feeling that Tonyan would no longer be relevant when Davante Adams came back. I can't decide if I was right or not, especially since the Packers looked so abysmal in week six, but I will say that this was definitely not a step in the right direction. I know many had hoped they had struck gold on the waiver wire, but Tonyan is likely just another one-hit-wonder tight end.
Sit: Eric Ebron (PIT) vs TEN
He's as touchdown dependent as they come and cannot be leaned on while Pittsburgh's young receivers are absolutely balling out. Ebron looked to be a potential top-three option for Big Ben coming into this season, but now you have to wonder if he's even a top-five option. Again, his week will be made or broken on whether or not he finds the endzone… and I wouldn't bet on him putting six points on the board in week seven.
Sit: Tyler Higbee (LAR) vs CHI
Same thing as Everett, I don't know who's going to see more targets this week and the scares the hell out of me, especially since Higbee was typically taken as a top-8 tight end in most drafts this summer. Combine that with a less-than-great matchup with Chicago and it's a situation I'd like to avoid. Need a filler for the week? Jimmy Graham is still on many waivers and is being targeted 6+ times a game with Nick Foles at QB.
Be sure to check out our weekly Trade, Drop & Hold article as well as our Waiver-Wire Advice as we help get you set for Week 7 of the 2020 NFL season!
Mikey Ostrowski is a blogger for the Loaded Box Podcast. Check out his article archive and find more from the Loaded Box on Twitter & Facebook