Timing is everything. What this means is that the success of something is often related to when it happens.
This phrase rings true nearly everywhere, including fantasy football.
Releasing a player, picking up a player, trading player(s), etc, all comes down to timing and attempting to maximize the timing to your fullest advantage compared to your opponents.
Time is of the essence in this week's version of trade, drop & hold, as I feel that failure to act in a timely fashion (whether it's the proposed trade or hold) will result in lost opportunities.
Rather than explaining this in more detail without giving specific examples, I'll turn you over to this week's article where you'll get a better understanding of the value of timing and how it relates to fantasy football.
Trade: Justin Jefferson, WR, Minnesota Vikings
Three things. 1. Don't shoot me. 2. Don't stab me. 3. Keep reading and hear me out.
Justin Jefferson has definitely lived up to his first-round NFL Draft selection, and he's more than lived up to his fantasy football average draft position.
He's had three standout games this season: 7-175-1 against Tennessee, 4-103-0 against Houston, and 9-166-2 last week against Atlanta.
While posting these kind of stats in three out of six games is great for most any wide receiver, let alone a rookie, let me give you a few reasons for why this exact moment in time is the perfect time to sell high on Jefferson.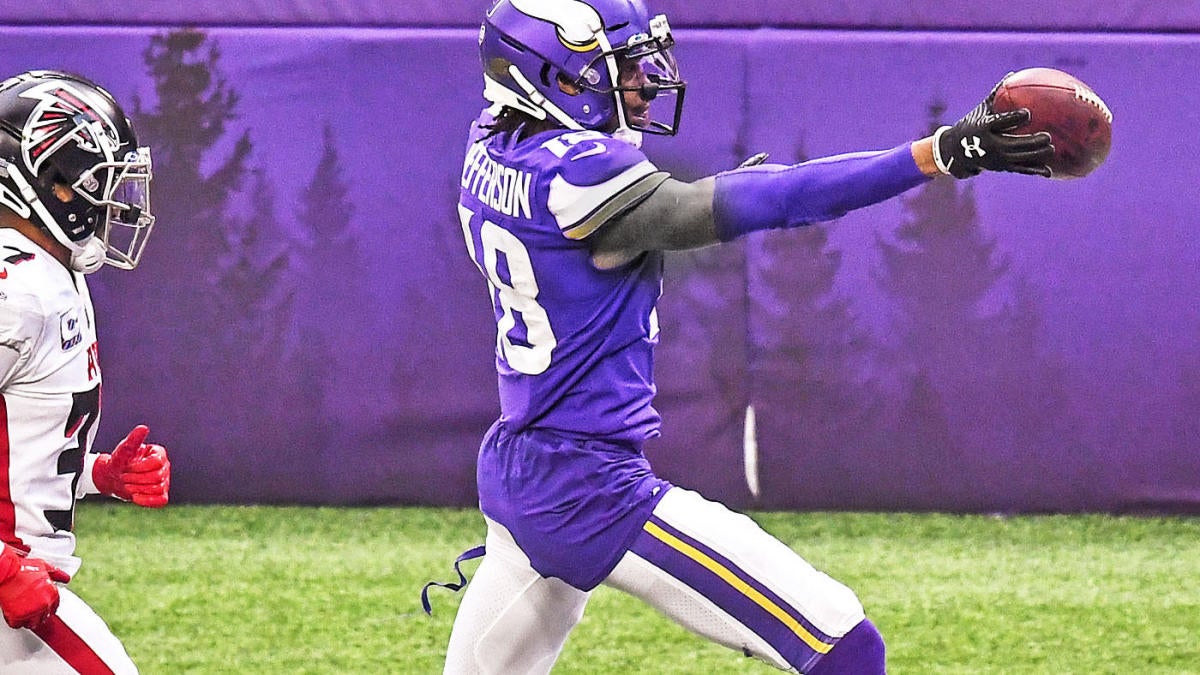 First, take a look at his upcoming schedule. Not only would selling Jefferson now potentially bring you back a quality running back (or even a quarterback if you're still trying to maneuver around losing Dak Prescott) but you're moving him during a week you're not even able to use him (it's his BYE week). Following his BYE week, he gets the Packers (10th in allowing fantasy points to WR's), Lions (24th), and Bears (3rd), which are much more difficult than the matchups he dominated earlier this season (Titans 27th, Texans 25th and Falcons 28th).
Second, this team is in absolute disarray heading into the BYE week. I'm not sure that I've ever heard a starting quarterback tell the media that he's on a path to not finishing the season as the team's starter if he keeps playing the way he currently is. Most NFL quarterbacks are masters of something we like to call QB Speak (similar to Coach Speak, but the QB version), however, Kirk Cousins has completely avoided this route and basically put himself on blast. You really want to roll out a rookie wide receiver that may have Sean Mannion throwing him the ball at some point a few weeks from now?
I'm not sure I'm to the point where I can picture a world where Mannion starts over Cousins, but I do know that all of the Vikings' wide receiver's fantasy-football value takes a big hit if that occurs.
Lastly, based on Jefferson's ADP, I'm assuming you're probably in pretty good shape at the wide receiver position. I'm also assuming, despite Jefferson's recent blow up, that you're likely in a position where you have at least 2-3 guys you're considering starting over Jefferson on a weekly basis. If these assumptions describe you, and you're able to land a player that can be utilized more frequently in you starting lineup, you absolutely have to pull the trigger.
There's no sense in letting a usable player rot away on your bench when you could have flipped him for another actual contributor. That's why the timing on this trade is so important. If Jefferson puts up back-to-back clunkers, not only are you less likely to have him in your starting lineup the next time he goes off, but you've also lost your window to trade him.
The trade won't make sense for all Jefferson owners, but for those who can live without him, make the trade now.
Drop: Leonard Fournette, RB, Tampa Bay Buccaneers
Is Leonard Fournette still taking up space on your roster? I was asked by several people last week if they could go ahead and drop Fournette from their fantasy rosters and I proceeded to tell them to hang on one more week and see how things play out.
As soon as it was announced that Fournette wasn't even going to be active for Sunday's game against Green Bay, my mind was made up that you can go ahead and dump Fournette if you're looking to add someone via the waiver wire this week.
On top of the fact that Fournette isn't even seeing the field is the fact that Ronald Jones has turned into what several fantasy players hoped he'd be last year. Jones has double-digit carries in each of the team's last four games, 20-plus carries in two of those four games, and over 100 rushing yards in each of his last three games.
If RoJo were to go down due to injury and Fournette is available as a free agent there would likely be a bit of a scramble for him on the waiver wire, but I'm not going to waste a potentially valuable roster spot on a guy who looks like he'll only be relevant in this specific scenario.
Take your chances on a guy that at least sees the field on a weekly basis.
Hold: JuJu Smith-Schuster, WR, Pittsburgh Steelers
Living up to average draft position and the name JuJu Smith-Schuster do not currently belong in the same sentence, but my advice is to hold onto JuJu if there's another player in your league trying to buy low.
It's frustrating to see the likes to Chase Claypool and James Washington posting fantasy-relevant numbers while JuJu has failed to top 50 receiving yards since Week 1, but this is one you're just going to have to ride out.
I'm sort of chalking up last week's game against the Browns as an outlier. Ben Roethlisberger attempted a season-low 22 passes for just 162 yards and a single touchdown as the Steelers jumped up early on Cleveland and never really had to expose their actual game plan.
Last week I put it on record that I would try to trade away Claypool, and I can't honestly say I have much faith in either Washington or Diontae Johnson once he returns, so I'm betting on JuJu coming back to life sooner rather than later.
One of the big reasons I believe he's close to becoming fantasy relevant again soon is because of his upcoming schedule. He next plays the Titans (27th in the NFL against opposing WR's), Ravens (6th), Cowboys (30th), Bengals (t-14th) and Jaguars (t-14th). With Johnson getting closer to returning, and Claypool beginning to earn more respect from opposing team's defenses, Smith-Schuster is in a prime position to breakout in the very near future.
If there's a player in your league that's desperate for a receiver and they have a plethora of running backs available, you may be more justified in trading JuJu now; but I'd tread lightly on selling low since the return I'm assuming you'll receive will be much less than what JuJu is capable of moving forward.
Ben Morgan is a co-host and blogger for the Loaded Box Podcast. Check out his article archive and find more from the Loaded Box on Twitter & Facebook