Written by Mikey Ostrowski
And now comes the fun part… the big ten… the top dogs… The guys we all knew would finish as top-10 guys.
Okay, maybe not that last part; there's actually a few surprises on this list. At any rate, I'm too hungover to realistically keep this blurb going so let's get into the article.
Running Back #10: Saquon Barkley (2019 Score: 2.67 / 2018 Score: 3.20 [4])
Barkley fell from grace a bit this year, but I don't think you can fault him for any of it. He got hurt, there was a switch at the QB position, the team was just… not good. I will say though that I am not overly concerned. Barkley is still obviously a top-3 pick in any fantasy format, and moving forward, should be closer to his 4th overall finish from last year. Not too bad when a top-10 finish is considered an off year…
Running Back #9: Chris Carson (2019 Score: 2.67 / 2018 Score: 2.00 [15])
The hype for Carson in late August was unreal. However, if you were like me, you drafted prior to the Carson hype and were able to land him in the 5th or 6th round of your draft. There were high expectations for him going into the season and he did not disappoint. Sure, there were fumbles and minor injuries here and there, but Carson managed to pull through for you (except for the all-important championship week). His draft stock is a confusing one heading into 2020 but he's a good name to monitor… especially if he's going to fall into the 5th round of drafts again.
Running Back #8: Nick Chubb (2019 Score: 2.73 / 2018 Score: 1.66 [21])
Chubb was being taken in the late first or early second round in most drafts in 2019 and it would appear that was the perfect spot to take him. It is worth noting that his consistency score over the last five weeks of the season was only a 2.40, which I imagine is because of the Kareem Hunt activation. If Hunt is still in Cleveland, I'd temper my expectations for Nick Chubb… however, if Hunt is out (which he very well could be), I'd happily roll with Chubb as my mid-tier RB1.
Running Back #7: Derrick Henry (2019 Score: 2.79 / 2018 Score: 1.33 [31])
Ahhh Mr. Henry you made me look like a fool. Seriously, I was fading Henry everywhere and was telling everyone to do the same. Hopefully you didn't listen to me because he was tremendous in 2019. Not to mention that his consistency rating of 3.25 over the last five weeks of the season made him a top-5 running back to own during fantasy crunch time. I don't want to get caught fading him again… however, it's going to happen… because I'm fading him again. I do think that he is a VERY solid RB2 to have on your roster, but I just can't imagine investing enough into him to where I'm trusting him as my weekly top running back. Oh, and if he doesn't stay in Tennessee, god only knows what's going to happen to his draft stock.
Running Back #6: Alvin Kamara (2019 Score: 2.85 / 2018 Score: 3.20 [5])
Kamara falls only one spot from 2018 to 2019 and albeit neglecting to find the end zone over the majority of the season, fantasy owners couldn't have possibly been disappointed with his output. I'm going to keep expecting more of the same from him until Drew Brees retires… but that is definitely something to remember in those dynasty startup drafts this year.
Running Back #5: Leonard Fournette (2019 Score: 3.00 / 2018 Score: 1.75 [19])
Fournette rose to the occasion in 2019, as he becomes one of only five running backs to achieve a consistency score of 3.0 or better (there were 8 backs that did it in 2018). Now that he is involved in the passing game, it would appear that the sky is the limit for Fournette. If you're one of those guys that has to go out and grab a wide receiver in the first round, Fournette could be the perfect RB1 for you. There are looming injury concerns with him, so you have to keep that in mind, but if he can manage to stay healthy, he's a surefire top-10 running back in any format.
Running Back #4: Austin Ekeler (2019 Score: 3.13 / 2018 Score: 1.46 [28])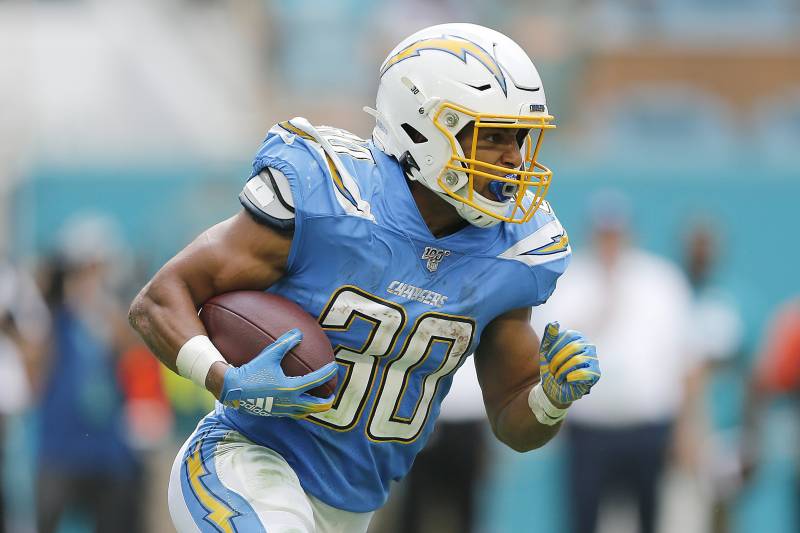 Nobody expected this… and if you just stopped and said "Not true, I expected this!" you're lying to yourself. Not only was Ekeler electric without Melvin Gordon, he maintained his efficiency when Gordon returned and that was the real surprise. I sold him "high" the week before Gordon decided to rejoin the team and boy oh boy did I regret that. It'll be interesting to see what happens this offseason, but you've gotta think that there's a real possibility of Ekeler being "the guy"… whether that is in Los Angeles or somewhere else has yet to be seen.
Running Back #3: Dalvin Cook (2019 Score: 3.36 / 2018 Score: 2.40 [9])
Cook stayed healthy for nearly the entire season… until he went down with injury in week 15, stayed out in week 16, and royally screwed you in your fantasy playoffs. In all fairness, he probably got you to the playoffs though. There was never a doubt that Cook could be a top-10 fantasy running back, but there has always been doubt with his health and he sure as hell didn't let us forget that. Combine the injury woes with an electrifying rookie (Alexander Mattison) playing behind him and suddenly it'll make you think twice about drafting Dalvin Cook. **Disclaimer: I am definitely NOT telling you to avoid drafting Cook… I just want you to know the risk you're accepting by clicking that draft button.**
Running Back #2: Ezekiel Elliott (2019 Score: 3.40 / 2018 Score: 3.20 [6])
Zeke is one of only two running backs to have back-to-back 3.00 or better consistency scores in 2018 and 2019. Is anyone really surprised? Sure, his usage in the passing game wasn't as much as we had hoped it would be after that big 2018 season, but we drafted him to be a top-5 running back and that's exactly what he was. This is a status that will undoubtedly continue, even if Dallas has a change at the quarterback position.
Running Back #1: Christian McCaffrey (2019 Score: 3.67 / 2018 Score: 3.40 [2])
My guy. My. Freaking. GUY! I have been CMC's #1 fan since he was drafted to Carolina (yes, I am a Panthers fan) and I have had high hopes for him ever since his rookie season (yes, I took him over Leonard Fournette). The fact that he followed up his #2 fantasy running back performance with a #1 OVERALL fantasy performance is absolutely incredible. He will undoubtedly be a top-two pick in any draft format and will go for a trillion dollars in any auction draft you enter. CMC is a phenomenal athlete that should continue to find massive success no matter who is under center (please please PLEASE let it be Cam Newton).
If you missed any of my previous RB consistency rankings articles, I've done the work for you and posted them below, so take a look
RB's 11-20
RB's 21-30
RB's 31-40
Mikey Ostrowski is a blogger for the Loaded Box Podcast. Check out his article archive and find more from the Loaded Box on Twitter & Facebook