Written by Mikey Ostrowski
We're finally getting into some of the bigger names of the season, perhaps none bigger on this list than Aaron Jones, who finished as the PPR RB2 overall. I know what you're thinking… "How would he not be in the top 10 if he finished as a top two back?" Well, quite frankly it's because he was wildly inconsistent.
And that's what we're trying to figure out. We're looking past overall scores and we're focusing on just how consistent each player was. Sure, Aaron Jones probably won you more weeks than not, but there were definitely a few weeks out there where he duded out. I mean, one of my buddies would ask me nearly every week whether or not he should be starting Aaron Jones because he simply couldn't tell if Jones would have a big day or not.
Do I love Aaron Jones? You bet your ass I do. But these rankings tell a true story… and you may want to reconsider taking Aaron Jones over a handful of other running backs when it's time to draft in 2020.
Running Back #20: Kenyan Drake (2019 Score: 2.23 / 2018 Score: 1.60 [24])
Drake started the season with a 1.67 consistency score in Miami… and then shot right up to a 2.71 score in Arizona. Provided that David Johnson isn't around in 2020, Kenyan Drake will be a very popular RB2 for the season and will flirt with weekly RB1 upside. This offense seems perfect for him and it looks like someone was finally able to unlock the beast that is Drake. He's an exciting prospect to keep your eye on, especially if he's the only running back that returns to Arizona.
Running Back #19: James White (2019 Score: 2.29 / 2018 Score: 2.26 [11])
James White is the epitome of consistency in PPR leagues. Every now and then he'll have a monster game… every now and then he'll bust. However, the majority of the time you can expect to slot him in as a low-end RB2 and get those 11 to 14 points we've grown so accustomed to. He's not a glamorous option, but he's definitely an option.
Running Back #18: James Conner (2019 Score: 2.30 / 2018 Score: 3.00 [7])
Antonio Brown is gone. Ben Roethlisberger gets hurt to start the season. JuJu battles injuries while the revolving door at QB is in full swing. James Conner never had a chance… especially when he got injured as well. Truth be told, I wasn't high on the Steelers at all coming into 2019. I was fading JuJu Smith-Schuster and James Conner heavily. I don't blame all of this on the injury because, quite frankly, I don't think James Conner is even a top-15 running back talent in the NFL. Hate me if you want, but I wouldn't trust Conner as anything more than a risky low-end RB2 moving forward.
Running Back #17: Aaron Jones (2019 Score: 2.53 / 2018 Score: 2.18 [13])
That's right, the #2 overall PPR running back of 2019 finished behind 16 other players on the consistent charts. Pretty shocking, isn't it?
Jones was elite this year, but he was the definition of a boom or bust player. He accumulated less than 7.35 PPR points in four of his 15 games that were graded on these rankings. You obviously can't forget all of those weeks he had 30+ points and completely decimated your opponents, but you do have to remember that there will always be a risk to using Aaron Jones as your RB1.
Running Back #16: Kareem Hunt (2019 Score: 2.57 / 2018 Score: 3.00 [8])
There's a lot of speculation on where (and if) Kareem Hunt will be playing football in 2020… though I'd like to think that if he can land a starting gig somewhere, he should immediately be considered a risky RB1. He looked great in 2019, but did most of his damage as a receiver. However, we cannot forget about what an explosive runner he is. I am not going to offer any advice on Kareem Hunt except for this: watch those reports (police ones included… dude got pulled over with open containers and "possibly marijuana" in his car last week, and mind the team that he lands with for his next campaign.
Running Back #15: Le'Veon Bell (2019 Score: 2.57 / 2018 Score: N/A)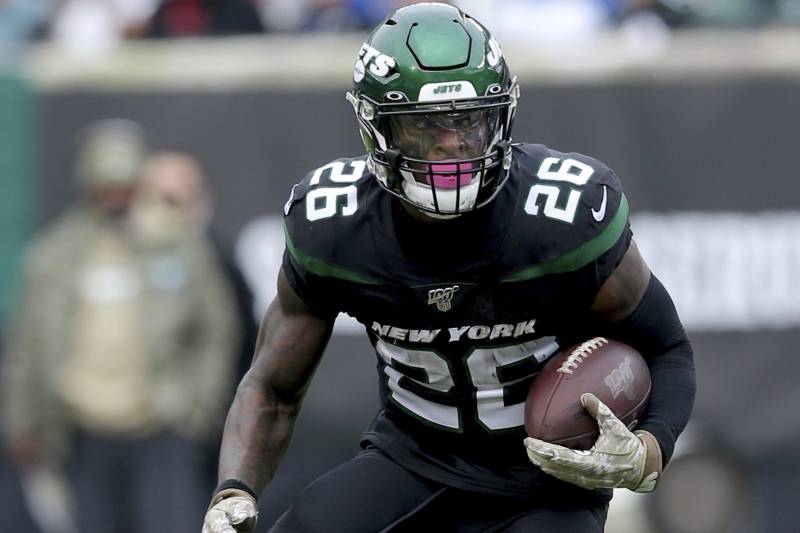 I wonder if Bell will be a Jet by the time the 2020 season starts. Seriously, the whole thing is a mess. He says he likes playing there, likes his teammates too… but there's one thing standing in his way – Adam Gase. For some reason, Gase doesn't use Bell to his full potential and is rather outspoken about how much he doesn't want Bell there. I think the only thing that stands in Bell's way of being an RB1 in 2020 is a sh*tty coach whose name rhymes with Shmadam Face.
Running Back #14: Todd Gurley (2019 Score: 2.57 / 2018 Score: 3.42 [1])
Gurley has been unseated as fantasy football's most consistent running back and I am entirely certain that no one is surprised. There were so many questions surrounding him in the offseason, and although he looked great when Sean McVay decided to let him run wild, our concerns were proven true. Gurley took a step back and became no more than a somewhat-risky weekly RB2. You never knew what his workload was going to be, he saw major touchdown regression, and the Rams just didn't look great on offense for a large chunk of the year. The good news is that I wouldn't expect Gurley to fall much more on the consistency list, but I also don't expect him to come close to being the #1 overall running back again.
Running Back #13: Mark Ingram (2019 Score: 2.60 / 2018 Score: 1.45 [29])
Heading into 2019, I hated Mark Ingram. It's probably the Panthers fan in me talking, but I couldn't stand the guy, nor did I think that he would be effective in Baltimore. Boy, was I wrong. Ingram created one hell of a tandem with Lamar Jackson and looked like the 1A of that rushing offense. I don't necessarily expect the same success moving forward (the Ravens set an all-time record for most rushing yards in a single season – 3,296 rushing yards) and a touchdown regression for Mark Ingram is definitely on its way, but I don't expect as hefty of a regression (in touchdowns for Mark Ingram AND rush yards for the Ravens) as many would expect. He'll be damn fine RB2 for you in 2020.
Running Back #12: Josh Jacobs (2019 Score: 2.62 / 2018 Score: N/A)
The rookie was awesome. Plain and simple. When he played, he looked great. Shifty, quick, effective, and above all else… consistent. Having a rookie crack the top 12 on the consistency chart is always a welcomed site, especially on a team that can realistically only get better from here. The injuries are a bit of a concern, but most running backs seem to come with injury risk these days. He's a great dynasty asset and one of the better RB2s that you can snag for your squad in 2020 redraft leagues.
Running Back #11: Melvin Gordon (2019 Score: 2.64 / 2018 Score: 3.25 [3])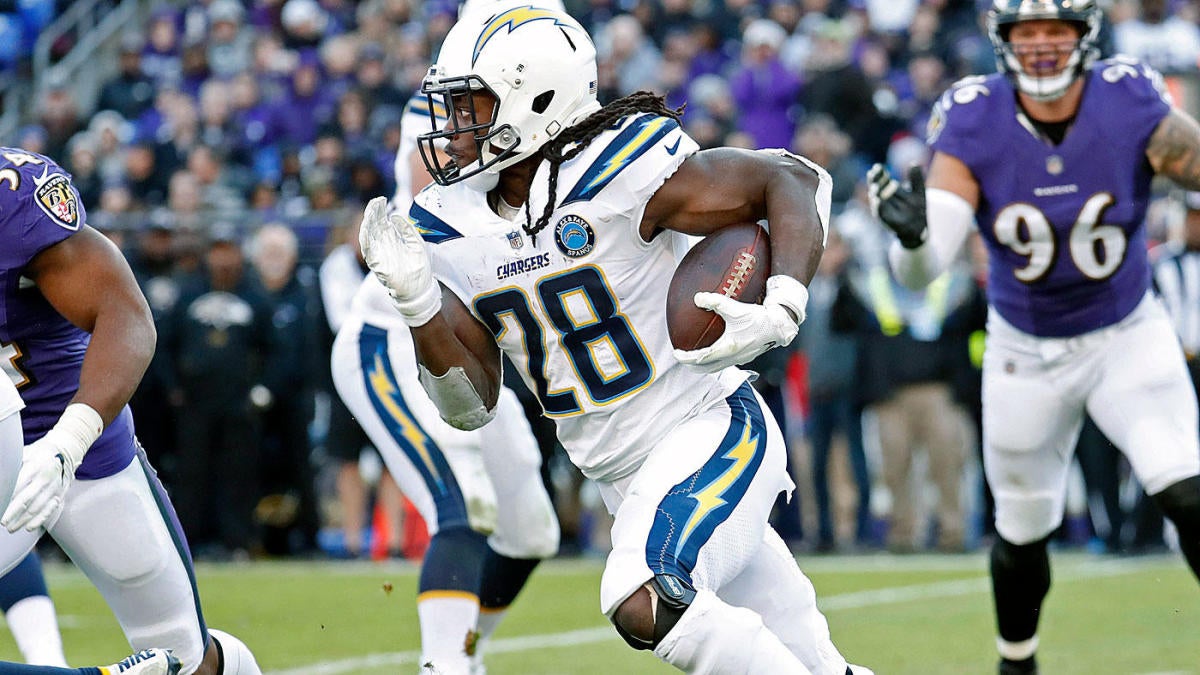 Melvin Gordon… the man some of us drafted in the 2nd rou… 3rd rou… 4th rou… 6th round?? Ugh, what a mess it was trying to figure out if/when Gordon would rejoin the Chargers last season. If you grabbed him in one of the early rounds, you more than likely are disgusted with yourself. However, if you were able to snag him in those middle rounds, you probably appreciate what he brought to your team. Gordon quietly put together a decent season, especially in the back half. To be completely honest, I'm surprised that he ended up this high with the type of season he had playing behind Austin Ekeler. But hey, we knew coming into the season that Melvin Gordon was a beast, and he should continue to be a beast when he finds a new team in 2020. Fingers crossed that we won't be playing the "will he – won't he" game come August this year.
Mikey Ostrowski is a blogger for the Loaded Box Podcast. Check out his article archive and find more from the Loaded Box on Twitter & Facebook