Written by Mikey Ostrowski
Last year I had decided to embark on a project to find the most consistent running backs and wide receivers for the 2018 season. I used those numbers to sway some of my personal rankings heading into 2019 and I found that the consistency chart had helped me immensely (not to brag but… 1st place in both of my main leagues *wink wink*).
I figured, "Hey! These things seemed helpful to a handful of people last year, let's examine the numbers again!" and so I did.
Throughout the next few weeks, I will be counting down the top-40 running backs in terms on consistency, comparing them to last year, and giving a brief overview of how I think this will impact their 2020 draft stock. The scoring system takes into account their elite weeks, their bust weeks, and everything in between (On a 0 to 4 scale).
Running Back #40: Tevin Coleman (2019 Score: 1.38 / 2018 Score: 1.93 [#25])
Okay, so that didn't go as planned. Coleman showed some talent last year in Freeman's absence, making all of us extra excited when he was slated to be the lead back for the 49ers this season. However, expectations fell flat when he ended up in a three to four-way timeshare. Moving forward, this may be the Raheem Mostert show, especially after his 200+ yard and four touchdown performance in the NFC Championship. Coleman is a guy that will have a lot of question marks surrounding him once fantasy draft season gets here.
Running Back #39: Derrius Guice (2019 Score: 1.40 / 2018 Score: N/A)
Guice has the means to be a stud in this league, however, the injury bug seems to bite him every time he puts his cleats on. Guice will more than likely be a high-risk/reward player for next season and will more than likely come with a price tag that I won't feel comfortable with. He's a great asset for dynasty, but after back-to-back injury-plagued seasons to start his career, owners have to be very frustrated.
Running Back #38: Chris Thompson (2019 Score: 1.40 / 2018 Score: N/A)
After spending 2018 on IR, Thompson came out looking like a better than average asset for fantasy leagues (especially in PPR) and I personally took the bait in nearly every one of my leagues. However, it shouldn't have surprised me when he went down with injury again, effectively rendering him useless from weeks 6 to 13. At that point, no one was going to slot him into their playoff rosters, and I can't expect many to be slotting him in to their 2020 rosters. Unlike Guice, Thompson's upside is growing smaller and smaller, while the injury risk doesn't seem to have enough reward. Thompson will more than likely go undrafted in most 2020 drafts.
Running Back #37: Duke Johnson (2019 Score: 1.53 / 2018 Score: 1.0 [#39])
There was a lot of excitement when Duke Johnson headed to Houston, hell, some people even started to project him as a high-end RB2 in that offense… then they signed Carlos Hyde and everyone got sad. Ironically enough, Johnson also finished as the #37 overall for running backs in fantasy this year with 137.3 PPR points through week 16. I'd expect low-end RB3 value from him in 2020 at the very best.
Running Back #36: Tarik Cohen (2019 Score: 1.60 / 2018 Score: 1.93 [#16])
I can't tell if the dip in consistency is because of David Montgomery (who surprisingly missed the top 40 with a score of 1.33) or because of Mitch Trubisky's extra-mediocre play. He may have been inconsistent, but Cohen may have won you a week or two along the way in 2019. He finished as the overall RB28 in PPR leagues (after finishing as RB12 in 2018), which is right about where I see him staying moving forward. He's a great handcuff for David Montgomery and should still see weekly opportunities for the foreseeable future.
Running Back #35: Adrian Peterson (2019 Score: 1.64 / 2018 Score: 1.46 [#26])
It is worth noting that over the last five weeks of the season, AP held a very respectable 2.4 consistency score, which would put him in the top-20 RB conversation over that span. Unfortunately, AP is not getting any younger and his illustrious career may be coming to a swift end. We will, more than likely, never see him in a starting role again, however… he's a hell of a handcuff to have.
Running Back #34: Raheem Mostert (2019 Score: 1.64 / 2018 Score: N/A)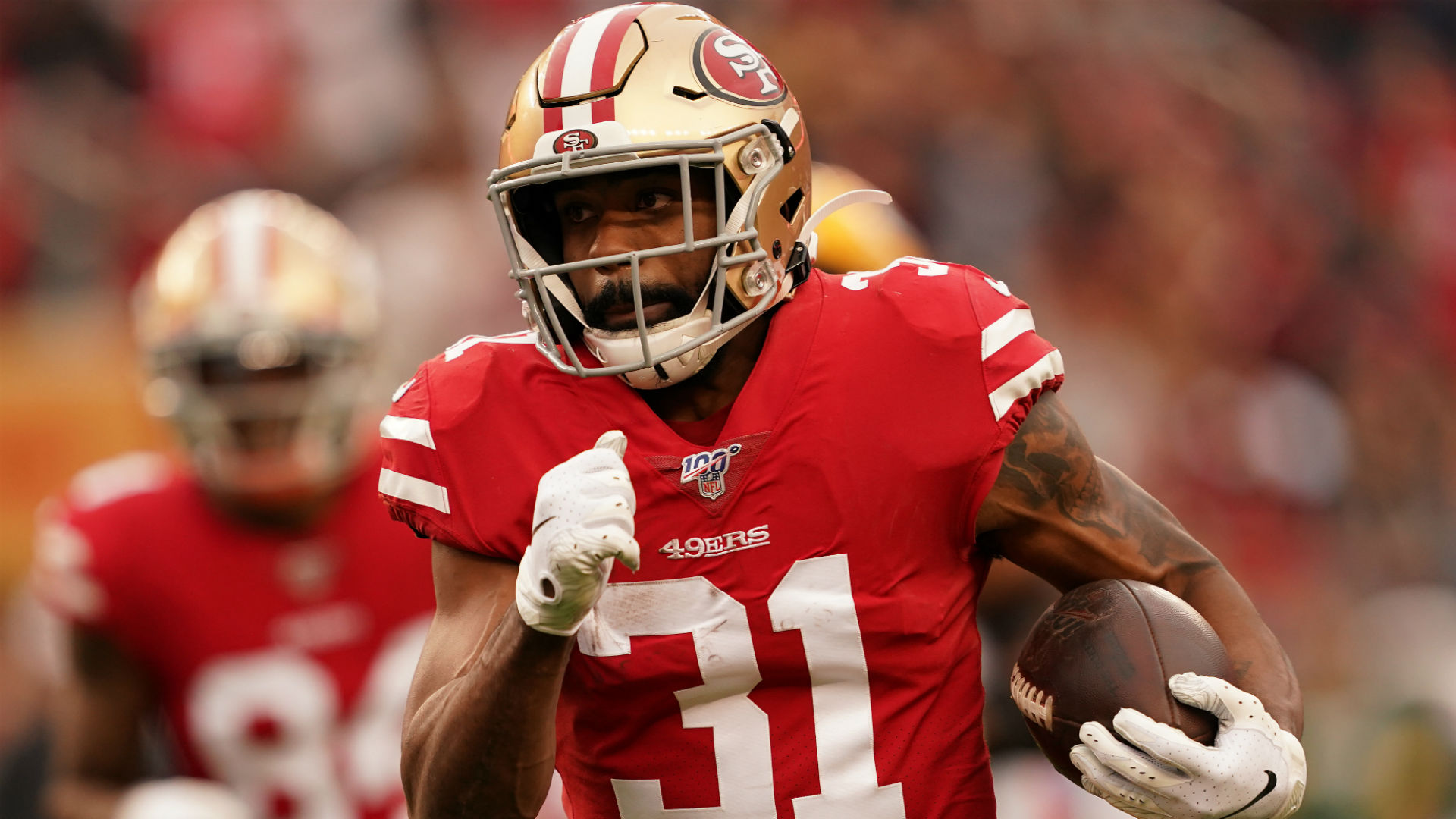 Mostert is going to be a VERY hot commodity in 2020, especially if he can duplicate his championship success in the Super Bowl. Hell, even before the playoffs started, Mostert was tearing it up and had posted a massive 3.2 consistency score from weeks 12 to 16 (that's a top-6 RB over the last five weeks of the season). There is a very real possibility that he will be the lead back for the 49ers in 2020… but as we all know, that title switches owner from week to week. He won't be able to be trusted as your RB1, but as long as his price tag isn't absolutely absurd, he's a guy that you're going to want to take the risk on.
Running Back #33: Jordan Howard (2019 Score: 1.67 / 2018 Score: 1.33 [#32])
The Eagles' backfield is a mess for fantasy… actually looks good for once for real life, but terribly confusing for fantasy. Will they bring back Howard? Is Sanders their RB1 moving forward? Will Boston Scott retain a role in this offense? These are all questions that we won't have answers on for quite some time. With that being said, if Howard changes teams this offseason, he could see an increase in value. He was plagued by injury from week 10 til the end of the season, but he did enough over the first nine weeks to solidify himself as the overall RB40 for the 2019 season. He's going to be an interesting player to watch this offseason.
Running Back #32: Carolos Hyde (2019 Score: 1.67 / 2018 Score: N/A)
Anyone on this list that has a 2018 score of "N/A" were either not in the league or had a score lower than a 1.0. Hyde actually found himself in a decent situation in Houston and was a very high-end RB3 for fantasy this past year. I'd expect more of the same from him moving forward, though Houston is a prime candidate to draft a running back in the 2020 NFL Draft. If they take someone, Hyde's value will plummet fast… but if they don't, I'd expect him to remain a weekly RB3, which is good enough for those BYE weeks and flex dilemmas.
Running Back #31: Ronald Jones II (2019 Score: 1.67 / 2018 Score: N/A)
As some of you may remember, I was very high on RoJo after he was drafted by the Bucs… then he made me look like an idiot. Well, I didn't give up, I still favored him in 2019 and you know what? He looked decent. RoJo finished as the RB24 on the season and did show signs of light every few games. I think he will have an expanded role in 2020 that should lead him closer to being a top-20 running back for fantasy purposes. However, much like Houston, Tampa Bay could be looking to draft or sign a new running back so it is definitely a situation that needs to be monitored.
Mikey Ostrowski is a blogger for the Loaded Box Podcast. Check out his article archive and find more from the Loaded Box on Twitter & Facebook