The NFL combine is in the books. So that means we're officially allowed to talk about the NFL again with on-the-field matters and less about stuff that happens off the field, like say for instance an Asian Massage Parlor.
That's off the field stuff. We don't need to talk about that anymore. No need for it. Who wants to hear about an old owner who chases tail 50 years his junior that are tricked into sex slavery, and gets an R'n'T the day of the AFC title?
Nobody. That's who.
Don't have to bring up that type of sexual deviancy anymore. It's over. No more. Don't need to hear another peep about it. You can ask any Dick, Tom, or *Redacted* and he'd say the same thing. The joke has been beaten up, stroked down, slapped around, and cuffed in all manner. It's rubbed me the wrong way to be frank. You couldn't pay me with a $100 bill and another undefined bill to keep me talking about it.
I don't particularly like the combine, but it gives me an excuse to begin writing about something that I actually care about. The Green Bay Packers.
I understand why people get excited for it, but I just can't bring myself to care about a bunch of young behemoths in their physical primes prancing around in their underwear running fast and lifting heavy weights while a bunch of other much older dudes who are not in their physical prime watch, take notes, and get the meat sweats.
People actually enjoy football without the pads and the hitting and the possibility of brain injury? Not for me.
So let's talk Packers. I want to cover what *I* think they should do in terms of cuts, re-signings, free agency (I know, I know, Packers and free agency?), and the draft.
One thing this is not going to be is a "how can we make a splash" article.
They don't need to. They've never needed to. What they've needed to have done is at least explore options that are available and not ignore the entire process. Although they've been doing this weird things with FA tight ends lately (what was with that?).
I want to try to keep this as "legit" as a fake offseason can be, focusing on players that make sense instead of just writing about how cool it would be to trade for AB or sign Landon Collins or any of that BS.
But it's also not meant to be pin-point gospel either. I'm probably going to be wrong on years, value, whatever on contracts, but I at least want to be close, consistent, and use this to highlight some players and possibilities.
Cool? Let's Go.
The Numbers: 36.3 MIL in open cap, 20 pending FA/RFA
Re-signings:
Bashaud Breeland: 2YR/8.5MIL/3.5GTD
Breeland (and the Packers) need some consistency. Breeland inked a 3-year, $24 million deal with Carolina, but failed his physical and went unsigned until the Packers snagged him for 800k. Breeland is rumored to want a longer-term deal, but his injury history is a concern. I thought Breeland played well last season, when he played. He needs to re-establish himself and show that he can remain healthy and be a contributor. He was a solid slot corner in Washington and has shown flashes of being a positive contributor to a good defense. I feel this number is reasonable for both parties. If Breeland plays well, he can get another contract before he hits 30.
Muhammad Wilkerson: 1YR/4MIL
Wilkerson signed on late with the Packers last offseason on a one-year prove it deal, and winds are swirling around Green Bay that that is likely to happen again. Wilkerson was carted off the field early in the Packers' 2018 campaign, and would be a signal of future injury concerns along the defensive line. Wilkerson again adds to a strong core group of Kenny Clark and Big Mike. This deal gives Muhammad another chance to prove it for one more contract before hanging up the cleats. The Packers should be happy to oblige him.
Geronimo Allison: Original round Tender (likely to slot out around 2 million)
Geronimo has one thing that many of the younger core of Packers WR's don't have: Aaron Rodgers' trust. Geronimo was on the path for a big 2018 but was sidelined for much of the season with injury, and the offense suffered. Tendering Allison is an easy decision, and with all arrows pointing to a departure of Randall Cobb, consistency in the offense and having someone who has been there is extremely important.
Cuts/Allowed to let walk:
CUT OR RESTRUCTURE: Nick Perry (CUT could open 3.3MIL in savings this year, and 15 next season)
This signing was the beginning of the end for me with Ted. I was shouting from the rooftops how bad this would be when they did it. It's been a total loss. Perry has popped up on the IR for the second consecutive season. He's played only 81 games in seven seasons as a Packer. When he does play, he's not overly productive. He's had more than seven sacks only twice. If you asked me, "what is the thing that Nick Perry does at a high level?" I would say getting hurt. I lean to the cut side, but the only reason I even considered a restructure is because a straight up cut would leave you with Kyler Fackrell, who I cannot believe had more than 10 sacks last year, as your lone pass rushing "threat"? I guess? Yikes. Pass rush is a huge position of need going forward for this team.
CUT: Tramon Williams (4MIL in cap savings)
Let me just start out by saying I fuckin' appreciate everything Tramon has brought to the Packers. I'm surprised he was still out here cashing checks at 35 years old to be honest. But god damn pal, hang em up. He was o.k. I guess and had to wear a number of different hats on the defensive side, but this is purely a numbers move. The savings are too great and Jaire Alexander and Kevin King are ready to take the reigns.
Cut: Jimmy Graham (4MIL in cap savings)
I'm torn on this. I understand why they brought him in. I just can't get past this shit. I know MM put him in awful positions, but you think ground and pound LaFleur is gonna want this shit run blocking? It cuts another $4 million and ends this failed experiment. He's gonna be a great Cardinal, isn't he?
Walk: Randall Cobb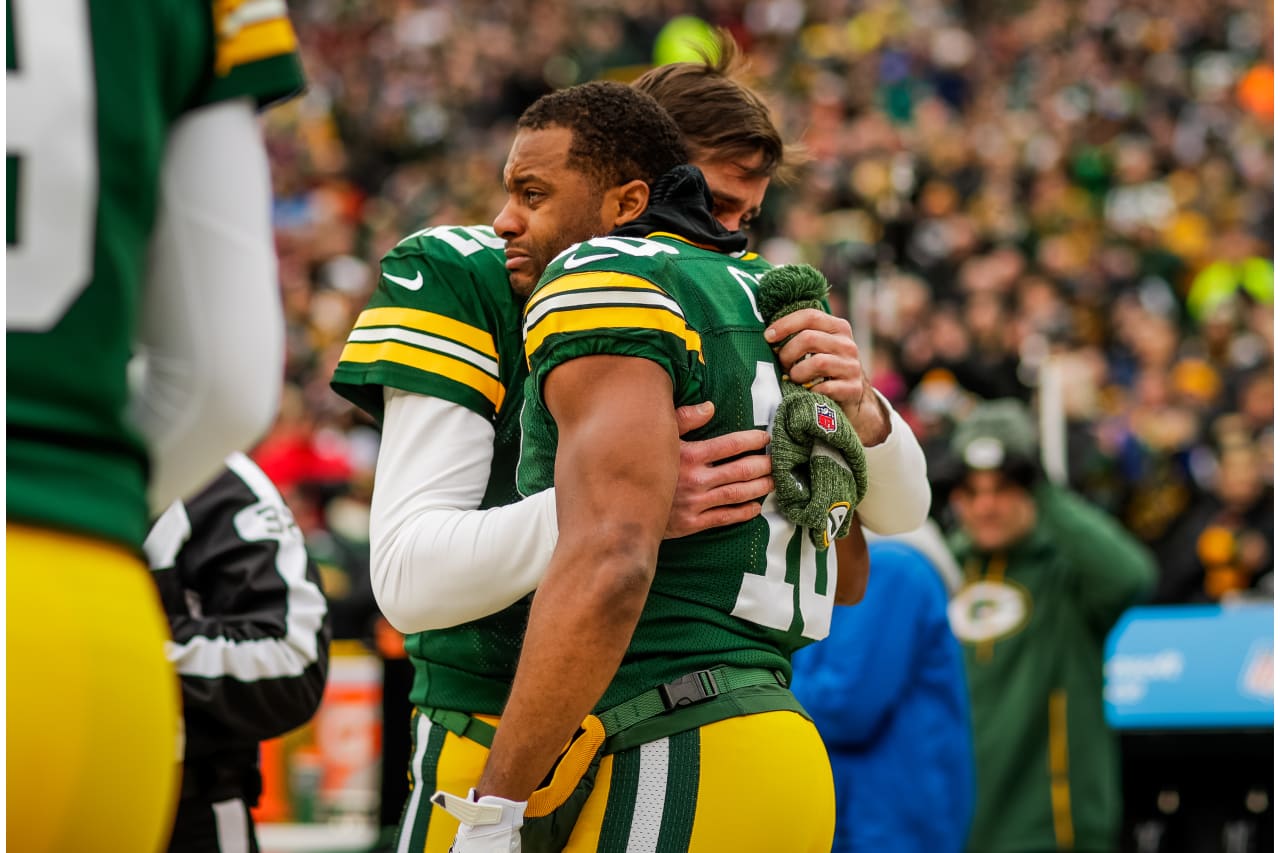 Fuck, man…
Walk: Clay Matthews
Fuck (you), man…
It's crazy to me that the last time this man made a positive impact on the Green Bay Packers he was playing MIDDLE LINEBACKER IN 2015. Honestly, if he would take a one-year deal to come back I would be…begrudgingly ok with it. But you know some team is just gonna offer him a 3-year deal and it's dumb, it's stupid, he's bad, I don't care, I don't care.
🚨HOT TAKE ALERT🚨
He was never really good and underperformed on that contract every season.
**ducks from cheese curds being thrown in my direction**
Free-Agent Targets:
Adrian Amos, S: 4YR/34MIL/26MILGTD
Amos is the top second-tier safety target available in my opinion. Amos does many things that you don't always see, but was a huge contributor to the Bears' defensive resurgence. He's not going to be the spectacular play guy, but he's going to get the job done. He reminds me a lot of Morgan Burnett in that way. Head down, make plays. He will warrant a fair price, but should come in at around that $8MIL per year, whereas the top safety options may see anywhere from $10-12MIL. PFF loves Amos and had him rated as an All-Pro in 2017. He would be a steadying force in the back line of the defense for years to come.
Mike Iupati, G: 1YR/2.5MIL/1.5MILGTD
Mike's starting days may be coming to an end, as injuries have stymied him the last few seasons, but he is still a reliable hand. If Mike gets little interest, the Packers may be able to squeeze one more year of viability out of Mike and he can get one more check. If he cannot handle a switch to being a full-time right guard, he would be a valuable backup lineman on a team that is pleading for depth.
Cameron Wake, Edge: 2YR/12.5MIL/7.5MILGTD
MOTOR. MOTOR. MOTOR. MOTOR. I don't care how old he is. I don't care if this contract would take him to 40. As long as this man is willing to play football, he is going to pressure the QB. Wake slated in as a top-10 pass rusher per PFF as a 37 year old. He does not stop. He does not quit. He is the perfect candidate for a team looking to re-establish themselves as a deep run playoff caliber team. Wouldn't you love to see Wake in the playoffs for once?
Aaron Lynch, DE/EDGE: 1YR/4MIL/1.5GTD
Basically the same deal the Bears offered him last year when his prospects were few and far between. Lynch has had an injury history, but for a team searching for depth with the pass rush, Lynch can provide some juice. He is a solid run stopper and has the physical tools that you want on the D-line. These are the types of signings the Packers should be making. Living within the margins, and building depth with veterans, instead of the undrafted free agents.
Cole Beasley, WR: 3YR/21MIL/15GTD
I know I know. "But you just said to cut Cobb, now you're giving someone fairly similar the same money Cobb would get?"
Yes. Yes I am. I think Cole would destroy with Rodgers. His health is a major upgrade to Cobb (Beasley has missed one game since becoming a fully integrated piece of the Cowboys). He was inexplicably less utilized but still retained a ridiculous catch rate of 75 percent. If you need anymore assurance to get a good idea of what this should look like, just google: "Don Beebe Packers".
Mike Mitchell, S: 1YR/1.5MIL/1GTD
Mike Mitchell provides depth to a position that may have been the absolute worst in the NFL last year. Tell me, do you want your depth to continue to be Kentrell Brice? Mitchell should be an easy get as he is starting to enter the "regression" years of his career, but provided a solidifying presence in his opportunities with the Colts. Mike is not far removed from being a full 16-game starter, and again I must comment: Building depth through veterans and not undrafted free agents is a path I am willing to explore.
Chance Warmack, G: 2YR/4.5MIL/2.5GTD
Was he a bust? Maybe. Has he been able to turn himself into a serviceable starting guard? I say yes. This is the perfect low-risk, high-reward free agency signing that the Packers should be focusing on.
DRAFT:
So for this section, I went to fanspeak.com and did a little mock with their draft tool that they have.
R1, 12: ED Oliver, DL, Houston:
Ok, so here's the new DL rotation: Clark, Mike, Ed. That's scary. Now they all can rotate and stay fresh? Yikes. He's a little smaller than your normal DL guys but I like him and can't be swayed.
R1, 30: TJ Hockenson, TE, Iowa:
He can block. He can catch. You need a TE. This is easy.
R2, 12: Johnathan Abram, S, Miss State:
The fact that I got this kid here gives my heart a warm smile. He's an enforcer. He's a leader. He's a steal at No. 12 in the second round.
R3, 11: David Montgomery, RB, Iowa State:
I don't care if we're good at this position. He's the best RB in this draft. He's fun. He won me a ton of money betting on Iowa State.
R4, 12: Terril Hanks, LB, New Mexico State
Mini-tank.
R4, 16: Ben Powers, G, Oklahoma
First-team all Big-12. It's a name you want to touch, but you mustn't tooooouch.
R5, 12: Cameron Smith, LB, USC
Injury stuff is there but he's a tackle machine. I'm also concerned that I can see his neck. I need my white linebackers to have zero neck. Minus a neck even. And a neckplate on the back of their pads. And a barbwire/tribal tattoo.
R6,12: Sutton Smith, EDGE, Northern Illinois
Small and struggles against the top-line talent but he's got a real high motor. Coach's son. First guy in last guy out. Work-horse mentality. Sneaky athleticism. A real gym rat.
R6, 21: Sheldrick Redwine, S/CB, Miami
Lost twice to Wisconsin QB's in bowl games so that's a bit of a knock.
R7, P12: Alize Mack, TE, Notre Dame
I have a feeling come draft time he'll be a little higher rated than a 7th-round grade. Lacks physicality but will catch the damn ball.
So there we go boys. Let me know what you think. If you think I'm completely off base, you are welcome to take me to B-Dubs and buy me a beer and feed me wings and show me everywhere I messed up, ok?
Be sure to check out the latest episode of the Loaded Box Podcast as the guys discuss the NFL Combine, trade rumors, and preview the offseason for the Green Bay Packers!
Logan Beatty is a featured blogger for the Loaded Box Podcast. Check out his article archive and find more from the Loaded Box on Twitter & Facebook