If you have been with me since the start of this mock draft, you've witnessed an early run on running backs and a bunch of questionable picks with all the uncertainty there is right now in the league.
The third round was a bit tame as it was a run of wide receivers and we now have the top-three tight ends off the board.
Let's get going with the fourth round, as the 4.01 pick is…
4.01 Stefon Diggs, WR, Minnesota Vikings
Like a fine wine, Diggs keeps getting better year after year finishing the season with 102 receptions, 1,021 yards and nine touchdown; all career-highs for the 25 year old. The momentum is strong as the chemistry between him and Kirk Cousins continues to grow. Expect next season to be another career year for Diggs.
4.02 Chris Carson, RB, Seattle Seahawks
If Carson remains on the Seahawks' roster come the start of the season, he should once again be the RB1 over 2018 rookie first rounder, Rashaad Penny. I was never a fan of Penny when the Seahawks drafted him and believed they drafted a similar player to what they already had in Carson. I was right, and Carson was the team's RB1. Of course this backfield could turn into an RBBC, but I think it truly is Carson's job to lose at this point.
4.03 Marlon Mack, RB, Indianapolis Colts
Mack topped most 2018 fantasy projections to finish with 195 carries for 908 yards and nine touchdowns to go along with 17 receptions for 103 yards and a touchdown. A hip injury hindered his 2018 campaign, limiting him to just 12 games, but he saw a nice bump in productivity with an improved offensive line and a healthy Andrew Luck as his yards per carry improved from 3.8 to 4.7 from 2017 to 2018. All rumors aside, if Mack maintains the starting role, he will make a great RB2 for your squad with RB1 upside.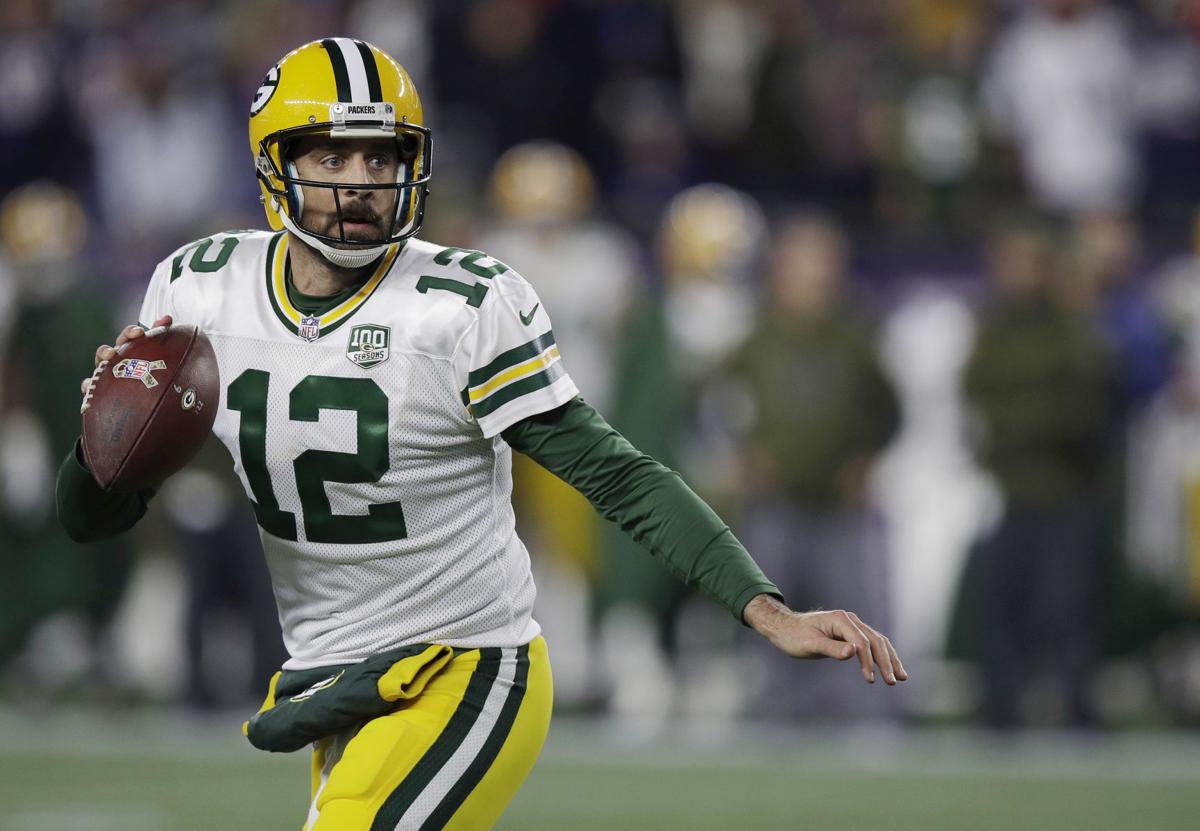 4.05 Aaron Rodgers, QB, Green Bay Packers
Rodgers didn't have the dominant fantasy season we were hoping for as he threw a career-low 25 touchdown passes. He was sixth in passing yards (4,442) and finished as QB7 in 6-point-per-touchdown leagues. With Matt LaFleur coming in as the new head coach, I expect Rodgers to have a bounce-back season in 2019.
4.06 Brandin Cooks, WR, Los Angeles Rams
After playing for the Saints for three seasons and the Patriots for one, Cooks was traded to the Los Angeles Rams last offseason and signed a 5-year, $80 million deal. In his first year with the Rams, Cooks produced a 1,000-yard season for the fourth year in a row and was primarily being utilized as a dominate deep threat until Cooper Kupp was lost for the season due to a knee injury. The offense as a whole took a step back, but Cooks was able to emerge as a great WR to have during the fantasy playoffs. With Kupp coming back and Gurley getting healthy himself, Cooks will be a nice WR2.
4.07 Derrick Henry, RB, Tennessee Titans
For the second straight season, Henry had a "December to remember" as he put up dominate performances week in and week out for the final month of the season. He was the RB1 during the fantasy playoffs, but most of us who had him may have missed out on the playoffs in general because of his 3/4 season of mediocre play. New offensive coordinator Arthur Smith has been talking up Henry as a "home-run hitter" with "a rare skill set". We all know due to Henry's inconsistent past that he could be an RB1 just as easily as an RB4; but with how he finished last season, and the talk of him this offseason, I will gladly take him as my RB2.
4.08 Derrius Guice, RB, Washington Redskins
Guice came in as the RB2 in most rookie drafts last season and looked fantastic in the preseason opener against the New England Patriots with a dominate run showing everyone exactly what he was capable of. But hey, if Adrian Peterson can finish as RB17 in this offense, just imagine what Guice is capable of. Now if Peterson is re-signed this offseason it may put a damper on Guice's upside, but if not, I am excited to see what this kid has.
4.09 Robert Woods, WR, Los Angeles Rams
It's hard to believe that Woods finished as a WR1 in fantasy finishing as the 10th-best receiver. Even with Kupp going down, Woods never lost a beat as he had 60+ yards every week from weeks 2-16. Woods may take a step back with Kupp returning to the lineup, but if this offense keeps the pace it had early in the 2018 season when everyone was healthy, you will want to get any piece of the receiving core you can get.
4.10 Kerryon Johnson, RB, Detroit Lions
With Detroit bringing in offensive coordinator, Darrell Bevell, you have to think the Lions will operate as a more run-heavy team than what we're used to seeing in Detroit. And in a game where volume is king, an increased workload for Johnson is music to fantasy owner's ears. The Lions had a three-headed monster at running back to begin the 2018 season until they finally unleashed Johnson where he quickly proved he was worth the second-round pick the Lions used on him in last April's draft. Matt Stafford and this offense should bounce back in 2019, and Johnson is primed to be an every-down workhorse RB for the Lions.
4.11 Andrew Luck, QB, Indianapolis Colts
From missing all of 2017, to being picked as a mid-to-late round pick in 2018, Luck quickly snapped back to his old form and rewarded fantasy owners handsomely last season. Thanks in large part to an improved offensive line, Luck was able to throw 39 touchdowns, which was second only to Patrick Mahomes, and finished as the QB4 on the season. With the Colts having the most cap to spend this offseason, don't be surprised if they go after some additional offensive weapons to equip Luck with even more ways to succeed.
4.12 Jarvis Landry, WR, Cleveland Browns
Finishing the season with 81 catches for 976 and four touchdowns, you could say that Landry had his worst season since his rookie year. To be honest, this should have expected when a wide receiver changes teams during the offseason and goes from Tyrod Taylor to Baker Mayfield in the middle of the season. The PPR monster that we've come to know had a down year, but with a full offseason with Mayfield, his stats should tread closer to where they were when he was with Miami, and you'll be happy to have him on your 2019 squad at a discount.
Did you miss any of the first three rounds? Give them a look!
2019 1st-Round Fantasy Football Mock Draft
2019 2nd-Round Fantasy Football Mock Draft
2019 3rd-Round Fantasy Football Mock Draft
Be sure to check out the latest episode of the Loaded Box Podcast as the guys discuss the NFL Combine, trade rumors, and preview the offseason for the Green Bay Packers!
Ryan Miner is a featured blogger for the Loaded Box Podcast. Check out his article archive and find more from the Loaded Box on Twitter & Facebook