Many of you are probably like me and were upset to see the fantasy football season once again come to an end.
You could have settled with a playoff fantasy challenge, daily fantasy sports, prop bets and/or Super Bowl squares just to keep the football excitement going one last time; but once again, the Monday following the Super Bowl arrived and everything 2018 football related is done. Finished.
Now fantasy football and NFL football go into hibernation till free agency kicks off. I am just like you and want to start the 2019 season!
I thought it would be a fun exercise to start a way way too early first-round mock draft. The following will be my thoughts on how I see the first round unfolding if drafts were today.
Mock drafts are fun, and if you are in the early mindset like myself, doing them early enough may help you catch that potential sleeper in the later rounds.
That being said, lets start the first round based on what I see in a 12-team, .5 PPR fantasy mock draft!
1.01 Saquon Barkley, RB, New York Giants
Coming into his rookie season, Barkley was already found himself in the first round of fantasy drafts where he proceeded to reward fantasy owners greatly.
Behind a horrific offensive line and a quarterback in Eli Manning who should just hang up the cleats, Barkley put up video game numbers week in and week out finishing the fantasy football season with 1,307 rushing yards to go along with an NFL-rookie record 91 receptions for another 721 yards and 15 total touchdowns.
Barkley was the third rookie behind greats Eric Dickerson and Edgerrin James to go over 2,000 scrimmage yards as a rookie. As long as the Giants improve their offensive line and (hopefully) find a successor to Manning, the sky is the limit for the 21-year-old Barkley next year and beyond.
I can see him going for 1,000/1,000 in rushing and receiving in the upcoming season. Easily my No. 1 pick here!
1.02 Ezekiel Elliott, RB, Dallas Cowboys
Your 2018 rushing leader, folks. The 23-year-old running back saw more than twice as many targets in the passing game (95) compared to his previous career high (40) back in 2016 to go along with another career-high 77 receptions, which almost tripled his career high set back in 2016 (32).
Elliott proved to be the dominate back who can do more than run. He's an every-down back and can carry this team on his shoulders.
I expect Amari Cooper to keep teams from stacking the box on Elliott, making this duel-threat RB another candidate to go for 1,000/1,000.
Outside of Cooper and now second-year receiver Michael Gallup, who do the Cowboys have that will take targets/touches away from Elliott? Zeke is basically the No. 2 receiver on this team and will push Barkley for the 1.01 come fantasy season.
1.03 Todd Gurley, RB, Los Angeles Rams
What can you say about being the back-to-back RB1 in fantasy football?
Gurley did the unexpected after being the top pick in most fantasy drafts in 2018. Not only was he the top-selected RB in most leagues, but he lived up to his average draft position and finished as the top overall fantasy scoring RB – something that hasn't been done….ever!
TG3II was a touchdown machine both rushing and receiving. He failed to score a touchdown in just two games last season (Week 11 against the Chiefs and Week 14 against the Bears).
If you were fortunate enough to draft him last season he more than likely carried you to the championship, only to let you down after being held out of your championship matchup in Week 16.
If you were wise you picked up C.J. Anderson and the glory continued, helping you win that championship matchup.
Once the NFL Playoffs hit we all noticed that Gurley wasn't being used like he was during the regular season. Was he still injured? Was it really just an offensive scheme that head coach Sean McVay really wanted to utilize?
We may never know.
In all honesty, I can see any of these first three running backs going No. 1 overall. They should all see comparable workloads and could easily finish as the overall RB1.
1.04 Christian McCaffrey, RB, Carolina Panthers
Wow, just wow. McCaffrey proved this year that he can handle an RB1 workload and live up to that No. 8 overall pick in the 2017 NFL Draft.
McCaffrey was the most-targeted running back in the NFL last season and was a steal in the second round of 2018 fantasy drafts.
CMC finished the season with 1,965 total yards and 13 total touchdowns. He was ridiculous scoring no less than 10.1 fantasy points a game and was easily Cam Newton's favorite weapon, especially after tight end Greg Olsen went down.
Newton is undergoing surgery once again this offseason on his throwing shoulder.
First reports stated that the latest surgery could hold him out for the entire 2019 season. However, an Adam Schefter report surfaced saying that Newton could be healthy by training camp and that the Panthers "certainly" expect him to be ready by the start of the 2019 regular season.
I'll believe Schefty on this because when you have two dual threats behind that Panthers' offensive line, you never know what's going to happen.
I see McCaffrey being a PPR darling once again with a steadier workload, similar to what he saw from Week 8 on this past season.
1.05 Alvin Kamara
Kamara was on a four-game tear with fellow running back Mark Ingram serving his suspension to start the 2018 season.
He averaged nearly 14 rushing attempts for 69 rushing yards and close to nine receptions for 84 yards per game while securing six total touchdowns over this span.
Kamara was a steal, even with his fairly high ADP, and then Ingram returned. It took all but two games for people to be afraid and trade away Kamara. If you kept him, well done, and if you were able to trade for him, my hat is off to you because he went on to finish as the RB4.
If you payed attention to the games during the season, you noticed that Karama was the 1a and Ingram more of the 1b. It was a balanced offense, but it was Kamara who was the better of the two-back system.
For a running back to be targeted 105 times to go along with 194 rushing attempts was once again…. efficient. Two years in a row Kamara has done it and once again he proved he is one of the most efficient dual-threat running backs in the league.
Now, Ingram is up for free agency. If Ingram stays, don't expect him to get the money that he had on his previous contract. However, continuing to pair Ingram with Kamara may benefit both players in an attempt to keep each of them fresh.
But if Ingram walks, all hell may break loose as I expect Kamara to have a McCaffrey-like season and wouldn't be surprised to see Kamara reach 115+ targets along with around 225 rush attempts.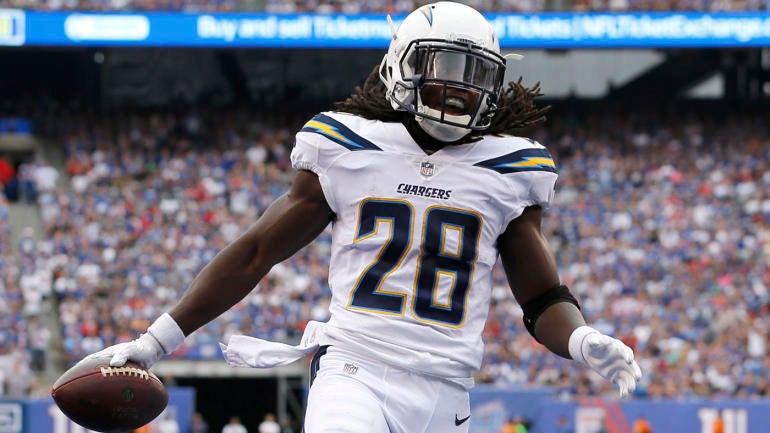 1.06 Melvin Gordon, RB, Los Angeles Chargers
In 2018 Gordon lived up to being a first-round pick going over 4.0 yards per carry for the first time in his career and showed us that RB1 we have been looking for from the Chargers.
Gordon set career-high marks in 2018 for yards per carry (5.1), yards per target (7.4) and touchdowns (14). In regards to his contract, Gordon has definitely earned his fifth-year option of $5.6 million, which is an absolute steal.
Even if he does sign a long-term deal (which is what he's waiting to see what Le'Veon Bell and others sign for) Gordon will still make $5.6 million for 2019 and the contract would start in the 2020 league year.
Playing in just 12 games, Gordon put up 1,375 total yards and 10 total touchdowns and was able to finish at the RB7. Just imagine what it would have been like if he had two fully-healthy knees and played all 16 games?
Although the Chargers have Austin Ekeler and Justin Jackson to spell Gordon, neither of these players touch Gordon in terms of talent and shouldn't hinder how you value Gordon in fantasy football.
Gordon has proven himself as the RB1 and his volume alone makes him a safe fantasy option as long as those knees are good to go.
1.07 Davante Adams, WR, Green Bay Packers
My first wide receiver off the board. Surprised? Don't be. Remember this is what I would do in a draft. So why did I take Adams first? He was the most consistent wide receiver week in and week out in 2018.
For the 2018 fantasy season, Adams was dominate from Week 1 all the way through Week 16 averaging about 19.5 fantasy PPG as he finished with 111 receptions, 1,386 yards and 13 touchdowns. Adams either got you 80+ yards a game and/or a touchdown every single week!
He's a dominate force when on the field and is a redzone weapon for Aaron Rodgers.
With the hire of new head coach Matt LaFleur, prospective fantasy owners may be a bit hesitant with Adams after looking at the mediocre Titans' offense LaFleur is coming from. Mind you it was only one year, but do you know where he was for the 2017 season?
The Los Angeles Rams.
While under McVay, LaFleur helped take Jared Goff to the next level. Now being able to work with the best quarterback in the league in Rodgers, I see Rodgers returning to be the "elite" quarterback we loved to have on our fantasy team, conveniently helping improve Adams' fantasy numbers.
I wouldn't be surprised to see Adams surpass 1,500 yards and 15 touchdowns this upcoming season.
1.08 DeAndre Hopkins, WR, Houston Texans
Many will have Hopkins coming off the board as the first wide receiver. I have no issue taking him over Adams, but if you look at his game log, you can see he had seven games under 13 fantasy points.
Sure, tell me he finished with 115 receptions, 1,572 yards and 11 touchdowns. But look at the four-week stint he had after his bye week.
He had the targets, he just wasn't getting the yards. What's the reason for this?
In my opinion, Will Fuller. A healthy Fuller makes Hopkins that much better.
I'm not knocking Hopkins at all here. He and Adams are almost interchangeable to me. I like Hopkins a lot and I look for him to do even better with Deshaun Watson being over a year removed from his ACL injury.
Yes, Hopkins did finish as the WR1 in .5PPR last season, but he stumbled a little bit throughout the season with the loss of Fuller and a horrible offensive line.
Let's remember this, fantasy football is a weekly game, and week in and out we want our WR1 to put up 15+ points. Hopkins didn't do that every week, which is why I have him as my WR2.
1.09 Antonio Brown, WR, Pittsburgh Steelers
I can't drop Brown any further than this. I have seen Brown ranked as low as WR7, and have even seen fellow teammate JuJu Smith-Schuster ranked above him. This is just criminally insane!
Over the last five seasons, including this past season, Brown has finished WR4, WR1, WR3, WR1 and WR1. Even if Brown is traded, he's way too hard to pass on.
He is such a valuable fantasy asset, if not the most valuable when he is on the field. So if you want, believe all those stories on Brown and draft one of the other receivers that you have ahead of him. For me, especially if he stays in Pittsburgh, will go ahead and grab him here if he's available.
If he goes to the 49ers or even the Colts (Colts would be so awesome with him across from TY!) I would still take him here. He's just too good to pass up.
1.10 Joe Mixon, RB, Cincinnati Bengals
I have been high on Mixon since his days at Oklahoma. I'm not going to lie, in 2017 I was one of those reaching for Mixon in the fourth round. But his 2018 was exactly what I was expecting to see from him as he put up 1,168 rushing yards and 296 receiving yards with nine total touchdowns in 14 games, finishing as RB8.
With Marvin Lewis being replaced with first-time NFL coach Zac Taylor, he should quickly see what he has at the RB position in Mixon. Past history doesn't show Taylor leaning on just one running back, but that was because he was working with the likes of Jay Ajayi and Lamar Miller in Miami. Now years down the line, we've seen how these two perform when they are the called upon to be the workhorse. They dominate one week and disappear the next.
Mixon is a different breed. He is a true workhorse.
Taylor bringing in the west-coast offense should benefit Mixon and the Bengals' offense as a whole. Also, if they further improve the offensive line through free agency and the draft, we could see a potential 2017 Todd Gurley in the making!
1.11 James Conner, RB, Pittsburgh Steelers
Conner filled in just fine for the absent Le'Veon Bell that several fantasy players "reached" for in the first or second round. It didn't take long for Bell's replacement to make a name for himself as he quickly became a fantasy star for those who used that mid-to-late-round pick on him.
Pittsburgh seems to be a team that can produce RB1's every season. I mean look at what they did with Rookie Jaylen Samuels when he was filling in for the injured Conner. This offense is built to run with one guy and shows no form of using any committee.
Plug in Conner this year to be that running back who will be putting up dominating RB1 numbers for this Pittsburgh offense in 2019. He finished with 1,470 total yards and 13 total touchdowns.
1.12 Michael Thomas, WR, New Orleans Saints
Thomas has done something that most wide receivers in a Drew Brees-led offense have never done.
Leading the team once again with 147 targets and a league-leading 125 receptions (that's an 85% catch rate if you were wondering), Thomas was easily Brees' favorite target as he caught 97 more passes and went for nearly 1,000 yards more than the team's WR2.
The closest pass catcher to Thomas is the guy who went at the top half of this mock draft, Alvin Kamara.
His touchdown upside may be capped between 5-8, but to get a player that seems likely to see another 140+ targets in 2019, I'll gladly take Thomas at the end of the first round.
Be sure to check out the latest episode of the Loaded Box Podcast as the guys recap Super Bowl 53 in a manner that's guaranteed to be more entertaining than the actual game!
Ryan Miner is a featured blogger for the Loaded Box Podcast. Check out his article archive and find more from the Loaded Box on Twitter & Facebook