I loved doing the second round of this way too early 2019 Fantasy Football Mock Draft because of the response on Twitter.
It was great, but remember, I am writing this as if the league started today; no free agent updates, and no rookies included.
As an avid fantasy football player I was excited to release round three, but I also like to like to let the anticipation build, hence releasing one round per week. I'm once again looking forward to your thoughts and opinions so feel free to comment on this article or reach out on Twitter.
Lets see how it goes here! With the first pick in the 3rd round……
3.01 Mike Evans, WR, Tampa Bay Buccaneers
You might find it hard to believe. but Evans finished with 86 receptions for 1,524 yards and eight touchdowns in 2018, finishing WR7 for the year. This offseason the Buccaneers hired Bruce Arians as head coach and he proceeded to commit to Jameis Winston as his quarterback for at least 2019. With Arians being well known for getting the ball downfield, expect Evans' numbers to stay consistent, putting up WR1 numbers on a weekly basis.
3.02 Zach Ertz, TE, Philadelphia Eagles
It's hard to pass up last year's target (156) and reception (116) leader at the tight end position. Finishing as fantasy football's TE2 behind Travis Kelce, Ertz is the true go-to target for the Eagles as he matched his career high in touchdowns last season with a team-best eight. I expect similar results for the 2019 season, but if the Eagles can get a true deep-threat wide receiver this offseason, I would expect Ertz to jump up as the TE1 by season's end.
3.03 A.J Green, WR, Cincinnati Bengals
Before suffering a toe injury in week eight, Green was averaging 16.4 PPG, easily making him a WR1. He's been bit by the injury bug over the last five seasons, playing a full 16-game season in just two of those seasons, but you can't let a potential injury scare you off. Green finally has a complimentary receiver in Tyler Boyd lining up on the other side of him and a more-than-capable running back in Joe Mixon also in the mix. With the boot coming off, expect Green to be a fringe-end WR1 as he turns 31 this summer.
3.04 T.Y. Hilton, WR, Indianapolis Colts
Hilton had a nice bounce-back 2018 season after getting QB Andrew Luck back under center. We can definitely move past the 2017 season as it was a down year for Hilton, not having any Luck (pun intended) the entire season. With Luck's shoulder injury/surgery behind him, Hilton's WR1 production is back on track.
3.05 Aaron Jones, RB, Green Bay Packers
It took until week eight of last season for the Packers to give Jones double-digit touches; and the touches turned into RB1 production in Week 10 as Jones exploded onto the scene with over 170 total yards and two touchdowns. I don't know if the lack of Jones' involvement was a Mike McCarthy thing or not, but under new head coach Matt LaFleur, his RB1's have had 15+ touches 87.5% of the time. If you were to take the eight games that Jones received 15+ touches and extrapolate it over a full 16-game season, he would have had 1,766 total yards and 18 total touchdowns, finishing as the overall RB6 in 2018 fantasy football.
3.06 George Kittle, TE, San Francisco 49ers
The second-year tight end had a hell of a breakout season in 2018 finishing with 88 receptions for 1,377 yards and five touchdowns. He did all of this with Jimmy Garoppolo, C.J Beathard and Nick Mullens under center! The 49ers will more than likely be adding another receiver this offseason, but Kittle's role seems very secure. His five touchdowns from last year should also go up in 2019.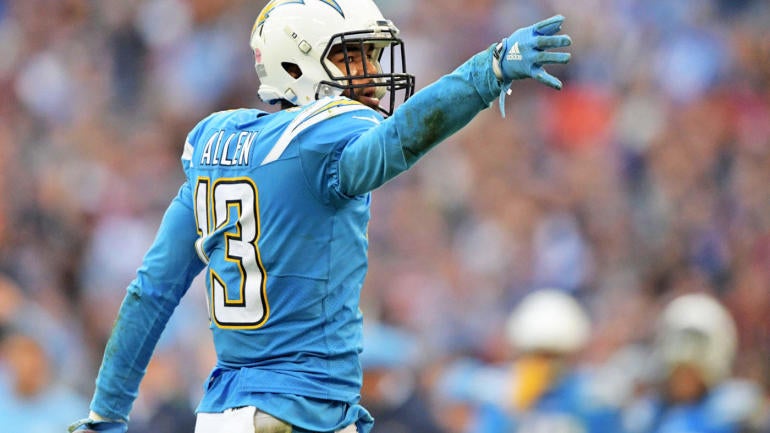 3.07 Keenan Allen WR, Los Angeles Chargers
Allen is still tagged as being an injury-prone wide receiver. However, he has played in all 16 games the last two seasons, so I think it's time to stop labeling him this. His targets per game dropped from 9.9 in 2017 to 8.5 in 2018, but don't fret on this number as the Chargers had a very balanced offense last year. Even with the emergence of Mike Williams and the return of Hunter Henry, I would expect Allen to continue posting low-end WR1 numbers.
3.08 Sony Michel, RB, New England Patriots
The decline of Tom Brady is happening whether you want to believe it or not. Michel was drafted in the first round of the 2018 NFL draft to help transition the New England Patriots into a run-heavy team. I expect the offense to be more focused on the run game, especially in Michel's case. If he can master becoming a receiver out of the backfield, you're looking at a high-end RB2 for 2019.
3.09 Adam Thielen, WR, Minnesota Vikings
The Minnesota Vikings should be an interesting team to follow this offseason. Thielen began the year with eight consecutive games with 100+ receiving yards and was by far the WR1 in fantasy. Then the second half of the season started and Dalvin Cook returned while Stefon Diggs became the team's WR1. Unlike Diggs, though, Thielen hasn't missed a game making him the wide receiver to draft first from Minnesota.
3.10 Phillip Lindsay, RB, Denver Broncos
The undrafted rookie who did what no undrafted rookie has done before. Lindsay made the 2018 Pro Bowl after coming out of nowhere and snagging the starting job from fellow rookie, Royce Freeman, as Lindsay went on to finish as fantasy's RB12. The Broncos' offense is truly up in the air at this point with two average quarterbacks and Freeman still looking to make a name for himself in the backfield. Also, no one knows how new offensive line coach Mike Munchak's system will impact Lindsay moving forward, but he should remain in the RB2 conversation.
3.11 Devonta Freeman, RB, Atlanta Falcons
The 2018 fantasy season was basically a lost one for Freeman due to foot and groin injuries, but he should be back to 100% by the start of the 2019 season. A bounce-back season should be in store as Tevin Coleman will likely leave in free agency while Ito Smith isn't on the same level as Freeman at this point in his career. It will be Freeman's backfield once again, and I'm predicting he'll go down as a steal of the draft.
3.12 Amari Cooper, WR, Dallas Cowboys
A change of scenery is exactly what Cooper needed as Raiders head coach Jon Gruden refused to utilize him properly. Fantasy owners were happy to have Cooper a handful of times after the trade, but even with the change of teams, Cooper couldn't quite seem to completely shake that inconsistency from week to week. I'm going to give him a pass this time around since he did switch teams in the middle of the season; but a full offseason with the Dak Prescott and the Cowboys should help bolster Cooper into an every-week WR2.
Did you miss rounds one or two? Give them a look!
2019 1st-Round Fantasy Football Mock Draft
2019 2nd-Round Fantasy Football Mock Draft
Be sure to check out the latest episode of the Loaded Box Podcast as the guys discuss the most-recent news in the NFL and preview the offseason for the Oakland Raiders!
Ryan Miner is a featured blogger for the Loaded Box Podcast. Check out his article archive and find more from the Loaded Box on Twitter & Facebook