Written by Mikey Ostrowski
Season-long record: 20-28 (42%) on Start Ems, 32-16 (67%) on Sit Ems
*All season long, I will be keeping track of all of the starts/sits I get correct. I like to keep myself honest here…*
Is it just me, or are these injuries making fantasy (and football in general) less fun? I think at least 3 of the guys I've had listed as starts each week have been injured. (Actually 10 of them through three weeks, that is absolutely insane!) There's a world where I could have a record of 30-18 (63%) in the start column, but no. Fantasy football 2020 has my number, but I'll own up to the bad record on starts. Having a success rate of only 42% is awful, but I have confidence we can get back up to at least 50% this week (that's right, we're going 12-4 or better this week!).
I'm almost hesitant to write an article this week because I feel like I'm cursing players each time I come here, but fingers crossed that it's just unlucky coincidence. I'm saying this for the 2nd week in a row now, but let's hope for an injury free week this time.
Also, I noticed someone in the comments last week suggested that I put the matchups next to the players. I like that suggestion and am going to do just that!
Quarterbacks:
Start of the Week: Jared Goff (LAR) vs NYG
Goff played surprisingly well against Buffalo last week and will find himself in a significantly easier matchup this week. Previously, I had called him a matchup-based starter, but I think he may have dispelled those claims already. Barring a complete run-game takeover, Goff should be a top-10 quarterback for week four.
Start: Matthew Stafford (DET) vs NO
The Saints have seemingly found themselves in shootout after shootout, and after making Derek Carr look phenomenal in week two… well, I'm always playing the quarterback against them. Stafford should be able to put together a solid performance in this one, especially since he finally has stud receiver Kenny Golladay back on the field. I'd expect this one to be very high scoring, which should bode well for Stafford's fantasy output.
Start: Joe Burrow (CIN) vs JAX
Burrow is legit. Seriously, he's looking better and better each week and I think a date with Jacksonville is just what he needs to get his first NFL win. While I wouldn't start Burrow over the obvious guys (like Josh Allen, Lamar Jackson or Pat Mahomes), I think he's got a shot to crack the QB1 numbers this week. I'd roll with him if your starter has a tough matchup this week.
Start: Cam Newton (NE) vs KC *Edit: Use Matt Ryan here. Cam is out with Covid*
Any game played against Kansas City seemingly has shootout written all over it. There's not a defense in the world that can contain that offense, which is why I'll be firing up Cam Newton wherever I can. The Patriots will be forced to keep up with a fast-paced, high-flying offense meaning Newton's fantasy output should be a juicy one. He was a bit disappointing in week three, but I'm expecting him to bounce back in this one.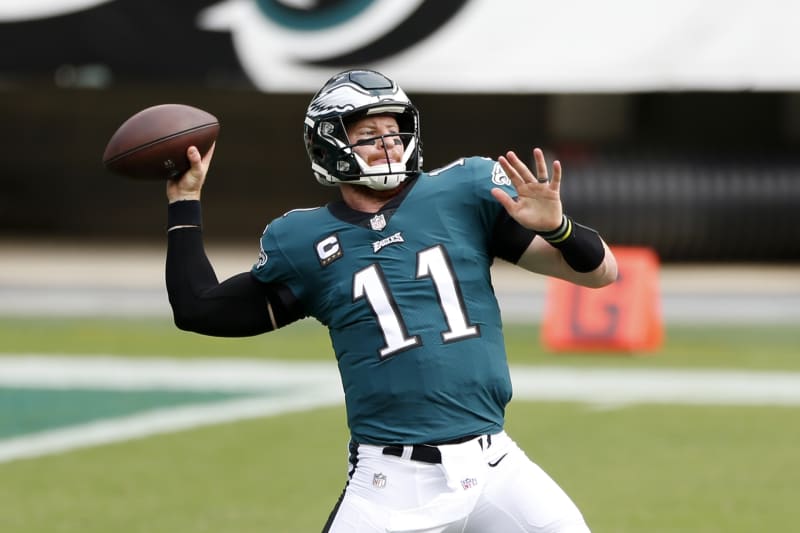 Sit of the Week: Carson Wentz (PHI) vs SF
Wentz has been absolutely horrendous this year. Granted, he put up good fantasy points last week, but it took a full quarter of OT and over half of his fantasy points coming in the ground game (which does not happen often anymore with Wentz). I'd move him to the bench in a matchup against the 49ers, even if they are hobbled on defense.
Sit: Baker Mayfield (CLE) vs DAL
I know it's a fun matchup since these Cowboys games have been insanely high scoring this year. However, I wouldn't risk it with Mayfield. The Browns offense is all on the ground this year, so even in a shootout game I'd be too nervous to start Mayfield. Like I said, the matchup is enticing, but don't do it.
Sit: Daniel Jones (NYG) vs LAR
Jones was a nice surprise for fantasy managers in 2019 but has cooled off immensely to start the year. Without Saquon Barkley to take a lot of the attention, Jones is going to find a very tough time this year, especially in being fantasy relevant. Who once had potential to be a QB1 has quickly fallen, potentially out of the top-20 quarterbacks. Jones can't be trusted against the Rams' stout defense.
Sit: Justin Herbert (LAC) vs TB
Herbert disappointed against Carolina and will likely do the same against Tamp Bay. Tampa's defense has been fairly solid so far, especially after a monster game last week. Herbert is a fun option to have on your fantasy squad, but I think he can be relegated to the bench in weeks where the matchup is less than favorable.
Running Backs:
Start of the Week: Kenyan Drake (ARI) vs CAR
The Panthers have been abysmal against running backs, especially ones who can catch the ball. Drake has been one of fantasy's biggest disappointments this season but has a get-right game in week four. I know his points haven't helped you much so far, but I think he'll definitely help you get the W this week. Drake should be viewed as a mid to back-end RB1, while Chase Edmonds could even be a flex play in this one.
Start: Melvin Gordon (DEN) vs NYJ
Gordon wasn't very involved last week but should find easier sledding against the Jets in week four. Combine that with the fact that the Broncos could be using their third stringer again in this one, and Gordon could be relied on to carry the load. The Jets will come with a much more positive game script, regardless of who's at quarterback, so I think Gordon will rebound nicely in this one.
Start: David Johnson (HOU) vs MIN
Johnson hasn't been incredible this year, but he's also had some tough matchups. He'll get a much easier one this week against the Vikings, a team who has been very middle of the road against running backs. This should be a pretty back-and-forth and game, which means DJ should find plenty of opportunities on both the ground and in the air. I like him as a higher-end RB2 in week four.
Start: Mike Davis (CAR) vs ARI
Clearly, Carolina is trying to use Davis as if he were Christian McCaffrey, and honestly, he doesn't look too bad. I'm not sure if he'll see the same involvement as last week, but he's got obvious pass-catching upside and a very safe floor in this offense. He'll remain a top-20 play for the week.
Sit of the Week: D'Andre Swift (DET) vs NO
Ugh. I don't know why Detroit won't let their best back on the field… but Detroit is not letting their best back on the field. Unfortunately, Swift cannot be trusted as a start, and even though I think he'd be a total smash play against the Saints, I just don't think he's going to have enough usage to be relevant in this one. Don't drop him though, his time will come (I'm a big Swift guy).
Sit: Ronald Jones (TB) vs LAC
Jones was listed as the sit of the week last week and will stay on the list for week four. He had the most usage of the TB backs, but nothing came of it. He was held to single-digit fantasy points in PPR leagues and will likely continue to be a weekly touchdown-dependent play. He's a desperation play at best.
Sit: Antonio Gibson (WAS) vs BAL
Gibson has been playing well the last couple of weeks but draws a brutal matchup with the Ravens. Not only is this a tough defense to run against, but this is a team that Washington will be trailing against very early. The negative game script could hinder Gibson's usage in this one. I don't think he can be trusted as even a flex option against Baltimore.
Sit: J.K. Dobbins (BAL) vs WAS
Speaking of Washington vs. Baltimore, I'm also leaving Dobbins on the bench. It's hard to trust any of the Ravens' running backs, seeing that they are all splitting the carries fairly evenly. Much like Swift, Dobbins' time will come but there's just not enough usage for him at the start of the 2020 season. He's a hold-only option for the foreseeable future.
Wide Receivers:
Start of the Week: Will Fuller (HOU) vs MIN
Fuller is trending towards an every-week starter and I'm going to ride that rollercoaster until the injury bug strikes (maybe me bringing it up will ward it off). Anyway, the Vikings have done a not-so-great job on defense this year, and I think this is a game that Houston can finally win. I'd expect Fuller to be the de-facto receiver for the Texans and I'll be firing him up with confidence everywhere I've got him.
Start: D.J. Moore (CAR) vs ARI
Moore has been more disappointing than electrifying so far in 2020, and he draws an Arizona defense that has been the absolute best team at shutting down fantasy receivers. I'm not afraid of the matchup, in fact, I like the matchup for Moore. Carolina's young defense is going to have one hell of a tough time containing Arizona. This is a game I expect Teddy Bridgewater to be completely airing it out. I'd say there's a good chance Moore bounces back in this one.
Start: Michael Gallup (DAL) vs CLE
So far Gallup has been on this start list twice… neither of those times were last week. I'm hoping that I finally hit the nail on the head with him now that he has finally emerged on the season. The Browns are a cakewalk matchup that the Cowboys are likely drooling over as we speak. I can see Gallup having a big point total for the second week in a row.
Start: Justin Jefferson (MIN) vs HOU
WOW. Jefferson had himself one hell of a breakout game last week. It looks like getting him involved is the secret to success for the Vikings. I'd expect them to keep that in mind moving forward, especially in a game where he'll have an exploitable matchup with the Texans. I can't say I see another 175+ yards coming, but a very solid performance should definitely be on the horizon for JJ.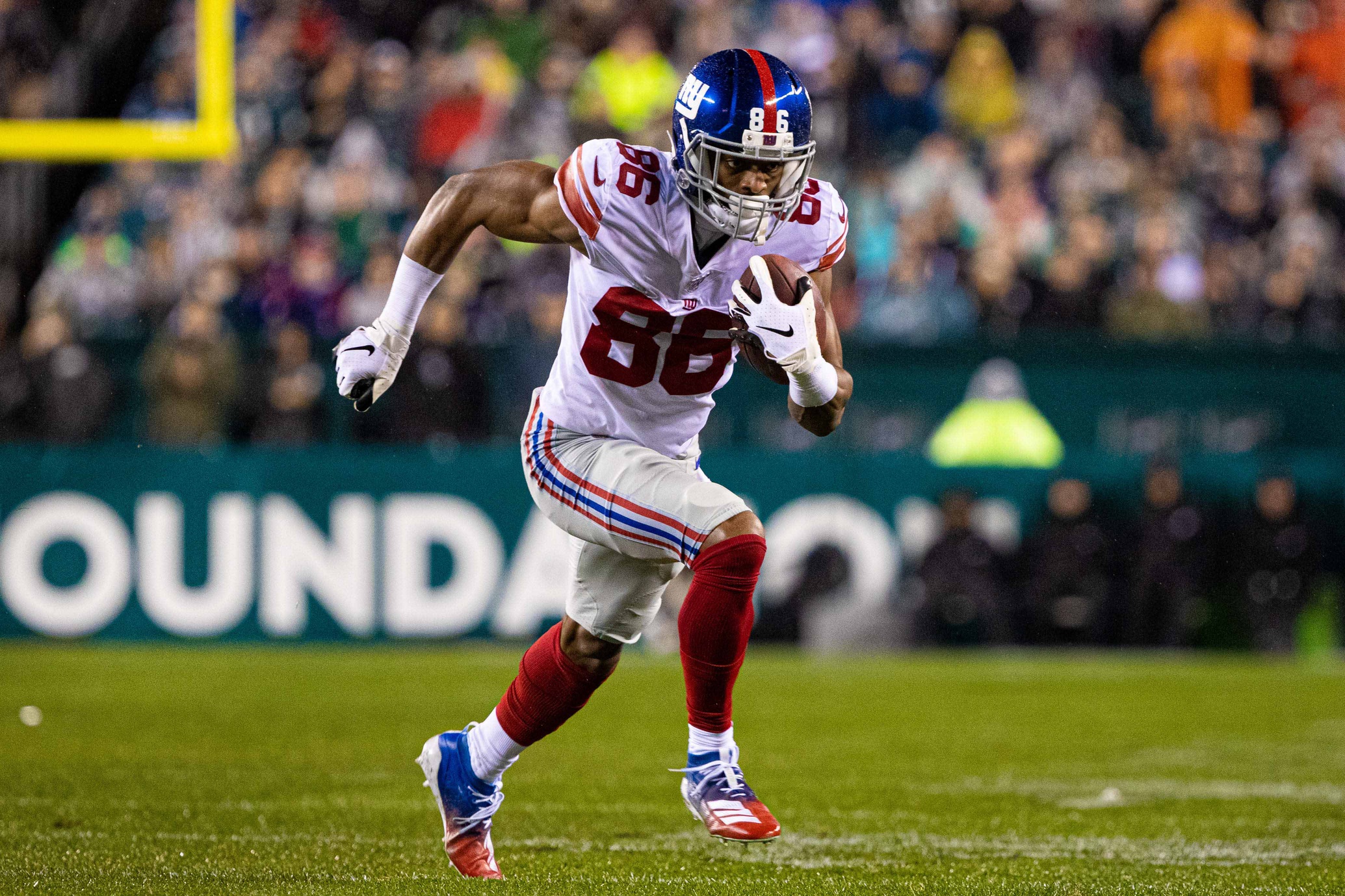 Sit of the Week: Darius Slayton (NYG) vs LAR
I'm not pumped about this one, especially since I am forced to start Slayton in multiple leagues this week (damn that injury bug). However, Slayton is one of the league's most volatile receiver options. He's a weekly boom/bust option that tends to be a bust more often than not. Slayton should draw Jalen Ramsey in this one, which for obvious reasons, is a situation I'd like to avoid. This is not a week that Slayton is going to be a good, startable option.
Sit: A.J. Green (CIN) vs JAX
Despite Green being one of the league's most targeted receivers, he has been a big disappointment to start the 2020 season. While the Jaguars are not a terrifying matchup, there just hasn't been anything from Green that would suggest he's earned a starting role on anyone's roster. Maybe you're like me and are forced to play your backend receivers because of injuries, but if you can avoid getting him in your lineup, I definitely would.
Sit: T.Y. Hilton (IND) vs CHI
Hilton saw all of three targets in last week's blowout win against the New York Jets. While I expect him to see at least 5 or 6 targets in this one, I don't think I could start him. The colts will continue to roll with their ground game, and even in the passing game, it would seem that Hilton does not have the full trust of Philip Rivers. Granted, Hilton may very well be the Colts' only healthy receiver right now, but that just leads me to believe that the Bears' secondary will be ready for him.
Sit: Christian Kirk (ARI) vs CAR
Kirk should be back in the lineup this week (come back here for an update if he's ruled out), but I'm not starting him. Not only do I not believe in him as a player, but the opportunity more than likely is going to be hard to across. Carolina's pass defense hasn't been great, but their run defense has been so horrid that opponents simply don't pass all that often against them. Not only that, but Andy Isabella had himself a game while filling in for Kirk in week three, which leads me to believe that he's going to step on Kirk's playing time a bit moving forward. In my opinion, Kirk has not been an option for the start of the 2020 season, and week four will be no different.
Tight Ends:
Start of the Week: T.J. Hockenson (DET) vs NO
Hockenson has played very well so far in 2020 and with a potential high-scoring game ahead with the Saints, I think he'll have to continue on with that streak. He seems like a favorite to score a touchdown for Detroit in this one, not to mention he's been incredibly solid between the 20s. He's a set-and-forget option at the tight end this week.
Start: Evan Engram (NYG) vs LAR
The Rams have been middle of the road against the tight end, and given that Daniel Jones is gonna need all the help he can get, I'd expect Engram to be hyper targeted in this one. He should be considered as a top-10 option for the week in this matchup, especially since the Giants should be playing catch up yet again.
Start: Noah Fant (DEN) vs NYJ
Fant is #3 in tight end scoring right now and will continue to be relied on heavily as the Broncos' offense hobbles into their matchup with the Jets on Thursday night. He is a locked in top-8 option at the position in week four.
Start: Jonnu Smith (TEN) vs PIT *Edit: Game postponed. Substitute Mike Gesicki (MIA)*
Jonnu is only behind Travis Kelce right now when it comes to points for the tight ends. Get him in your lineups. If you're wondering, the only people I'm starting ahead of him this week are Kelce, George Kittle, and MAYBE Mark Andrews. Even in a less-than-stellar matchup, Jonnu needs to be fired up against the Steelers.
Sit of the Week: Jack Doyle (IND) vs CHI
I know some punted on the tight end position and draft Doyle as their guy, especially since Rivers "love his tight ends". Well, some form of that sentence is true. He loves his tight end, is an Mo Alie-Cox. This has been a disappointing start to the season for Doyle, and he can probably be safely dropped in most leagues.
Sit: Drew Sample (CIN) vs JAX
Sample went from 9 targets in week two, to 1 target in week three. He had some exciting potential with the Bengals, but it would appear that week two may have just been an oddity. He was a popular waiver claim last week but is not a recommended start moving forward.
Sit: Eric Ebron (PIT) vs TEN *Edit: Game postponed. Substitute Rob Gronkowski (TB)*
Ebron had himself a great game in week three, catching 5 of his 7 targets for 52 yards and a score. Unfortunately, I can't imagine his targets will be that high in most games this season, so it's going to be tough to trust him. Even in a game against the Titans, there are definitely much better options out there for you than Ebron.
Sit: Ian Thomas (CAR) vs ARI
With Christian McCaffrey out of the lineup, some thought it might be an uptick for Ian Thomas. The short answer to that; nope. What was once a highly-coveted position in Carolina (with Greg Olsen) is now a non-factor for fantasy purposes. Thomas is another one that should not only be avoided, but should also be dropped in most leagues out there.
Be sure to check out our weekly Trade, Drop & Hold article as well as our Waiver-Wire Advice as we help get you set for Week 4 of the 2020 NFL season!
Mikey Ostrowski is a blogger for the Loaded Box Podcast. Check out his article archive and find more from the Loaded Box on Twitter & Facebook