In what feels like the blink of an eye we find ourselves preparing for Week 4 of the 2020 NFL season.
Week 4 is the point of the fantasy season I considering desperation time because it's the point in the season that you're going to see the 0-3 teams start trying to make some moves in an attempt to right the ship before it's too late.
You can benefit from this, in some cases, because owners of top-end talent that just haven't put it together yet (ex: Joe Mixon) are fed up and are now in search of players that can return immediate results. Also, in some of these cases, you can package a deal including a far lesser player that has exceeded expectations (ex: James Robinson) for a player such as Mixon and wind up being the clear winner of the trade when it's all said and done.
Now that I've spoiled a large percentage of this week's article, let's take a look at this week's trade, drop & hold!
Trade: Joe Mixon, RB, Cincinnati Bengals
Much like last week's article, I'm once again nominating a player I think you should try to trade for. This week's target is the previously mentioned, Joe Mixon.
Mixon has been real frustrating for fantasy owners through the first three weeks of the season, and I'd typically want some visual proof that there's brighter times ahead before pulling the trigger on a player in a trade, but in this case I think you need to bite the bullet and make a move on Mixon before he pops off for 100+ yards and two TD's – essentially before his buy-low window closes.
As current Mixon owners know, he currently has less than 25 total fantasy points (0.5 PPR), which is less than the likes of Joshua Kelley, Antonio Gibson and (wait for it) Mike Davis!
The Bengals do appear to be fully committed to the passing game, with Joe Burrow attempting 105 passes over the last two weeks, but I wouldn't be surprised to see a jump in targets heading Mixon's way.
He's always been a pretty consistent option as a pass catcher, typically between 30-40 receptions, 280 yards and a couple TD's per year, so I'd be willing to bet there's a good chance the Bengals get creative and try to get him going a bit more through the air in the passing game.
Additionally, the carries have been there for Mixon each of the first three weeks (19, 16, 17) so hopefully the team can adjust and improve in the run game, making Mixon more efficient with the touches that he receives (averaging just 3.2 yards per carry this season).
Reading all of these depressing numbers likely didn't arouse you to the point that you're scrambling to your fantasy app to make the Mixon owner an offer, but if you have one of these early-season, over-achieving players, and your league's Mixon owner is struggling in the win/loss column, it might be worth your while to see what he's willing to take.
Drop: Marquez Valdes-Scantling, WR, Green Bay Packers
Seems crazy to drop a wide receiver from the league's top-scoring offense, however, if Marquez Valdes-Scantling can't make it happen while Davante Adams is out, how's he going to be relevant once Adams returns?
Most coaches go with the "next-man-up" approach once a player goes down, however, Packers' head coach Matt LaFleur has opted to just move his remaining skill players around and utilize his best guys rather than simply moving each WR up a spot in the pecking order.
What do I mean by this? What I mean is that on Sunday night against the Saints you saw the Packers utilize their runnings backs as receivers, and they got the tight ends more involved in the passing game rather than increasing the looks for MVS and the remaining WR's not named Allen Lazard.
Packers' running backs combined for five catches for 28 yards while tight ends combined for a 9-104-2 stat line. Compare those numbers to just one catch for five yards for MVS and no catches on one target for Darrius Sheperd, and I think you have your answer for how LaFleur plans on operating this season.
Sure, MVS is good for a long touchdown once every six weeks on a go route, but you're not going to use him every week waiting for this phenomenon to occur.
If you're looking to add a receiver such as Justin Jefferson or Brandon Aiyuk on the waiver wire this week and you're not sure who to drop, I'd say you're safe to drop MVS at this point.
Hold: Carlos Hyde, RB, Seattle Seahawks
The holding of Carlos Hyde refers to the idea of not dropping him this week if you're going to be active on the waiver wire.
I don't expect the waivers to be as hot this week as they were last week, but in the event you're adding players prior to Week 4, I'd recommend holding onto Hyde a little while longer.
Hyde has been very pedestrian so far in 2020, rushing for just 57 yards on 16 carries with a touchdown, but we may be in store for a nice increase in those numbers based on the health of the Seahawks' starter at running back.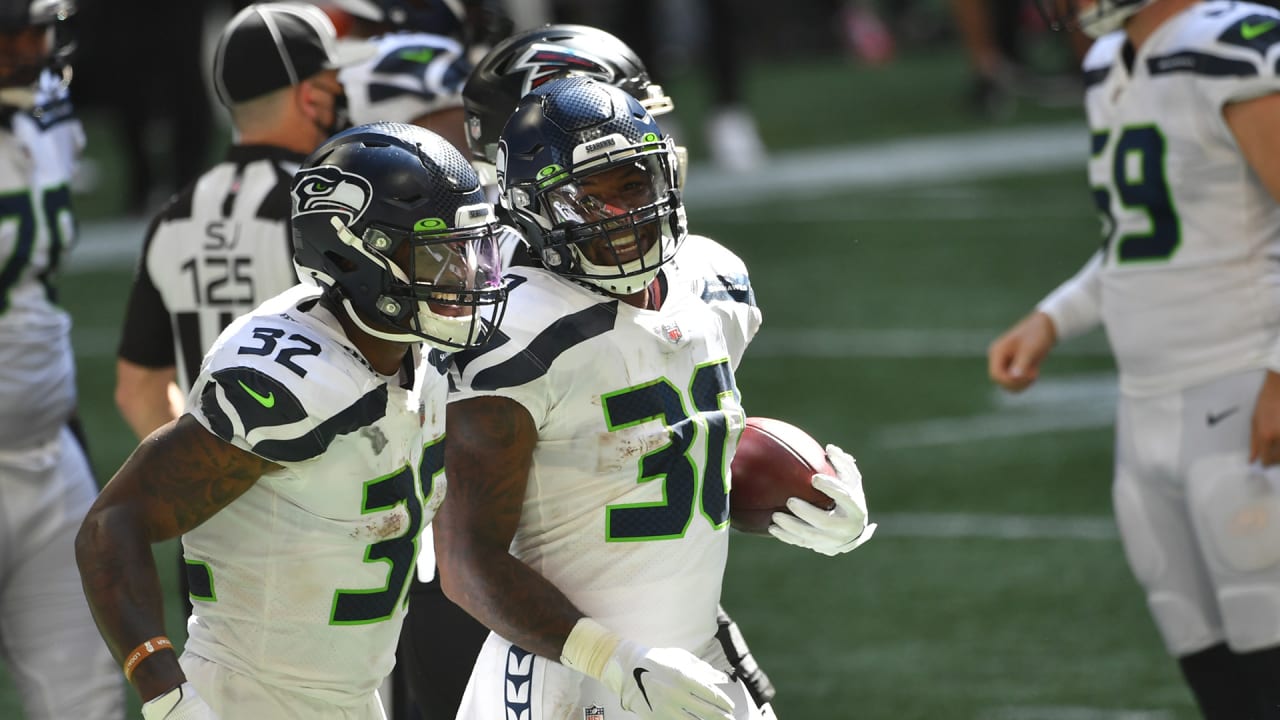 A Monday morning MRI revealed that Chris Carson's injury was just a minor knee sprain, but it sounds like there's still a chance he misses Sunday's week-four tilt against Miami, and in case you haven't been paying attention, you definitely want to start RB's against the Dolphins this season.
The Patriots and Bills didn't have one dominant RB in their games against the Dolphins, but teams are rushing for over 133 yards per game against Miami so far this season, and the Dolphins are fresh off allowing James Robinson nearly 28 fantasy points last week.
In the event Carson is unable to go on Sunday, Hyde is more than worthy of a starting spot on your fantasy roster and should put up healthy numbers as the Seahawks have been scoring in bunches this year, averaging 37 points per game, good enough for second in the league.
Ben Morgan is a co-host and blogger for the Loaded Box Podcast. Check out his article archive and find more from the Loaded Box on Twitter & Facebook