Written by Mikey Ostrowski
The disrespect for Todd Gurley apparently knows no limits. I've seen him ranked as low as RB25 in some peoples' rankings and I just cannot wrap my head around it. Gurley is currently going in the early-to-mid 4th round in redraft leagues and is going in the middle of the 5th round in dynasty leagues. This is absurd.
Examining 2019:
Many people were fading Gurley ahead of the 2019 season because of the arthritis issues that had been reported. While he didn't crank out those top-five numbers you'd come to expect from him, he did still finish as the overall RB14 in PPR leagues, and was one of only 15 running backs to eclipse the 200 fantasy point mark (side note, Le'Veon Bell was the RB15, why are we fading him so much as well?).
The Los Angeles Rams had the 31st graded (that means the 2nd worst) offensive line in the entire league last season. While the efficiency was less than stellar (3.8 yards per carry), Gurley still saw 223 rushing attempts for 857 yards and 12 trips to the end zone. He also reeled in 31 balls for 207 yards and two more touchdowns.
With the looming knee injuries, it was very surprising to see that Gurley would go onto miss only one game of the entire 2019 campaign. People had expected a total bust season from him, but given the circumstances, a finish at RB14 really wasn't too bad. Had he not missed a single game, he likely would've been a back-end RB1… but everyone is quick to dismiss that.
The Opportunity of 2020:
Gurley has landed in Atlanta, a team known for their revolving doors of running backs over the last couple of years. Sure, Davonta Freeman was leaned on as heavily as he could've been, but an injury-stricken couple of seasons held him mostly in check. Gurley factors in as the lead back in Atlanta, a title that Freeman was able to carry to the RB20 overall finish, even though he had missed two games on the season.
It is no secret that Gurley is significantly more talented than Freeman, and if he can bring even the inefficient 3.8 Y/C with him, a finish in the top 15 is basically guaranteed. You also have to examine the way Atlanta uses the running back out of the backfield. Freeman had accumulated 70 targets over 14 games in 2019. Again, Gurley is more talented, even in the receiving game, than Freeman is. Keeping things constant, we can expect around 70 to 80 targets for Gurley, and given his history with success in this aspect of the game, I'd expect him to reel in at least 50 of those (while he only had 31 receptions in LA just a season ago).
Another thing to take into consideration is the improvement around Gurley. I'm not going to sit here and lie to you; it's not a tremendous improvement, however, it most definitely will make a difference that he is no longer behind a bottom-two offensive line. He'll also get to play alongside of Matt Ryan, who is significantly better than Jared Goff and can competently take the focus off of the run game.
2020 Projections:
In order to successfully gage a projection, you have to look at everything; Gurley's stats, the Falcons' stats, the differences in offense (and even defense) between this year and last year, and of course, the strength of schedule.
According to Fantasypros.com, the Atlanta Falcons running backs will have the 3rd easiest schedule in the entire league. Well… I like the sound of that.
In 2019, Atlanta running backs combined for a mere 308 rushing attempts. This was in the bottom five for rushing attempts in the entire league. They haven't made much splash in the offseason to improve their offensive line, so let's assume that number will stay about the same.
Freeman had commanded a 60% share in that backfield over his 14 games. Assuming he had stayed healthy all 16 games, that number could've looked more like 65%. Coincidentally enough, Gurley held a 66% share in 2019 in LA, so we'll assume that Gurley will hold that 66% share.
Using 308 attempts as the basis, that means Gurley will have roughly 203 rushing attempts. The 3.8 Y/C from 2019 was his 2nd worst season to date. He has typically done 4.7 or better. Without giving him too much credit, let's assume the team improvement around him will warrant 4.1 Y/C (a very fair estimate). That would lead to 832 rushing yards.
Projecting touchdowns is a different story. The Atlanta Falcons had a total of 10 rushing touchdowns in 2019 (which is less than Gurley had in LA). While I do believe Gurley can see double-digit scores, we do have to take that fact into consideration. All things considered, I think projecting seven scores on the ground would be fair.
Now is the fun part; the receiving game. We have already estimated that Gurley will see 70 to 80 targets, so let's meet in the middle and call it 75. Gurley only saw (a career low) 6.7 yards per catch last year, even though his Y/R over the course of his NFL career is 9.6. With the Falcons, Freeman has typically seen about 7.5 Y/R, and while I do believe that Gurley is more skilled than Freeman, that number seems like a fair estimate. Adding all of that together, with a pessimistic estimate of a 70% catch rate, Gurley will have a receiving stat line of: 53 receptions for 394 yards. Based on the historic data of both Gurley and Freeman, we can also assume he'll see about three trips to the end zone.
The final projection for Todd Gurley:
832 rushing yards, seven rushing touchdowns, 53 receptions, 394 yards and three additional touchdowns. A stat line of this magnitude comes out to be 235.6 PPR Points, which would have been good enough to finish as the overall RB11 in 2019.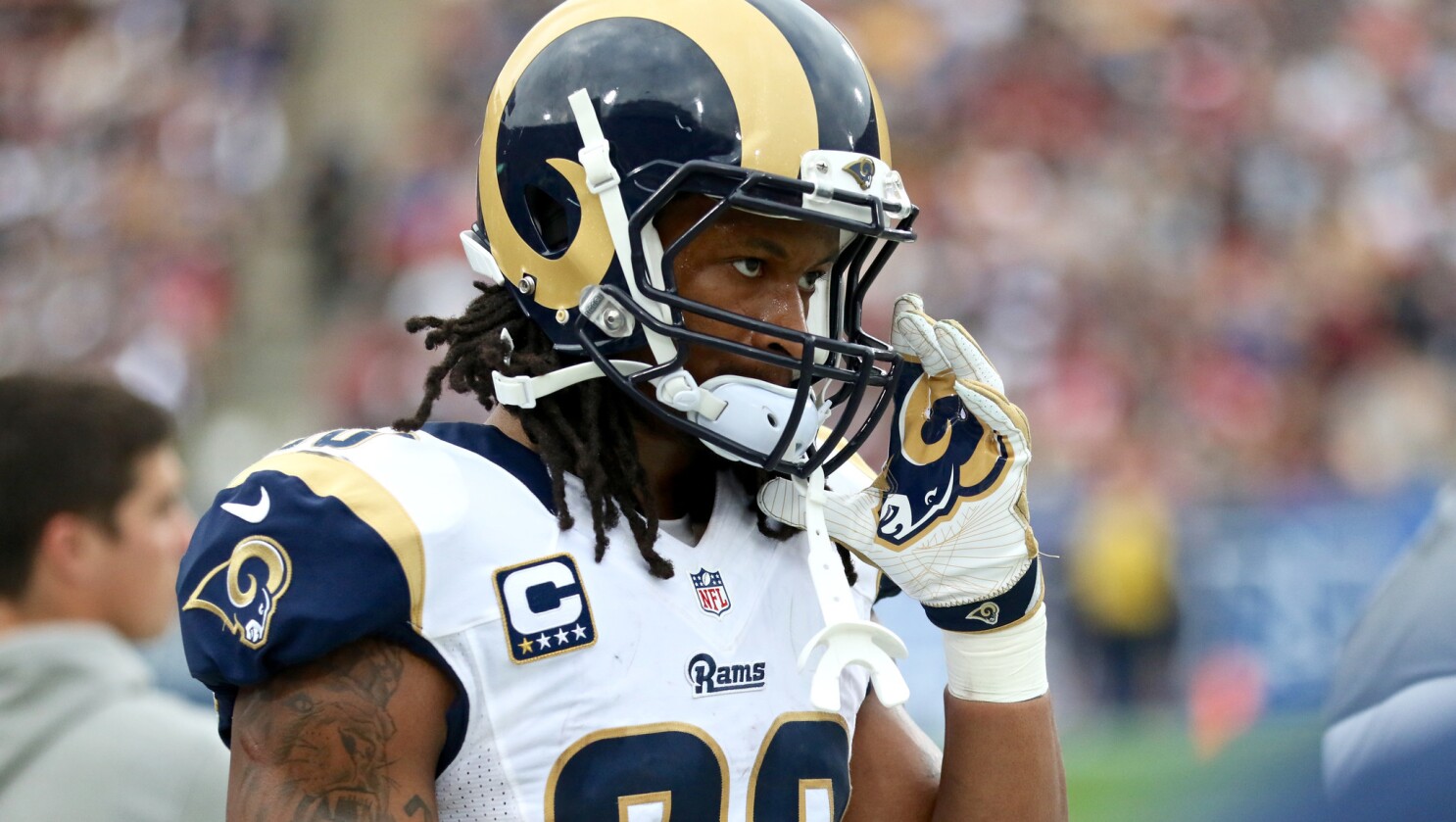 The Conclusion
Am I telling you that Todd Gurley has top-5 upside this season? No.
Am I telling you that Todd Gurley is an absolute steal at his current ADP? Yes.
Am I telling you that there isn't risk with drafting Todd Gurley? No.
Am I telling you that I'd gladly take the risk/reward situation? Absolutely.
I genuinely believe that landing with the Falcons will be great for Gurley. His day of being a 1,000-yard rusher are probably behind him, but that doesn't mean that the value isn't there. Even in his "disappointing" season last year, he only fell short of finishing as an RB1 by 11 points, which undoubtedly would not disappoint a single fantasy player in 2020.
I think it's time we stop collectively fading Gurley and remember exactly what he is capable of. He's going to be a fantastic asset to any squad, especially in PPR leagues, and the fact that you can get him in the 4th or 5th round screams "absolute steal".
If you want to continue to downplay his talent and opportunity; I can't stop you. Just know that Gurley is definitely worth the dart throw and could completely smash all expectations, especially in the receiving game, with the Falcons in 2020. The reward heavily outweighs the risk at his current price, so I only have one question for you; what's stopping you from drafting Gurley in 2020?
Be sure to check out the latest episode of the Loaded Box Podcast as we discuss our top players to avoid candidates for the 2020 fantasy season!
Mikey Ostrowski is a blogger for the Loaded Box Podcast. Check out his article archive and find more from the Loaded Box on Twitter & Facebook