Written by Mikey Ostrowski
Thinking about buying low is one of my favorite things to do in fantasy football. Playing in a dynasty league is like playing chess; you always need to be two moves ahead if you want to win. That's exactly what you do when you buy a player at low cost.
For example, this time last year I was thinking of my biggest targets, and Mark Andrews came to mind. Obviously, the hype train was starting to pick up speed on him, but I was still early enough to the party where I got him for a good cost. I offered the Andrews owner Dallas Geodert and a 5th round rookie pick (so essentially just a young, talent swap at the tight end position) and it was accepted almost immediately.
I definitely did not expect the trade to pay out immediate dividends, but that trade still has me floating on cloud 9. My point is, if you can correctly predict "the next big thing" before the player actually makes the transition, you have a much better chance at winning your 12-man chess match.
Last week, I examined my favorite buy-low candidate for each team in the NFC. Let's check out the AFC this time around.
New England Patriots: N'Keal Harry (WR)
Harry might be the only player on this entire team that has legitimate upside right now. I don't think their situation on offense AT ALL now that Tom Brady is out of the picture. It's tough to imagine a world where the Patriots stay relevant in 2020, however, Harry could be the roster stash you need for the future. We can't forget that Harry was a consensus top-3 pick in rookie drafts last year. His value has already fallen so much… between a subpar and injured rookie season and not having an actual quarterback to throw to him, Harry's perceived value has been on the decline. We need to remember that receivers take a little longer (usually) to breakout and become fantasy relevant. The way I look at it, if you can get a guy that went 1.03 or better last year by offering a 2nd round rookie pick (which shouldn't be too hard given this year's draft class), that's a steal. Chess is a patient man's game, and so is building a dynasty.
Pittsburgh Steelers: James Washington (WR)
Someone is going to have to be the definitive WR2 in Pittsburgh, and while I think Diontae Johnson has the best shot, James Washington isn't very far behind. Washington has become an afterthought with all of the hype surrounding Diontae Johnson, but he shouldn't be. In four of his last five games of 2019, he had either 8+ receptions or 83+ yards. He will make a case to be the team's WR2 in 2020. Even if he slides to WR3 on the depth chart, there's a decent enough chance that Pittsburgh won't be re-signing JuJu Smith-Schuster, which would give James Washington plenty of upside value as a roster stash.
Kansas City Chiefs: Demarcus Robinson (WR)
It's not a sexy pick here, but what did you expect? The Chiefs have one of the most explosive offenses in NFL history, it's almost impossible to buy a piece of that team right now for cheap. That's where Robinson comes in. He's more a less a player to own in case Tyreek Hill gets injured, but he is a guy that the Chiefs want around and could look to have a bit of an expanded role in 2020. Keep in mind that he only had 55 targets last year, so when I say expanded role, I literally mean maybe 5-10 extra targets. Don't break the bank to get him… we're only buying him for the low if you can almost literally steal him away from another team.
Baltimore Ravens: Miles Boykin (WR)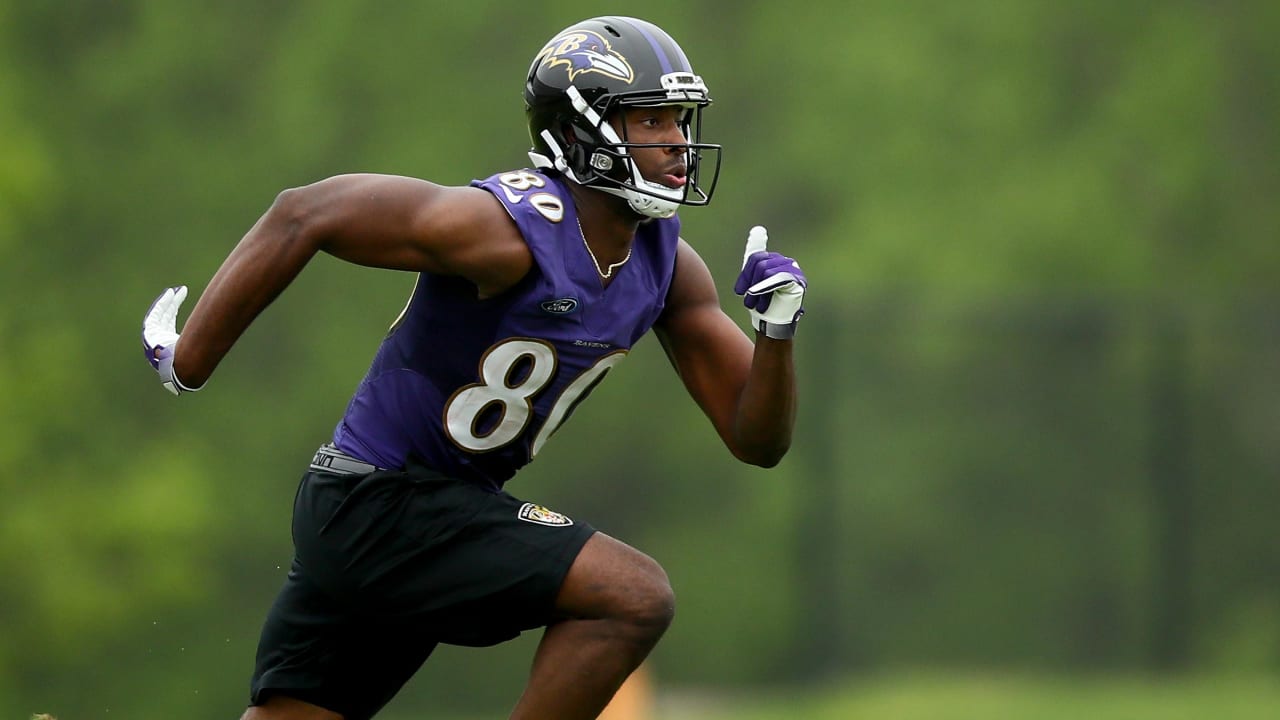 Boykins' metrics are actually disgusting in the best possible way. He is a freak athlete that could turn out to be the WR1 in Baltimore if given the chance. I can't say how likely it'll be or even that the WR1 in Baltimore is anything more than a fantasy WR3, but the amount of upside you're getting from Boykin is almost unmatched for the price you'll have to pay for him. If you can grab him for a 3rd or 4th round rookie pick, do it now and consider it as a low-risk investment into your future dynasty.
Las Vegas Raiders: Hunter Renfrow (WR)
There was so much hype over this guy until the Raiders drafted two very good receivers in the NFL draft. However, seemingly overnight, people went from "Renfrow WR1 SZN" to "Ugh, my Renfrow shares are useless". If you have a scared owner in your league; pounce! Renfrow battled injury and usage issues during his rookie campaign, but his numbers aren't too shabby. He ended the season with back-to-back 100-yard games and had a touchdown in each of them as well. Had he played an entire 16 games, his pace would be roughly 745 yards and 5 touchdowns. He's not going to go away. In fact, I still think he has the best shot to be this team's highest targeted receiver in 2020.
Denver Broncos: Phillip Lindsay (RB)
Lindsay is obviously no longer the RB1 in Denver, however, it's tough to imagine his role seeing a big decline. With that being said, most fantasy owners are expecting the arrival of Melvin Gordon to essentially be a death sentence for Lindsay's fantasy value. It's hard to imagine this actually being the case. Lindsay has never been a workhorse back and should find good production no matter how many opportunities he accumulates. He'll have weekly PPR upside and will be one of the best BYE-week fillers in 2020. He will also be one of the league's top handcuffs to own since we already know how good he is with the ball in his hands. It's less than exciting to buy a handcuff running back, but Lindsay could be so much more than that in this offense.
Jacksonville Jaguars: Leonard Fournette (RB)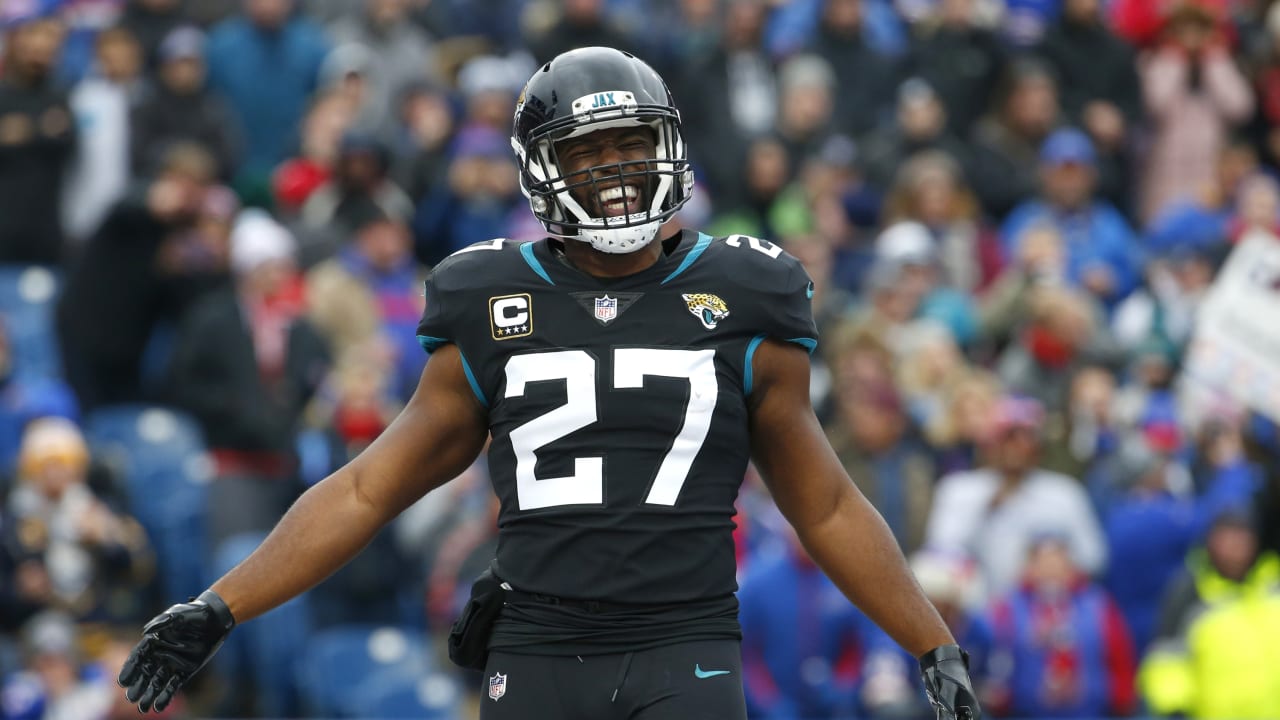 I know, I know. How does a RB1 qualify as a "buy-low"? Well, because he is. Fournette's future is in jeopardy, which makes him a very tough hold candidate, especially for rebuilding dynasty teams. However, true contenders HAVE to reach out to the Fournette owner and talk cheddar. There's a good chance that this is Fournette's final year in Jacksonville, but that just means 2020 could be his best statistical year to date. Jacksonville doesn't care about his future, they just want to use him while they've got him. He could be a top-three candidate in the entire league in terms of total touches in 2020, yet people are only focused on his future. Sure, he's a scary guy to look at for the long term, but if your roster is one piece away from a title run in 2020, he could be your guy.
Miami Dolphins: DeVante Parker (WR)
He still isn't being recognized as a top-15 option in the league, but his 2019 season showed that is exactly what he is. Sure, there are remnants of a great season in the Parker owners' heads, but they'll also remember the years and years of mediocrity from him. Parker is best known as "training camp's biggest winner" because every year he seems to be having "the best training camp he's ever had". He accumulates hype at the beginning of every year, and he finally provided some return in 2019. He finished as the overall WR13 last season, yet he's still considered to be a high-risk option. I genuinely think he can repeat as a top-15 guy, and though it may be hard to grab him for "cheap", a young asset or two could be used to entice the Parker owner. Regardless of cost, he's a guy that should outperform whatever (or whoever) you trade in order to get him.
Los Angeles Chargers: Mike Williams (WR)
Mike Williams was a top-10 draft pick in real life and we all seem to forget that. He had a monstrous 10 touchdown season last year (on less than 50 receptions) and should have the opportunity to put up a respectable number this year as well. Do I think he'll repeat with double-digit scores? No shot, especially with Justin Herbert calling the shots. However, I like his chances to surpass his reception total from 2019 and potentially begin his ascend to WR1 status within this team. Williams is so far removed from his 7th overall draft pick title to the point where he can be bought for pretty cheap in most leagues. Remember, stay two steps ahead; he could be a great option by the time the 2021 season is here.
New York Jets: Le'Veon Bell (RB)
This is similar to the Leonard Fournette situation. The long-term value is scary, but the immediate return you can receive is good enough to ignore the long-term consequence. Combine the future uncertainty with the recent addition of Frank Gore and you just may find an owner that is willing to sell below market value. If you're a contender in 2020, you absolutely HAVE to do your due diligence and reach out to the Bell owner in your league.
Indianapolis Colts: Nyheim Hines (RB)
The coaches love Hines and they have made that abundantly clear over the last few weeks. He will be heavily involved in the passing game and could take on the "Tarik Cohen-esque" role in this offense. He's not a sexy every-week starter for your squad, but he's a weekly upside play that offers tons of potential in PPR formats. There's a decent enough chance that Hines will see enough targets to warrant a RB3 tag by the end of the season, and those type of guys are often the unsung heroes of a championship roster.
Cleveland Browns: Baker Mayfield (QB)
I don't like buying quarterbacks in 1QB leagues, but Mayfield's value went from sky-high to rock-bottom between 2018 and 2019. That offense can be an absolute juggernaut, and if it is going to happen for Baker, it's going to have to be this year. I would never go out and trade away a first round, or even a second-round pick for a non-top option in 1QB leagues. However, Mayfield can be purchased VERY low right now and could be a great long-term solution at the quarterback position for your dynasty roster. 2020 is going to be the year of "nut-up or shut-up" for Mayfield and you'll have your answer on whether or not you've got a good return on him by the end of this season.
Buffalo Bills: Devin Singletary (RB)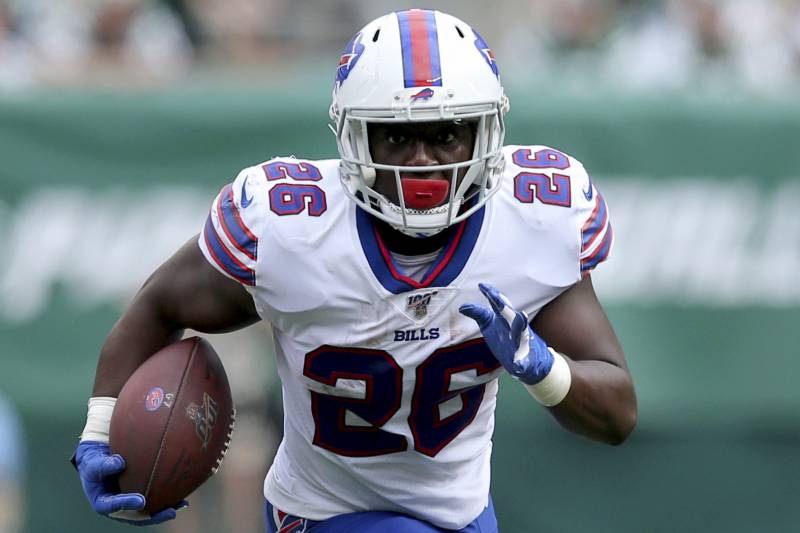 I don't think Singletary has the RB1 upside that he did at the end of the 2019 season. However, with the addition of Zack Moss, Singletary's perceived value has plummeted. Not all owners will be willing to sell lower than market value on Singletary, but some may. If the Singletary owner has shown uncertainty, it's definitely worth opening the can of worms to negotiate a price. After all, his role should be relatively similar in 2020, making him a prime RB2 candidate with weekly upside.
Tennessee Titans: Jonnu Smith (TE)
No lie: I think Smith will be a top-10 tight end for the foreseeable future. He's an athletic freak and showed us just how good he can be without Delanie Walker there to soak up targets. He is my ABSOLUTE FAVORITE buy-low at the tight end position right now. I literally just bought him for a 3rd round pick in my league and I am absolutely elated. In the fantasy playoffs (weeks 14-16) he put up point totals of 11.90, 16.70 and 15.30, and I'm expecting a lot more of the same now that he has a featured role in this offense. He's young, he's talented and he's on a team that has a bright future. BUY BUY BUY!
Houston Texans: Duke Johnson (RB)
Many claim that David Johnson will be a workhorse in Houston, but those days are far behind him. He can't stay healthy, and if the Texans want to maximize his value, they'll stick him in a committee. That's where Duke Johnson comes in. In PPR leagues, there is almost no world where he doesn't finish as at least a RB3. Combine that with a very low cost (and ADP) and you've got yourself a very sneaky flex/RB3 option. I genuinely think that these two could become Houston's very own two-headed monster. Nobody is talking about Duke Johnson, which makes him the perfect buy-low candidate.
Cincinnati Bengals: A.J. Green (WR)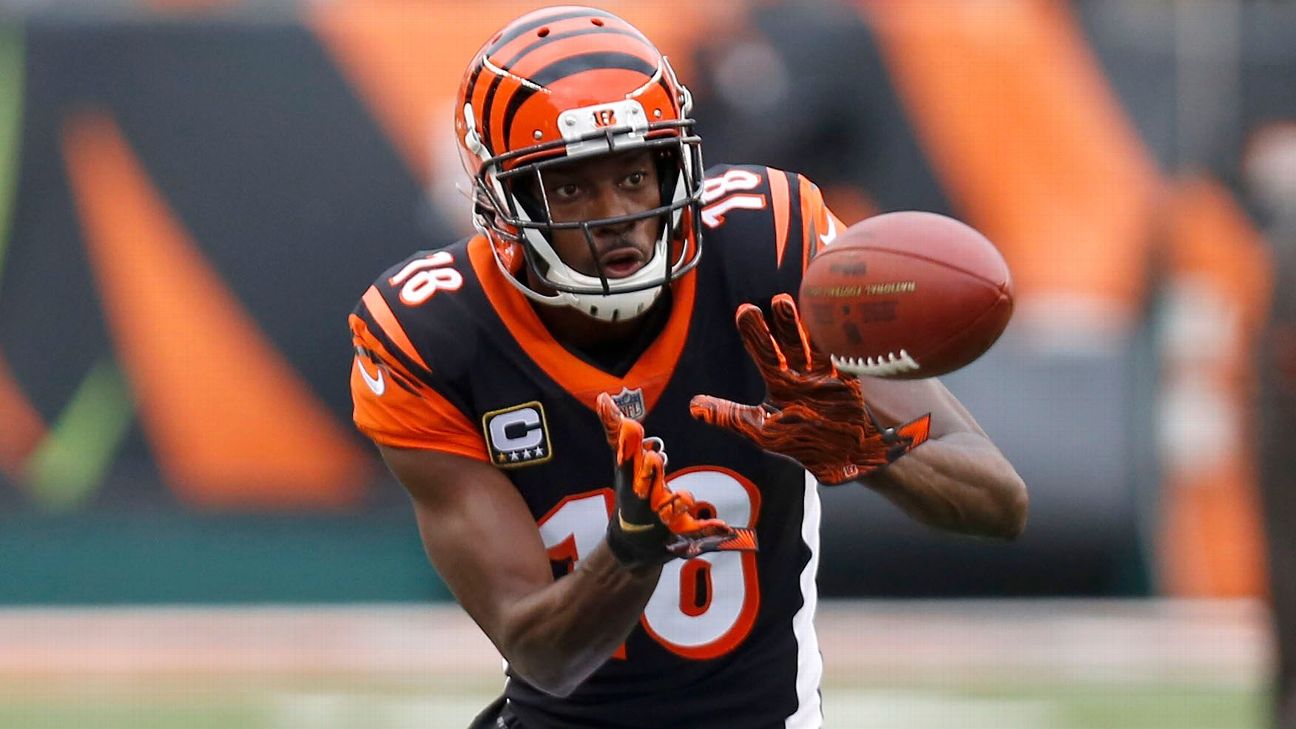 I know this is a dynasty focused piece, but Green will be yet another player I'm throwing out there for those teams in a "win-now" situation. Green got an entire season off and should be ready to ball out with Joe Burrow taking over. I'm not going to lie and say that he'll finish as a WR1, that would be irresponsible. But he should most definitely be an upside WR2 in most weeks. He can be had for pretty cheap in most leagues and could be exactly what your receiver corps is missing.
That's going to do it for my buy-low candidates on each team for the AFC. Be sure to check out last week's NFC Buy-Lows if you haven't already and let me know if you agree/disagree with anyone on this list; I'd love to hear your thoughts/have a debate!
I suppose it's only fitting to go over my favorite sell-high candidates from each team next, so stay tuned for that in the coming weeks!
Be sure to check out the latest episode of the Loaded Box Podcast as we discuss over/under win totals for those in the AFC!
Mikey Ostrowski is a blogger for the Loaded Box Podcast. Check out his article archive and find more from the Loaded Box on Twitter & Facebook