Written by Mikey Ostrowski
The offseason is the best time to target players before their big breakout. Sure, you'll swing and miss on some, but let's face it; dynasty leagues are won in the offseason.
I mean, think about it: most rookies take a year or two to develop, your waiver wire is barren, and you've probably traded away all of your future assets on a rental player that you thought could've put you over the hump last year… or maybe you're in perfect shape. Either way, you ALWAYS want to be on the lookout for great players to buy-low; BEFORE they breakout.
Today, I'm going to be highlighting one player from each time in the NFC that I think would be a great buy-low target for your squad.
Green Bay Packers: Devin Funchess (WR)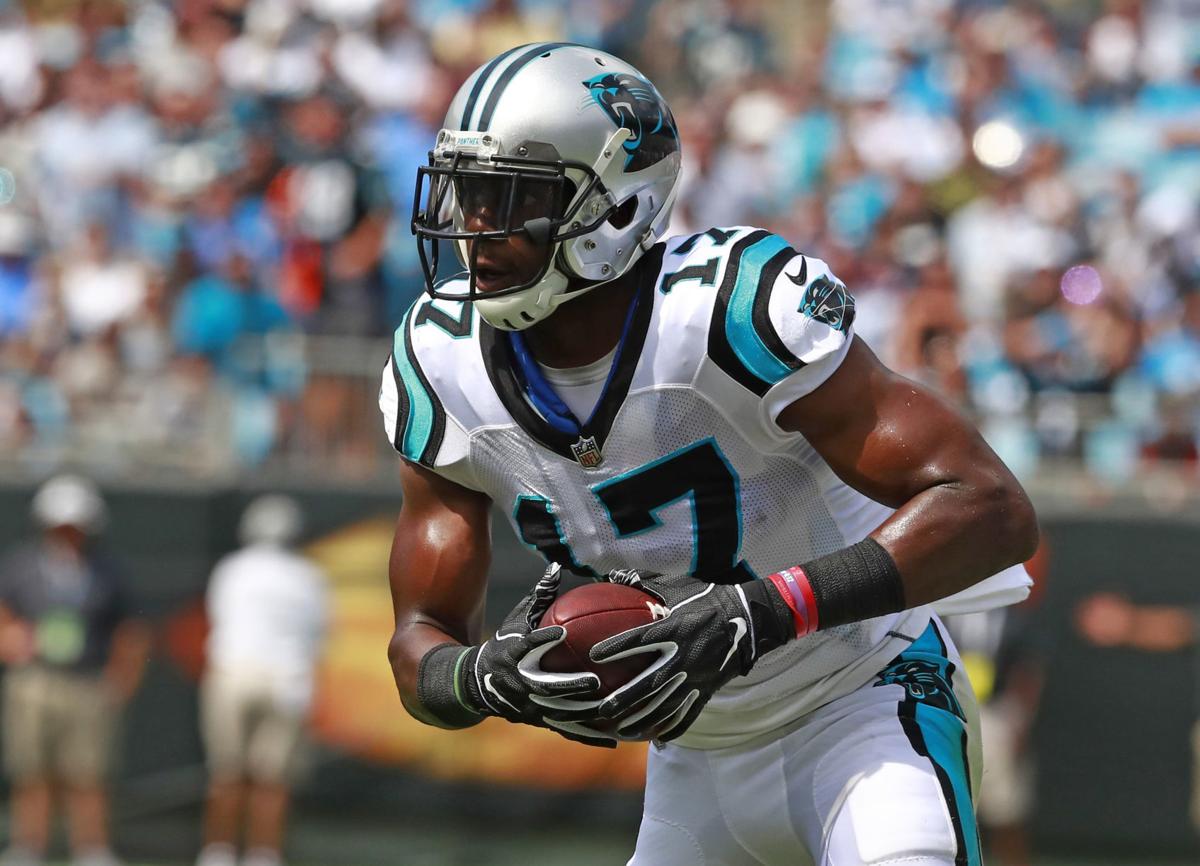 I'm not going to pretend that Funchess will be some world-breaking player for your roster. To be quite honest, there's a decent chance he'll continue with more of the same. However, Funchess could very well be the only legitimate contender to be Green Bay's official WR2. Do you remember when Mike Williams had 10 touchdowns on less than 50 receptions in 2019? Well, that could be Funchess this year. For the low cost it would take to get him (or draft him in a startup), he seems to be well worth the risk he comes with. Worst case scenario you get a complete bum; best case scenario you get a big red-zone target.
Dallas Cowboys: Michael Gallup (WR)
Are you aware that Gallup had over 1,000 yards receiving last year? Are you aware that Dak Prescott had the second-most passing yards? Are you aware that the Gallup owner in your league is more than likely freaking out over CeeDee Lamb coming to town? Well, take this all into account. Gallup isn't going anywhere and though he may lose a few targets, I'd like to think his numbers aren't going to change very much. In fact, in this high-powered offense, there's a possibility his numbers could actually improve. He's young, talented, and could be a legitimate WR2 for your squad.
San Francisco 49ers: Jalen Hurd (WR)
Hurd was the third-overall pick of the third round in 2019 and is potentially poised to be the 49ers' WR2 in 2020. He's been all but forgotten given that he didn't play in 2019, but could prove to be a valuable depth asset as soon as this year in dynasty. Sure, they drafted Brandon Aiyuk, but this offense could realistically support three receivers. Again, don't buy Hurd with the intention that he'll be starting for you in 2020, but the long-term potential is definitely there.
Philadelphia Eagles: Zach Ertz (TE):
How on Earth is Ertz considered a buy-low? Well… because he is. Seriously, look at Twitter. His perceived value is on an absurd decline even though he is still a proven top-five tight end. Sure, Dallas Goedert is concerning, but is there any possibility that Ertz isn't the leading receiver in Philly once again? Not really. If you're a legit contender and are just a tight end away from the promise land, Ertz is a great player to target, as his perceived dynasty value is at an all-time low.
Seattle Seahakws: Chris Carson (RB):
Name a 2019 RB1 that can be bought for cheaper than Carson right now… okay, maybe Mark Ingram, but Carson isn't far behind him. We're all concerned about Carson's long-term value, but there is absolutely no disputing the immediate value that he has. Rashaad Penny will more than likely start the season on the PUP-list and DeeJay Dallas won't bring much of a threat in his rookie year. This should give the green light for Carson to be the workhorse once again in Seattle. Worst case scenario, if he plays 14 or more games this season, is a finish as the RB15. At his current price, I'll take that any day of the week.
Tampa Bay Buccaneers: Ronald Jones (RB)
There is so much slander on RoJo and I have NEVER understood it. I've been insanely high on him since he entered the league and am still significantly higher than the consensus. So many people are casting RoJo away with the addition of Ke'Shawn Vaughn, but I'm doing quite the opposite; I'm buying him everywhere. His dynasty value is on a quick decline and he can seemingly be bought for pennies (or at least a second-round pick). He's going to be the majority back in Tampa Bay and I genuinely don't think Vaughn changes that. I can't imagine a world where RoJo becomes a league-winner, but I also can't imagine a world where he doesn't finish as an RB2 in 2020.
Minnesota Vikings: N/A
Everyone in Minnesota, in my opinion, is either over-valued or fair-valued right now. Maybe you reach out to the Adam Thielen owner and see what the asking price is, but I wouldn't count on getting him as a "steal". The Vikings are such a weird team, man.
New Orleans Saints: Emmanuel Sanders (WR)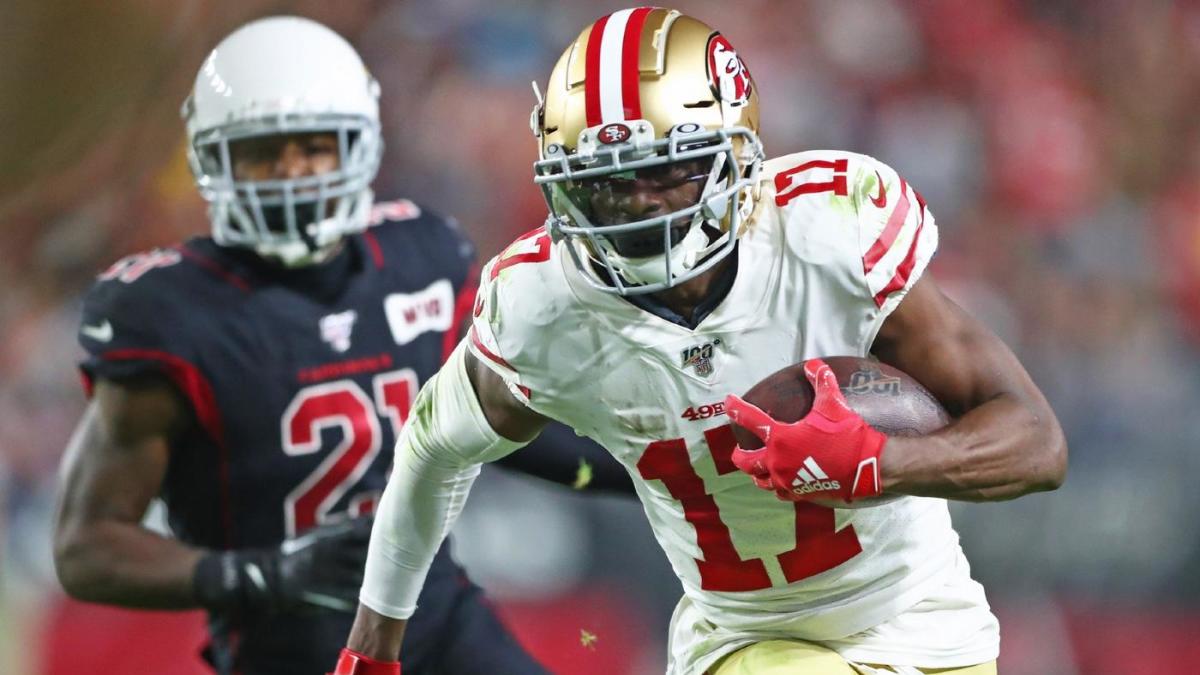 Not nearly enough people are talking about Sanders and the fact that he is the first legitimate WR2 in New Orleans since the Michael Thomas era has started. It's tough to imagine Sanders being as fantasy relevant with the Saints as he was with the 49ers last year, but it's also tough to imagine that he doesn't finish as at least a WR3 for the upcoming campaign. Sanders is a nearly forgotten asset at this point in his career, and those of you that are looking for short-term depth can find fantastic value from Manny Sandy.
Atlanta Falcons: Russell Gage (WR)
It's not a sexy buy-low target, but it is a damn good one. In five of his last six games of 2019, he had at least five receptions or over 50 yards. I'm no math wiz (ehhh, that's a lie, I'm actually pretty good at math), but buying a guy for literal pennies that can, more often than not, put up double-digit fantasy points sounds incredible. Not to mention that this team seems more injury prone than most, which could ultimately set Gage up as the team's WR2 multiple times moving forward. Gage is quietly one of my favorite buy-low targets in the entire league.
Los Angeles Rams: Tyler Higbee (TE)
Higbee finished as the TE9… and did not have over double-digit PPR points prior to week 13 (okay, he had 12 points in week one, but shhhh I'm trying to prove a point). Moving forward, the Rams WILL be getting him heavily involved, enough to potentially make him a top-five tight end for 2020 and beyond. He's a beast and I can assure that you can get him for far less than his fantasy production makes him worth.
New York Giants: Sterling Shepard (WR)
All of the hype is on Darius Slayton on this team. Seriously, Shepard is still the WR1 for the Giants, and if he hadn't been injured so much in 2019, no one would be forgetting that. Fortunately for you, many HAVE forgotten that, which makes Shepard the perfect buy-low candidate. To put things in perspective, he only played nine games in 2019… but averaged over 14.7 PPR points a game. Keeping that pace over the course of the entire season would have been enough to make him the WR14 overall in 2019. If you can get him for anything less than a first-round pick, you can go ahead and consider it a steal (just cross your fingers and pray for a healthy season).
Chicago Bears: Allen Robinson (WR) and David Montgomery (RB)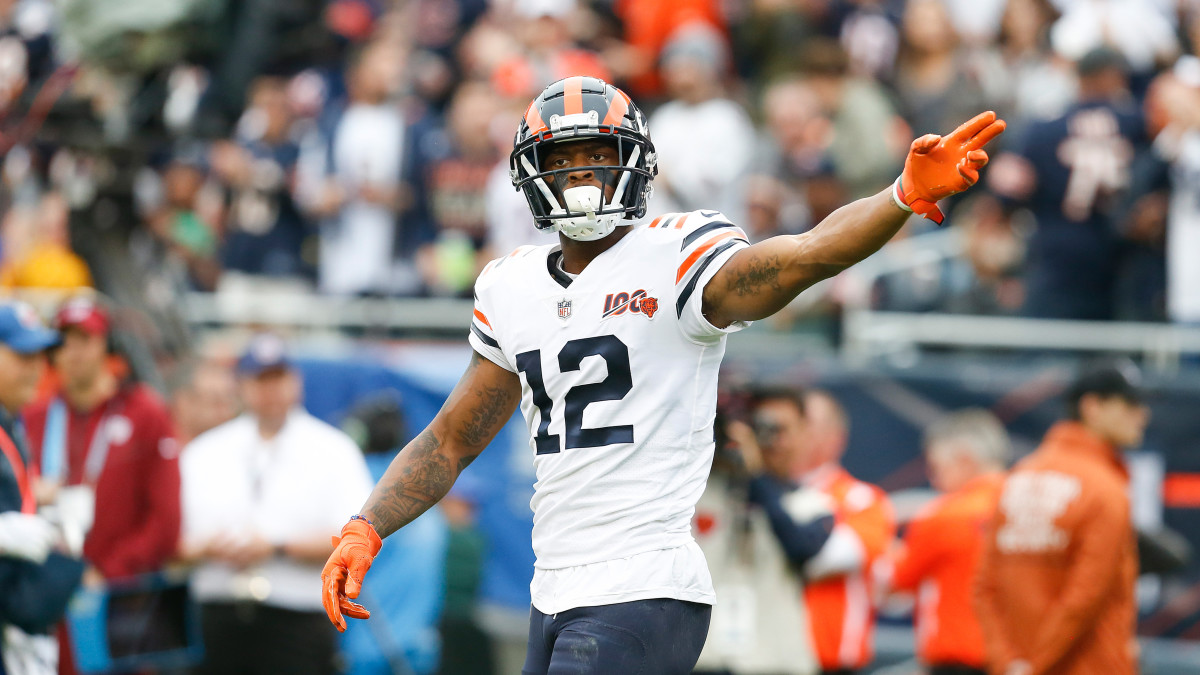 I fully believe that 2019 was just an off year for the Bears. Whether it's Mitch Trubisky or Nick Foles slinging the ball in 2020, this team should have a nice rebound season. With that being said, Robinson is the surefire WR1 that almost nobody is talking about. I've seen him traded for what seems like pennies (aside from in my leagues, damn my leaguemates!) and now might be the last chance you have to go and buy him. You will more than likely have to trade away a young, talented asset, or part ways with a first-round pick and something additional. However, Robinson is entering his prime, is playing for a new contract, and has showed that he is a complete game changer when he is on the field. Make some low-ball offers on Robinson and see what sticks. As for Montgomery, I mean, c'mon guys, he was a top-five rookie pick in every single league last season, and countless owners are throwing in the towel on him after only one year. This is your chance to buy… and you may not even have to part with a first-round pick if you're a good negotiator.
Carolina Panthers: Curtis Samuel (WR)
Last season's most hyped up receiver has turned into this season's most questioned receiver. Ever since Carolina signed Robby Anderson, there aren't many Samuel-truthers out there. But hey! Here I am, I'm right here! That's right, I still think Samuel is the WR2 to own on this team. He's like a swiss-army knife. The guy can do it all and the coaching staff in Carolina would be out of their minds not to use him to the fullest of his abilities. With the usage concerns, Samuel can be bought for a mid-round rookie pick in most leagues, and I think that's more than worth it.
Arizona Cardinals: Hakeem Butler (WR)
It is no secret that I am Butler's biggest fan. In 2019, he was my second-favorite receiver in the class, only behind AJ Brown. Of course, when Butler fell to the fourth round in real life, his value plummeted in rookie drafts everywhere. Who was once slated to be a first-round pick in most drafts, Butler ended up falling to the second round, and maybe even the third round in some leagues. With that being said, Butler is VERY talented. He's been forgotten as a result of season-ending injury prior to week one of 2019, as well as the addition of DeAndre Hopkins this offseason. I can't promise that 2020 will be Butler's year, but that just means that this is the perfect opportunity to buy and stash. I genuinely feel that Butler can be this team's WR2, potentially as soon as the 2021 season.
Washington Redskins: Derrius Guice (RB)
Warning: this is not for the faint of heart. Guice is still going to cost you something in dynasty, though his value has been on the steady decline ever since he entered the league. He is injury prone, tough to trust and completely unreliable. With that being said, he is insanely talented, and if he could just stay on the field, could be an absolute dynamo of a player. Guice is slowly being forgotten, so cross those fingers that the Guice owner in your league is one who wishes to be rid of the uncertainty. Guice is about as risky as you can possibly get, but the perceived value may finally be low enough to take the risk.
Detroit Lions: T.J. Hockenson (TE)
Aside from week one, Hockenson's rookie year was a total dud. However, we did see glimpses of greatness that his stats will never show. Hockenson was a round-one talent in most rookie drafts last year, yet I've seen many frustrated owners lurking about on Twitter. I mean seriously, who really expected a rookie tight end to burst on to the scene? Dynasty players are always supposed to be thinking long term, but rookies lately have been so relevant that we get tunnel vision and only see what is directly in front of us. Make a left turn, get out of that tunnel, and send a message to the Hockenson owner in your league; there's a good chance that he's willing to sell for lower than original value.
That'll do it for my favorite buy-low targets for each team in the NFC. Stay tuned for the AFC version (to be quite honest, I have no timeline on that, so just keep checking, it'll show up eventually) to find out the other half of my buy-low list. You can find me on Twitter @FF_Mikey10 if you want to thank me, argue with me, or just want to see my beautiful face. Until next time, my friends.
Be sure to check out the latest episode of the Loaded Box Podcast as we discuss over/under win totals for those in the NFC!
Mikey Ostrowski is a blogger for the Loaded Box Podcast. Check out his article archive and find more from the Loaded Box on Twitter & Facebook