Written by Mikey Ostrowski
Coming up with projections each year is always tough. You have to take new situations, coaches, players and even player age into account. However, it's become one of my favorite things to do in the offseason.
Today I am going to be examining the AFC North. This is the second article in my 2020 Stat Projections series (ICYMI the first article, the AFC South, can be found here) and I cannot wait to share the full projections list with everyone.
Hours of research and quarantine boredom have really paid off with this one!
(All stats and calculated fantasy points are for PPR formats)
First thing's first: the Baltimore Ravens
It's no secret that Lamar Jackson is a top-two quarterback in all league formats. His historic MVP season from 2019 is one that will live on forever, but will also be one that is nearly impossible to replicate. However, I'm still projecting him to be the overall QB1 in the 2020 campaign, throwing for an absurd 30 touchdowns and adding a wild 1,000 yards on the ground. There is no reason to believe that Jackson will have much regression, and he should be toted as fantasy's top QB for the second year in a row.
The biggest question in Baltimore is who will be the starting running back? My bet is on Mark Ingram, though second-round draft pick J.K. Dobbins should be heavily involved. From a dynasty standpoint, I want Dobbins really bad. However, if we're talking just 2020, Ingram is still the guy to own. He should see the majority of touches, granting him plenty of chances to keep up with a large touchdown total that we've grown accustomed to. Although the backfield could be a confusing one, Ingram can still be treated as an RB2 for 2020.
Aside from Mark Andrews, there isn't much standalone value for the non-running players on this team. Andrews had a massive breakout campaign in 2019 and should find continued success in the upcoming season. He is currently projected as the TE4, while the next best receiving option in Baltimore is Marquise Brown, projected as the WR43 overall. Brown is more or less a boom-or-bust option on a weekly basis.
Up next: The Cleveland Browns
Who else was disappointed with Baker Mayfield's 2019? You should all be raising those hands right now. After a tremendous rookie year, Mayfield followed it up with an incredibly forgetful campaign, and while I think he gets back on the path of glory, I'm still only projecting him as the QB19. Sure, that might be a little rough considering the amount of talent he has around him, but I can't grant him anymore leeway until he takes another leap in the NFL. The upside is definitely there, but Baker can't be trusted as your starting QB for 2020.
It may seem like a hot take to call Nick Chubb the RB16; but it really isn't. Chubb's production took a dip once Kareem Hunt was activated midway through the season. This time around, these two will be in a timeshare from week one, which will cause mass frustration for those who draft Chubb to be their RB1. He still has big-play potential every week, but there are definitely going to be consistency issues with Chubb this year. Hunt, on the other hand, is without a doubt the best handcuff to own and even has weekly standalone flex value. He should see plenty of work in the passing game and should even snag away close to 100 rushing attempts from Chubb.
Another hot take for the Browns: Jarvis Landry finishes with more fantasy points than Odell Beckham Jr. On the surface, you may be saying to yourself "no way man, not possible", but I want to remind you that Landry did in fact outscore OBJ by 35 PPR points in 2019. Not only that, but Landry has NEVER missed a game. Landry will be cheaper, safer and more than likely better than OBJ in 2020.
It kills me that David Njoku is going to be practically useless for fantasy now that Austin Hooper is in town. However, you may notice that Hooper isn't projected to have monster numbers. Why is this? Well, the Browns have a ton of mouths to feed, and while Hooper should see his fair share of targets, he won't get the ball nearly as much as he did in Atlanta. The current projection for Hooper is only enough to make him the TE14. He's going to be the most over-drafted tight end in fantasy this season.
The Pittsburgh Steelers
It's a mess over there in Pittsburgh. Like seriously, this is a team that I did not have fun making projections for and is a team that I will be avoiding for the second year in a row in my fantasy drafts. Ben Roethlisberger will make his return this year, though he is far from a good option to be your starting QB. Big Ben is currently the QB22 in my projections, and to be completely honest, I was shocked to see him this low. However, it does make sense. This team is not the same team it was two years ago. Their focus has shifted to the defense, they've lost Antonio Brown and Le'Veon Bell (who is at least three times the player that James Conner is), and Ben is getting really old. I'll gladly draft Ben as my backup in the final round of my draft but pretending that he'll be a viable starter at this point in his career is something I just won't do.
So I had briefly mentioned Conner up above, making note that he is not even close to the same caliber player for this offense as Bell was. Sure, he had a great year while Bell held out, but he's a one-hit wonder. Last year he couldn't stay healthy, and when he did, he looked like a shell of his 2018 self. Not only that, but this backfield is CROWDED. There is going to be enough of a timeshare to make me too uncomfortable to draft Conner as anything more than the third running back on my roster. He is currently the RB28 for me heading into 2020.
At least the receivers are somewhat fun to talk about. With the return of Big Ben, Juju Smith-Schuster should return to fantasy relevancy. Will he be a WR1 again? No, most definitely not, but he should certainly be a WR2 this year. I'm projecting him to have a nice bounce-back year with over 1,000 receiving yards and six touchdowns (WR23). The other receiver to own here is Diontae Johnson. He ended 2019 on an absolute tear and will look to continue to grow as a player in 2020. Going 53-720-5 would be a great accomplishment for the NFL sophomore, though I would not be surprised to see him surpass the projection. He is a very popular "buy" in the dynasty community right now and is my overall WR42 for the upcoming season.
Last (and maybe least) is Eric Ebron. There is some hype with him going to Pittsburgh, but this team has proven that (more often than not) you can't expect them to make a tight end fantasy relevant for more than a few weeks of the year. While Ebron should have the second-most receiving touchdowns on the team, his yardage and reception total will be lacking way too much to warrant him as a fantasy starter. Ebron is slated to be the TE19.
Finally, we have the Cincinnati Bengals
Please don't expect Joe Burrow to be a stud his rookie year; it's not gonna happen. The Bengals need A LOT of work, and Burrow is a project that fantasy owners should avoid for the 2020 season (note, he's a great asset to own in dynasty). Just take the advice and don't pretend like he'll be a startable option this year.
Moving on to Joe Mixon. Will he get extended? Will he hold out if not? Can he return to form in this revamped offense? There are a lot of flags going up around Mixon, and you need to be prepared to take on the risk of having him as your RB1. I'm still projecting him to have great numbers, and though I don't personally think he'll sit out any games, there is definitely a world where he doesn't participate in the first few games. I'm expecting him to post over 1,400 scrimmage yards and accumulate double-digit touchdowns with Burrow leading the charge.
And finally… A.J. Green is BACK! Green will enter the 2020 season on the franchise tag and what will most definitely be a "prove it" year. There is no doubting the talent, but there are plenty of doubts surrounding his health at this point in his career. If Green can put together a full 16-game season, he should find himself with a contract extension and plenty of fantasy hype. I personally am a believer, and am projecting Green to have a very respectable season with Burrow. It's hard to imagine him reclaiming elite-level fantasy production, but using him as your team's (risk/reward) WR3 is more than warranted. However, with Green's return and Burrow's reign beginning, this could spell temporary trouble for Tyler Boyd. As some of you may know, I was Boyd's biggest fan this time last year, however, as the team adjusts to the new regime, Boyd could very possibly draw the short stick. With a dismal projection of 55-661-3, it will be hard to trust Boyd as a starting receiver for 2020. *Early advice – buy him in your dynasty leagues when his stock hits an all-time low towards the end of this season*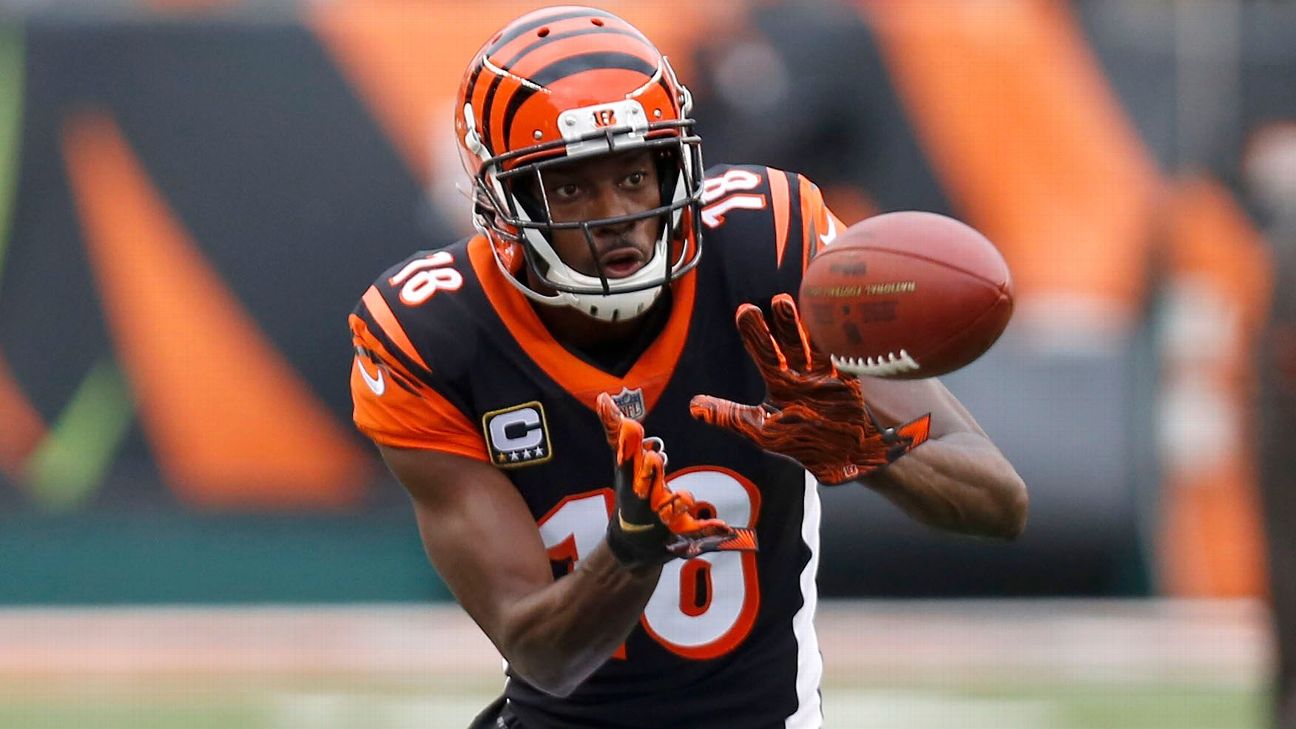 There you have it for my stat projections for the AFC North in 2020. I'm sure many of you are shaking your fists at me, but I'm a realist. There will be plenty of incredible players to grab from this division, but just as many disappointments. Always remember to stay on top of your research and keep those expectations realistic!
Be sure to check out the latest episode of the Loaded Box Podcast as we discuss over/under win totals for those in the NFC!
Mikey Ostrowski is a blogger for the Loaded Box Podcast. Check out his article archive and find more from the Loaded Box on Twitter & Facebook