Written by Mikey Ostrowski
I can't say I agree with the fantasy football community's consensus on the order of their rookie running backs (for example, I'm #TeamSwift while most are #TeamTaylor), but I will say that the consensus' top five does consist of my personal top five… so I'm going to talk about them in the order that I personally rank them.
If you'd like to take a look at my full rookie dynasty rankings click this link right here. If you've only come to read about some running backs… well, you're in luck. Here we go.
Running Back #1: D'Andre Swift – Georgia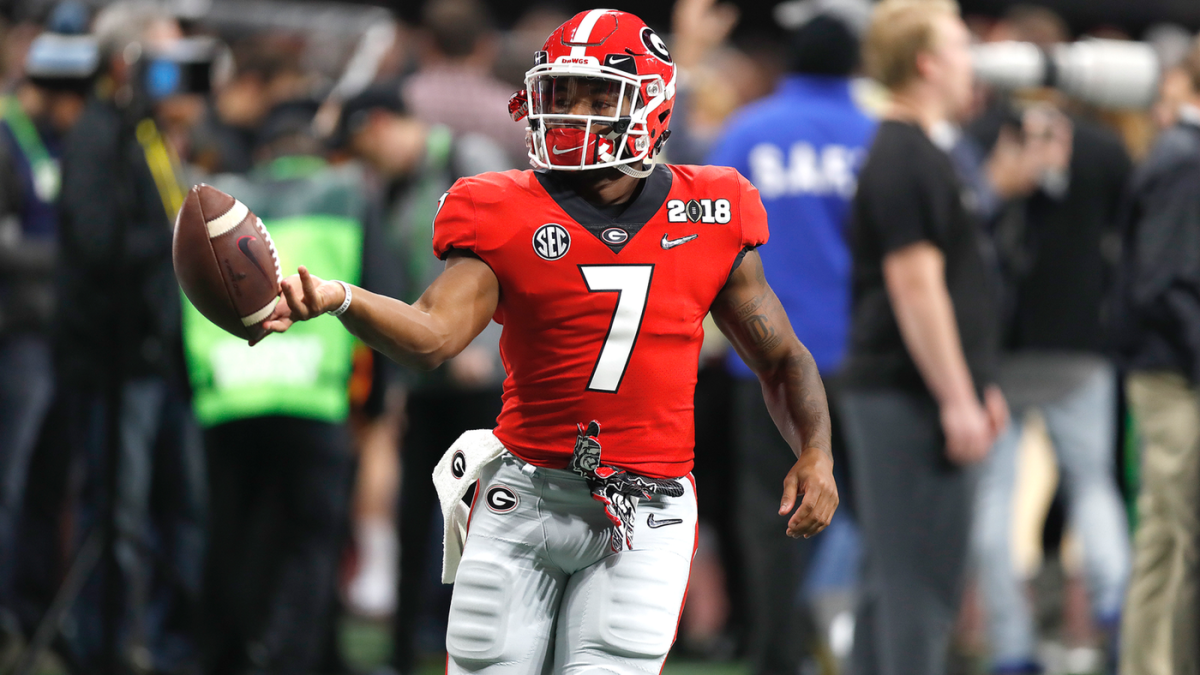 Combine results: 4.48 40 time, 35.5" vertical jump and 121" broad jump
The fact that I have Swift as my #1 overall (player) in the entire rookie draft might come as a surprise to a lot of you, but we can't forget that almost all of us were banging the drum for him prior to the NFL Combine. Swift arguably has the best vision out of all of the running backs in the 2020 draft class, not to mention the patience he shows at the line of scrimmage is something that is absolutely imperative for success in the NFL. He's also among the most agile within the class, making him an absolute nightmare in the open field.
I know many people knock Swift's speed, but we have to remember that speed does not equal quickness. Sure, he's not going to score many homeruns as a result of his less-than-blazing speed, but he should find little difficulty creating plays with his quick feet. We also cannot forget that Swift is one of the best pass catchers at the running back position, a feat that has been growing more important each year in terms of fantasy relevancy.
Of course, Swift is not a perfect prospect. He's iffy in pass protection and has had some issues holding on to the rock. Nonetheless, if Swift can put these woes behind him, he should find himself set up for a successful career in the NFL.
Overall Pros
Overall Cons
Superb Agility



Patience

Excellent Vision

Slippery

Pass Catching Ability

Not Much Tread on the Tires

Lack of Blazing Speed

Iffy in Pass Protection

Ball Security Concerns
Running Back #2: Jonathan Taylor – Wisconsin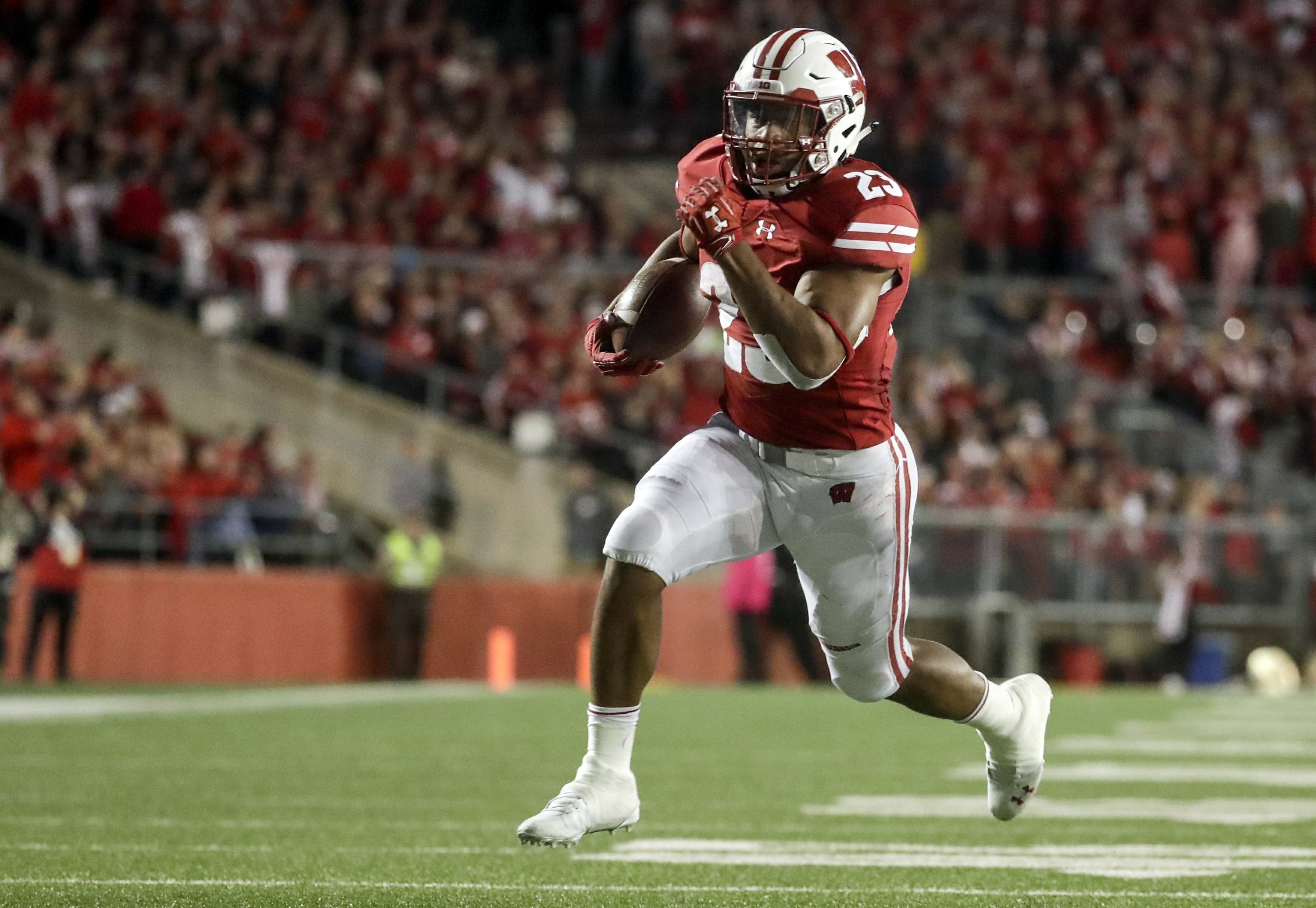 Combine Results: 4.39 40 time, 17 reps bench press, 36" vertical, 123" broad jump, 7.01 3-cone drill, 20 yard shuttle
Taylor is the consensus' #1 running back and I totally understand why some people would like him over Swift. What's not to like about a guy that nearly has back-to-back-to-back 2,000 yard rushing seasons?
Much like Swift, Taylor has great vision and patience at the line… which after you combine that with him being a big and powerful back, makes him a very scary player to be up against. Though his agility cannot match Swift's in the open field, Taylor makes up for it by having an incredible burst of speed.
The biggest knock on Taylor is his ball security issues. He had 18 fumbles in just 41 games during his college career, which will definitely need to see an improvement at the next level. It doesn't matter what a freak athlete you are; if you can't hold on to the ball, you won't hold on to a starting job. The other issue is the pass catching ability. Is it bad? No, not really. However, it's nothing special, which leads me to believe that he could struggle to be a true 3-down back in the NFL.
Pros
Cons
Very Fast



Big and Strong

Patient at the Line

Great Vision

Bulldozer

Ball Security Issues




Questionable Pass Catcher

A LOT of Tread on the Tires
Running Back #3: J.K. Dobbins – Ohio State
Combine Results: 23 bench press
For those of you wondering, Dobbins did not fully participate in the NFL Combine because he is still recovering from a high ankle sprain. This could be an immediate red flag, especially since Dobbins had such high usage in college.
However, I do really like Dobbins and I have confidence that he would join Taylor and Swift in the "1.01 Conversation" had he been able to participate in the NFL Combine. For starters, he had great college statistics (over 2,000 yards and 21 touchdowns on the ground in his final year). He was able to surpass the 2k mark on the ground by combining power, balance and speed. In fact, there are some out there than think Dobbins may have even beat Taylor's impressive 40 time had he participated in the drill. Dobbins also has quick feet and some pretty decent agility.
Some knocks I can give Dobbins is that we don't truly know how he'll perform in the NFL behind a line that (more than likely) doesn't stack up to what he had at Ohio State. That offensive line made some big holes for him… holes that he won't see very often in the NFL. This raises questions about his vision and patience. His pass catching ability isn't anything to write home about either.
Pros
Cons
Powerful



Blazing Speed in the Open Field

College Productivity

Great Contact Balance

Entering NFL With Injury



Decent Tread on the Tires

Unproven Vision and Patience

Average at Best as a Receiver
Running Back #4: Cam Akers – Florida State
Combine Results: 4.47 40 time, 20 reps bench press, 35.5" vertical, 122" broad jump, 4.42 20 yd shuttle
I'm no expert on analyzing offensive lines, but I think it's safe to say that Akers didn't receive the best help from his line in college. The fact that he went over 1,100 yards and had 14 touchdowns on 231 carries his final year is fairly impressive.
Some of the things I really like about Akers are his vision and his feet. Though I wouldn't say he's got the agility that Swift has, I will say his agility is good enough to be pretty excited about. He's also pretty damn good in short yardage situations and is more than capable of putting the team on his back and pounding the rock for an important third-down situation.
Speaking of third down, it's tough to say if he can stay on the field for all three downs in the NFL. Sure, he's definitely getting the rock on third and short, but his questionable route running and pass protection would say otherwise in situations that require the team to go more than two yards on third down. I also have to knock his ability to use his agility; he does it too often. Akers needs to learn to take his lumps if need be in the backfield rather than dip, duck and dodge himself into a 5-yard loss.
Pros
Cons
Productivity Behind Iffy Offensive Line




Powerful in Short Yardage Situations

Great Agility

Knows How to Beat the First Man

Pass Protection




Route Running

Does Too Much in the Backfield

Unproven Patience

Landing Spot Dependent
Running Back #5: Clyde Edwards-Helaire – LSU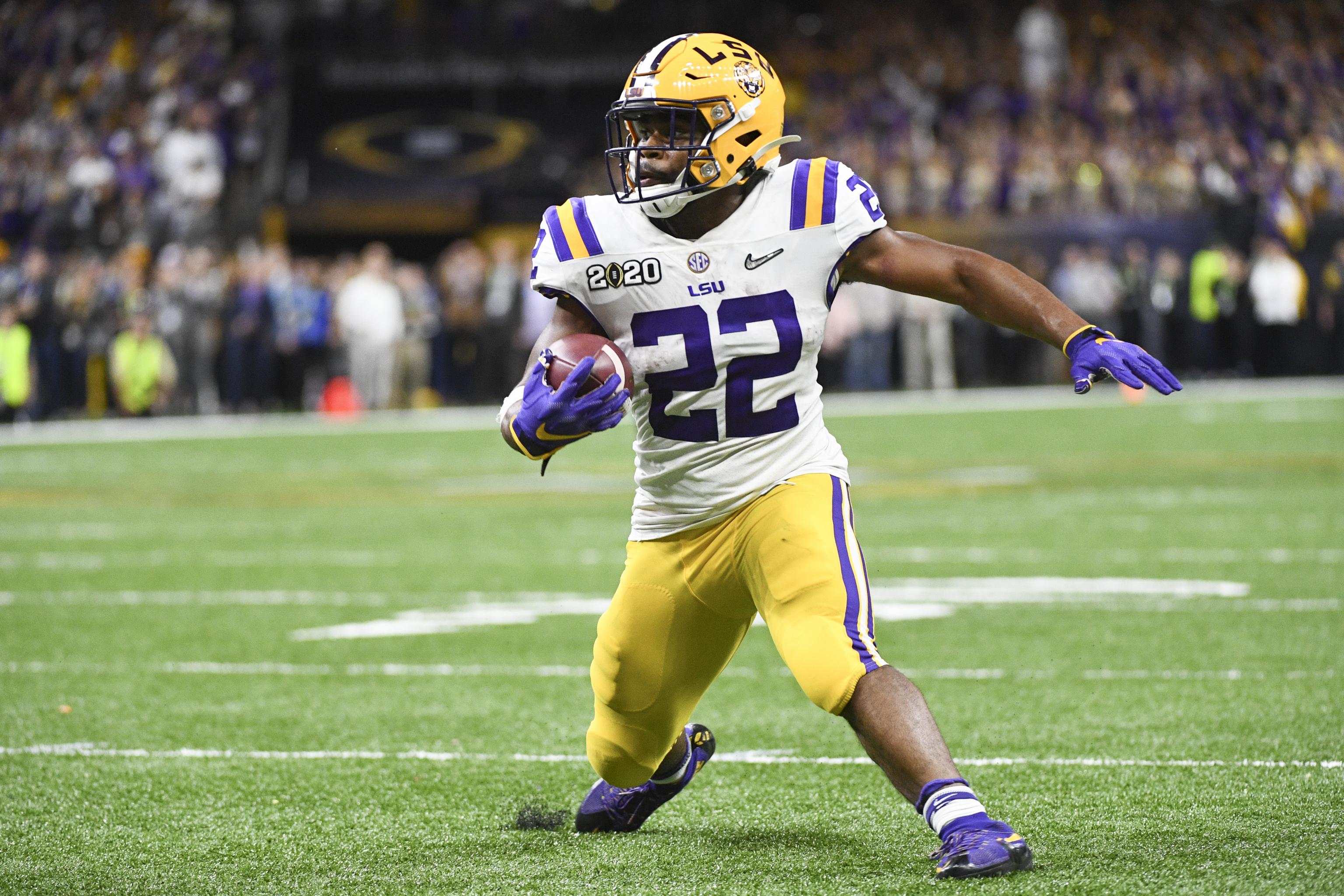 Combine results: 4.6 40 time, 15 reps bench press, 39.5" vertical, 123 broad jump
Aside from the speed (and it's a big difference), CEH's combine reminds me a lot of Taylor's. However, numbers don't tell the full truth here because I personally wouldn't compare these two players in almost any category.
Let me start by saying CEH is the best pass-catching running back in this class. LSU relied on him heavily in this department in the 2019-2020 season and he was able to amass 453 yards and a score on 55 receptions. He could also compete with Swift on having the best agility in the draft. CEH has no problem with making defenders miss and he should be able to carry that ability with him well into his NFL career. The other thing CEH does better than seemingly any other back in the draft is hold on to the ball. He may have the least concerns with ball security within the entire 2020 running back class.
My biggest issue with CEH is that it is very possible he is forced into a third-down role in the NFL. He is not a powerful back, he's a bit slow getting to the outside, and there is likely to be a better runner on whatever depth chart he ends up on.
Pros
Cons
Top of the Class Pass Catcher



Tremendous Agility

Ball Security

Should Have Immediate Role

Potentially Stuck as 3rd Down Back



Slow to the Outside

Low Trucking Ability

Slow 40 Time
Be sure to check out the latest episode of the Loaded Box Podcast as we attempt to mock the first round of the NFL Draft, but added a loaded twist!
Mikey Ostrowski is a blogger for the Loaded Box Podcast. Check out his article archive and find more from the Loaded Box on Twitter & Facebook