We've reached the division of last year's Super Bowl champion in part six of this eight-part series dissecting each team's biggest need this offseason.
Kansas City has the ability to contend every season, whether certain positions are flawed or not, as long as Patrick Mahomes is under center. However, with every other AFC West team failing to reach 8-8 last season, there are plenty of interesting storylines to follow in the division this offseason.
Let us know your biggest position of need for those in the AFC West either in the comments section below or on Twitter, and be sure to check out the divisions we've previously covered in the paragraph below.
AFC South
NFC South
AFC North
NFC North
AFC East
NFC East
Kansas City Chiefs
12-4, 1st place AFC West
Won Super Bowl LIV
First pick in 2020 NFL Draft: Round 1, Pick 32
Biggest Need: Interior Offensive Line
Do the Chiefs even have a pressing need? This may have been the most difficult team to address so far in this process, and I only have one division left to sort through. My initial reaction was running back, but I honestly believe you can plug just about anyone in at RB in this offense and they'll be successful. So while I wouldn't blame Kansas City for taking one of the top RB's available at the end of round one, I actually believe beefing up the interior of its offensive line may be the priority. If the Chiefs can get stronger on the offensive line, it'll help strengthen my theory of the team being just as successful utilizing a running back-by-committee approach versus having one "bell cow" option. So while I don't necessarily think there is one key position the Chiefs needs to prioritize over others, my vote goes towards strengthening the offensive line and protecting Mahomes.
Top Free Agents: Brandon Scherff (franchise tagged), Joe Thuney, Daryl Williams, Andrus Peat, Graham Glasgow
Top NFL Draft Prospects: Cesar Ruiz (Michigan), Lloyd Cushenberry (LSU), Tyler Biadasz (Wisconsin), Matt Hennessy (Temple), Jonah Jackson (Ohio State)
Denver Broncos
7-9, Tied 2nd place AFC West
First pick in 2020 NFL Draft: Round 1, Pick 15
Biggest Need: Wide Receiver
It's hard for me to make wide receiver a top priority for any team, since there are usually plenty of quality options each year via free agency and the NFL Draft, but I really think providing Drew Lock with another weapon on the outside would help take his performance – and this offense – to the next level. We saw Courtland Sutton take a nice step forward last season, and if you could add a speedster like Henry Ruggs into the mix with Noah Fant already being a matchup nightmare, the Broncos would be set with pass-catching options for the foreseeable future. I also like the idea of adding help on the offensive line to protect Lock, so the o-line is a very close second place for me.
Top Free Agents: Amari Cooper, A.J. Green, Robby Anderson, Emmanuel Sanders, Demarcus Robinson
Top NFL Draft Prospects: Jerry Jeudy (Alabama), CeeDee Lamb (Oklahoma), Henry Ruggs (Alabama), Tee Higgins (Clemson), Laviska Shenault (Colorado), Jalen Reagor (TCU)
Las Vegas Raiders
7-9, Tied 2nd place AFC West
First pick in 2020 NFL Draft: Round 1, Pick 12
Biggest Need: Cornerback
The Raiders ranked just 25th in passing yards allowed last season and there's no way this ranking will get better any time soon with the players they currently have rostered in the secondary. The good news for Raiders fans is that the team is in a great position to address this position, if they choose to do so, with either the 12th or 19th pick in the first round. Additionally, the Raiders have the 10th-most cap space available heading into free agency, so they could realistically address the secondary with a mix of rookies and veterans.
Top Free Agents: Byron Jones, James Bradberry, Chris Harris, Logan Ryan, Trae Waynes
Top NFL Draft Prospects: Jeff Okudah (Ohio St.), Kristian Fulton (LSU), Trevon Diggs (Alabama), CJ Henderson (Florida), A.J. Terrell (Clemson)
Los Angeles Chargers
5-11, 4th place AFC West
First pick in 2020 NFL Draft: Round 1, Pick 6
Biggest Need: Quarterback
I'm pretty sure that most people are on the same page with Tyrod Taylor. We like him as a backup and as a player that can make a spot start here and there, but he's not the type of guy you get excited about as your team's everyday starter. The Chargers seem very likely to address the position of quarterback in the NFL Draft, the biggest question is whether or not they trade up from No. 6 to get the player the covet, or if they stay put and see how things shake out in the top five. Gun to my head today, I'm thinking it's Justin Herbert who ends up in Los Angeles (check out my first-round mock with projected trades), but for the first time in over a decade, the team will need to prioritize adding a QB.
Top Free Agents: Dak Prescott, Drew Brees, Tom Brady, Ryan Tannehill, Philip Rivers
Top NFL Draft Prospects: Joe Burrow (LSU), Tua Tagovailoa (Alabama), Justin Herbert (Oregon), Jordan Love (Utah St.), Jacob Eason (Washington)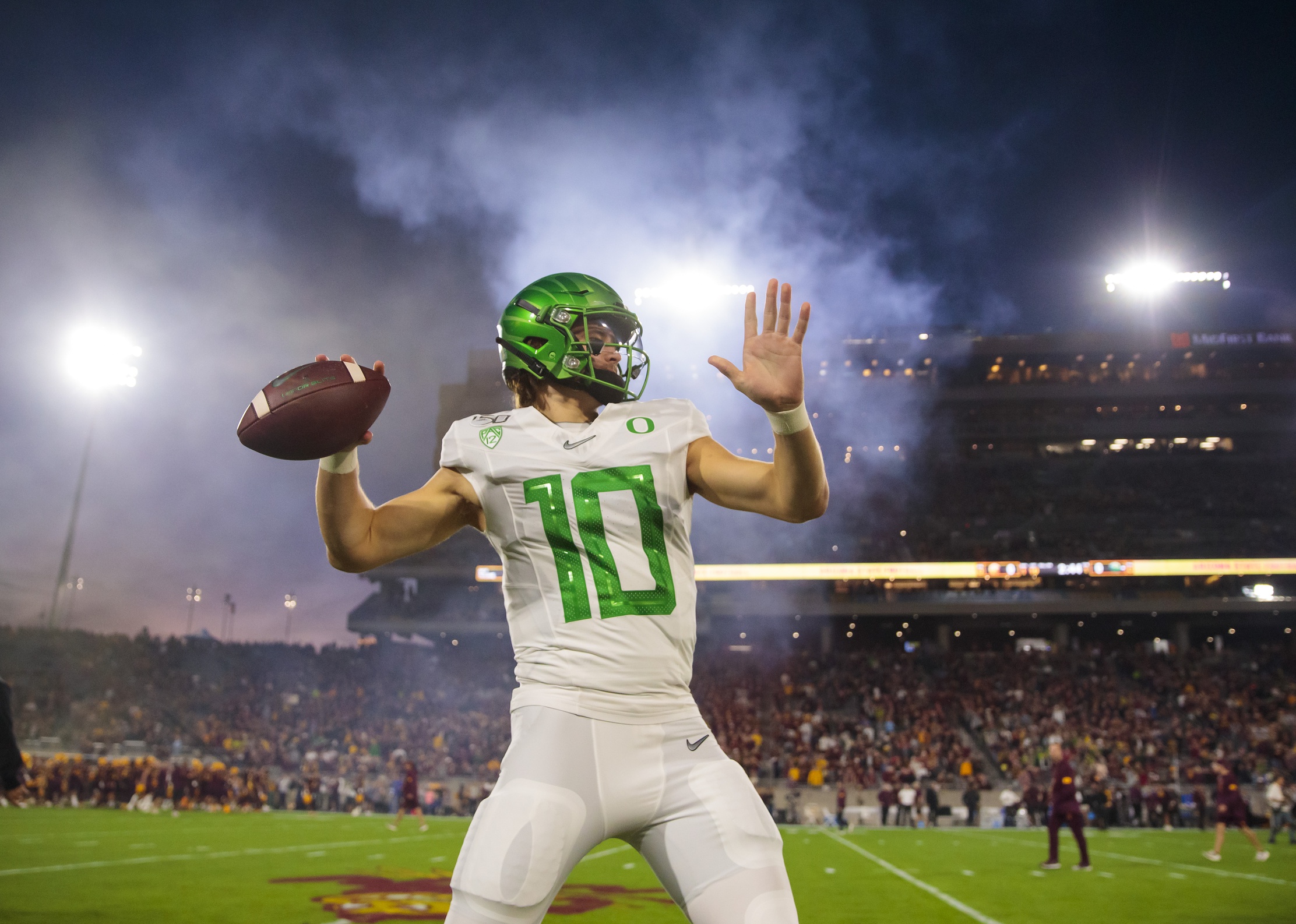 Check out our NFL Draft related podcasts:
2020 NFL Mock Draft Review
Top 2020 NFL Draft WR's
Top 2020 NFL Draft WR's (Part 2)
Top 2020 NFL Draft Edge Rushers
Las Vegas Raiders Draft Preview
Ben Morgan is a co-host and blogger for the Loaded Box Podcast. Check out his article archive and find more from the Loaded Box on Twitter & Facebook