The worst thing about football is the injuries. You spend all this time prepping for your draft to find the guys you love. Then all of a sudden their season is taken away by an injury.
Yes, I am a Packers fan. It sucks that half of our team is not practicing this week but I am not referring to them. As I sit here on Thursday night, I am watching Matt Moore in at quarterback for the Kansas City Chiefs.
You hate to see a quarterback like Pat Mahomes go down. I don't want to speculate but it looks serious. But this is why you stay on the waiver wire and read my article. To find the guys with good matchups that you can play this week. Let's go…
Start 'Em
QB: Jacoby Brissett vs. Houston Texans
I talked about this matchup on our most recent podcast. The Texans have been bad against the pass and even worse at home. Houston is coming off a tough win vs. the Chiefs while the Colts come in well rested, coached and hungry. Jacoby Brissett should have a big game against a run-down Texans defense.
QB: Gardner Minshew vs. Cincinnati Bengals
Leonard Fournette is an obvious play against the worst run defense in the league. I am under the belief that the Bengals will sell out against the run and Gardner Minshew will have wide open guys running down the field when they run play action. Minshew is unbelievably accurate and rarely turns the ball over. He is a great bye-week replacement for teams this week.
RB: Devin Singletary vs. Miami Dolphins
Could there be a better remedy to a player, than coming back and playing against the Dolphins? The only team worse against the run than the Dolphins are the Bengals. Devin Singletary should get the ball early and often and find much success against a team that, literally, doesn't give a fuck.
RB: Tevin Coleman vs. Washingon R********
All that San Francisco wants to do is run the damn ball. I am pretty sure that's the name of one their plays. The "R" words are another team that struggles against the run. The Niners took no time reintroducing Tevin Coleman back into this offense after injury. He is off and running and I expect him to keep putting up good numbers.
WR: Tyler Lockett vs. Baltimore Ravens
The mistake I see people making is that they think the Baltimore defense is the same as last year. It's not even close. They aren't very good and are really bad against the pass. This game is going to be back and forth. Tyler Lockett is Russell Wilson's favorite target and he is playing like the league MVP right now.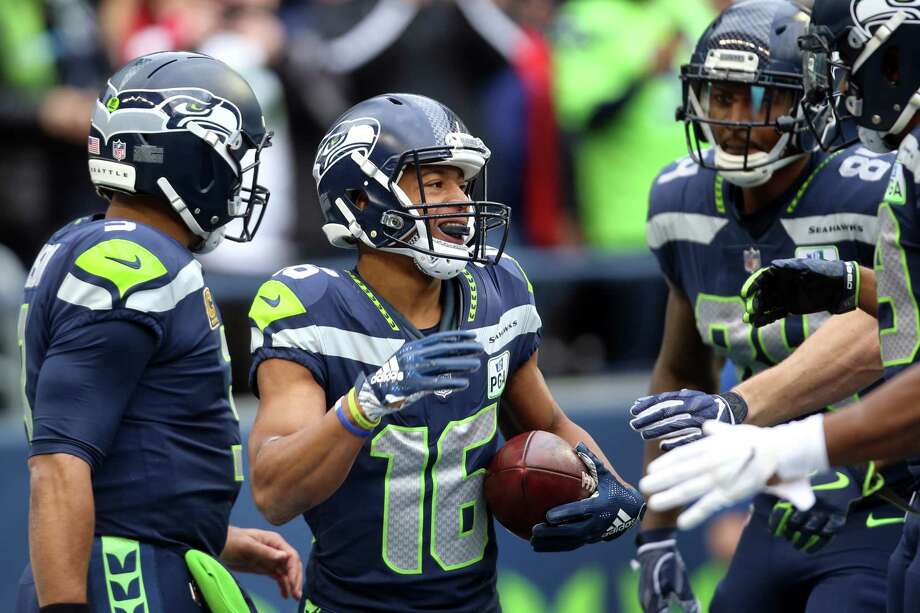 WR: Michael Gallup vs. Philadelphia Eagles
I told you to start Gallup last week and I missed. I am doubling down on him this week because I think Michael Gallup is going to be a top wide receiver in this league. This week he gets to face an awful pass defense, who just missed out on the opportunity to acquire Jalen Ramsey. Fire up Gallup.
TE: Jordan Akins vs. Indianapolis Colts
Picking a tight end this year is torture. I legit hate getting to this part of the article. The Colts are one of the worst teams in the league against tight ends and I think Jordan Akins is a better pass catcher than Darren Fells. Good Luck.
Defense: New York Jets vs. New England Patriots
If you are looking for a sneaky pickup this week for streaming purpose I suggest the Jets. Tom Brady has not looked good against even average defenses. The Jets have not been able to show how good their defense is because, while Sam Darnold has been out, they have been on the field for 95 percent of the game. I LOVE the Jets this week.
Sit 'Em
QB: Philip Rivers vs. Tennessee Titans
A bad offensive line versus a sold defense. Have you been watching Philip Rivers and this offense play as of late? No thanks.
QB: Matthew Stafford vs. Minnesota Vikings
Minnesota is in the top 10 in the league, defensively, in almost every category. This is week number two that I would absolutely bench Matthew Stafford.
RB: Le'Veon Bell vs. New England Patriots
The Patriots are number one in the league against the run. If Le'Veon Bell does end up being valuable, it's because he is catching the ball out of the backfield, not running it.
RB: Austin Ekeler vs. Tennessee Titans
I do not want to play any Chargers against the Titans this weekend. None at all. Well… maybe Hunter Henry.
WR: Allen Robinson vs. New Orleans Saints
I don't care who is playing quarterback for the Bears this weekend. They all suck. They should bring back Jay Cutler. The Saints' defense has been dominant the last few weeks.
WR: Kenny Golladay vs. Minnesota Vikings
Refer to Matthew Stafford.
Have start/sit questions? DM @LoadedBoxDJ or @loadedbox on twitter.
Be sure to check out the latest episode of the Loaded Box Podcast as we discuss our top daily fantasy sports bargains, stacks, must use/avoid players, and answer listener start/sit questions. Also, check out our recently dropped weekly gambling preview as we pick each game both straight up and against the spread!
DJ Premo is a co-host and blogger for the Loaded Box Podcast. Check out his article archive and find more from the Loaded Box on Twitter & Facebook