Is your favorite team on their bye week this week? Or are you a Bengals or Dolphins fan and you just simply want to watch a game that doesn't make your eyes bleed while also taking years off your life?
Well either way, I've got you covered, as I've identified my top-three games you need to keep an eye on for Week 7 of this NFL season.
Unfortunately, two of my three top games to watch this week are happening at the same time. So I suggest you catch an Uber to your local sports bar to watch them both, then snag a Lyft home afterwards.
PS – Uber & Lyft, whoever reaches out first between the two of you gets the opportunity to sponsor this weekly post. Hit me up.
New Orleans Saints @ Chicago Bears
Sunday, October 20 @ 3:25pm CST
With Drew Brees once again out of the picture for the Saints, this matchup features two of the league's best defenses with New Orleans coming in at 11th in the NFL in points allowed (20.3 ppg), while the Bears are third allowing just under 14 points per game.
Despite not jumping out to a great start offensively, the Bears will welcome the return of starting quarterback Mitchell Trubisky as the team's last performance without him resulted in a 24-21 loss to the Oakland Raiders with Chase Daniel throwing two costly interceptions.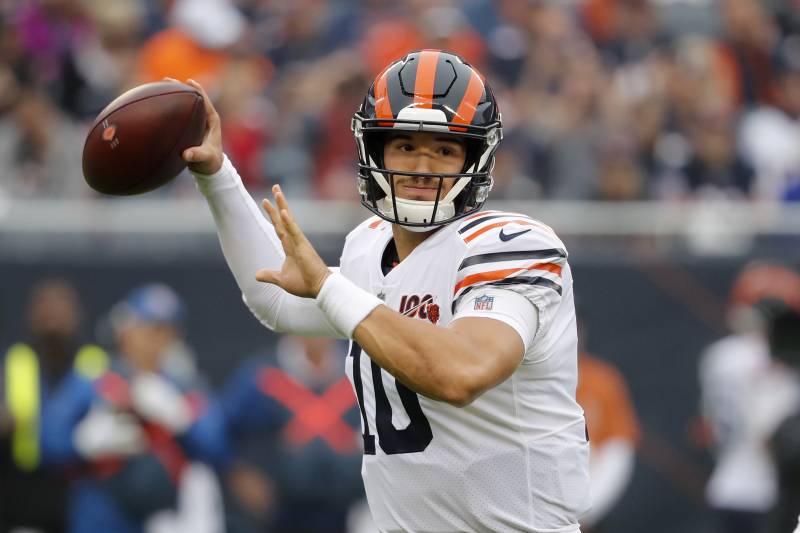 On the other hand, the Saints are (somehow) undefeated with Teddy Bridgewater as their starting quarterback and look to add to their one-game division lead over the Carolina Panthers.
It hasn't always been pretty for New Orleans since Brees has been out, considering the Saints' average margin of victory over their last four games is just 5.5 points per game, but they've knocked off some pretty impressive teams along the way including Seattle, Dallas and (to some extent) Jacksonville.
Look for a defensive battle here as oddsmakers have the over/under point total set at just 38 points. Whichever quarterback can avoid the costly turnover will likely have the upper hand when this one's said and done. Advantage, Saints.
Baltimore Ravens @ Seattle Seahawks
Sunday, October 20 @ 3:25pm CST
A battle between two of the most exciting dual-threat QB's in the league. That's what we're all banking on here as Lamar Jackson and the Ravens take their AFC North division-leading 4-2 record into Seattle to face Russell Wilson and the 4-1 Seahawks.
I'm on record, multiple times, saying that Jackson isn't the ideal quarterback I'd want my favorite team building around. My prediction is that this week will help prove that theory right as the Ravens have to face an actual legitimate defense unlike the likes of Miami, Arizona, Kansas City and Cincinnati – teams with terrible defenses they were fortunate enough to face earlier this season.
If the Ravens hope to stay competitive in this game they better pray my theory regarding Jackson is inaccurate. The Seahawks have been on a roll offensively this season averaging 27.5 points per game, good enough for seventh best in the NFL.
They've also been very balanced, and efficient, offensively ranking eighth in passing yards per game (268.5) and ninth in rushing yards per game (130.5).
This game will be one of the few true tests the Ravens have faced so far this season; and it'll be a great opportunity to silence the disbelievers (like me) as a win in Seattle earns a good amount of respect.
Philadelphia Eagles @ Dallas Cowboys
Sunday, October 20 @ 7:20pm CST
An early opportunity to claim a lead in the NFC East. That's what's on the line as both the Eagles and Cowboys sit 3-3 entering Week 7.
Dallas, currently on a three-game losing streak, is in desperate need of a win after falling to an inferior opponent in the Jets last week. They also exited that game more depleted at the wide receiver position than they already were as Amari Cooper went out with an upper leg injury, leaving him at less than 100 percent for Sunday night's game.
This game may turn into a classic battle of strength versus strength as Zeke Elliott leads the Cowboys' run game against an Eagles defense that currently ranks second in the league allowing just under 73 rushing yards per game.
Elliott has had some nice moments so far this year, but hasn't had that breakout game we all know is coming sooner rather than later. He's topped 100 rushing yards in three of six games and has scored a touchdown in all but one.
It'll be interesting to see if the Eagles try to copy the Jets' blueprint on the offensive side of the ball from last week, which basically relied on Sam Darnold and the passing game.
The Jets only ran for 56 yards on 20 carries, compared to Darnold's 338 yards and two passing TD's on 32 attempts.
We all know Carson Wentz can get it done, but after last week's loss he now possesses a sub .500 record as a starting QB in road games. Sunday night's game will be a great opportunity to improve this record and earn a statement in-division road win against the division's co-leader.
Be sure to check out this week's episodes of the Loaded Box Podcast as we get you set for the week in fantasy with our NFL Week 7 Fantasy Football Preview; while our Weekly Gambling Preview gets you set with all of our picks both straight up and against the spread!
Ben Morgan is a co-host and blogger for the Loaded Box Podcast. Check out his article archive and find more from the Loaded Box on Twitter & Facebook