Ahh, the first Sunday of the NFL season. Literally one of the top-five days of the year. Don't believe me? Here's the official list:
1. Opening Thursday of March Madness
2. Week 1 of the NFL season
3. Thursday of the NFL Draft
4. Super Bowl Sunday
5. Any day your sidepiece's pregnancy test comes back negative
Since it's Week 1 and this is the first time we're doing the Sunday Sidepiece article, here's a quick breakdown on the theory behind the article.
Yea, you've got your go-to fantasy players that you're using every week, but you know you're always looking for a little extra on the side. In this article, Ben Morgan focuses on players you should find a way to sneak into your starting lineup in an attempt to score you a little more on NFL Sundays. Much like your lady sidepiece, you're not always going to need what this player provides, but when you're desperate, it'll be there for you!
Make sense now? Good. Let's get started with your sidepieces for week one.
Calvin Ridley, WR, Atlanta Falcons vs. Minnesota Vikings
We're all expecting the matchup to watch to be Julio Jones vs. Xavier Rhodes, so with Rhodes being fairly occupied, expect Matt Ryan to target Ridley early and often.
The Vikings have an all around complete defense so points may be at a premium in this game, but I expect the Falcons' offense to take a step forward in 2019, and Ridley is going to find himself fantasy relevant on a more consistent basis than he was in 2018.
It starts in Week 1 against the Vikings, so find a way to get him into your lineup.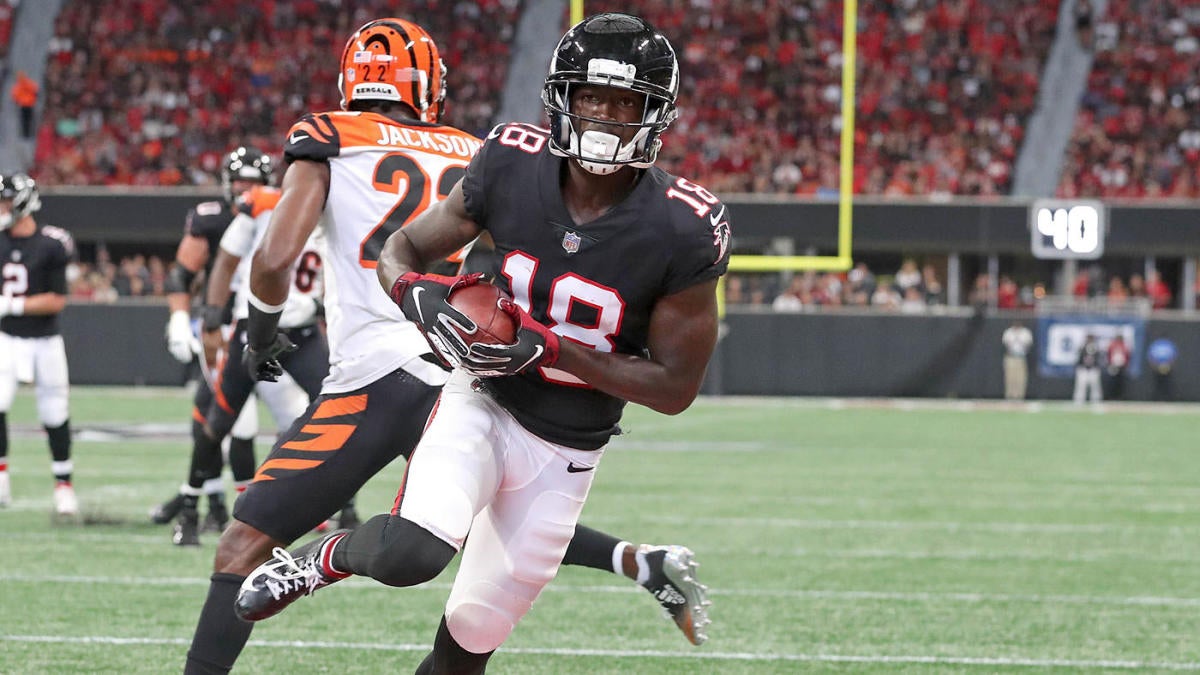 Tyler Lockett, WR, Seattle Seahawks vs. Cincinnati Bengals
Several of you likely have Lockett in your starting lineups and may not have the luxury of making the decision of whether or not to start him this week.
However, if you're in a situation like I've found myself in this week, I'm desperately trying to find a way to sneak Lockett into my starting lineup because I think he has WR1-finish potential this week against the Bengals.
The Seahawks are going to do work with the ground game, but with a lack of experience at the wide receiver position, expect Russell Wilson to send a high volume of targets to Lockett this week as the newer WR's get acclimated.
Plus, Lockett is always a threat to get behind the defense and score on a deep play, providing you those boom fantasy weeks we crave from the WR position.
Lamar Jackson, QB, Baltimore Ravens vs. Miami Dolphins
I'm about as far away from a Jackson believer as you can be, but that's the thing about side pieces, sometimes they just look a little too enticing…
This is one of those weeks as Jackson gets the Dolphins in their blatantly obvious tanking season. Yes, the Dolphins have one of the best cornerbacks in the league in Xavien Howard, but the rest of the secondary is a bit of a puzzle that's not close to being put together.
Jackson provides added value at the QB position with his ability as a runner, and with the Dolphins recent inability to cover tight ends, teammate Mark Andrews may be in store for a nice breakout game as well.
Don't set aside guys like Patrick Mahomes, Baker Mayfield or Carson Wentz for Jackson, but if you're on the fence with your current starting QB's Week-1 matchup, go ahead and succumb to the Jackson experience.
Curtis Samuel, WR, Carolina Panthers vs. Los Angeles Rams
Bookmakers have this game's over/under point total set at 50, so I'm not the only one that thinks a good amount of points are going to be scored here.
When you see high over/under point totals, it's usually a good sign that you want some of the players involved in that game in your fantasy lineups. Since you likely drafted Samuel in a position where he's not in your starting lineup for Week 1 if you're just going off where you drafted your players, this may be a good time to check out some of the WR's you drafted earlier and see if their matchups are as enticing as Samuel's.
Panthers' QB Cam Newton is absent from the injury report, so any notion that he may not be ready to go can be set aside.
Christian McCaffrey is obviously going to get his, but I believe the next in line will be either D.J. Moore or Samuel, potentially both.
Live dangerously, since just like Baker Mayfield you woke up feeling that way, and let Samuel find his way into that starting lineup in favor of one the wide receivers you selected before him.
Sammy Watkins, WR, Kansas City Chiefs vs. Jacksonville Jaguars
Use this sidepiece while you still can, because the last thing you want is a sidepiece with a "questionable" tag.
Jaguars' top CB Jalen Ramsey is expected to shadow Tyreek Hill on Sunday, and while the rest of the Jaguars' secondary is good, they aren't Ramsey good.
The Chiefs offense is still going to put up yards, still going to find the endzone, and still make players fantasy relevant. Watkins just may be the primary beneficiary of this difficult matchup with Hill on lock down via Ramsey, and Travis Kelce likely the Jags' next priority when it comes to players to attempt to take away.
Watkins is a very talented wide receiver and would be fantasy gold if he could stay healthy for a full 16-game season. So like I said, use him while you still can, and then crawl back to your "every-week" WR's once Watkins get bit by the injury bug.
Be sure to check out our NFL Week 1 preview episodes as we discuss our favorite daily fantasy sports players in our fantasy preview episode, and go game by game giving our straight up and against the spread picks in our gambling preview episode!
Ben Morgan is a co-host and blogger for the Loaded Box Podcast. Check out his article archive and find more from the Loaded Box on Twitter & Facebook
Enter code LOADED when you register to earn $5 towards an auction item!