Catchy title right? My boy Ludacris gave me the green light on using it, so big shout out to Christopher Bridges.
But what we're doing today is building my ideal fantasy football team for the 2019 season by taking the player I believe best fits how I'd personally like to construct my team based on player's current average draft positions.
So I won't be taking the top-ranked player of each round, but rather, I'll be selecting the player I believes gives me the best chance to win my league while keeping focus on who is the best fit based on a combination of best player available and team needs.
For this hypothetical team, we'll imagine a 12-person league, half point per reception, starting one quarterback, two running backs, three wide receivers, one tight end, one defense, a flex (RB, WR or TE), and four bench spots.
Make sense? If not, proceed to go here. If it does, take a look and be sure to let me know your thoughts on what I consider my ultimate fantasy team… in June.
Enter code LOADED when you register to earn $5 towards an auction item!
Round 1: Christian McCaffrey, RB, Carolina Panthers (Current ADP: 1.04)
My confidence level in McCaffrey has reached the point where I wouldn't be opposed to making him the first overall pick this fantasy season. McCaffrey finished as RB3 last season averaging nearly 21 fantasy points per game. He failed to reach double-digit rushing touchdowns (7), but more than made up for it by recording 107 receptions for an additional 867 yards and six touchdowns. Even if CMC is unable to get it going on the ground on a weekly basis, he'll pick up the slack with what he brings in the receiving game. You'll need an early pick to secure McCaffrey this season as we'll likely see his volume (326 touches in 2018) remain high with Carolina's shortage of proven playmakers on the roster at the running back position.
Round 2: Dalvin Cook, RB, Minnesota Vikings (Current ADP: 2.05)
With how fast quality running backs are scooped up in fantasy drafts, the ability to land Cook in the middle of the second round gives you the opportunity to land two RB's with solid potential of finishing as RB1's. An improved offensive line, another season with Kirk Cousins and having the opportunity to actually practice and perform on the field rather than rehabbing an injury are all positives surrounding Cook this upcoming season. Securing a second strong RB in round two and shifting my focus to wide receiver the next few rounds is exactly how I'd prefer the start of the draft to play out.
Round 3: Keenan Allen, WR, Los Angeles Chargers (Current ADP: 3.04)
Allen wouldn't be my first choice as the wide receiver to lead my fantasy squad, but if I find myself in a situation where I'm able to land a pair of quality RB's in the first two rounds, I'd gladly settle for Allen as my team's top receiver. Despite hauling in just six touchdowns last season, Allen led the Chargers with 97 catches and 1,196 yards and is a great candidate to see a bump in touchdowns in 2019. Tyrell Williams, who caught five TD's for the Chargers last season, is now out of the picture after signing with Oakland while third-year WR Mike Williams may see a regression in touchdowns after notching a career-high 10 last season. Another positive regarding Allen is that he's seemed to put the "plagued by injury" label behind him after posting back-to-back seasons appearing in all 16 regular-season games.
Round 4: Cooper Kupp, WR, Los Angeles Rams (Current ADP: 4.11)
Kupp was among the top wide receivers last season before going down with a knee injury in Week 10. The Rams have a crowded group of skill players that'll be competing for touches this season, but Kupp has a knack for getting open and Jared Goff has developed a trust with him that you can feel confident in investing a fourth-round pick. I'm fairly high on all three primary WR's for the Rams this season – as you can see in our positional fantasy rankings – but I'm all in on relying on Kupp as one of my team's top WR's in '19. Remember, it's only June, and you'll need to monitor Kupp's progress this offseason and keep his health in mind when entering your fantasy draft.
Round 5: Calvin Ridley, WR, Atlanta Falcons (Current ADP: 5.09)
I was high on Ridley coming into the league, and my feelings haven't changed after he posted a 64-catch, 821-yard, 10-touchdown rookie season last year with the Falcons. Teammate Julio Jones is the guaranteed option to post consistent fantasy stats throughout the season, but landing Ridley as your WR3 in the fifth round provides solid value as a player that is already one of the league's best route runners. Look for Ridley to become more consistent on a week-to-week basis this season after consistency was the biggest knock on him in year one.
Round 6: Hunter Henry, TE, Los Angeles Chargers (Current ADP: 6.09)
The sixth round is typically higher than I'd like to select my starting tight end, but I think Henry is a lock to finish as a top-five TE this season if he can remain healthy. Henry proved to be a legitimate TD-scoring threat after notching 12 over the course of his first two years in the league; and that was while he was playing behind Antonio Gates. Henry is now the primary player at the position, and we all know how much Philip Rivers enjoys targeting tight ends. So while selecting a TE at this point in the draft is something I typically avoid, Henry as a late sixth rounder is on my radar this year in fantasy drafts.
Round 7: Drew Brees, QB, New Orleans Saints (Current ADP: 7.05)
Much like the position of tight end, my typical draft strategy includes waiting longer than most to select my starting quarterback. But with already having my two bell-cow RB's, three quality WR's, and my tight end, I'd be happy to select Brees as my fantasy team's quarterback in the seventh round. Brees saw his nine-year streak of throwing for at least 30 touchdown passes come to an end back in the 2017 season, throwing just 23, and saw support in the fantasy community quickly fade away. However, Brees bounced back in a major way last season, tossing 32 touchdown passes compared to just five interceptions while throwing for nearly 4,000 yards. He may be on the back-nine of his career, but I'm comfortable taking the QB with one of the most complete offenses in the entire NFL heading into the 2019 season.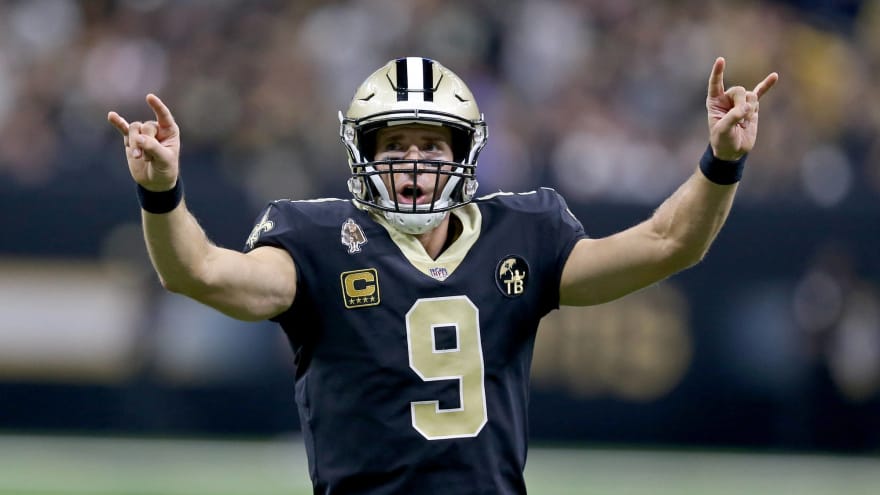 Round 8: Royce Freeman, RB, Denver Broncos (Current ADP: 8.06)
When it comes down to which Broncos' running back you'd rather have this upcoming season, put me on Phillip Lindsay's side. But knowing that I can get the guy Denver invested actual draft capital into four rounds later than Lindsay makes Freeman my eighth-round selection. I wasn't extremely high on Freeman coming into the NFL, but Denver's zone-blocking run scheme may work to his advantage this year and help him reduce the production gap between he and Lindsay that we saw during their rookie seasons. He's not a guy I'll want to start weekly, but I'm okay with plugging him in at my flex spot occasionally based on matchups.
Round 9: Geronimo Allison, WR, Green Bay Packers (Current ADP: 9.04)
Here's the player I'd ideally want to plug into my flex spot more often than not this season. Outside of Davante Adams, Allison is the Packers' wide receiver with the most NFL experience as the position is littered with a bunch of second-year guys outside of Adams and Allison. One of these second-year WR's may step up and take the Packers' No. 2 WR spot away from Allison depending on training camp/preseason, but for the time being, it's Allison's spot to lose and he's shown flashes when give chances in the past. If Allison can stay healthy and fend off the likes of Equanimeous St. Brown, Marquez Valdes-Scantling and J'Mon Moore, he should put up healthy fantasy stats as Aaron Rodgers' No. 2 receiver.
Round 10: James Washington, WR, Pittsburgh Steelers (Current ADP: 10.05)
With Antonio Brown out of the picture in Pittsburgh, the opportunity to become the Steelers' No. 2 WR option after JuJu Smith-Schuster has opened up and is likely between Washington and Donte Moncrief. While Moncrief has found brief success in the past, I lean towards the idea that Pittsburgh will want to see what they have in their second-year wide receiver meaning more targets and opportunities to see if he can produce when given the chance. The Steelers' offense may take a step back in their first year in quite some time without both Brown and Le'Veon Bell, but I'm willing to bet on Ben Roethlisberger at least a little while longer and believe he's capable of making another wide receiver outside of Smith-Schuster fantasy relevant in '19.
Round 11: Baltimore Ravens Defense (Current ADP: 11.08)
It's never my strategy to be the first team to select a defense, but I'm also not a huge fan of waiting and being one of the last. If the Ravens are successful in 2019 it'll likely be in large part due to their play on the defensive side of the ball. Additionally, with Baltimore's offense expected to be near the top of the league in rushing attempts, the Ravens' defense will be forced to play a significant role in keeping games low scoring so that Lamar Jackson and the offense isn't relied upon to go out and win a bunch of shootout games. I don't have the strongest feeling regarding fantasy defenses as I've seen several strategies work for fantasy owners in the past, but I'd feel pretty comfortable with Baltimore being my starting defense nearly every week this upcoming season.
Round 12: Nyheim Hines, RB, Indianapolis Colts (Current ADP: 12.02)
All of the fantasy hype at the running back position for the Colts right now is around Marlon Mack due in large part to how well he played once returning back from injury last season. However, the Colts are still likely to take a bit of a running back by committee approach, Mack has had some injury issues since entering the league in 2017, and Hines proved to be a productive receiving RB his rookie season hauling in 63 receptions for 425 yards. Additionally, you won't have to rely on Hines to be an every-week starter in your fantasy lineup by using a 12th-round selection on him, so he provides nice depth on a team that's expected to be one of the better offenses in 2019.
Round 13: Deebo Samuel, WR, San Francisco 49ers (Current ADP: 13.10)
It's pretty rare for a rookie wide receiver to make significant fantasy impact in year one, but I'm willing to take a chance on Samuel in the 13th round. The 49ers are expected to be led by Marquise Goodwin, Dante Pettis and George Kittle as pass-catching options this season, but Samuel may be able to carve out a role early on due to his versatility and ability to make plays once the ball is in his hands. You're taking a chance with any player in the 13th round, but Samuel is the one I'm betting on.
Be sure to check out the latest episode – No. 200 – of the Loaded Box Podcast as the guys play the fantasy football version of "Would You Rather" – WR edition!
Check out our 2019 fantasy football position-by-position rankings
QB Rankings
RB Rankings
WR Rankings
TE Rankings
Ben Morgan is a co-host and blogger for the Loaded Box Podcast. Check out his article archive and find more from the Loaded Box on Twitter & Facebook