For the second straight year we've rounded up our friends from around the industry to complete a 2019 first-round NFL Mock Draft.
It's a lengthy process as we navigate through 32 people's daily schedules, responsibilities, and drinking habits, but we made it out alive (Mikey's liver may have something to say about that) and all of the picks and reasons for the selections are found below.
So get comfy, crack open a beer, and come hard at those whose picks you don't agree with, as I've already done the liberty of linking you directly to their Twitter pages to save you a little extra time.
Get entered to win our signed Alvin Kamara Saints mini helmet!
1. Arizona Cardinals: Kyler Murray, QB, Oklahoma
Pick made by Anthony Cervino of Gridiron Experts
Despite the fact that Josh Rosen is still on Arizona's roster, I believe that it is just a formality while they sit back for the best deal. Rosen is on his way out of the desert, which opens up the door for the Cardinals to select Murray with the first overall pick in the 2019 NFL Draft. Whether you agree with their presumed decision or not – the Cardinals can always trade back to collect draft assets – it would be hard to blame them if they indeed took the Oklahoma quarterback at the top. Not only is Steve Keim on the hot seat – despite posting a 52-43-1 record with a pair of unsuccessful playoff runs as Zona's GM since 2013, the Cardinals are 18-29-1 in their past three seasons of Keim's stint, including a disastrous 3-13 2018 campaign – but the Cardinals also need to sell tickets. Bringing in a young, trendy and enthusiastic Kliff Kingsbury and pairing him with a flashy, high-risk, high-upside rookie QB will do just that
2. San Francisco 49ers: Nick Bosa, EDGE, Ohio St.
Pick made by John Chapman of Eat, Sleep, Fantasy Football
No. 1 overall player at the biggest position of need. Bosa is a one of the most consistent players I have ever graded. You can not tell the difference from his highlights and his game film because he grades out positive on every play. The 49ers better not get cute here because the answer is obvious
Listen as John breaks down the top edge rushers in the 2019 NFL Draft on a recent episode of the Loaded Box Podcast
3. New York Jets: Josh Allen, EDGE, Kentucky
Pick made by Eliot Crist of The Quant Edge
With no trade back available, the Jets address a decade-long issue by taking EDGE Josh Allen. While Allen needs to work on his array of moves, he has a trump card and can get after the quarterback. The local kid adds another talented young player to the core of Jamal Adams, C.J. Mosley, Leonard Williams and Marcus Maye on defense
4. Oakland Raiders: Quinnen Williams, DL, Alabama
Pick made by Geoff Lambert of GoingFor2.com
After a season with only 13 sacks, the fewest sacks for a team since the strike-shortened 1982 season, the Raiders biggest need was an edge rusher. Unfortunately, the top two edge rushers went No. 2 and No. 3 in this draft and they had to "settle" for Williams. There are a lot of draft classes that Williams would have been the top player in the draft, but with the Cardinals' infatuation with QB Kyler Murray and the talent at edge rusher, Williams slips to No. 4 giving the Raiders a cornerstone for their defense for years to come. It might be the best "consolation prize" the Raiders could have hoped for
5. Tampa Bay Buccaneers: Devin White, LB, LSU
Pick made by CPGM Headley of Coach Potato GM
White is the ultimate chess piece for a Todd Bowles led defense that loves versatility. White's best immediate asset at the next level will be his ability to blitz and get after the quarterback, a staple in Bowles' 3-4 attacking defense and something the Buccaneers have struggled with for years. With the loss of Kwon Alexander, why not select a better version in White that can develop into the leader of the Bucs' defense
6. New York Giants: Jawaan Taylor, OL, Florida
Pick made by Matt Hicks of Gridiron Experts & The Fantasy Fanalysts
Trying to get into the head of David Gettleman is a dangerous thing to do, but I'll venture there with you. Everything Gettleman has said since the NFL Combine in Indianapolis and the OBJ trade suggests he wants to focus on winning in the trenches. With Taylor, the Giants secure the best pure offensive tackle in this class and suddenly have a very solid offensive line that can hold up to Gettleman's vision. EDGE talent will be available around pick 17, but pure offensive tackle talent will not be. I believe the Giants do not even consider quarterback here, opting to wait and target a QB in the 2020 NFL Draft, but for now it is about building a foundation that allows a young quarterback to be successful without burning valuable rookie contract years
7. Jacksonville Jaguars: Rashan Gary, EDGE, Michigan
Pick made by Ryan Whitfield of NFL Talking Heads & Football GarbageTime
The Jaguars looked like the new "it" team just two seasons ago as they led on the road in the second half of the AFC Title game against the Patriots. Since that point, they collapsed in the fourth quarter to not advance to the Super Bowl, followed up with a 5-11 2018 season, parted ways with Blake Bortles, and acquired former Super Bowl MVP Nick Foles. The "Stick To Football Podcast" guys mentioned in their recent mock that the Jaguars are one of the hardest teams to predict for, and I agree. In the last three drafts David Caldwell has gone cornerback, running back, and defensive tackle in the first round. The Jaguars moved on from Dante Fowler last year and as a team they ranked 22nd in sacks. Gary is an interesting prospect as he appears to be a real boom or bust candidate. He's a versatile player who will need development but he has a high ceiling if he can get there. Short of Nick Bosa or Josh Allen falling to the 7th spot, I like this pick for Jacksonville
8. Detroit Lions: Ed Oliver, DL, Houston
Pick made by John Whiticar of Pride of Detroit
At first glance, a defensive tackle doesn't make sense for a team already boasting Damon Harrison, A'Shawn Robinson, and Da'Shawn Hand. Oliver, however, is far from a normal player. With an elite athletic profile, Oliver's fierce pass rushing ability allows him to play defensive end as well. Given how much the Lions like to rotate their defensive line, Oliver figures to get reps everywhere. The Lions are in drastic need of a pass rusher, even after signing Trey Flowers. Additionally, Oliver gives the Lions insurance for the future, with Robinson being a free agent in 2020 and Snacks hitting 30
9. Buffalo Bills: T.J. Hockenson, TE, Iowa
Pick made by Andy Singleton of Dynasty League Football
Defensive tackle was the first choice, and as loaded as this class is, after Ed Oliver was off the board it becomes about filling another need. Hockenson steps in and plays from day one, plus after the ending to 2018 and the Charles Clay drop, will come in and be an instant folk hero. As Rob Gronkowski retires from the AFC East, the Bills get their own version for the next decade
10. Denver Broncos: Devin Bush, LB, Michigan
Pick made by Ben Allbright, alleged Raccoon Tamer
There's a need at inside linebacker, Josey Jewell is a run funnel guy, Todd Davis is a downhill guy. Bush gives a desperately needed athletic infusion. Drew Lock would be a heavy consideration here as well
11. Cincinnati Bengals: Dwayne Haskins, QB, Ohio St.
Pick made by Matt Minich of Cincy Jungle
The Bengals are likely expecting to add a linebacker or pass rusher, but if Haskins falls out of the top 10, he will be hard for them to pass up. Andy Dalton has been a steady player who has kept this team competitive year in and year out, but hasn't led them to a single playoff win. With Haskins, new head coach Zac Taylor gets a young quarterback he can build an offense around
12. Green Bay Packers: Brian Burns, EDGE, Florida St.
Pick made by Jake Schyvinck of FanSided
With just one season as GM, it's hard to know what Brian Gutekunst will do at pick 12. With Ed Oliver, Devin Bush, and T.J. Hockenson gone, the opportunity to trade down would make sense here. Instead, the Packers continue their offseason of beefing up the edge. Adding Burns, who has great bend, an array of moves, and excellent athleticism, will give Green Bay a guy who can rotate in on third downs behind Preston Smith and Za'Darius Smith. Burns would become an every-down option in 2020
13. Miami Dolphins: Montez Sweat, EDGE, Mississippi St.
Pick made by Ben Morgan of Loaded Box
If the Dolphins are truly committed to tanking in 2019 and finding their franchise quarterback in the 2020 NFL Draft, they have the luxury of truly going best player available with this pick. With a sudden lack of depth at the position following the offseason loss of both Cameron Wake and Andre Branch, the Dolphins would likely jump at the opportunity to grab Sweat after his stock took a gigantic leap following his performance at the NFL Combine
14. Atlanta Falcons: Greedy Williams, CB, LSU
Pick made by CSD Fantasy
The Falcons released Robert Alford and expect Isaiah Oliver to start in 2019. That does not stop them from drafting Williams if he's there at No. 14. Desmond Trufant is their third-highest cap number for 2019 and second for 2020, they want him gone and need a replacement, Williams is that guy; he's good in both man and zone and would work well in Atlanta's cover-3 scheme. He's also got an eye for the ball with 20 pass deflections and eight INTs in two years
15. Washington Redskins: N'Keal Harry, WR, Arizona St.
Pick made by Kristopher Hopper of Beer Fueled Fantasy Football
The Redskins need everything, and popular consensus says they are a prime landing spot for a QB. While they absolutely need a quarterback, this is an underwhelming class for that position, but the WR's are stacked. Washington gets its pick at this position giving the Redskins a future long-term WR1 to play alongside Trey Quinn and Josh Doctson
16. Carolina Panthers: Jonah Williams, OL, Alabama
Pick made by Mikey Ostrowski of Goal-Line Fantasy
At first I was going to go for Greedy Williams… I think he'd look damn good in Carolina blue. However, since I couldn't get my paws on him, I went with the more practical pick of Williams. I think the guy has enough talent to develop into a stud in this league sooner rather than later. Plus, Cam Newton is coming off of some big surgery and they're gonna need some big boys to protect him better than he's been protected in previous seasons. In my mind, Carolina's draft needs are as followed: 1- Greedy Williams 2- Top OL available 3- Top OL available 4- Top OL available 5-…. well, you see my point. Unless they can get their hands on a complete stud for Thieves' Ave, they'd better go out and GET CAM SOME DAMN PROTECTION
17. New York Giants: Daniel Jones, QB, Duke
Pick made by Miguel Chapeton of The Fantasy Headliners
Gettleman is going to Gettleman and that means he's going to draft the most clean cut QB he can find to market in NY as the face of the franchise, even if that QB rates as the next coming of Christian Hackenberg. It also helps that this QB also happens to be a close friend of Eli Manning. New York, meet your new QB, Daniel Jones…. Good luck with that
18. Minnesota Vikings: Andre Dillard, OL, Washington St.
Pick made by Zach Patraw of Gridiron Experts
The Vikings' offensive line couldn't have been much worse than it was last year. Time after time their 84 million dollar man Kirk Cousins ended up on his back side. Time to sure up that offensive line with arguably the most athletic offensive lineman in the class. Step one of many to protect their prized possession
19. Tennessee Titans: Noah Fant, TE, Iowa
Pick made by Kevin Hanson of Eat, Drink & Sleep Football
Since drafting Marcus Mariota in 2015, the Titans have ranked in the bottom 10 in passing offense in each of the past four seasons. Regardless of how much the Titans get from Delanie Walker (ankle) in 2019, the 35-year-old (in August) won't play forever and the Titans could use more weapons in the passing game with or without a healthy Walker. While the Titans would likely prefer T.J. Hockenson, Fant's Iowa teammate, to fall to them at No. 19, Fant can be a mismatch nightmare in the passing game as he's too fast for linebackers and too big for defensive backs
20. Pittsburgh Steelers: Deandre Baker, CB, Georgia
Pick made by Nate Williamson of FanSided College
With some of my more highly-rated impact players out of the way at this point in the draft, the only logical conclusion was to draft in a HUGE position of need. The Steelers' biggest needs, in my opinion, are at the wide receiver and corner positions. As far as that line of thinking goes down in the crazy rabbit hole that is my brain, my experience at the Senior Bowl told me that there are enough impact wide receivers to allow this Steelers' organization to sit back and draft a wideout later. Baker is one of the top corners in the draft, and I think he can slot in really well and make an impact right off the bat for a Steelers' secondary that could use the help. Thus, Baker will join the secondary and look to become as much of a lockdown defender in Pittsburgh as he was during his time at Georgia
21. Seattle Seahawks: Garrett Bradbury, OL, NC State
Pick made by Ryan Miner of Loaded Box
I was originally thinking of going defense here, but seeing the NFC West and looking at San Francisco and seeing what is starting with Arizona, offensive line looks the way to go. The Seattle Seahawks' started the 2018 season with a putrid offensive line, but got into scheme as the season went on. With the addition of Bradbury, not only can he play center, but he could also be plugged in at either guard position. Bradbury will be a day-one starter with his combination of athleticism, power and physicality. All three of these strengths will be a boost to this offensive line, as it will better protect Russell Wilson and form a hell of a running game for current starting RB Chris Carson. With the addition of Bradbury, watch as Seattle builds a west-coast offensive line compared to that of the Dallas Cowboys
22. Baltimore Ravens: A.J. Brown, WR, Ole Miss
Pick made by Dan Thury of Beer Fueled Fantasy Football
I would love to mock a tight end here…you know, keep on brand…but Eric DeCosta wants to start things right in a post-Ozzie world, and that starts with ending the stigma that the Ravens can't hit on round-one WRs. Brown offers a skillset that matches up well with Lamar Jackson that should help Jackson as a passer as early as year one. Trading out is an option given the Ravens only have eight draft picks and three in the first three rounds; and they need to address the losses on the defensive side of the ball
23. Houston Texans: Cody Ford, OL, Oklahoma
Pick made by Jonathan Valencia of Pro Football Network
The most glaring need for the Houston Texans is by far offensive line. I think their main target would be Andre Dillard, but the Texans should be thrilled having to "settle" for Ford. The mammoth tackle out of Oklahoma seems to have lost some steam after an average combine. But make no mistake of his talent as the OU tackle was an elite pass blocker last season. Ford possesses rare movement skills for a 330 pounder and brings high upside and a high floor. Houston is in huge need of a revamped offensive front, and it should all start with new GM Brian Gaine's first selection. After protecting Baker Mayfield and Kyler Murray over his career, he now blocks for another stud QB
24. Oakland Raiders: Clelin Ferrell, EDGE, Clemson
Pick made by Mitchell Renz of Chat Sports
The Raiders' biggest need in 2019 is finding an edge rusher. Ferrell at No. 24 is great value considering his ability and experience in big games. Oakland had only 13 sacks in 2018 (Khalil Mack had 12.5). You need to find players who can get after the quarterback. With Quinnen Williams going at No. 4, the Raiders' front four (Arden Key, Mo Hurst, Williams, Ferrell is young and loaded
25. Philadelphia Eagles: Christian Wilkins, DL, Clemson
Pick made by Kyle Bennett of Underground Sports Philadelphia
The Eagles have built their team through the trenches and it led them to a Super Bowl title in 2017. Outside of Fletcher Cox being in his prime, the Eagles' defensive line is a bunch of question marks due to either lack of experience or older age. Wilkins is a prime run stuffer that the Eagles sorely missed last season when Beau Allen took his talents to Tampa Bay. The signing of Malik Jackson will help with the pass rush, but he was benched in Jacksonville due to his lack of run-stopping ability. Wilkins is the perfect fit for the Eagles' line moving forward and makes for a nasty rotation in Jim Schwartz's defense
26. Indianapolis Colts: Jeffery Simmons, DT, Mississippi St.
Pick made by Zach Hicks of Stampede Blue & The Draft Wire
Simmons may seem like a stretch in the first round with his off-field and injury concerns, but the Colts are in a good spot for him. With their whole starting d-line returning, they can afford to wait until he returns healthy. Overall, the ability to add a potential top-10 talent in the late first is tough to pass up for an ascending young team
Listen as Zach breaks down the top cornerbacks in the 2019 NFL Draft on a recent episode of the Loaded Box Podcast
27. Oakland Raiders: Byron Murphy, CB, Washington
Pick made by Jacob Infante of Windy City Gridiron & The Draft Wire
With their first two selections invested in their defensive line, the Raiders would be smart to invest in their secondary early. Murphy may be an average athlete, but he has potential to be an elite nickel back in the NFL. His instincts and ball skills are among the best in the class, and his hip fluidity allows him to keep up with the league's more agile receivers. Adding a plug-and-play defensive back with a high ceiling like Murphy would help Oakland further retool its defense
28. Los Angeles Chargers: Greg Little, OL, Ole Miss
Pick made by John Hogue of the SuperFlex SuperShow
It's good news/bad news for the Chargers: the good news is they don't have many holes to fill, with one of the most complete rosters in the league. The bad news is there seems to be an epidemic at the positions where they are relatively weak. Little is a bit of a reach in the first round, but the Bolts watched helplessly as the top options at OT, DT and interior OL all came off the board ahead of their 28th pick. They take on some risk with Little – who carries a "poor work ethic" stigma into the draft – but his size and athleticism could make the juice worth the squeeze. Little profiles as a left tackle, but the Chargers have the luxury of letting him learn and improve from the right side, where he'll see less ferocious pass rushers, and doesn't have to be responsible for protecting Philip Rivers' blindside
29. Kansas City Chiefs: Marquise Brown, WR, Oklahoma
Pick made by Johnny Kinsley of Dynasty League Football
The Chiefs seem to be contempt with who they have on the pass rush and secondary, and while I personally would draft there in that situation, I suspect they wouldn't. In that case, I think adding Brown to the offense would do wonders to a skill set group that is already loaded. Brown's health is an issue, but his game-changing speed and separation are easily worth the risk in my opinion. A vertical passing attack consisting of Tyreek Hill, Sammy Watkins, Brown, and Travis Kelce would do wonders to an already brilliant display of quarterbacking from Patrick Mahomes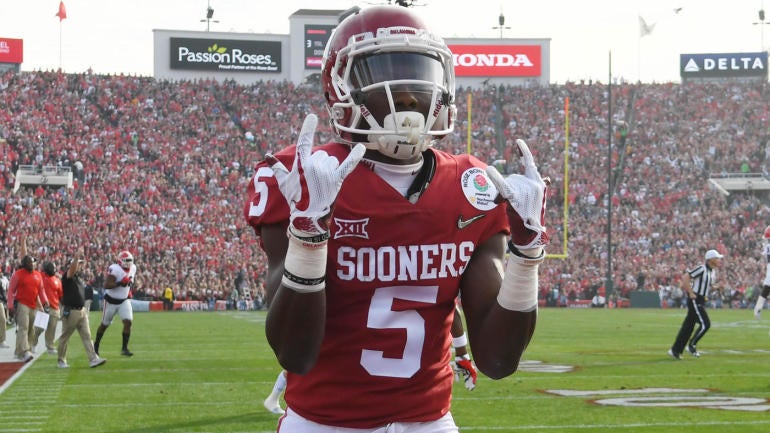 30. Green Bay Packers: D.K. Metcalf, WR, Ole Miss
Pick made by DJ Premo of Loaded Box
Not too much to think about here. The Packers got much needed youth at the defensive end position with Brian Burns. He may have an STD, but the Packers can afford to make a luxury pick here and the the doctor has prescribed D.K. Metcalf. Although I am not huge on him because I'm worried he may not be able to turn left or right, it's almost impossible to pass up a physical specimen like Metcalf at this spot. If any QB in the league is going to help him reach his ceiling it's Aaron Rodgers. Put him opposite of Davante Adams and we may be talking the most dangerous wide receiving core in the NFL
31. Los Angeles Rams: Nasir Adderley, S, Delaware
Pick made by Skyler Burkardt of Pylon to Pylon Podcast
Adderley is a perfect fit for the Rams as they look to fill the void left behind when Lamarcus Joyner left in free agency. His size, athletic ability and ball skills will be something that Wade Phillips loves to see out of his safeties. Even with his lack of recognition and coverage duties as deep safety, he will grow in Phillips' defense and overcome these minor issues
32. New England Patriots: Dexter Lawrence, DL, Clemson
Pick made by Andrew Erickson of Gridiron Experts
Essentially the Patriots would like to address the defensive line early in this draft. The way that this particular mock played out, to me Lawrence by far was the best available player among the defensive linemen. The Patriots going into 2019 have a lot of holes to fill as they have lost guys on the defensive line like Trey Flowers, Adrian Clayborn, Danny Shelton and former first-round pick, Malcom Brown. They have already made some moves in addressing that issue in trading for Michael Bennett and signing free agent Mike Pennel, but do not have much youth at the position. Enter Lawrence who would surely help provide a run-stopping ability in the middle of Patriots' defense. But due to his combination of size and quickness, also be a viable option on certain third and fourth down packages, which is something the Patriots love having…a guy they never have to take off the field. Essentially the only reason the Pats could miss out on Lawrence is if he fails to fall to No. 32
Be sure to check out the latest episode of the Loaded Box Podcast as the guys are joined by John Chapman of Eat, Sleep, Fantasy Football and the 49ers Hub to breakdown the top edge rushers in the 2019 NFL Draft!
Take a look at other mock drafts we've done this offseason:
2019 1st-rd mock NFL Draft via Loaded Box & Beer Fueled Fantasy
2019 NFL Mock Draft 3.0
2019 NFL Mock Draft 2.0
2019 NFL Mock Draft 1.0