For the second straight year the crew of the Loaded Box Podcast has teamed up with the guys from Beer Fueled Fantasy Football to provide a first-round NFL mock draft.
Take a look as we go through each of the first 32 picks with analysis regarding the selection from the contributor who made the pick.
Let us know your thoughts, which selections you agree/disagree with, and most importantly, which of the eight of us did the best job (so that person can have bragging rights over the others until next year's draft)!
1. Arizona Cardinals: Kyler Murray, QB, Oklahoma
Pick made by Kristopher Hopper (@HoppBFF)
Josh Rosen isn't a good fit for Kliff Kingsbury's offense as he's statuesque in the pocket and not good under pressure. Murray gives Arizona a dual-threat quarterback that is good on the run and outside the pocket allowing for a more dynamic offense
2. San Francisco 49ers: Nick Bosa, EDGE, Ohio St.
Pick made by Ryan Miner (@RyanMiner8)
In my mind this is a win for San Francisco as they can now put Bosa on the other side of recently acquired Dee Ford. This defensive line was weak in 2018, but the addition of both Bosa and Ford turns this glaring weakness into a strength heading into the 2019 season
3. New York Jets: Quinnen Williams, DL, Alabama
Pick made by Dan Thury (@ThuryBFF)
Williams is regarded as the top interior defensive lineman in this draft. This is the best move for the Jets as they add Pro Football Focus' No. 1 graded interior lineman who graded out as the best run stopper and pass rusher of all players at the position
4. Oakland Raiders: Josh Allen, EDGE, Kentucky
Pick made by DJ Premo (@LoadedBoxDJ)
This pick is a no brainer, which I guess is a reason Jon Gruden could fuck this up. With the Raiders finishing last season with just 13 sacks, and Khalil Mack having 12.5 on his own, they need to address this horrid excuse for a pass rush. If they don't draft a pass rusher here, Mark Davis should force Gruden to strap on the pads because he is probably the most intimidating person on the Raiders
5. Tampa Bay Buccaneers: Montez Sweat, EDGE, Mississippi St.
Pick made by Ben Morgan (@LoadedBox_Ben)
The Buccaneers have several holes to fill on both sides of the ball, but an edge rusher ranks near the top for a team that finished tied for 19th in the league in sacks last year and failed to have another player outside of Jason Pierre-Paul record more than 6.5 sacks. Losing Kwon Alexander to the 49ers in free agency makes a player like Devin White appealing here, but the Bucs can't turn down the chance at an explosive edge rusher who blew up the 2019 NFL Combine
6. New York Giants: Jawaan Taylor, OL, Florida
Pick made by Logan Beatty (@Logeyj)
Sexiest pick of the draft right here boys. The Giants clearly have no clue what they're doing. They've traded their two best players. All the while they seem to empower Eli Manning at every turn. Media reports have been mixed if they actually want Dwayne Haskins or any QB early. Their offensive line was absolute dog shit last year, but it doesn't help when Eli is out there looking like he's controlled by a 9 year old playing Madden. Taylor is the best offensive lineman in the entire draft, but there are rumors that he has a weight problem. Hell, don't we all?
7. Jacksonville Jaguars: D.K. Metcalf, WR, Ole Miss
Pick made by Mikey Ostrowski (@GFF_Mikey)
What better way to start off Nick Foles' career as a Jaguar than to get him a guy that could probably win in a fight against an actual Jaguar? Dude is an athletic freak, he absolutely killed the combine, and he's got so much untapped potential. There are no studs at the receiver position in Jacksonville and I think it's about time they go out and grab one. I was very tempted to give them T.J. Hockenson here, as he's the best of both worlds for a team that needs help on the offensive line and at receiver, but D.K. is just too fun to pass up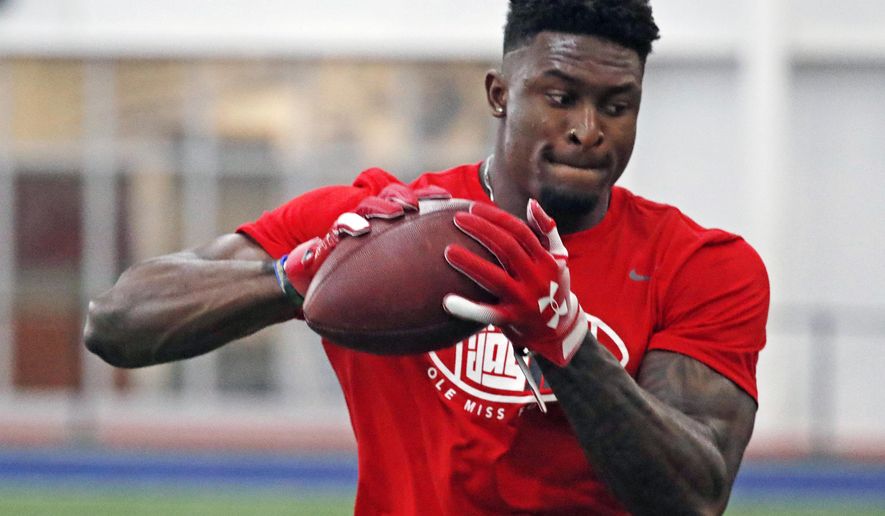 8. Detroit Lions: T.J. Hockenson, TE, Iowa
Pick made by Matt DeFalco (@Matt_DeFalco_)
As much as I like this guy I'm hoping New England trades up and takes him. Low-risk player. He needs work on his run blocking, but the kid is a pass-catching STUD. I honestly don't think he will go further than No. 8 even if Detroit keeps the pick. Lions' GM Bob Quinn signed Jesse James early in free agency but that shouldn't write off HockMan. He is the next great TE. Watch out for him. #LetsGoPatriots
9. Buffalo Bills: Jonah Williams, OL, Alabama
Pick made by Kristopher Hopper
The Bills have several holes to fill, however, offensive line appears to be the most glaring. Williams gives them a guy with some versatility who can step in almost instantly and help a line that ranked 26th overall per PFF. Josh Allen will need to be protected if he's going to use the speed of newly acquired John Brown to his advantage, and the Bills need to find someway to breathe life into an anemic run game
10. Denver Broncos: Dwayne Haskins, QB, Ohio St.
Pick made by Ryan Miner
John Elway has struggled as the GM as he's been trying to find a quarterback ever since Peyton Manning retired. Brock Osweiler wasn't the answer, nor was Trevor Siemian or 2016 first-round bust Paxton Lynch. Case Keenum wasn't what he was in Minnesota and trading for Joe Flacco… well that just didn't make sense either. With Haskins falling all the way to No. 10, Elway has found the redemption he needs. With the skillset Haskins possesses, this is a tremendous pick for Broncos Nation as they've finally found their successor (4 years late) to Manning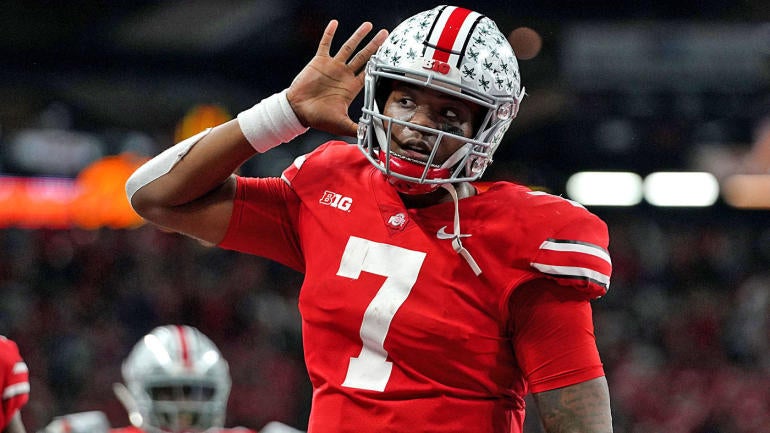 11. Cincinnati Bengals: Devin White, LB, LSU
Pick made by Dan Thury
White is the perfect fit for what the Bengals are looking for, and with the loss of Vontaze Burfict, the Bengals are in dire need to reshape their LB core. While White is still a raw prospect as a converted RB coming out of high school, his raw speed and ability to make plays in coverage goes well with today's pass-happy game
12. Green Bay Packers: Ed Oliver, DL, Houston
Pick made by DJ Premo
There is no reason that Oliver should go outside of the top 10, but if he does, the Packers should grab their card and run a 4.19 40 to the podium and make this pick. You can never have enough depth on the defensive line, and the fact that he can boost this pass rush is a huge plus. Kenny Clark, Mike Daniels and Oliver would eat people up front and Aaron Rodgers would benefit from a much improved defense. Super Bowl or bust. You heard it here first
13. Miami Dolphins: Rashan Gary, EDGE, Michigan
Pick made by Ben Morgan
Through the first 12 picks and only one quarterback off the board, so you'd think a guy like Drew Lock may be the pick here; but I'm buying the idea of Miami going into full tank mode this season with Ryan Fitzpatrick at QB and waiting until 2020 to draft their new franchise signal caller. With so many holes to fill, Miami has the luxury of truly going best player available with this pick. Since the team parted ways with both Andre Branch and Cameron Wake this offseason, and 2017 first-round pick Charles Harris hasn't been able to successfully adjust to the next level, the selection of Gary gives them one of the top players left on the board will still filling a position of need. Gary's versatility on the defensive line is a great trait new Dolphins' defensive coordinator Patrick Graham will be seeking as he looks to implement multiple defensive schemes
14. Atlanta Falcons: Brian Burns, EDGE, Florida St.
Pick made by Logan Beatty
Atlanta has quite a few names the everyday football fan would recognize on the defensive side of the ball, including the d-line, but yet none of them were able to register more than seven sacks last season. The Falcons inability to get to opposing team's quarterbacks led to a 2018 season where the team finished 25th in the league allowing nearly 27 points per game, and 27th in passing yards allowed giving up nearly 260 per game. Burns has an array of moves to get to the passer and is above average in run support making him a great pick if on the board for Atlanta
15. Washington Redskins: Clelin Ferrell, EDGE, Clemson
Pick made by Mikey Ostrowski
I personally think Ferrell is a top-four edge rusher in this draft, so it makes perfect sense for Washington to take this route. However, I'm expecting them to trade down on draft day, especially since I think their main need is an elite WR. Don't be surprised if they trade down for a guy like N'Keal Harry or A.J. Brown. At any rate, if they get stuck with this pick they will undoubtedly snatch up a guy to fix their issues on the defensive line
16. Carolina Panthers: Christian Wilkins, DL, Clemson
Pick made by Matt DeFalco
Carolina needs pass rushers in an attempt to build that defense back up to its former glory. Their best pass rusher from last season retired. They need help on the edge badly. But adding a player like Wilkins can only help start the rebuilding process. Side note: stop stealing my picks!
17. New York Giants: N'Keal Harry, WR, Arizona St.
Pick made by Kristopher Hopper
With the Giants seemingly committed to tanking…or not tanking..or whatever they are doing. Nevermind, forget the logic here. The Giants traded Odell Beckham Jr. which leaves them without a true top-end WR1, and this draft is rich with talent at the WR position. The Giants opt to still believe in Eli Manning and baffle everyone by not drafting a QB and drafting Beckham's replacement instead. Harry is a more polished WR than D.K. Metcalf and will contribute early and often as the Giants retool the offense
18. Minnesota Vikings: Cody Ford, OL, Oklahoma
Pick made by Ryan Miner
After realizing they overpaid for Kirk Cousins it makes more sense to bolster the offensive line than to continue building the defense. With his versatility to play both guard and tackle, not only will Ford help protect Cousins, but he will open up running lanes for Dalvin Cook and will easily be a week-one starter
19. Tennessee Titans: Hakeem Butler, WR, Iowa St.
Pick made by Dan Thury
The Titans are going to double down on Marcus Mariota this season and make sure he has a enough weapons to succeed (or Ryan Tannehill). Butler is still a raw WR prospect, but shows more than enough to be a early vertical threat with great YAC ability and another redzone threat. He will pair well with Corey Davis and give the Titans a legit wide receiver core for years to come
20. Pittsburgh Steelers: Devin Bush, LB, Michigan
Pick made by DJ Premo
There are not a lot of teams who consider inside linebacker their biggest need. It seems like this position is the position that has historically made the Steelers' defensive go. The Steelers have been looking for a guy to replace Ryan Shazier and they finally found him. Bush has the ability to stop the run and develop into a good coverage backer. Steelers' fans hope they have added to that long list of outstanding inside linebackers with Bush
21. Seattle Seahawks: Andre Dillard, OL, Washington St.
Pick made by Ben Morgan
It seems like the story stays the same for Seattle every year. The Seahawks' defense plays well, once they commit to running the ball they can do it pretty consistently, and Russell Wilson is constantly dodging defenders in large part due to an underperforming offensive line. Seattle caught a lot of flack with it's first-round selection of Rashaad Penny last season, so I could see them playing it a bit safer this year and going the route of an offensive lineman
22. Baltimore Ravens: Parris Campbell, WR, Ohio St.
Pick made by Logan Beatty
He's fast. Like real fast. He makes fast people look not fast.
23. Houston Texans: Dalton Risner, OL, Kansas St.
Pick made by Mikey Ostrowski
Risner is a fairly decent o-lineman, and that's exactly what Houston needs. Let's face it, they don't have very many holes on that team, but protecting Deshaun Watson is obviously their number one priority. He's an extremely consistent player that has the talent to carry him to a fairly successful NFL career. He's got a bit of work to do, but he's done enough in college to warrant a first-round selection
24. Oakland Raiders: Greedy Williams, CB, LSU
Pick made by Matt DeFalco
The top corner in the 2019 NFL Draft fell all the way to No. 24 so the Raiders grab BPA while also addressing a position of need. Paring Williams with 2017 first-round pick Gareon Conley gives the Raiders a formidable duo at the position for years to come
25. Philadelphia Eagles: Mack Wilson, LB, Alabama
Pick made by Kristopher Hopper
Jordan Hicks is gone and middle linebacker is the most glaring need on the depth chart. Wilson can pursue, cover, and plug run lanes, all good traits for a linebacker to have
26. Indianapolis Colts: Byron Murphy, CB, Washington
Pick made by Ryan Miner
With the Colts' pass defense finishing 17th in the league last season it's time to continue addressing the defensive side of the ball and select who I believe is the best CB in this draft. Go ahead an knock him for his size, but if you saw him play while at Washington, you'd know where I'm coming from
27. Oakland Raiders: Noah Fant, TE, Iowa
Pick made by Dan Thury
After going back-to-back defensive players at pick 4 and pick 24, the Raiders decide to tackle the offensive side of the ball and draft the most athletic TE in this class. While Fant may not be the most complete TE in this class, that goes to his teammate Hockenson, Fant has insane upside and big-play ability. Fant should fit well in this offense and could even have early fantasy success if he can earn the playing time
28. Los Angeles Chargers: Dexter Lawrence, DL, Clemson
Pick made by DJ Premo
The Chargers really need help on the offensive line, but with all of the top-tier OL off the board, they address another position of need. They were much improved on the defensive line last season, but still have questions marks and D-Line depth seems to always be needed. Lawrence can come in and provide an immediate impact against the run
29. Kansas City Chiefs: Deandre Baker, CB, Georgia
Pick made by Ben Morgan
Adding a playmaker to the secondary gets the nod here with a player like Baker still on the board. The Chiefs ranked 31st in passing yards allowed per game last season, and they haven't been able to replace Marcus Peters with another top-caliber cornerback since dealing him to the LA Rams. I wouldn't be shocked to see the Chiefs trade up to get the CB of their choosing, but with Baker still on the board in this mock, the selection was simple
30. Green Bay Packers: A.J. Brown, WR, Ole Miss
Pick made by Logan Beatty
When you go Ed Oliver at No. 12 you kind of have the luxury to take whatever you feel like you want with this pick, and a receiver with this kind of strength and physicality is something you really don't want to pass up. I don't feel like reaching for a safety at the spot really helps the Packers much
31. Los Angeles Rams: Jeffery Simmons, DL, Mississippi St.
Pick made by Mikey Ostrowski
Ndamukong Suh is gone and now that defensive line has a massive void that needs to be filled. Simmons may just be the best guy for the job. He's physical, talented, and has the raw ability to be molded into a starter in the NFL fairly quickly. I think the Rams could have equally gone with an offensive lineman, or even a RB with Todd Gurley's injury woes, but Simmons just feels right here
32. New England Patriots: Drew Lock, QB, Missouri
Pick made by Matt DeFalco
Part of me believes the Patriots will go with a player that can make a more immediate impact as they continue to win and compete for championships while they still have Tom Brady, but with Lock still on the board, the Patriots can't pass up the opportunity to snag a potential successor to Brady. Also, we've seen them go this route in the past by drafting Jimmy Garoppolo, so we know selecting a quarterback isn't out of the equation. New England is always a good trade-back candidate, but it would be hard to imagine the Patriots passing on Lock given this scenario
Be sure to check out the latest episode of the Loaded Box Podcast as the guys are joined by Zach Hicks of Stampede Blue and The Draft Wire to discuss the top cornerbacks in the 2019 NFL Draft!
Get entered to win our latest giveaway – a signed Alvin Kamara chrome New Orleans Saints mini helmet!