Last week resulted in a wash as neither Ben's or Ryan's stack was going to play a part in winning you any money in daily fantasy sports, so we enter Week 16 with Ryan holding a one-game lead in the daily fantasy stack battle series.
If you're new to our daily fantasy stack battle series, two Loaded Box Podcast contributors (Ben & Ryan) each pick their favorite QB/WR stack for the week and give a quick snapshot as to why they think their stack will be the best option for you in your DFS lineup for that particular week.
So read through both opinions on this week's selections and be sure to vote for the stack that you prefer by clicking on the tweet below!
Here are this week's nominees:
Ben's Stack:
Dak Prescott ($7,300 FanDuel; $5,700 DraftKings) / Amari Cooper ($7,000 FanDuel; $7,500 DraftKings)
If reading about Dak Prescott and Amari Cooper in this article feels like deja vu, it's because Ryan went with this stack that turned out to be a dud last week. But if you remember, Ryan tried to warn you that Prescott seems to be an every-other-week quarterback when it comes to production in fantasy football – he just didn't listen to his own advice!
Prescott is just the 14th-most expensive quarterback on this week's FanDuel main slate after his disappointing seven-point effort last week against the Colts. It was the first time since Week 1 that he didn't record a single touchdown and the first time all season he failed to record a single rushing attempt – which doesn't bode well for a QB you're playing in hopes of stealing some points due to how effective he can be on the ground.
However, a couple of things are working in favor of Prescott this week. First, he gets one of the best matchups on the board against the Buccaneers' 27th-ranked pass defense. Second, Dallas needs this win after last week's meltdown as both the Eagles and Redskins trail the Cowboys in the NFC East by just a single game. And lastly, the Cowboys return back to their home field for this one where Prescott is averaging 22.5 FanDuel points over his last three games.
The stacking of Cooper in this duo is pretty obvious as it's pretty safe to assume you're not stacking another Dallas wide receiver with Prescott outside of the the former Oakland Raider.
If you're nervous about using Cooper it's likely due to the inconsistency he's shown, which dates back to his time with the Raiders. Since joining the Cowboys he's put up a couple of forgettable outings – 5, 9 and 6-point games – but he's also produced some week-winning performances including 34 and 45-point outbursts in which he totaled five of his six touchdowns since joining the Cowboys.
Last week, Cooper posted his lowest yardage total since joining the Cowboys, but that was against what's turned out to be an underrated Colts' defense. The good news for Cooper is now he squares off against the Buccaneers' secondary, that if it wasn't for the team's official depth chart, I wouldn't even know who it consists of due to the unit not being able to slow anyone down this season.
The true beauty of this stack is the cap space it frees up to be able to afford some weekly studs. By using the Prescott/Cooper stack along with mixing in some additional bargain plays, I'm able to create a lineup that also features Dalvin Cook, T.Y. Hilton, Eric Ebron and Zeke Elliott.
Cook is coming off his best game of the season in which he scored 29 points on FanDuel as he's now recorded four straight weeks over 14 points.
Hilton, although he's currently slapped with the questionable tag, is always a threat for a boom week due to his big-play ability; plus he's produced 11 or more points in FanDuel in five straight weeks despite not recording a single touchdown in his last four games.
Ebron caught just one pass last week, but is an excellent bounce-back candidate all he leads all tight ends with 12 touchdowns receptions this season. He also faces the Giants in what I'm thinking will be an offensive outburst for Andrew Luck and the Colts.
Last but absolutely not least, Elliott has been the perfect mix of consistent and extremely productive this season scoring 12 or more FanDuel points in all but one game as he's currently averaging 20 points per game. This play is a little risky given the Prescott/Cooper stack, but these three have shown the ability to be fantasy relevant in the same game, and I like this matchup way too much to leave Elliott on the bench this week as the Buccaneers rank 27th against both the run and pass this season.
Sample FanDuel Lineup:
QB: Dak Prescott, $7,300
RB: Tarik Cohen, $6,000
RB: Dalvin Cook, $7,100
WR: Amari Cooper, $7,000
WR: T.Y. Hilton, $7,700
WR: Chris Hogan, $5,300
TE: Eric Ebron, $6,100
FLEX: Zeke Elliott, $8,800
D/ST: Dallas Cowboys, $7,300
Ryan's Stack:
Mitchell Trubisky ($7,900 FanDuel; $6,300 DraftKings) / Allen Robinson ($6,500 FanDuel; $5,400 DraftKings)
Looking at this stack, you are probably questioning what I am doing. Why not go after Ben Roethlisberger / Antonio Brown, Big Ben / JuJu Smith-Schuster or my usual Drew Brees / Michael Thomas?
Well, the reason is becasuse if you have been playing DFS this season, you'd know that the best way to build an optimal lineup is to go cheap at quarterback and build around him.
This week Mitchell Trubisky gets a 49ers' defense that just held Russell Wilson to 19 points last week and 14.4 points the week before to Case Keenum.
However, I don't believe you should fear this 49ers' defense as those two games are a very small sample size. They've been a bottom-five pass defense for most of the year.
They have a stout front line, but that secondary tends to be leaky. This game could be a back and forth type of battle making Trubisky have to throw the ball more than what he may be comfortable with.
He hasn't attempted more than 31 passes since Week 7 when he threw the ball 50 times. I'm not saying he will throw it 50 times, but the 49ers will do everything they can to stay in this game as Kyle Shanahan is 7-1 in the month of December.
Being that he is the sixth-most expensive quarterback on the slate, and knowing what the 49ers can do with Shanahan, makes me feel like Matt Nagy will have something up his sleeve as he will do everything he can to get the Bears that coveted first-round bye. Trubisky is definitely worth the $6,300 here.
I would really like to do this stack with the obvious choice of Tarik Cohen, but in all honesty, that's probably how a lot of others will be building their lineups.
Not me, as I am swinging for the fences and putting my trust in Allen Robinson. He has been held scoreless in five consecutive games and has topped more than 85 receiving yards just once all season.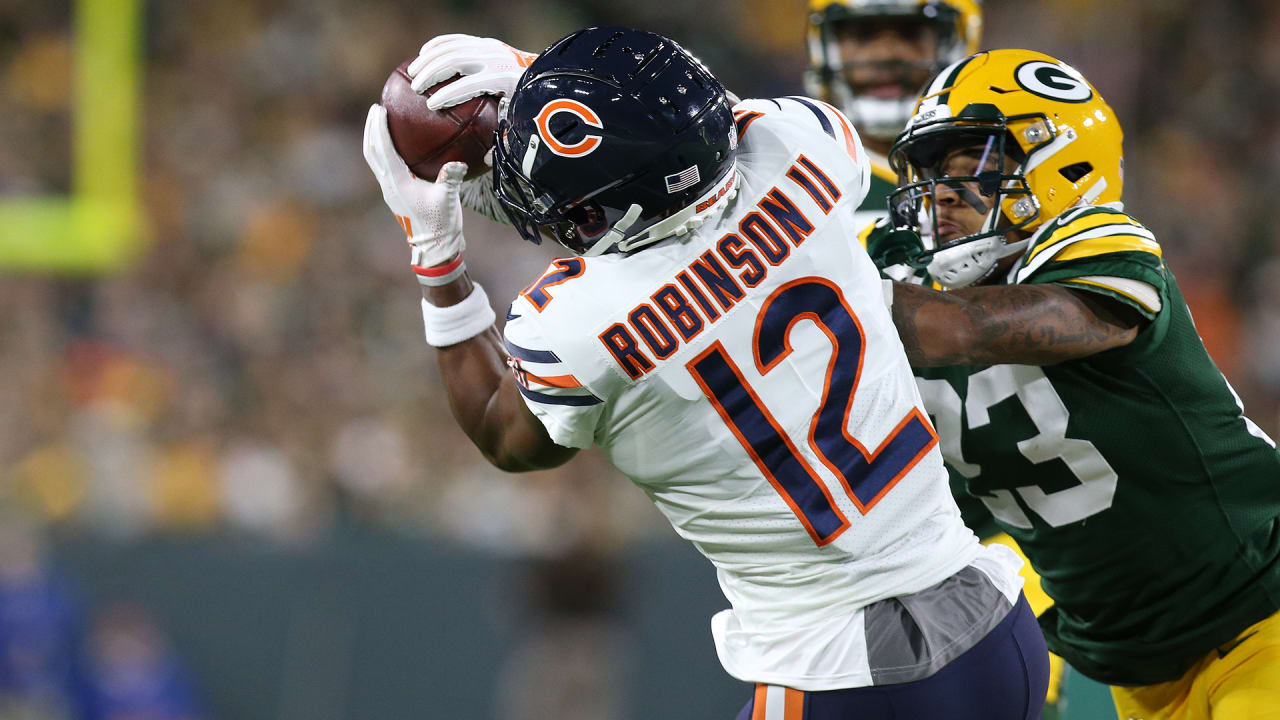 Many will turn away from this as I am probably going to be one of the few willing to take the risk; but if you're afraid to take the risk, my question to you is why?
Over the last two weeks with Trubisky back at quarterback, Robinson has been targeted seven times last week and eight times in Week 14. Last week he caught three of those seven targets for 54 yards.
Watching the tape, if Trubisky would have fine-tuned those throws to Robinson, there is no doubt in my mind that he would have hauled in all of his targets, causing that stat line and cost to go up.
Based on last week's outing against divisional rival Green Bay, I expect Trubisky to continue to build on his performance and get Robinson back in the endzone, ending his scoreless streak this week.
This will be a multi-touchdown week for Trubisky to go along with Robinson going over 100 yards and getting into the endzone at least once.
Building a stack with Trubisky/Robinson gives you the opportunity to build one hell of a running back core as you can afford two of the top-four running backs.
I went with Ezekiel Elliott as he is getting the ball 20+ times almost every week as he's becoming more involved in the pass game this season. DraftKings gives you a point for every reception, and with the targets and catches he's getting, he's an easy play.
Last week, I lost with Saquon Barkley in my lineup, but I am not giving up on him. DraftKings dropped him from last week's cost of $9,400 down to $7,900 this week? Hell yeah he's going right back into my lineup as my second bell-cow running back.
Eric Ebron is a touchdown machine as he has 13 (remember he ran one in earlier this season) now for the season and has been catching at least one every other week. He didn't get one last week, so chalk him up for at least one this week.
Sample DraftKings Lineup:
QB: Mitchell Trubisky, $6,300
RB: Saquon Barkley, $7,900
RB: Ezekiel Elliott, $9,000
WR: Allen Robinson, $5,400
WR: Robby Anderson, $4,500
WR: Antonio Callaway, $3,900
TE: Eric Ebron, $5,700
FLEX: Elijah McGuire, $4,700
D/ST: Dallas Cowboys, $2,600
Be sure to check out this week's episodes of the Loaded Box Podcast as the guys preview the upcoming fantasy football week with their daily fantasy sports stacks, bargains and advice to go along with their weekly against the spread gambling advice!