Written by Mikey Ostrowski
Season-Long record: 116-76 (60%) on Start Ems, 124-68 (65%) on Sit Ems (Excluding Week 1 and Week 11 due to no article)
Quarterbacks:
Start of the Week: Philip Rivers (LAC)
He let us all down last week with less than 14 points but should bounce back in a big way against the Chiefs. We already know that this game is going to be incredibly high scoring; and given that Melvin Gordon will most likely be out again, Rivers should be forced to carry this team on his back.
Start: Tom Brady (NE)
Brady is going to be in a shootout with Big Ben (Roethlisberger) and this entire game should be one giant fantasy gold mine. I know Brady has burned us at times this year, but this game will not be one of them.
Start: Russell Wilson (SEA)
The 49ers suck and Wilson is going to have his way with them. He's been balling out this season and I don't expect that to stop in the fantasy playoffs. You probably didn't need me to tell you to start him, but here you go, here's your sign.
Start: Lamar Jackson (BAL)
Now "officially" starting for the Ravens, Jackson has a cakewalk matchup against the Buccaneers this Sunday, and if he hasn't shown us already that he's worth a fantasy start… well then, our expectations are simply way too high. If I were still in my fantasy playoffs, you bet your ass I'd be starting him… but I am a loser, a big ol loser… but hey, maybe I can help you win huh?
Sit of the Week: Matthew Stafford (DET)
I hate Stafford. I hate him and his stupid face. I hate him for not getting the ball to Kenny Golladay last week. I hate him for all of the pain and suffering that he has caused. He is the worst and will continue to perform as such. I don't know of a single person that would use him this week… but I wanted to use this space to tell you all how much I hate him.
Sit: Mitchell Trubisky (CHI)
Ugh. Mitch, buddy, where'd you go? He was awesome for so long this season but has finally fallen back down to earth. I don't think he can be trusted as your QB1 for the semi-finals of the fantasy playoffs, so if you have another option, please, take it.
Sit: Marcus Mariota (TEN)
He didn't have to be good last week to get a win, but I have a feeling he wouldn't have been good anyway. I also think he won't do so well this week against the Giants, a team that has been surprisingly pretty good looking over the past few weeks. I'm expecting another dud game from Mariota so he should be riding the pine.
Sit: Nick Mullens (SF)
I know that he has had a handful of games with 20+ points but c'mon, you weren't really considering this were you? I actually had someone texting me asking if Mullens should be their QB this week and it almost made me throw up. He's against the Seahawks and should not even be on your fantasy radar in Week 15.
Running Backs:
Start of the Week: Joe Mixon (CIN)
This isn't cheating. I know he's a top back, but considering many people benched him last week (idiots), I feel that its appropriate to put him on as the start of the week. He's coming off of a fantastic game and gets to have a shot a repeat performance against the terribly awful Oakland Raiders. Mixon's gotta be licking his chops with this matchup coming up.
Start: Justin Jackson (LAC)
Melvin Gordon? Out. Austin Ekeler? Out. Jackson is a must-start based off of pure volume… not to mention he's actually got some decent talent. If he's the only running back going for the Chargers, you're starting the hell out of him as a top-15 running back play.
Start: Tarik Cohen (CHI)
Cohen gets used in a million different ways and should continue to be the focal point as the Bears take on the Packers this weekend. He's another one of those guys where I already know you're not benching him, but you just NEED to know that he HAS to be in those lineups.
Start: Gus Edwards (BAL)
The Gus Bus gets to run over some pirates this weekend, as the Ravens will be taking on the Buccaneers. I'd expect him to have one of those 100-yard games that he's been having and even flirt with a chance to find the endzone. Don't let Kenneth Dixon scare you, Gus has shown too much explosiveness to be forgotten about.
Sit of the Week: Derrick Henry (TEN)
Dude. Relax. We all saw the game. Yes, it was incredible. Yes, it was crazy. Yes, it was… highly unlikely to ever happen in this man's career ever again. He did nothing up until this point in the season, and even though he may receive a few extra carries going forward, he will go back to his "do-nothing" self. He's is purely a touchdown-dependent play.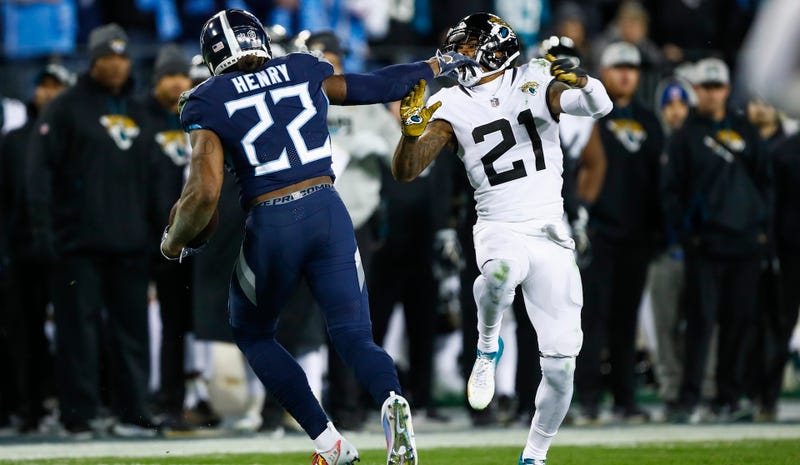 Sit: Marlon Mack (IND)
This will be the last time I consider Mack as a sit because he may have finally trended as a weekly touchdown-dependent type of guy. I'm not starting him, and honestly, if you have him in a dynasty league, deal him the second offseason trades open up in your league. Going forward… I would literally compare him to Derrick Henry. An extremely talented guy that will pop off every now and then, but largely be pretty useless during the season.
Sit: Josh Adams (PHI)
This one's going to be a shootout, and Adams won't really be needed. Not to mention there's three other runners that get reps at the position. He is not a truly startable player for you this week.
Sit: Adrian Peterson (WAS)
He's disappointed one too many times over the last month. Given that the Redskins are on their fourth quarterback in the last three weeks, this offense is in trouble, and Peterson has taken a huge hit. Hit the showers buddy, we'll see you next year.
Get signed up for our latest giveaway – a signed Davante Adams mini helmet – sponsored by Pristine Auction!
Wide Receivers:
Start of the Week: Robert Woods (LAR)
The Eagles are decimated defensively and that's exactly what Woods is going to do… decimate them. I'm genuinely considering him as a top-5 WR play for Week 15 and is an absolute must-start no matter how strong your team is.
Start: T.Y. Hilton (IND)
Hilton and Andrew Luck have shown amazing chemistry this year and will have to emit more of that chemistry if they want to have a chance at beating Dallas this weekend. The Cowboys have looked excellent, but Hilton and Luck are on a different wavelength. I'm not letting anything shy me away from T.Y. in the semi-finals.
Start: Tyler Lockett (SEA)
Doug Baldwin is hurt and Lockett is the #1 guy in Seattle… he's going to feast against the 49ers. Did you know that Lockett is the 19th ranked WR in PPR leagues this year? Yeah, surprising. Keep that solid WR2 going in this one and reap the rewards.
Start: D.J. Moore (CAR)
Moore has been mega consistent… and by that, I mean he's had double-digit fantasy points in each of his last four games, including one where he went for over 28 points. He faces a potential blow up spot, as the Panthers get the Saints in Monday Night Football in Week 15. Aside from Michael Thomas, he is my absolute favorite receiver in this matchup.
Sit of the Week: Kenny Golladay (DET)
Last week, I didn't follow my own advice, played Golladay, and it ultimately cost me my fantasy season. I loathe this man right now, but not nearly as much as I loathe Matthew Stafford wasting his potential. Anyway, Buffalo is a tough matchup and I wouldn't expect a bounce-back game here. Glue him to the bench for Week 15.
Sit: Sterling Shepard (NYG)
Even with Odell Beckham out last week, Shepard was practically non-existent. He is officially the low man on the totem pole and cannot be started in any format of fantasy football.
Sit: Josh Reynolds (LAR)
When Jared Goff doesn't ball out, neither does Reynolds. However, I think Goff balls out this week and Reynolds remains ineffective. He's really only been relevant a couple of times this season, so it's safe to say that he can't be trusted in the fantasy playoffs.
Sit: DeDe Westbrook (JAX)
He's coming off of a great game but has to face Washington, a team that is absolutely relying on their defense to do everything for them. I don't think he builds off of the strong performance, and I don't think you can seriously consider sliding him into fantasy lineups this week.
Tight Ends:
Start of the Week: Jared Cook (OAK)
You know the drill. He's the only tight end outside of the top five that is just as consistent as them, so I don't feel like I am cheating by putting him on this list.
Start: C.J. Uzomah (CIN)
Uzomah should be targeted heavily in this one and should be the Bengals offensive MVP behind Joe Mixon in Week 15… not to mention, you probably don't have any better options, do you?
Start: Ian Thomas (CAR)
He had over 16 PPR points last week and that trend should continue… okay, well maybe not 16, but double digits are definitely within reach again. This kid is the future at tight end in Carolina so I'd expect them to keep looking his way.
Start: Vance McDonald (PIT)
This games going to be a shootout so why not take a chance on a guy that's got touchdown potential? I'd consider him a back-end TE1 this week.
Sit of the Week: Trey Burton (CHI)
He's never been that good of a football player, and with the Bears' offense slumping, I'm not taking any chances on Burton… especially after putting up a 0 point and a 2-point game over the last month. Yuck.
Sit: David Njoku (CLE)
He's either going to make you love him or break your heart… he's not worth the risk with your season on the line.
Sit: Austin Hooper (ATL)
He's playing injured against an Arizona defense this week that has been rather good against tight ends, which is very scary. I'm not playing him as anything more than a touchdown-dependent flier play.
Sit: Kyle Rudolph (MIN)
This whole offense has been discombobulated for weeks now, and given that he's usually the lowest targeted guy on the team each week, I'd definitely consider him a sit.
Be sure to check out the latest episode of the Loaded Box Podcast as the guys get you set for the second round of the fantasy football playoffs and provide their weekly bargains, stacks and advice for those daily fantasy lineups!
 Mikey Ostrowski is a blogger for the Loaded Box Podcast.  Check out his article archive and find more from the Loaded Box on Twitter & Facebook