Written by Mikey Ostrowski
Season-Long record: 80-48 (63%) on Start Ems, 80-48 (63%) on Sit Ems
Teams on week 10 BYE: Ravens, Broncos, Texans, Vikings
Quarterbacks:
Start of the Week: Cam Newton (CAR)
Having his second "Start of the Week" honor in a row, Cam should look to continue great success as he faces off against the swiss cheese-like Steelers' defense on Thursday night. This game should be a tight one, in which Newton will have to be on his A game to lead Carolina to another win. It won't come easy, but I think Cam is going to go out there and get some big stats.
Start: Carson Wentz (PHI)
Wentz gets Dallas this week, a team who made Marcus Mariota actually look like a viable fantasy option last week. With Dallas being so bad, and Wentz being a better-than-average quarterback, I'd say he's poised to have a big one here. Most people wouldn't bench him anyway, but here's some reinforcement: start him!
Start: Philip Rivers (LAC)
The Chargers will do battle with the Raiders, a team who has absolutely fallen apart and may be worse than the Cleveland Browns were when they went 0-16. I'd expect everyone for the Chargers to have a big day, as Rivers should be have an easy time slinging his way to a team win.
Start: Andy Dalton (CIN)
Dalton faces off against the Saints' defense, which is another team that has not been "all there" defensively. We all know how good the Saints are, so it'd be pretty obvious to say that the Bengals will be playing catch up in this one. Dalton will be without his favorite target, A.J. Green, but still has plenty of options to get the ball to. I'm upgrading every player, besides Joe Mixon, this week that is active and on the Bengals offense.
Sit of the Week: Matthew Stafford (DET)
This is his third "Sit of the Week" (dis)honor in a row and it honestly shouldn't come as a surprise to anyone. He has been flat lately… and by that, I mean flat on his back. His offensive line cannot protect him and he simply does not have the time to make a play. The Lions take on DA BEARS this week and I'm keeping far away from Stafford. He's going to be pressured, which means he's a near guarantee for a couple of picks, and I really think the negatives will outweigh the positives on this one. Will be VERY surprised if he can put together more than 17 fantasy points.
Sit: Tom Brady (NE)
Did you know that Brady has accumulated less than 30 points over his last two starts? Yeah… not good. He also has a matchup against Tennessee this week, a team whose defense has been coming up huge this year, and needs to be downgraded as a result. I'm not saying he's a "must-sit" … but I am saying that you can definitely do better. Owner be warned.
Sit: Nick Mullens (SF)
Yes, he balled out last week. Yes, he look fantastic… but that was against the Raiders. This week Mr. Mullens gets the Giants, a middle-of-the-line defense with an above-average secondary. Some people are excited after his big game last week, but this is just your reminder to slow your roll. If you picked him up from waivers, good for you! However, keep him on your bench this week… please.
Sit: Marcus Mariota (TEN)
Much like Nick Mullens, Mariota finds himself as a sit on my list as a reminder: don't start him! Sure, he's got a favorable matchup against the Patriots, but we're going to need more than one good fantasy week out of him before we can trust him again. He's only been fantasy relevant in two of his games this year and I'm not expecting a third one to come this week.
Running Backs:
Start of the Week: David Johnson (ARI)
David Johnson, my #1 ranked running back coming into the season (Yeah, we all make mistakes), has been a gigantic disappointment. It's not his fault though… and I think we all know that. This week the Cardinals get Kansas City, and I know you may be thinking "Why is this guy a start? The Cardinals are going to be playing catch-up all game" and you're exactly right. I can't imagine Johnson getting many rushing opportunities, but he is a fierce competitor in the air game and should be leaned on heavily in this one. I genuinely think we could see a monster game from him this week, as he's going to have to carry the team on his back if they don't want to get completely embarrassed by the Chiefs. Now's your time fantasy fans, your first-round pick is finally going to show up for you.
Start: Duke Johnson Jr. (CLE)
Ha! Called it! Listed as a start last week, as well as my DFS bargain suggestion of the week, Duke Johnson went OFF in Week 9 and I was pumped. This week, Cleveland does battle against the Falcons, a team that has been wreaked with injury. Johnson may have finally re-found his place in this offense and I'm expecting big numbers from him for the remainder of the season.
Start: Marlon Mack (IND)
On paper, Mack's matchup against the Jaguars seems scary. However, when you look into the numbers, they have allowed at least 14 fantasy points to an opposing running back in each of their last four starts. This defense hasn't been what they were last season, so I'm setting Mack's floor to be around 14 points… and as you know, the sky is this guy's ceiling. Just a reminder, before the BYE week, Mack put up 32 and then 29 PPR points in back-to-back weeks… you're not benching him no matter who the opponent is and you know it.
Start: Tevin Coleman (ATL)
Coleman is pretty damn good and I have often said he should've been Atlanta's "starter" over Devonta Freeman. Well, I think he's proving me right. He has looked fantastic in Freeman's absence and you gotta keep rolling with him. I can't imagine many of you have the luxury of sitting him anyway, but if you do have that luxury… don't use it this week. Fire him up against the Browns.
Sit of the Week: Chris Carson (SEA)
Carson was a large disappointment last week and should disappoint again as the Seahawks take on the Rams. This literally screams "The Seahawks will be forced to throw the ball literally all game". You know what to do, fantasy owners.
Sit: Kenyan Drake (MIA)
Drake looked like he was turning into the fantasy player than we all thought (well, I stayed away from him personally) we were getting when we took him as an RB2. But, he disappointed in Week 9 with less than six points, and should continue that trend as Miami plays against Green Bay.
Sit: Mark Ingram (NO)
I didn't like the idea of people drafting Ingram just to wait to use him. I had a feeling that this was officially Alvin Kamara's backfield, and I think I was right. Ingram made a splash in his first game back but has been the exact opposite of fantasy relevant the past couple weeks. I'm keeping him on the bench this week.
Sit: Ito Smith (ATL)
I'm going to say it one final time: He's so touchdown dependent that it hurts. He wouldn't have a single double-digit fantasy game if he didn't find the endzone. The numbers are not enough to be fantasy relevant, and I personally hate relying on a player to find the endzone in order to contribute to my team. You can keep him benched against the Browns this week.
Wide Receivers:
Start of the Week: Tyler Boyd (CIN)
Two weeks ago, Boyd was the start of the week and completely went off. Now, he finds himself with the honor again, as the Bengals do battle with the Saints in a game that they should be playing from behind. Boyd should be the focal point of the offense on Sunday and I expect nothing less than solid WR1 numbers from him.
Start: Jarvis Landry (CLE)
Like I said, the Browns have a Sunday showdown with the Falcons, who's defense is booty. Landry should see tons of targets this week and could be in line for a good fantasy game for a change. I know he's been a bit slow, but be patient with him… and start him in Week 10!
Start: Kenny Golladay (DET)
I know I have Matthew Stafford listed as a Sit 'Em, but that doesn't mean that Kenny G won't have a good game. He disappointed last week, with less than nine fantasy points, but we know his potential. We also know that the Bears' secondary hasn't been very good this year, and the few passes that Stafford should be able to get in Golladay's direction should be largely successful. If he doesn't produce this week, we may have all been wrong about him, but I like his chances in Week 10.
Start: Marquez Valdes-Scantling (GB)
The Packers have found their new WR2, and it's this guy right here! He has either caught a touchdown or has gone for 100 yards in his last few games and I'm liking his chances on keeping that trend alive. I'm thinking he is a legit upside WR3 this week and is trending in the right direction for the rest of the season. 
Sit of the Week: Marquise Goodwin (SF)
The Giants' secondary is good… well, above-average I guess, which means Goodwin could be in for a tough time. Not to mention that he is absolutely not Nick Mullen's favorite target. I know Goodwin has shown flashes this season, but he cannot and should not be trusted for your lineup in Week 10.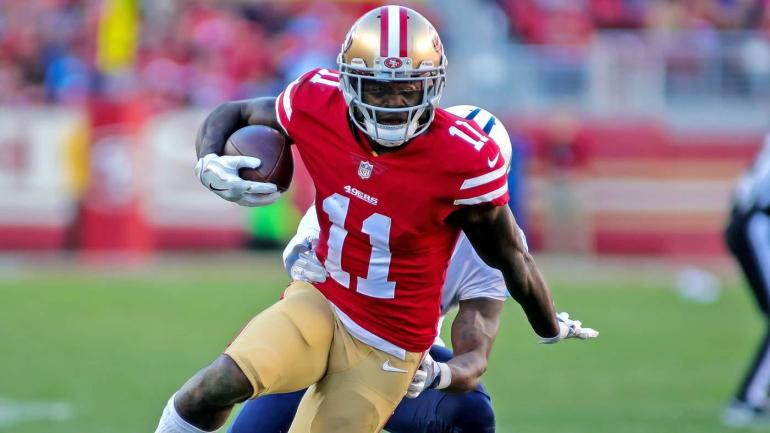 Sit: Doug Baldwin (SEA)
Baldwin's got a tough matchup against the Rams, he has not been producing like the "elite" receiver he used to be, and he clearly isn't the Seahawks #1 option in the passing game anymore. He's trending down big time this season and should be on those benches.
Sit: Amari Cooper (DAL)
Cooper had a great debut for Dallas but may find tough sledding against Philly. The Eagles' secondary has been decent this season but should prioritize shutting down Cooper. Not only that, but the Eagles will have a clear edge in this hardcore rivalry game, and I'm honestly favoring them on all sides of the ball. If you have options, keep Coop off your starting roster.
Sit: Sterling Shepard (NYG)
I really do like Sterling Shepard, but I really hate his situation. He's the fourth option on a team that is led by Eli Manning… and that should be all you have to know there. With Evan Engram, Odell Beckham Jr., and Saquon Barkley all ahead of him, Shepard should trend down for the remainder of the season.
Tight Ends:
Start of the Week: Greg Olsen (CAR)
The Steelers have been bombed by tight ends this season and Olsen has looked great in his return to the Panthers' lineup. Put two and two together… this one's obvious.
Start: David Njoku (CLE)
A weekly member of the article, Njoku finds himself on the start side this week, as Cleveland will do battle with the Falcons, a team who has almost nothing going on for them defensively. I know I sound like a broken record when referring to them, but it's the truth. Unless you have a guy like Travis Kelce or Zach Ertz, you probably don't have the luxury of sitting Njoku anyway. So, start him.
Start: O.J. Howard (TB)
He's a top-five tight end, but since he doesn't have an elite name just yet, I can still get away with putting him on here. Is that cheating? Maybe. But let's face it, tight ends suck this season so just let me get away with it.
Start: Evan Engram (NYG)
Engram has not been big on yards this season but can be counted on for a touchdown at any given time. Most tight ends are touchdown dependent this season, so why not pick the one that actually has a decent chance of scoring one.
Sit of the Week: Eric Ebron (IND)
Jack Doyle is back, which makes Ebron touchdown dependent. He's not the tight end he was a few weeks ago, so if you can afford to, you gotta bench him.
Sit: Jordan Reed (WAS)
Reed is trending down this season because of Alex Smith. For some reason, Smith doesn't appear to like throwing to Reed unless Reed is right in front of him. Reed has had a good amount of catches, but never actually gets anywhere with them. Try to find something better.
Sit: Austin Hooper (ATL)
Hooper is a good tight end and I honestly couldn't tell you my though process on why I have him as a Sit. Maybe I was drunk when I wrote this list (I always write the players the night before I type the article), but I'm going to stick to my gut and say that he'll bust this week.
Sit: Chris Herndon (NYJ)
C'mon man, you can do better.
Be sure to check out the latest episode of the Loaded Box Podcast as the guys preview Week 10 in the NFL with their daily fantasy sports bargain, stacks and advice to go along with listener fantasy football trade scenarios!
Mikey Ostrowski is a blogger for the Loaded Box Podcast.  Check out his article archive and find more from the Loaded Box on Twitter & Facebook