Written by Mikey Ostrowski
Each year there are a handful of players that seemingly lose (or gain) a ton of fantasy value based off of the real-life picks that their NFL team makes on draft day. Last year, I anxiously watched day two of the NFL draft, dreading my Devin Singletary shares because I had a gut feeling that they'd be buying another running back. Of course, they grabbed Zack Moss and I knew that my dream of Singletary getting a shot at being a workhorse back was all but gone.
So who are the players that we should be watching out for this year? To be honest, there's quite a handful of them:
Myles Gaskin, MIA
Gaskin was phenomenal in 2020 and was actually a top-five running back on the season in terms of consistency. Every time he was out there, he was racking up some solid points for fantasy managers that were lucky enough to snag him off of waivers. At this moment of time, he could be the ultimate buy-low option, but there is an insane level of risk with buying Gaskin right now. Miami is a favorite to grab a running back in the first or second round, which would obviously kill about 80% of Gaskin's fantasy appeal. If Miami somehow keeps the faith in him, he'll enter 2021 as one of the league's most unlikely workhorses with one hell of a work load. It's unlikely that they escape the draft without Najee Harris, Travis Etienne or Javonte Williams, but if they do, Gaskin will be firmly on the radar as a top-15 fantasy back.
That Steelers running back that you're way too hype about
Speaking of teams that are likely to grab an early-round running back, the Steelers would probably shock the world if they left the first two rounds without their next workhorse back. They let go of James Conner and now have a running back room filled with toys from the Island of Misfits. They hadn't had any luck in free agency, which leads me to believe that they very well could be the first team to grab a running back on draft day. There's not much of a market out there for current Pittsburgh running backs, but if you have the opportunity to sell yours away, I'd do it immediately.
Darnell Mooney, CHI
The Bears could be in the running for a first- or second-round wide receiver, which could complicate things a bit for Mooney moving forward. Mooney has had a decent level of hype since the end of the 2020 season and many are anticipating him as the WR2 on the depth chart behind Allen Robinson. However, if Chicago grabs a receiver by early day two, I can almost assure you that they'll immediately leapfrog Mooney on the depth chart. There's nothing wrong with rooting for Mooney, but just know that he could lose some serious fantasy appeal if Chicago decides to go receiver early.
Chase Edmonds, ARI
Conner signing in Arizona may have been the best possible thing for Edmonds, but I wouldn't say that we're quite out of the woods yet. While this move pretty much prevents Arizona from reaching on Harris or Etienne on day one, I'd say that there's still a half-decent chance they grab a running back by round four or five. I wouldn't be too worried for 2021, but grabbing a young, upside running back midway through the draft could spell trouble for Edmonds' long-term value. We'd all like to see him turn into a workhorse, but it seems like Arizona is most comfortable with treating him as a third-down back with the occasional touch on first and second down. The good news is that Edmonds was a bottom-tier RB2 in 2020, even with Kenyan Drake around, so I've gotta believe that his floor will be firmly planted in the top 24 no matter what.
Donovan Peoples-Jones, CLE
DPJ stepped up nicely at the end of 2020 and could be in line for an even larger workload if Cleveland stays away from receivers in this year's draft. There's also rumors circulating that Odell Beckham Jr. could be on the move on draft day. There's a lot to unpack here, but DPJ is an exciting buy-low option ahead of the draft and is a guy that I'm looking to acquire before his fantasy stock starts moving up in May.
Zack Moss, Devin Singletary, BUF
It's kind of ironic that I'll be watching the Bills' running back situation for the third year in a row, but I definitely think there is a ton to pay attention to here. While I don't see them going out of their way to acquire one of the "big three" running backs of the 2021 class, they could go for one if they fall far enough. If no running backs are taken in round one, I could definitely see the Bills using pick #30 as a luxury pick to grab their top-rated runner. Moss and Singletary were insanely disappointing in 2021 and you could argue that the run game was the only weakness that Buffalo had shown. I think it is unlikely that they end up with a top runner from this class, but I definitely would not mark these guys as safe until day three of the draft.
Tevin Coleman, NYJ
There are some that are pumped that Coleman came to the Jets, but something tells me that those people don't realize how many picks the Jets have this year. It's incredibly likely that they spend an early pick on a top running back, which would render Coleman and the rest of their running backs as change-of-pace type players. Spending early-round capital on a halfback would likely lead to that player becoming as close to a workhorse as they're going to have in New York (or should I say, New Jersey).
Parris Campbell, IND
I'm a big Campbell fan and have him on a few of my rosters, but I'm definitely nervous that the Colts will spend significant capital on a receiver. Campbell is already the third receiver on the depth chart and could be pushed down to the fourth guy if the Colts target a receiver with their first or second pick. Only time will tell, but Campbell's fantasy stock is either going to gain a boost by the end of day two, or fall even more than it already has.
Tee Higgins, CIN
This all comes down to pick #5 overall. If the Bengals grab Joe Burrow some protection in Penei Sewell or Rashawn Slater, we can chalk it up as a boost to the entire offense's fantasy stock. However, if they grab Ja'Marr Chase, it's going to be a fantasy nightmare. Suddenly, this offense would be split between Higgins, Chase and Tyler Boyd. Not only that, but if the line doesn't add an elite prospect, we can expect more of the same with Burrow running for his life on every play. I would say that an offensive lineman would be a great boost for Higgins on that offense, while Chase would be a complete double whammy. Fingers crossed that the Bengals do the right thing… but they're the Bengals so I guess we'll just have to wait and see.
Dan Arnold, CAR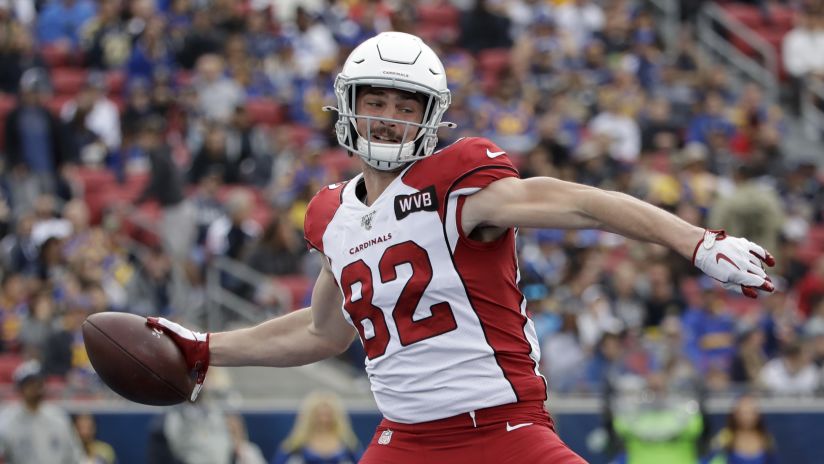 There's not much hype around Arnold, but I'm pretty high on him so I had to include him in here. I've planted my flag that Arnold will be this year's "outta nowhere" breakout tight end and think that he'll have great fantasy value as long as the Panthers escape the draft without Kyle Pitts, Brevin Jordan or Pat Freiermuth. It's definitely one of the more "low-key" situations but is definitely a situation worth monitoring.
James Robinson, JAX
This is a big one. Will the Jaguars have faith in their running back from 2020 or will they look to grab someone else? I could see them waiting a bit on running back and grabbing one of the better pass catchers of the class, which would be both good and bad for Robinson's stock. Unless they spend a top-30 pick on a runner, I think we can assume that Robinson will retain a two-down role at the very least with Jacksonville. However, I do think they grab a guy like Michael Carter or Kenny Gainwell to be used on third downs moving forward. Robinson is a fantastic buy-low player, but the draft is going to be one hell of a nail biter for his fantasy stock. Buy (or sell) at your own risk.
Ronald Jones, TB
RoJo has been on these sorts of lists since the second he was drafted as a rookie. We're stuck in a constant battle of "will he/won't he" with him and this year is no different. While I find it unlikely that the Bucs buy into another running back, it's a yearly tradition that I just had to mention. They've already added Gio Bernard and brought back Leonard Fournette, what else could they possibly do? For the record, this is a backfield I'm ignoring completely, especially since there's at least a small possibility that they draft another back in the draft.
Matt Ryan, ATL
There are a handful of quarterbacks that will be losing their jobs because of incoming rookies, but Ryan is a true wild card. Will the Falcons draft his replacement at #4? Will they grab him another weapon? Will they grab him some protection? This could be anyone's guess. Ryan is a buy-low option right now that comes with some of the most risk that you could possibly find. If I were a betting man (and I am), I'd put money on the Falcons drafting Trey Lance or Justin Fields. Ryan is a guy I've been trying to trade away from my fantasy teams while the opportunity is still there.
Like I said, there are a ton of names that we'll have to watch out for during the NFL Draft at the end of April. The names on this list could lose all fantasy value at the drop of a hat but could also see a nice little increase if everything goes their way. Either way, I'm excited to see how it all shakes up!
Be sure to check out our brand new YouTube Channel and take a look at our most recent videos. We've recently discussed some "This or That" from a dynasty perspective on some of the top names coming into the league in 2021
Mikey Ostrowski is a blogger for the Loaded Box Podcast. Check out his article archive and find more from the Loaded Box on Twitter & Facebook