Written by Mikey Ostrowski
Season-Long record: 30-34 (47%) on Start Ems, 43-21 (67%) on Sit Ems
*All season long, I will be keeping track of all of the starts/sits I get correct. I like to keep myself honest here…*
Finally! I finally had a week last week where I got double-digit correct calls in each category. After going (10-6) on starts and (11-5) on sits (and not losing any of the listed guys to injury for the first time all season), I'm feeling totally rejuvenated!
Although I wasn't able to help myself win the big games last week, hopefully I was able to give you a helping hand with securing a W. Once again, we saw some big injuries in this past week, with the most notable ones being Austin Ekeler and Nick Chubb. Well, the show must go on, so let's see if we can stay in the win column in week five.
Week 5 BYEs: Detroit Lions, Green Bay Packers
Quarterbacks:
Start of the Week: Deshaun Watson (HOU) vs JAX
Watson and the Texans are finally free from Bill O'Brien and that should make everybody excited. I think this team will see an immediate improvement now that their coach has hit the road, and it'll come in a very plus matchup with the burnable Jaguars. Watson should be fired up in this one and will do anything he can to grab the team's first W of the season. Watson should be a great option this week despite being shaky thus far.
Start: Ryan Tannehill (TEN) vs BUF
The Titans are coming off a week of rest which means we should see some extra pep in their step. This will be especially good for Tannehill, as he should be very busy trying to keep up with the Buffalo Bills in week five. Not only that, but his growing connection with Jonnu Smith should continue to thrive in this one. He's also potentially getting his favorite target, AJ Brown, back from injury as well. I like Tannehill as a sneaky top-10 option for week five.
Start: Justin Herbert (LAC) vs NO
The Saints' defense hasn't really been able to stop anyone, which is why I'll gladly be firing up Herbert this week. Losing Austin Ekeler to injury is far from ideal, nonetheless, this has the potential for a shootout, which means Herbert will be leaned on very heavily against a less-than-average defense. With Aaron Rodgers and Matthew Stafford on BYEs this week, you could do a lot worse than Herbert.
Start: Teddy Bridgewater (CAR) vs ATL
Speaking of those BYE week QB's, Bridgewater should be heavily considered if you need a plug-and-play this week. Atlanta is quite possibly the easiest matchup a quarterback could ask for and I think Teddy is going to take full advantage of that. Look for him to get his receivers going early in this one in what should be a very high-scoring game.
Sit of the Week: Carson Wentz (PHI) vs PIT
Wentz is coming off of back-to-back great fantasy weeks but could get a serious reality check against one of the league's best defenses. I know some may not have the luxury of sitting him, but this is a situation I'd like to avoid if possible. (and if you're asking if it's the matchup situation or the unhealthy receiver situation in Philly – the answer is yes. Both.)
Sit: Tom Brady (TB) vs CHI
Mike Evans. Chris Godwin. Scotty Miller. Justin Watson. O.J. Howard. Leonard Fournette. LeSean McCoy. This is the list of receivers Brady will be potentially missing against the Bears Thursday night. The supporting cast could be severely lacking and given that none of these guys practiced Monday or Tuesday this week, I think it's fair to say Brady will be lucky to have even one of these guys on Thursday night. You cannot start him this week.
Sit: Joe Burrow (CIN) vs BAL
I love me some Joey Burrow but I have a sneaking suspicion that the Ravens won't be showing him the same kind of love. JB has been money so far but will be tested early and often in this brutal matchup. In a pinch, such as a QB on BYE, you might be able to get away with slotting him in, but I think Burrow's numbers will be relatively disappointing in week five.
Sit: Baker Mayfield (CLE) vs IND
He's thrown for over 200 yards once in four games. He also only had 165 yards and 2 touchdowns in a game that his team scored 49 points. Mayfield is no longer an option for fantasy and should be held in check even more than often against a stout Indy defense.
Running Backs: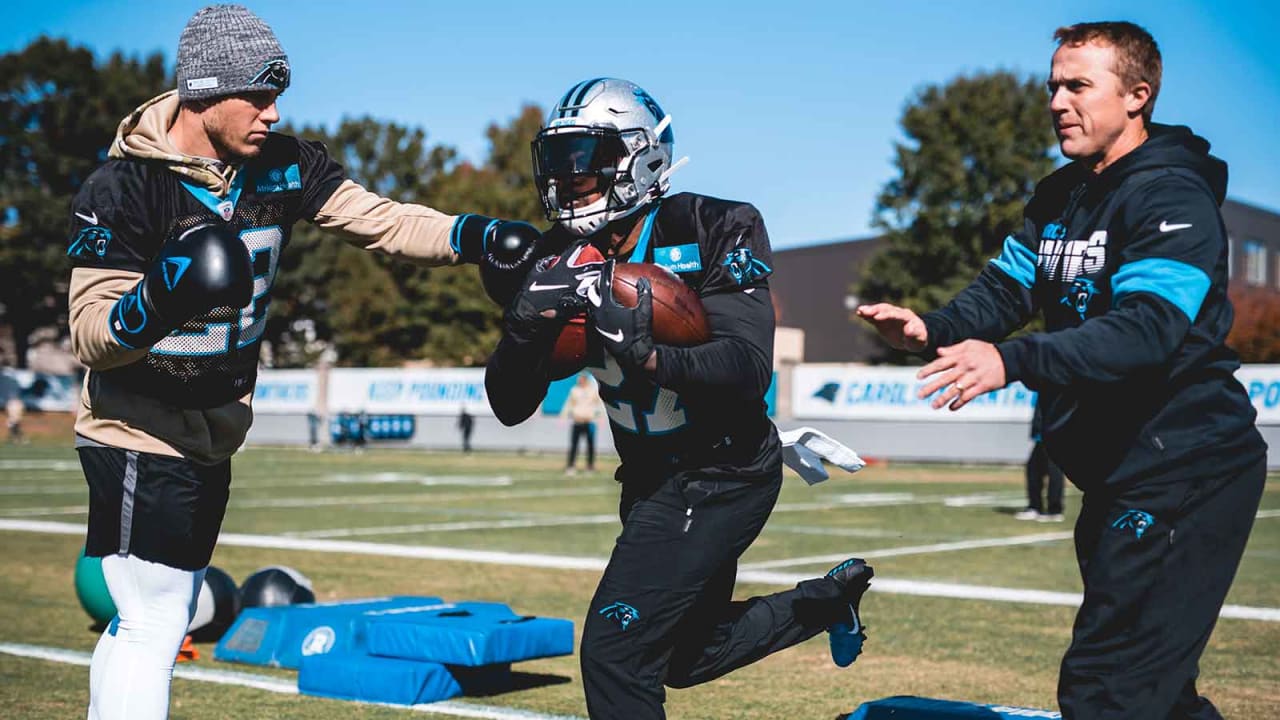 Start of the Week: Mike Davis (CAR) vs ATL
I'm a big fan of Carolina this week (and am a real-life fan… #KeepPounding) against Atlanta. I've already claimed Teddy as a start for the week and I'm going to take it one step further with Davis and name him THE RB start of the week. The Falcons have been gutted by practically every offensive position and Davis should eat in this one. I'd expect a third consecutive 20+ point week from him.
Start: Todd Gurley (ATL) vs CAR
If there's one thing I'm all too familiar with, it's Carolina's rough run defense. Admittedly, they have looked better over the last game or two, but Gurley should still be able to find the weaknesses and exploit them. He's coming off of his best fantasy game of the season and will look to continue that success in an easy matchup.
Start: James Robinson (JAX) vs HOU
Robinson has been the free agent MVP so far in fantasy and I'd expect his resume to get even longer after a game with the Houston Texans. Houston has done poor work against the running game in 2020 and has even let up a fair amount of receptions to those running backs as well. In a week where starting running backs are injured, and a couple of startable ones are on their BYE week, Robinson has sneaky top-10 upside.
Start: Ronald Jones (TB) vs CHI
With LeSean McCoy and Leonard Fournette both being out in week four, RoJo managed a fantastic game for fantasy managers, totaling 128 scrimmage yards with an added 6 receptions. McCoy is out for week five, and Forunette is officially a game-time decision. Even if Fournette is in, I gotta imagine he won't be at 100%. Combine that with this team's entire receiving corps being out with injury and you've got a game where they'll be relying on RoJo more than they ever have before.
Sit of the Week: Antonio Gibson (WAS) vs LAR
Gibson had his best game as a pro against the Ravens in week four, tagging 128 total yards and finding the end zone. However, I find it difficult to believe that he'll find the same success this week. The Rams are a slightly easier matchup than the Ravens were, but with the exception of a couple of breakout receptions, he didn't look particularly stellar. Plus, he's gotta worry about Aaron Donald coming after him in this one. He's tough to sit in the first week of BYEs but I think he should be relegated to the bench in most leagues.
Sit: Myles Gaskin (MIA) vs SF
Gaskin is a very safe-floor play, but that seems to be all he is. The 49ers are a more than capable opponent and Gaskin should find more of the same in this one. He's a volume-based flex play that I personally won't be starting this weekend.
Sit: Darrell Henderson (LAR) vs WAS
I've been saying it for a couple of weeks now: once Malcolm Brown is fully healthy, he's going to take the majority role back. That appeared to happen in week four as Henderson was limited to 8 rushing attempts and 1 target. To make matters worse, Cam Akers could be back in the mix this weekend. It's a situation to avoid even though Henderson had previously posted back-to-back 19+ point weeks. How disappointing.
Sit: Rex Burkhead (NE) vs DEN
After being an excessively popular waiver-wire add, Burkhead was essentially rendered useless in week four with the return of Damien Harris and James White. I don't wanna say that you can drop him… but you probably won't be using him going forward.
Wide Receivers:
Start of the Week: Robby Anderson (CAR) vs ATL
Anderson has been the undisputed WR1 in a Teddy B-led offense down here in Carolina. I'd look for that trend to continue with a potentially monstrous week against the Falcons. Believe it or not, Robby A is the WR9 currently in PPR leagues and another solid performance might be able to temporarily get him into the top five. This is the blowup spot of all blowup spots, so make some room for him in your lineup!
Start: DJ Moore (CAR) vs ATL
Moore… more like Moore Disappointing Than Ever… I'll see myself out after that one.
But seriously, Moore has been disappointing so far in 2020 but finally has a "get-right" game on tap. Very rarely will I slot two guys from the same team into the same positional "start em'"s for the week, but Carolina's receiver talent + that cakewalk matchup is too juicy to ignore. I know many are considering benching Moore, but I think we've got to ride with him one more week. And for those of you who might ask in the comment section: DJ Moore > CeeDee Lamb this week. Speaking of CeeDee…
Start: CeeDee Lamb (DAL) vs NYG
We're firing him up as a start too. The Giants are a bottom-tier matchup that should be easily exploited by one of the NFL's highest-scoring offenses. Lamb absolutely exploded in week four with over 25 PPR points and I think that is very much in the range of possibilities again. He's an incredibly solid WR2 option in this one.
Start: Darius Slayton (NYG) vs DAL
Speaking of that Dallas/New York matchup, let's give a nod to Slayton. Like DJ Moore, Slayton has been a massive disappointment with the exception of that week one performance. In all fairness, he's scored two of the Giants three touchdowns this season. I haven't checked the validity of that statement, but some dude on Twitter said it must be true. (it is actually true). Anyway, this offense has been abysmal, but the Cowboys are one of the league's most generous defenses and I think they'll get going. I'm expecting to see the real Darius Slayton stand up this week.
Sit of the Week: AJ Green (CIN) vs BAL
Ugh, is it time to give up on AJ Green? He's seen tons of targets but hasn't done anything with them. In fact, his 1 catch on 5 targets were his lowest of the season last week, despite the offense putting up 33 points, which shows that Burrow is losing confidence in him. Pair all of that with a shady matchup with the Ravens, and you've got a recipe for disaster. I'm all out on Green at this point.
Sit: Jarvis Landry (CLE) vs IND
Landry is another receiver that has disappointed this year, though I don't think it's any fault of his own. He was still battling injury at the start of the season and is now doing battle with the Baker Mayfield monster that can't seem to throw for decent yardage. Landry used to be a volume-based WR2 in PPR leagues, but now that the usage (and passing offense in general) has seen a downtick, he's tough to trust as anything more than a low-end WR3/flex option.
Sit: AJ Brown (TEN) vs BUF
I originally had Jerry Jeudy here, but with Stephon Gilmore coming down with the COVID, I'm less hesitant to slot him in. Anyway, Brown is slated to return from injury this week, and while I'd love to get him in my lineups, I just don't know if I can. He comes back to a very tall task of taking on Tre'Davious White and we still won't know if he's 100% healthy until we actually see him out there doing what he does best. You may not have the luxury of benching him with the injuries that have taken place this year, but I would if I have a half-decent option to turn to.
Sit: Julian Edelman (NE) vs DEN
Edelman had a BAD case of the dropsies a couple of days ago and showed that he can't really be trusted while Cam Newton is out. This isn't a horrific matchup for him, but it isn't a cakewalk either. I'm not starting him unless I'm incredibly desperate this week. Oh, and for the record, Edelman is NOT someone I'd slot in over AJB this week.
Tight Ends:
Start of the Week: Jonnu Smith (TEN) vs BUF
Please let this game be played! Ugh, COVID is ruining the Jonnu breakout year! Jonnu was THE TE2 on the season going into week four and has stayed in the top 10 despite not having a game this past week. He is an every-week starter at this point and I sincerely hope we get to see him ball out on Sunday.
Start: Tyler Higbee (LAR) vs WAS
Higbee has been mostly disappointing this season (with the exception of their game against Philly) but he draws a positive one in week five. While Washington has been fairly decent on defense, this matchup doesn't concern me at all for Higbee. If he's going to find the endzone again, it's going to be in this one.
Start: Evan Engram (NYG) vs DAL
Remember how I was saying that Dallas defense is absolutely abysmal, and the Giants should actually find offensive success for once? Yeah, that's why I'm a big fan of Engram this week. He was listed as a start last week, and while he didn't do anything spectacular, he did still finish as a top-15 tight end on the week. His usage will keep him as a strong option most weeks, and an easy matchup like this one will make him even stronger than usual.
Start: Hunter Henry (LAC) vs NO
With Austin Ekeler out, Henry should factor in and see an uptick in targets. While I don't think it'll be a massive increase, it still will be enough of a bump to warrant an extra catch or two. Add in an easy matchup with the Saints' defense and you've got a potentially very effective tight end. He should be considered as a top-eight option at the position on the week.
Sit of the Week: Logan Thomas (WAS) vs LAR
Thomas started the season strong but has since lost both targets and effectiveness. At first, it had seemed that we'd see a sneaky low-level TE1 type of season from him, but it's become apparent that that will not be the case. He's not a startable option in week five, and barring a visit to the endzone, should finish the week closer to zero points rather than 10 points in fantasy.
Sit: Austin Hooper (CLE) vs IND
Hooper has proven that he is as touchdown dependent as tight ends come. If you want to bank on him finding pay-dirt, that's on you. I refuse to take that risk with Hooper in my lineup, especially on a team that rarely eclipses the 200-yard passing mark.
Sit: Mike Gesicki (MIA) vs SF
I'm so disappointed to be writing this, but Gesicki is a sit for me this week. His target count as been low the last few weeks, and with the exception of a trip or two to the endzone, he really hasn't done much. Granted, Miami hasn't played excessively well, but it's still discouraging that DeVante Parker is hauling in nearly 10 passes a game while Gesicki can't seem to see even half that many targets. He's definitely a hold in fantasy right now, but I'm not sloting him in against the 49ers.
Sit: Mo Alie-Cox (IND) vs CLE
I want Alie-Cox to be a thing so badly, but I'm not sure the Colts share the same ideas. He's had either 100 yards or a touchdown in the last three games, but it's worth noting that he's only had five targets in the last two games combined. The usage is not there, making him a VERY touchdown dependent player until further notice.
Be sure to check out our weekly Trade, Drop & Hold article as well as our Waiver-Wire Advice as we help get you set for Week 5 of the 2020 NFL season!
Mikey Ostrowski is a blogger for the Loaded Box Podcast. Check out his article archive and find more from the Loaded Box on Twitter & Facebook