Saying this will inevitably come back to bite me in the ass this week, but how about that "trade for Joe Mixon" call from last week?
That advice right there is the point of this article. Trading for Mixon last week made complete sense due to one major factor… timing.
The window has closed now. Mixon's 181 total yards and three touchdowns in Week 4 now has his current owner believing he has turned the corner, and there's not a realistic trade you can put together now where you likely wouldn't be overpaying for Mixon.
I saw a tweet following Sunday's game saying that Mixon entered the week as RB36 and enters week five as RB8, so yea, I think it's safe to say that his "trade for" window has closed.
As I said, I likely jinxed myself for this upcoming week by giving myself the conceited pat on the back, but let's take a look at what we have for this week's trade, drop & hold.
Trade: Michael Gallup, WR, Dallas Cowboys
This week's trade nominee is once again a player I think you should try to trade for. As I said earlier about Mixon, maximizing your value on trading for assets comes down to timing, and I think the time is now for pulling the trigger on trying to land Michael Gallup.
Gallup once again proved he can get it done with a six-catch, 138-yard and one touchdown performance Week 3 against the Seahawks, but he's been relatively quiet over the course of the team's other three games combining for just 7-137-0 on 15 targets.
Heading into Week 5 may just turn out to be the perfect time to buy low on Gallup as he's coming off a forgettable two-catch, 29-yard performance. What makes this performance even more frustrating for the current Gallup owner is the fact that the Cowboys scored 38 points and Dak Prescott threw for 502 yards and four touchdowns.
The Cowboys seem more than likely to continue having to pass as their defense has been abysmal through four games this season. They're allowing 36.5 points per game, and at his current pace, Prescott is going to break nearly every single-season passing record.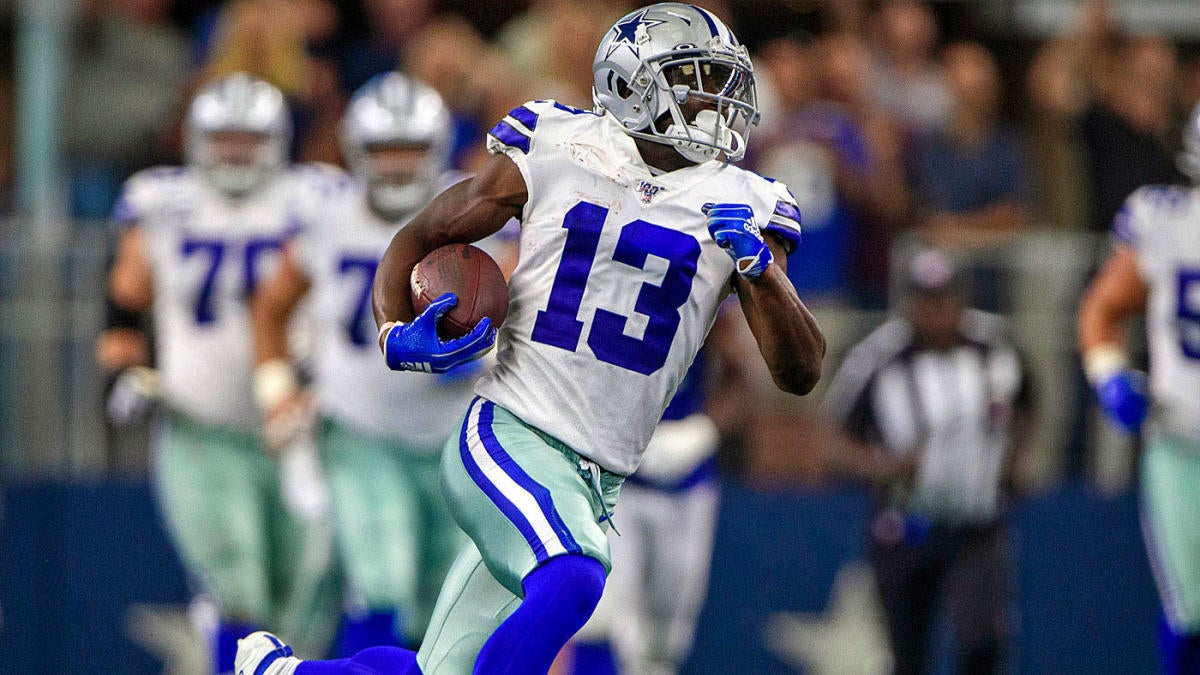 So besides the fact that Dallas is going to be throwing a bunch for the remainder of the season, you may be asking what upside does Gallup bring to the table if he's being overshadowed by Amari Cooper and CeeDee Lamb?
My answer to that question is fairly simple. 1. We've typically seen Cooper as a boom or bust play throughout his time in Dallas. 2. I do believe in the rookie wall, and even though I love Lamb in this offense, expecting week-to-week consistency from a rookie receiver is unrealistic. 3. Opposing team's defenses are going to have to pick their poison.
What I mean by the last point is this… at some point defenses are going to have to attempt to take away the Cowboys' biggest strength, and if that continues to be Cooper & Lamb, guess who's going to be the primary beneficiary?
If you said Gallup, then consider us on the same page. It'll be nearly impossible for Prescott and the Cowboys to continue at this rate of passing production and Gallup to not become more involved.
Also, it's not like we're talking about some off-the-street WR3 either. This is the same guy who posted 66-1,107-6 in 14 games last season.
If after four weeks you find yourself in need of help at the wide receiver position and you have the luxury of being able to flip a mid-level running back to your league's current Gallup owner, I'm in the camp that says go ahead and do it.
Gallup will soon become more consistent, and in this Cowboys' offense, he has the potential to post week-winning production on any given week.
Drop: Kerryon Johnson, RB, Detroit Lions
Even after the Lions used a second-round pick on D'Andre Swift, and added Adrian Peterson just before the start of the season, I still thought there would be a role for Kerryon Johnson and that he'd be worthy of a roster spot in fantasy leagues.
I think it's safe to say that we can chalk that thought up as a loss as Johnson has received a total of just 21 carries for 71 yards and one touchdown through four games this season.
Now that we've reached week five, conveniently the Lions' bye week, I think you're safe to go ahead and drop Johnson and pick up a guy like Justin Jackson or Damien Harris.
Johnson finished third in touches amongst the Lions' trio at running back last week against the Saints, and he's seen just three carries in each of the team's last two games.
The rotation has basically come down to this… Peterson gets the early-down work, Swift has taken over the third-down/passing-down work, and Johnson has taken over the primary spot on the bench.
There are certain guys that I roster that I hate cutting ties with this early in the season, but it's time to bite the bullet and chalk Johnson up as a lost cause for 2020.
Hold: Jonathan Taylor, RB, Indianapolis Colts
Holding Jonathan Taylor refers to not trading him to one of your league mates unless you are completely blown away by the offer.
I feel like Taylor is in a sneaky buy-low spot right now, especially since he hasn't had what fantasy owners would consider a "breakout" game through the first four weeks, but I personally don't think you'll recoup enough to warrant the type of production Taylor is capable of, and could easily see sooner rather than later.
Next up for Taylor is the Browns and Bengals, followed by the Lions after the team's bye week. The Browns may prove to be a challenge for Taylor and the Colts' running game, but the Bengals and Lions are definitely plus matchups for Taylor as he seeks his first major breakout game.
The touches are there for Taylor, the team still has one of the best offensive lines in the game, and the Colts' defense is playing perfectly for Indianapolis to remain close in each and every game, meaning Taylor likely won't be phased out by Nyheim Hines should the team find itself playing from behind.
We often get upset with players we had high hopes for if they don't return immediate return on investment, but try your best to stay patient with Taylor. Even though he hasn't produced you that week-winning performance yet, he's still reached double digits two out of four weeks, and the Colts' offense hasn't hit its full stride, likely due to playing with a new quarterback and an unusual offseason.
Plus, if you deal Taylor now as several teams are seeming to lose running backs to injury on a weekly basis, who do you plan on filling the void he leaves with?
Think twice before you let someone in your league buy low from you on Taylor.
Ben Morgan is a co-host and blogger for the Loaded Box Podcast. Check out his article archive and find more from the Loaded Box on Twitter & Facebook