Written by Mikey Ostrowski
Season-Long record: 15-17 (47%) on Start Ems, 23-9 (72%) on Sit Ems
*All season long, I will be keeping track of all of the starts/sits I get correct. I like to keep myself honest here…*
Man, those injuries in week two were absolutely brutal. Fingers crossed that we'll see a speedy recovery for most of those guys that went down, but I know some of them looked REALLY bad.
Last week, I came in at 12-4 on sits (good week), but disappointed at 7-9 on the starts. I'm not going to point fingers at the injury bug, but three of those guys did go down with injury at some point, so I guess I won't be too hard on myself.
Let's rebound with a fully healthy week three!
Quarterbacks:
Start of the Week: Cam Newton (NE)
Cam looked RIDICULOUS against Seattle last week. Like, absolutely lights out… the old Cam is back (screw you David Tepper). Anyway, Newton draws a fairly easy matchup against the Raiders. Between that and the high-caliber play we've seen from him thus far, I think he's got legitimate top-5 upside at the position for week three.
Start: Gardner Minshew (JAX)
Minshew made me eat my words last week. Listed as a sit, Minshew went out and put on a show against Tennessee… and I am finally buying in to Minshew Mania. The Jags will find themselves against Miami this Thursday night, which even though there's not a ton of name value in this game, could actually be a pretty exciting one to watch. I'm firing up Minshew as a QB1 this week.
Start: Ben Roethlisberger (PIT)
Big Ben has looked great over the first two weeks of the season. He has shown tremendous rapport with the young weapons around him, and I think it's safe to say that his previous injury was only a minor setback in a very accomplished career. He'll look to keep rolling in week three against Houston, a team that has been blown up against the best two teams in football to start 2020. I'm expecting them to be blown up again in Pittsburgh.
Start: Ryan Tannehill (TEN)
Tannehill is listed as a start for the 2nd week in a row and I am AMPED about it! I had been preaching Tannehill as a top-10 fantasy QB all offseason, and so far, so good. He's currently sitting exactly at the QB10 and gets a VERY favorable matchup with the Vikings in week three. Even if A.J. Brown is out in this one, I'd still confidently slot Tannehill in as my QB1.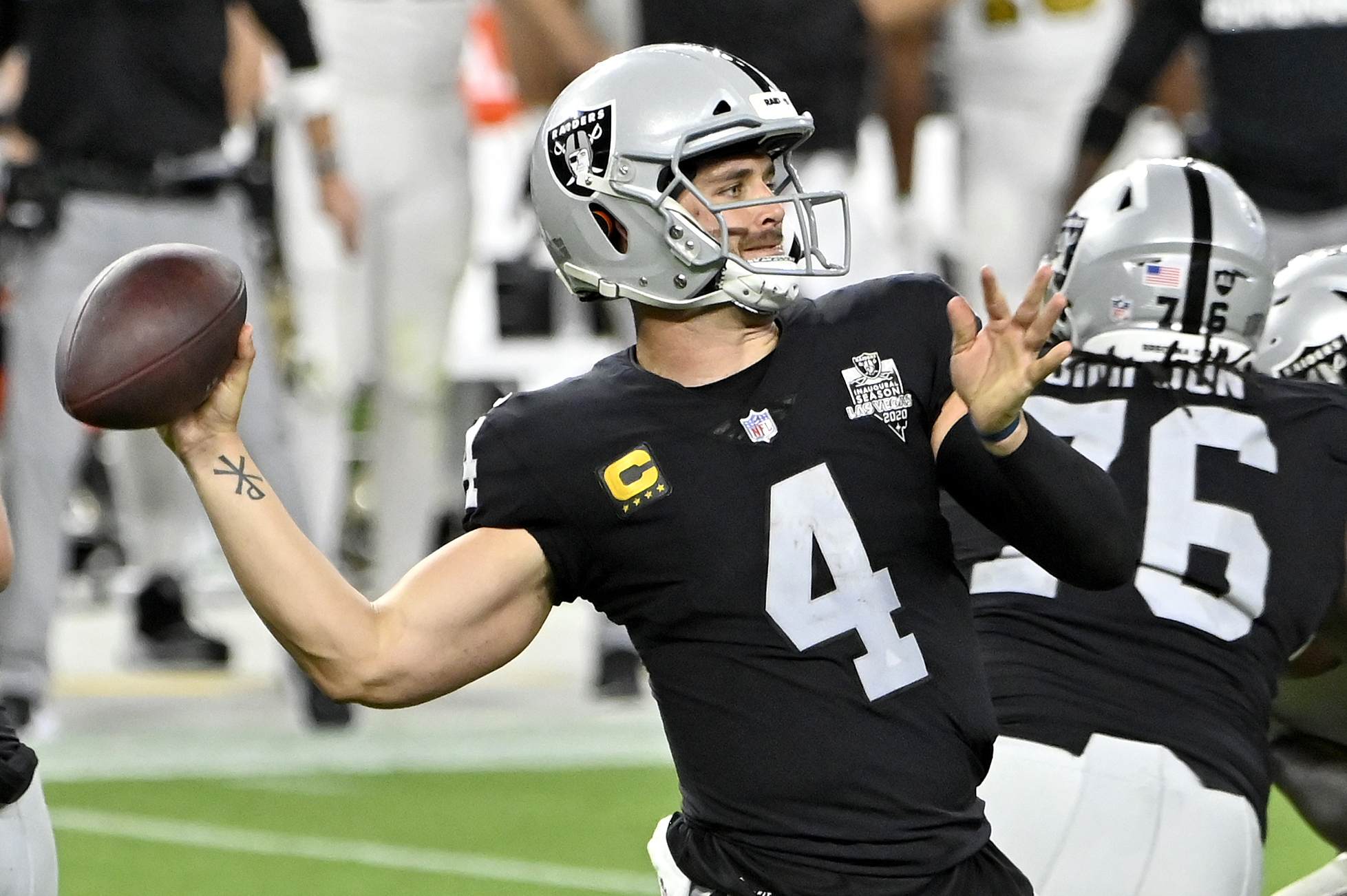 Sit of the Week: Derek Carr (LV)
Carr looked fantastic against the Saints on MNF, but the Patriots will prove to be a much taller task. Some may be enticed to slot him in those lineups because of the success he found in week two, but let's not forget that the Patriots defense is much better than the Saints' (and are much better than what they showed against Seattle). Bill Belichick will be looking to rebound with his team in this game, so I'd expect Carr to be punished early and often.
Sit: Jared Goff (LAR)
Goff had a great game against Philly last week but will find it much harder to get things going against Buffalo in week three. While I love the weapons around him, I'll definitely be fading him this week. Goff seems to be a "streaming only" option for the 2020 season, and this most definitely is not a game to stream him in.
Sit: Teddy Bridgewater (CAR)
Speaking as a disgruntled Carolina fan, I can't stand having Teddy as our starting QB. I also have a sneaking suspicion that if you had started him in week two in your fantasy league (for some weird reason), you probably can't stand him either. Bridgewater looked flat against Tampa Bay and will draw an even tougher matchup with the Chargers in week three. Teddy is far from a fantasy option at the quarterback position.
Sit: Deshaun Watson (HOU)
Listed as a sit last week, Watson had failed to reach 16 fantasy points in week two. While I hate doing a victory lap over one of the best players in the NFL failing, I'm going to keep running that lap in week three. Houston will be traveling to Pittsburgh… which is far from an easy matchup. I'm not expecting much from Watson in this one and think that there are at least 15 or 16 better options at the position this week.
Running Backs:
Start of the Week: D'Andre Swift (DET)
This one is BOLD but I'm sticking to it. Swift has been a major factor in the passing game to start the season, and I think he stays just as involved. Detroit will be playing catch up in this one, so I think Swift will be on the field for plenty of snaps. He has 11 targets so far, so hopefully that 5-6 target range is already his weekly floor. This is definitely a game where I can see him going off… and if he can find the endzone, he could finish as a top 15 back for the week.
Start: Josh Kelley (LAC)
Kelley has been getting a shit-ton of rushing attempts, which will undoubtedly continue against Carolina in week three. Whether Justin Herbert gets the starting nod or not, they should be able to easily take an early lead in this one, allowing the running backs to see extra work down the stretch. Kelley is a potential smash play for week three.
Start: Myles Gaskin (MIA)
With the apocalyptic injuries that came in week two, I've got to get a little creative, which is exactly what Miami will do Thursday night with Gaskin against the Jaguars. Admittedly, he's not one of my most favorite starts for the week, but he definitely should be started if you're someone who lost a back (or two) this past weekend to injury. I think you could do a lot worse than Gaskin in PPR leagues.
Start: David Montgomery (CHI)
It's become abundantly clear that the Bears are more willing to pay Tarik Cohen rather than actually use him on gameday. This is good news for David Montgomery, as he carried the ball 16 times for 82 yards, while adding in 3 receptions for 45 more yards and a score in week two. I'm liking Montgomery against Atlanta in week three, and while this could be more of a pass-heavy week for #DaBears, I think Monty is still going to see plenty of usage.
Sit of the Week: Ronald Jones (TB)
I was cautious last week with Jones, even in a blow-up spot against Carolina. It's not that he's a bad player, it's just that Leonard Fournette is a better player and I had a feeling he'd get more involved in week two. Well, he did, and Fournette may have taken over this backfield. Rojo will be a touchdown dependent option at best against Denver.
Sit: David Johnson (HOU)
The Texans can't seem to catch a break, as they'll have a third intense matchup in a row to start the season. The Steelers have been great against the run game, which is exactly why I want no part in David Johnson this week. He now finds himself as a "sit" for the 2nd week in a row.
Sit: Dion Lewis/Devonta Freeman (NYG)
With the unfortunate news about Saquon Barkley being out for the season, many desperate fantasy players will turn to the waiver wire this week to frantically add running backs. Lewis and Freeman will be among the more popular adds. However, be cautious if you plan on using either of them this week. Even with the 49ers being as hobbled as they are, both of these guys are a desperation play at best. Lewis isn't supremely talented, and Freeman's workload could be heavily capped in his first game for the Giants. Stay away from these guys in week three.
Sit: Nyheim Hines (IND)
Damn. Here I was, thinking I made the right call on Hines this offseason… just for him to get 1 touch in week two. This backfield clearly belongs to Jonathan Taylor, and while I do expect Hines to be used more going forward, he is not a viable option for your fantasy squad this weekend.
Wide Receivers:
Start of the Week: Allen Robinson (CHI)
I was toting ARob as a top three wide receiver for the 2020 season and I am NOT ready to give up. He's only at 8 catches for 107 yards through two games, but I really feel that he is finally going to put it all together this week. He's looked good and has seen 9 targets each week, it just hasn't been going his way on that stat sheet. The game against Atlanta could be a very high-scoring affair, and I love Robinson's chances of having his first massive game of the year.
Start: Kenny Golladay (DET)
Golladay should be back this week and needs to be immediately slotted into your lineup. They held him out in week two so that he could "actually be at 100%" for week three. Arizona isn't the easiest team to beat, but if Terry McLaurin can look like a beast against them (he IS a best though) so can Kenny G. Golladay should come out of the gate and immediately show why you drafted him as your WR1/WR2.
Start: D.J. Chark (JAX) *Edit: Chark is OUT, substitute with Keelan Cole (JAX)*
This hasn't been the start we expected for D.J. Chark, but he's not looking bad. He's caught all 7 of his targets this season for 109 yards. The Jaguars have been a big surprise to start the season and they'll look to keep rolling in Thursday night against Miami. This game is a potential blow up spot for Chark and I think he has to be in your lineups if you have him.
Start: Diontae Johnson (PIT)
I was WAY too low on Johnson this offseason. He has 23 targets through the first two weeks of the season, which makes him tied with Amari Cooper as the second-most targeted player in the entire league so far. Combine a massive target share with a cake-walk matchup and suddenly he's looking like an incredibly solid WR2 for week three. Johnson is essentially the JuJu Smith-Schuster of this team from 2018, with JuJu taking on that WR1/Antonio Brown role against defenses.
Sit of the Week: Scotty Miller (TB)
I know this isn't the boldest take out there, but with Chris Godwin returning to the lineup, you've gotta think that Miller's upside is severely capped. He was a plug-and-play option for many in week two, but that didn't turn out all too well. Miller will likely be a week one one-hit-wonder that will offer very little down the stretch.
Sit: Will Fuller (HOU)
Fuller, who was listed as a sit last week, finds himself on the list again in week three. He managed to put up a whopping zero points and may have come away with a hamstring injury. Provided that he's on the field, I am listing Fuller as a week three sit against the Pittsburgh Steelers. Even if fully healthy, it's a matchup I'd avoid if I could. Be sure to check back here if Fuller is listed out with his injury, as I will be making necessary edits to fill in a different sit candidate if needed.
Sit: Jarvis Landry (CLE)
I'm not sure if it's just the Browns being the Browns, or if Landry is still nursing his offseason injury. Whatever it is, it's pissing me off because I'm a BIG Jarvis Landry guy. Unfortunately, he'll be riding the bench for this week in a matchup against the surprisingly decent Washington Football Team. There just hasn't been enough from Landry yet to suggest that he can offer that safe WR2 floor, and I'm not starting him until he shows it.
Sit: Henry Ruggs (LV) *Edit: Ruggs is out, Mike Williams (LAC) will be the spot-sit.*
Ruggs looked decent in the season opener against Carolina, but nearly laid a goose egg against the Saints. He didn't seem to be a massive part of the plan, as Darren Waller completely took over. While better days are ahead of him, there's a better than not chance he'll see Stephon Gilmore on Sunday and that is something I'd like absolutely no part of.
Tight Ends:
Start of the Week: Hayden Hurst (ATL)
Hurst was listed as a start last week, and after a big performance, he'll get the start of the week tag in this one. He caught 5 balls for 72 yards and a score and looked to be a big part of the Atlanta Falcons offense. A date with Chicago should prove to be a good one for Hurst, as they have been middle of the road against tight ends thus far. Hurst should be a top 10 option at the position this week.
Start: Jonnu Smith (TEN)
Jonnu Smith is only being outscored by Travis Kelce and Darren Waller through two weeks. He's Tannehill's go-to guy, especially with Brown out with injury. Fire him up with extreme confidence against a piss-poor Vikings' defense.
Start: Noah Fant (DEN)
You see the three names above? Smith, Kelce and Waller? Well, those guys are the only tight ends scoring better than Fant. That Denver offense is decimated with injuries, which means Fant should continue to factor in as the #1 target for the quarterback. Tampa Bay has been decent against the tight end, but given they just had Ian Thomas last week… well, their numbers may be a bit skewed. Fant is a great start in week three.
Start: Mike Gesicki (MIA)
Gesicki exploded in week two and made me eat my words. I called him as a sit, but man, I was pumped that I got that one wrong. I've been a big fan of Gesicki for a couple of years now and it's starting to show that it might finally be his chance to shine. Gesicki and the Dolphins travel to Jacksonville for what should be a high-scoring affair on Thursday night.
Sit of the Week: Jordan Reed (SF) *Edit: With Kittle ruled out, Reed becomes a very good option. Jack Doyle (IND) should be treated as the sit of the week.*
Reed was electric in week two, catching 7 of his 8 targets for 50 yards and 2 touchdowns. Unfortunately for him (and maybe you), George Kittle is slated to return from injury in week three, which will render Reed as a touchdown dependent option at best. I hope you enjoyed those 24 points because that could have very well been his only fantasy-relevant game in all of 2020.
Sit: Austin Hooper (CLE)
I give up. Hooper let me down as a start last week and he just… is not any part of this team's offense. Even with David Njoku on IR, Hooper couldn't do a damn thing out there. He's as touchdown dependent as they come.
Sit: Greg Olsen (SEA)
Olsen had a nasty drop on SNF that nearly cost his team the game in the end. From there, he was never targeted again. While I expect him to see more fantasy points than zero, he comes a non-option in week three, even in a plus matchup with Dallas.
Sit: Chris Herndon (NYJ)
I keep getting asked "why do you think Herndon is a lie?" and, well, I sincerely hope you got your answer last week. After he duds this week, I will no longer include him on this list, since he will become a non-startable option for everyone out there.
Be sure to check out our weekly Trade, Drop & Hold article as well as our Waiver-Wire Advice as we help get you set for Week 3 of the 2020 NFL season!
Mikey Ostrowski is a blogger for the Loaded Box Podcast. Check out his article archive and find more from the Loaded Box on Twitter & Facebook