Written by Mikey Ostrowski
I really wanted to write something today but couldn't think of what to write… so I took to Twitter and quickly figured out a topic. Given the responses to my tweet, I think I've found a winner:
In this article, I will be highlighting some of the names on this list that are being way too slept on right now in fantasy.
For the contenders:
Mark Ingram – BAL RB:
People everywhere are fading Mark Ingram, just one season after being the overall RB9 in PPR leagues. Ingram had a massive touchdown count, totaling 15 trips to the end zone over the course of 2019. Sure, we can expect some regression there, and the arrival of J.K. Dobbins can't possibly help Ingram's stock, but is he completely useless? No way!
There's very little possibility of Ingram repeating as an RB1, but a finish as a mid-to-low-end RB2 is very much in the range of possibilities. This team rushes the ball… A LOT… and they'll continue to do that for as long as they possibly can. I don't think Ingram will see 200+ rushes again, but 200+ total touches is still in reach, especially since he should still hold onto the majority role in this backfield. One thing people don't realize is that Ingram has a buy-out in his contract after the 2020 season. To me, this means that Baltimore is going to continue to use him to his full abilities in what should be his last year with the team… then again, Ingram is only receiving about $5m annually, so if the 1-2 punch with him and Dobbins works out, he could switch to the 1B role in 2021.
Ingram is being avoided by nearly everyone, but if you're a contender that needs a RB2 or an incredibly solid flex option, you absolutely HAVE to reach out to the Ingram owner. His price tag has never been more discounted, and while I'll admit that he's more of a one-year rental player than anything, he could be the difference of you making the playoffs in 2020.
Aaron Jones – GB RB:
What the actual hell is going on? Aaron Jones finished with more PPR fantasy points than every single running back not named Christian McCaffrey and yet he is being totally disrespected. To put it into perspective, I traded away Jonathan Taylor, a player who has never played a single snap in the NFL, for Aaron Jones AND a 1st round 2021 rookie pick. The crazier thing? When I ran that as a poll on Twitter, it was a near 50/50 split with the Jones + pick side barely winning. If you're on the JT side, let me learn you something.
I know what you're thinking "Hey Mikey you do know that A.J. Dillon came to town, right? There's also no way Aaron Jones repeats with 19 total touchdowns…". Let me start my rebuttal by saying, even if Jones only finished with 10 total touchdowns, he still would've been the RB9 on the season. To think that a player with Jones' workload doesn't still have at least 10 touchdowns within reach for 2020 is just irresponsible.
Oh, but his workload will fall in 2020 due to Dillon? Fat chance. Are you aware that Jones is in the final year of his contract? Probably. However, are you aware that Jamaal Williams is as well? Nobody is talking about it, but there's a decent chance Dillon is being brought in to replace Williams. If this is true, Jones still needs to receive the RB1 treatment from EVERY fantasy owner. There is at least a sliver of hope for Jones' long-term value.
However, let's say you believe that this should be Jones' last year in Green Bay… that's fine too. If this is Jones' last year in Green Bay, don't you think they're going to use the absolute hell out of him? Seriously, if they go into this year knowing they aren't going to re-sign him, they're going to use him to the absolutely max of his abilities. What do they care if he's overused this year? He wouldn't be their problem in 2021.
Oh, for those of you who are worried about Jones losing significant goal-line work to Dillon, go watch Jones' film from last year. There's a reason why he rushed for 16 touchdowns. If you want to be a winner, get Jones this year and stop overhyping these rookies.
Chris Carson – SEA RB:
Carson finished 2019 as the RB10 with just under 280 rushing attempts, just under 1,500 total yards, and just under 10 total touchdowns. People are being way too quick to write off the running back of a very successful NFL team.
Sure, they signed Carlos Hyde, but the real competition, Rashaad Penny, will begin the season on the PUP list, giving Carson PLENTY of time to remind us all of his worth. I will admit that I don't believe Carson can repeat as an RB1, or that he'll get 270+ carries again; but this is a team that likes to run the ball. This is also a team that has the mega-talented Russell Wilson calling the shots, which has led to running back success in recent history.
Even in a smaller role, I'm still projecting Carson to finish as an RB2 with around 190 rushing attempts. He also has the biggest upside to being the receiving down back in Seattle which is always an added bonus in PPR leagues. It's tough to imagine him seeing 46 targets again, but knowing that Wilson trusts him enough to target him that often in the first place is always a good sign.
Much like Mark Ingram, Chris Carson is a great running back that is being all but written off by the majority of the fantasy community because of a new acquisition. He's going to offer low-end RB2 consistency with the upside of popping off any given week.
Robert Woods – LAR WR:
Robert Woods' stats over the last two years:
2018 – 86-1,219-6
2019 – 90-1,134-2
This guy has been incredibly consistent since hitting his stride with Jared Goff and could even see an expanded role now that Brandin Cooks and Todd Gurley are out of the picture.
Sure, Woods doesn't have the same namesake as many of the other 1,000-yard receivers, but that's what makes him such an amazing buy for fantasy right now! He's about as legit of an RB2 as they come and will offer every week consistency with upside oozing everywhere.
I currently have Woods projected to see another 1,000-yard season and will likely be underappreciated by the fantasy community yet again. Oh, and did I mention that Woods is 28 years old? He still has at least 3-4 years of production left in the tank before seeing a down tick. Hell, even if you're in a rebuild, Woods should be firmly on your trade target list.
Leonard Fournette – JAX RB:
Don't worry, I wasn't going to leave my pick out. It's no secret that I am a big fan of Leonard Fournette, in fact, I made a VERY controversial piece on him last week. I won't further my thoughts here but you'll get ALL of my thoughts on him in this article.
For the rebuilders:
Devin Singletary – BUF RB:
I'm noticing a running back theme here… I guess that's the most talked about position for fantasy. At any rate, Singletary should be a trade target for any team that is in a rebuild. He offers tremendous depth in PPR leagues and comes with a very safe floor.
The acquisition of Zack Moss severely caps Singletary's ceiling, but his floor remains unchanged. Over the course of 12 games in his rookie season, Singletary accumulated 151 rushing attempts at 5.1 Y/C, and received 42 targets. I'm thinking that these numbers should, at the very least, be his floor in the new-found timeshare, especially since Moss is meant to come into the Frank Gore role.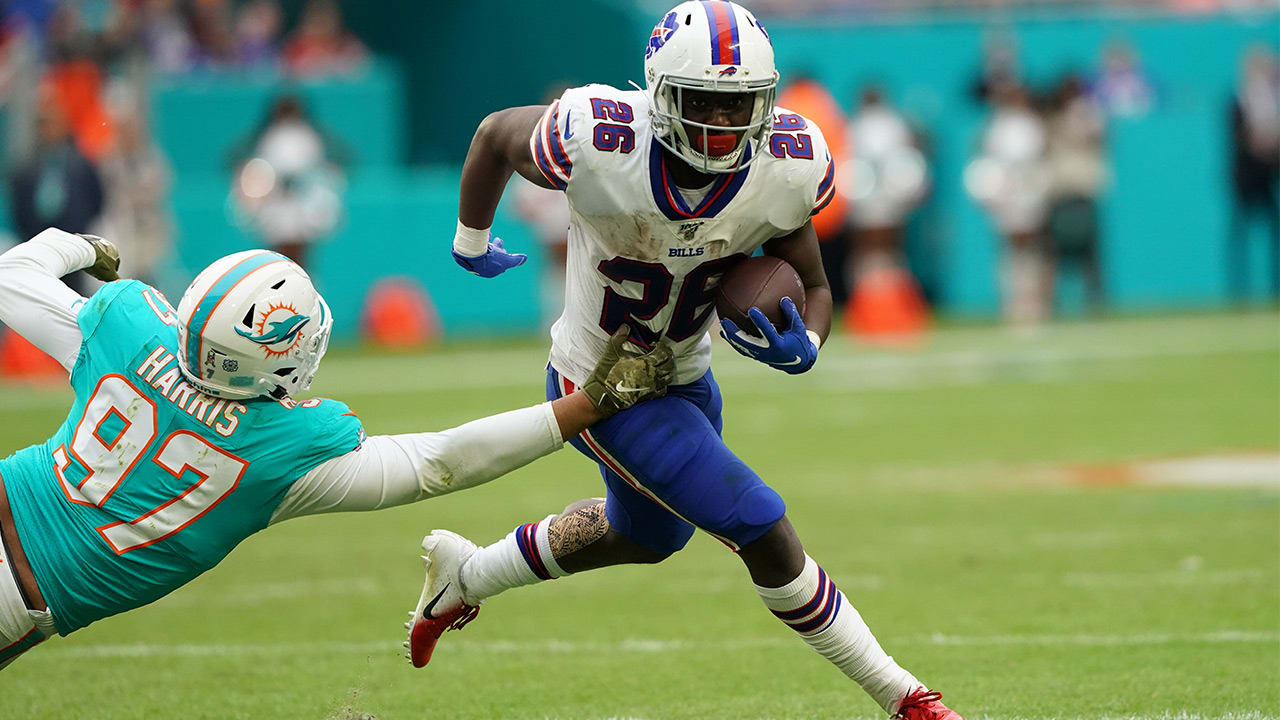 Unfortunately, Singletary was never going to be a workhorse in this league, and he clearly has trouble finding the end zone (only 4 touchdowns on a combined 193 attempts + targets). However, he's slippery, can catch the ball rather well, and is a legitimate threat to breakout with a big play any given week. He finished as the RB27 as a rookie, despite only playing in 12 games on the year.
Two of the most important things when building a dynasty are acquiring depth and not over spending on players. Singletary should bring the best of both worlds to your roster right now, especially with the absurd amount of hype around Zack Moss. Singletary is a great buy-low target for rebuilding squads.
Ronald Jones – TB RB:
To be honest, the answer I received was actually for Ke'Shawn Vaughn, but I disagree with the statement that he is the most slandered back on this team. Let me start by saying this: it's fine if you want to hype up Vaughn, but just know that you're wrong. He does not have the insane amount of upside some of you think he does. He only had 66 receptions over a four-year career in college, and while respectable, it's nothing to get excited about.
Ronald Jones, only averaged five less receptions a year in college than Vaughn. We also can't write off the fact that Jones had 31 receptions last year with a very respectable 10 yards per catch. The biggest knock on Jones, I'm seeing, is his lack of pass protection. Luckily, this is one of the most coachable traits in football. Oh, and what a coincidence, he has a fantastic coach to knock some sense into him.
The people who are writing off Jones can't be reasoned with, especially with the hashtag #NeverRoJo floating around there. However, he is the superior back to own in Tampa Bay, can be bought for fairly cheap in most leagues right now, and could breakout as early as this year. You always want to be one step ahead in dynasty, so go out and grab him while he's still nice and cheap.
*Sidenote on RoJo*: People think just because Tom Brady is in town, the running back with the most third-down upside will be the better own. Not only do I disagree that Vaughn will be the third-down back, but I also disagree with the above statement. This is a team that still wants to run the ball, and while Brady will impact the scheme, this is still a team that WILL run the ball!
Keenan Allen – LAC WR:
People are so sour on Allen this year due to the Chargers' change at the quarterback position. Rightfully so, but people are prematurely selling Allen, and if you're rebuilding, you gotta ask what the price is.
Allen is only 28 years old, which means he still has plenty of gas left in the tank. He has also gone three seasons in a row of playing at least 14 games, surpassing 1,190 yards, and amounting six touchdowns in each season as well. Allen is a guy that might even see a further decline in his value depending on how the team starts in 2020, but his value is the lowest it's been in the past three years and it might be time to capitalize on that.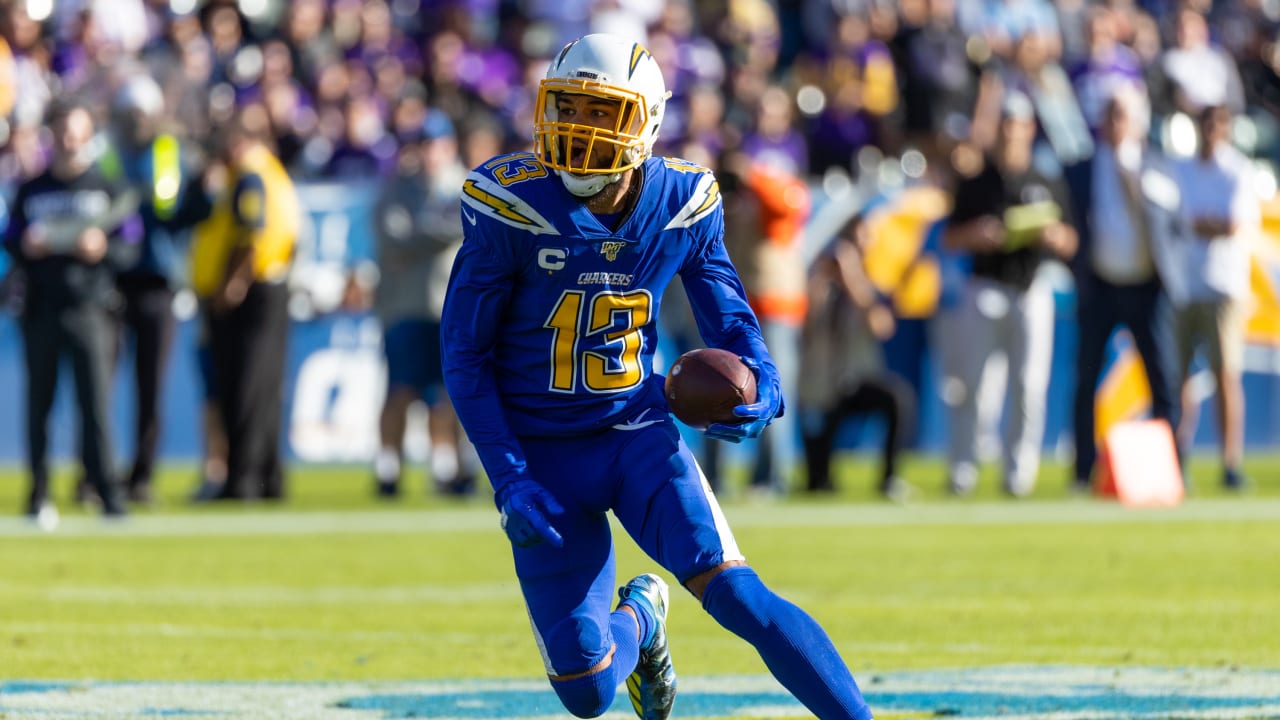 If your team is 1-2 years away from being a top contender in your league, I say go for it and see if the Allen owner is feeling scared of what might be coming his way with Justin Herbert in his developmental years in the NFL. Even with the rookie, Allen should still do well enough to put up weekly WR3 numbers, with the obvious upside of his talent showing.
Allen has been on the cusp of being considered one of the league's elite receivers for a couple of years now and people are ignoring the talent for the short-term situation. Dynasty is a chess match and acquiring Allen is a move that will pay off in a couple of turns.
JuJu Smith-Schuster – PIT WR:
This one might be an obvious one, but nobody's value has flipped quite as much as JuJu's from 2018 to 2019. He went from being one of the league's elite prospects to a guy that many have started to avoid. Depending on which group you fall into, you may say that he can't handle WR1 duties, or that he didn't have a real NFL quarterback throwing to him in 2019.
I guess we'll have our answer this year when Ben Roethlisberger steps back out on the field. Though I don't believe JuJu is an elite receiver, I do believe that he is much better than his 2019 stats will show. I genuinely think he'll offer a near-immediate return that will outweigh what you currently have to pay for him.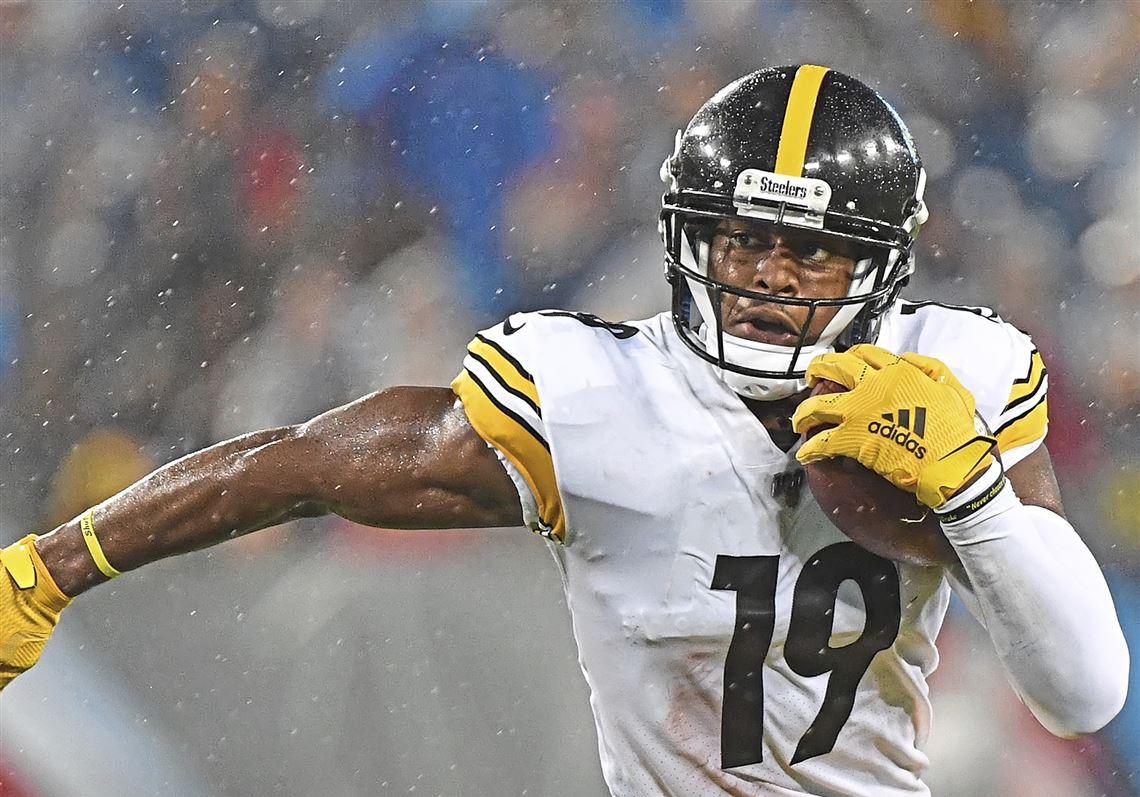 For example, I actually have him projected to come away with more points than D.J. Moore in 2020, for whatever that is worth. Many people who play dynasty will never own a true dynasty because they are simply too quick to forget, and too slow to forgive.
One bad year in a VERY young career should not decimate a player's fantasy value. Admittedly, I am not a massive JuJu fan (though as a person I absolutely love the guy), but I'd be more than happy to trade for him for some of the price tags I've seen on him lately.
Guys that made the list but I'd only take if they were literally free:
Julian Edelman – NE WR
Tevin Coleman – SF RB
Marlon Mack – IND RB
Mitch Trubisky – CHI QB
Jimmy Garoppolo – SF QB
Robby Anderson – CAR WR
Julian Edelman was one of the most common names on here, though I believe he is good, I have a hard time believing he can legitimately contribute to a fantasy roster with Jarrett Stidham slinging the rock.
Tevin Coleman should be perfectly fine to perform as a RB3 most weeks, but it's very well in the realm of possibilities for Raheem Mostert to take on the majority work with a healthy Jerrick McKinnon running the tables on third downs.
Marlon Mack is more of a buy-and-stash option to see if he goes to a new team next year. Either that or he's one hell of a handcuff for the Jonathan Taylor owner.
Trubisky and Jimmy G… I'd only take them if they're free. Maybe in 2QB leagues my thoughts would change, but for the sake of my 1QB mindset, I'll leave them be.
Robby Anderson has potential but speaking as a Carolina fan, I don't believe Teddy Bridgewater has what it takes to make more than one receiver fantasy relevant. In fact, I think he'll even hurt D.J. Moore's value this year. The whole Robby Anderson situation is one I'd avoid (though the comment had mentioned the guy couldn't sell Anderson for even a fourth-round pick… I'd consider a fourth-round pick pretty close to "free").
There you have it, some of Twitter's most disliked players and why there is definitely a reason to buy a handful of them. Feel free to tweet me your angry comments, as I'm sure I inevitably struck a nerve with a handful of you on at least one of these guys. Until next time, my friends!
Be sure to check out the latest episode of the Loaded Box Podcast as we discuss second-year players and their impact on the 2020 fantasy football season!
Mikey Ostrowski is a blogger for the Loaded Box Podcast. Check out his article archive and find more from the Loaded Box on Twitter & Facebook