That's right… "The Talent" is back and blogging again. Strap in because we are in for a ride.
It's 72 degrees and sunny here in lovely Wisconsin and I decided this was the perfect time to bust out the blog fingers, grab a beer and entertain my millions of followers.
I have gotten over the hate of the draft the Green Bay Packers had and decided to look at the schedule and break down and predict every game of the 2020-21 Super Bowl Champion, Green Bay Packers.
Week 1: Green Bay Packers @ Minnesota Vikings
We enter the second year in Matt Lafluer's offense. Aaron Rodgers and the rest of the offense is feeling more comfortable with the new scheme. They are facing a Vikings team that will be significantly worse than they have been in a while. Rodgers silences the haters in week one by throwing for 350 yards and four touchdown passes in a route.
Packers 33, Vikings 17
Week 2: Detroit Lions @ Green Bay Packers
The Detroit Lions were a bad football team that just haven't done enough to be better. They added D'Andre Swift and Jeffery Okudah but lost Darius Slay to the Eagles. They had some other defensive additions but not enough to make a big difference from last year to this. This year the Packers will lead the entire game as Aaron Rodgers continues his year of terror.
Packers 24, Lions 14
Week 3: Green Bay Packers @ New Orleans Saints (SNF)
The Packers first big challenge of the year. Aaron Rodgers vs Drew Brees in a game that I am sure both guys will break six records. The talent of Alvin Kamara, Michael Thomas and newly added, Emmanuel Sanders, is just too much for the Packers defense on the road. The Saints pull away in the third quarter and the Packers try and make a push in the end but it's to little too late,
Packers 28, Saints 34
Week 4: Atlanta Falcons @ Green Bay Packers (MNF)
If you have listened to the Loaded Box Podcast, you know my feelings on Matt Ryan. I have had a vengeance against him for almost five years now and you should too. Ryan should go down as the most disappointing quarterback in the history of the NFL. There is no way that he has the balls to come in to Green Bay and win. Ryan lets down all Falcons fans again and Aaron Jones goes off for 100+ yards and two touchdowns.
Packers 27, Falcons 24
Week 5: Bye Week*
Week 6: Green Bay Packers @ Tampa Bay Buccaneers
Another legendary quarterback match-up and I do not understand how this is not a prime time game. Tom Brady is going to get a hard hit of reality in 2020 when he realizes how good he had it with Bill Belichick and the defenses and schemes he created for him. The "Smith Brothers" knock Brady around as Aaron Rodgers cackles on the sideline. Both offenses struggle to get anything going against these young talented defense but Rodgers out plays Brady and pulls away in the fourth quarter.
Packers 20, Bucs 16
Week 7: Green Bay Packers @ Houston Texans
Another team that is going to have a massive regression. I am not going to waste your time telling you how dumb Bill O'Brien is. You can look at the offseason moves and see it with your own eyes. Last time Rodgers came to Houston he threw for 1,000 yard and 27 touchdowns. I expect the same performance on his way to winning his third MVP.
Packers 42, Texans 27
Week 8: Minnesota Vikings @ Green Bay Packers
I said it once and I will say it again. The Vikings are going to be straight trash this year. Aaron Jones waives "buh bye" as the Packers send the Vikings home with four straight losses to the Packers in two years.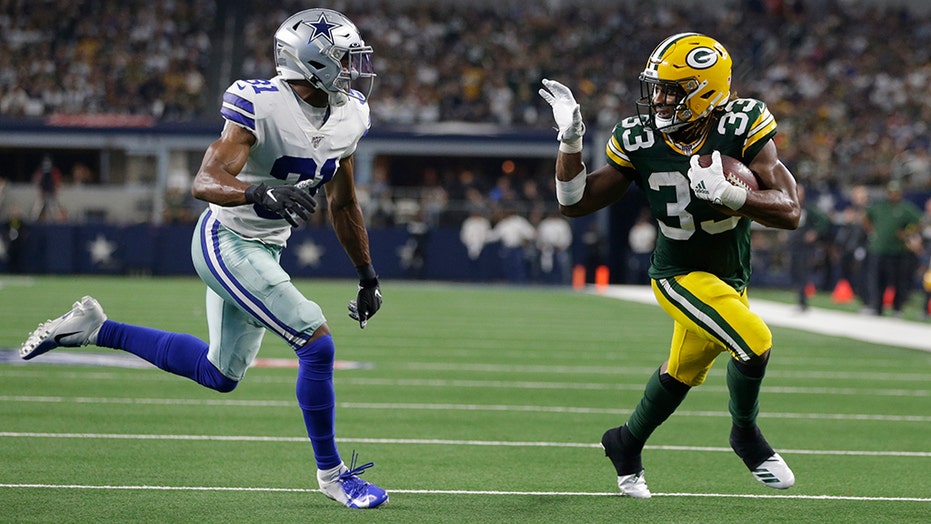 Packers 34, Vikings 21
Week 9: Green Bay Packers @ San Francisco 49ers (TNF)
I am of the true belief that you see a major regression from the Niners this year. Mostly due to Jimmy Garoppolo having a Jared Goff type regression and their secondary getting exposed. I also think they are the Packers kryptonite because they can control the ball then take over on defense. Add to that, this game is in Cali and I don't like the Packers chances on a short week. Packers fall in a much tighter game than last year.
Packers 17, Niners 21
Week 10: Jacksonville Jaguars @ Green Bay Packers
There isn't much analysis need for this game. The Jaguars are bad and the Packers are good. They also have to travel to Lambeau in November. Good Luck.
Packers 31, Jags 10
Week 11: Green Bay Packers @ Indianapolis Colts
People are going to be too high on the Colts acquisition of Philip Rivers. He is a washed up quarterback with nothing left in the tank and truly does not make the Colts a better football team. The Colts have a dominant offensive line but Rivers will turn the ball over because that's what Rivers does. The defense doesn't take the steps everyone thought they would and Rodgers continues his MVP tear.
Packers 30, Colts 24
Week 12: Chicago Bears @ Green Bay Packers (SNF)
At this point in the season, who knows who the starting quarterback is at this time for the Bears. My gut tells me both Nick Foles and Mitch Trubisky start multiple times because they are competing on who can fuck up more. The defense has given up on the offense at this point and shows little effort to stop anyone. Packers turnover whatever shit QB the Bears roll out five times and continue their reign as "Kings of the North."
Packers 20, Bears 6
Philadelphia Eagles @ Green Bay Packers
This is another game that scares the shit out of me and should scare all Packers fans. The Eagles are dominant on both sides of the trenches. The Eagles are one of two teams in the NFL who can own the line of scrimmage over the Packers on either side. The Eagles beat the Packers last year and they are better this year. It will be close because it's in Lambeau, but the Eagles sneak away with another "W."
Packers 21, Eagles 23
Week 14: Green Bay Packers @ Detroit Lions
Another week, another shitty NFC North opponent. I can already hear the Lions fans saying, "we should have beat them twice last year." News Flash! You didn't! The Packer have no problems sweeping the Lions this year and lead the entirety of both games.
Packers 45, Lions 30
Week 15: Carolina Panthers @ Green Bay Packers
Carolina is a team who feels like they have one really good player (Christian McCaffrey) and then a solid wide receiving crew in Robby Anderson and D.J. Moore. Do we really trust Teddy Bridgewater to get them over the edge? Cam Newton would have been the best choice for Carolina and they let him go. The Panthers secondary continues to be dog shit and the Packers, led by Aaron Rodgers, put on another air show. "AIRon Rodgers."
Packers 31, Panthers 24
Week 16: Tennessee Titans @ Green Bay Packers (SNF)
Oh boy am I excited about this game. Two of the top quarterbacks in the league, facing off in prime time. The Titans are the most balanced team in the league and that makes them difficult to defend but Aaron Rodgers isn't about to lose two games in Lambeau. The Packers win in overtime in an instant classic. Rodgers leads a touchdown drive in the first possession, not allowing Tyler Tannehill (I know his name is Ryan) to get the ball back.
Packers 30, Titans 24
Week 17: Green Bay Packers @ Chicago Bears
Is there a chance the Packers already have the one seed locked up and rest their guys? Absolutely. Will I presume that? No. Packers are going to be fighting for the top seed and the NFC North sweep in back-to-back years. Packers win a tight, low scoring game to finish off 2020's, Super Bowl Championship season.
Packers 17, Bears 14
Green Bay Packers 2020 Record: 13-3
Be sure to check out the latest episode of the Loaded Box Podcast as we answer multiple questions about the future of Aaron Rodgers and the Green Bay Packers.
DJ Premo is a co-host and blogger for the Loaded Box Podcast. Check out his article archive and find more from the Loaded Box on Twitter & Facebook