Thursday night of the NFL Draft – always one of the best days of the year for football fans as simply adding a player or two to your favorite team's roster offers new hope as you learn more about the direction each team has in mind for the future.
There's already plenty of excitement each year that surrounds the NFL Draft, but in a world where we're all quite starved for sports, Thursday night did not disappoint as the first round featured the obvious pick of Joe Burrow at No. 1, the Dolphins sitting at No. 5 and grabbing their next franchise QB, and the Packers trading up for Jordan Love as the heir apparent to Aaron Rodgers.
Before we all fall back into draft mode Friday evening with the second and third rounds, let's dive into the first-round picks with recaps and grades for all 32 picks!
1. Cincinnati Bengals: Joe Burrow, QB, LSU
As everyone predicted, the Bengals got their new signal caller for the next decade plus. Burrow was the clear-cut solution at QB for the Bengals after putting together one of the best statistical seasons last year for LSU. Additionally, Burrow has no history of injuries, can make all the throws, and fills the team's biggest position of need. Now it's up to the front office to surround Burrow with the talent needed to compete.
Grade: A+
2. Washington Redskins: Chase Young, EDGE, Ohio St.
The only thing keeping me from giving this selection an A+ is that I think Washington could have got itself into a bidding war with teams looking to jump up and grab a quarterback. While it would have been nice to add more draft picks, the Redskins got arguably the cleanest prospect in this draft, who also happens to play a premier position. This defensive line will be a force.
Grade: A
3. Detroit Lions: Jeff Okudah, CB, Ohio St.
The Lions secured the draft's best cornerback while also knocking out one of their biggest positions of need, especially after losing Darius Slay earlier this offseason. Okudah has the makings of a CB1, and playing in a division that features Aaron Rodgers, a top cornerback and strong secondary is a necessity if you want any chance to compete. Detroit could have went a couple of different ways here, but this is a nice mix of best available and biggest position of need.
Grade: B+
4. New York Giants: Andrew Thomas, OL, Georgia
We've gotta give it up to Dave Gettleman here for drafting an offensive lineman to help protect Daniel Jones rather than going for a more "sexy" name like Isaiah Simmons, as many predicted. There was no clear consensus as to which offensive lineman would be the first off the board, so there was obviously something that the Giants liked about Thomas that separated him from the others. Jones, Saquon Barkley and Thomas form a nice foundation to build around for years to come.
Grade: A
5. Miami Dolphins: Tua Tagovailoa, QB, Alabama
Injury concerns? Sure. However, do you want the potentially great quarterback with injury issues in his past, or a quarterback with a clean bill of health that may turn out to be more of a project? Tagovailoa was the plan from day one for the Dolphins. This team has been starved for a quarterback for too long, and if the team can secure some additional help on the offensive line, the sky is the limit for this draft's most accurate passer. Franchise quarterback, big position of need, this is a homerun pick for the Dolphins.
Grade: A
6. Los Angeles Chargers: Justin Herbert, QB, Oregon
With Tagovailoa off the board, Herbert was obviously the next best available at the position. However, his accuracy and decision making issues make him a bit of a reach for the top 10. The potential is there, and he's got a lot going for him with his prototype frame, but the issue is that his downfalls are some of the most difficult attributes to teach/correct. The nice thing is that he can sit behind Tyrod Taylor this year and take the quarterback "slow cooker" approach before eventually being called upon to start.
Grade: B-
7. Carolina Panthers: Derrick Brown, DL, Auburn
Brown appears to be one of the draft's most pro-ready prospects after dominating the defensive line for Auburn at the collegiate level. The Panthers seemed likely to address either the defensive or offensive line with this pick, so Brown makes perfect sense as a combo of best available and position of need. There are question marks regarding the athleticism of Brown, but there's no questioning his collegiate production. Brown should be a centerpiece of this defense for years to come.
Grade: B
8. Arizona Cardinals: Isaiah Simmons, LB, Clemson
One of the best athletes in this draft, Simmons has been discussed as a linebacker, safety and edge rusher. It'll be interesting to see how the Cardinals utilize Simmons, but after trading for DeAndre Hopkins earlier this offseason, it makes sense for the Cardinals to address the defensive side of the ball with this pick. I was a bit surprised they didn't take one of the top offensive lineman, since only one was off the board at this point in time, but it looks like they decided to go with who they thought was the best player available.
Grade: B
9. Jacksonville Jaguars: C.J. Henderson, CB, Florida
The Jaguars have been in need of a top CB since trading Jalen Ramsey last season, and Henderson projects to be that guy after completing an impressive career at the University of Florida. He has shutdown capabilities and should start in Jacksonville from day one. The Jaguars could have went several directions with this pick, but Henderson was seen by many as this draft's second-best corner and he immediately fills one of the team's top needs.
Grade: A-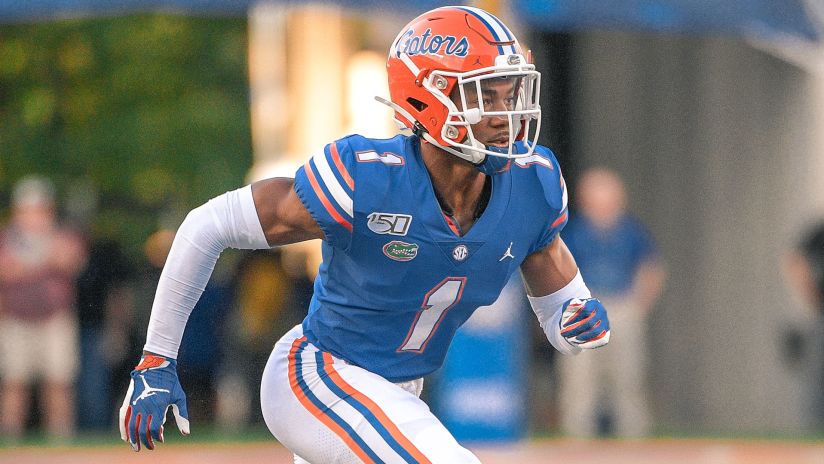 10. Cleveland Browns: Jedrick Wills, OL, Alabama
Despite signing Jack Conklin in free agency, adding Wills with the 10th-overall pick is exactly what the Browns needed to do. The Browns were one of the league's biggest disappointments last year, but it had nothing to do with their array of skill players. Protecting Baker Mayfield needed to be the top priority this offseason, and the Browns have done a great job accomplishing this task. It's not a sexy pick, but it's the right pick.
Grade: A
11. New York Jets: Mekhi Becton, OL, Louisville
With every wide receiver still on the board, I really expected the Jets to go that direction. However, for a team with several needs, you could argue that offensive line was the biggest. Sam Darnold needed help up front, and that's exactly what Becton provides with his monstrous frame and athleticism. In a class where the receiver position is very deep, this was the right pick for the Jets.
Grade: A
12. Las Vegas Raiders: Henry Ruggs, WR, Alabama
Bit of a shocker here with Jerry Jeudy and CeeDee Lamb still on the board, but it looks like the Gruden/Mayock due opted for speed over the prospects that most believe are more complete WR's. There's no doubt Ruggs will open things up for the Raiders offensively, but I question his selection over Jeudy/Lamb. I do believe Ruggs is a solid prospect and I look forward to watching him become a complete receiver, but I'm giving this selection a lower grade than I'd give Jeudy or Lamb.
Grade: B-
13. Tampa Bay Buccaneers (via trade w/ SF): Tristan Wirfs, OL, Iowa
The first trade of the night as the Bucs moved up one spot to select Tristan Wirfs. A solid pick for Tampa as signing Tom Brady meant the team was in "win-now" mode, so grabbing one of the draft's top remaining offensive lineman was a must. Solid size and a great athlete, the Bucs maxed out this pick by providing additional insurance for Brady. Several analysts believed Wirfs would be the top lineman off the board, so snagging him at No. 13 is great value.
Grade: A
14. San Francisco 49ers (via trade w/ TB): Javon Kinlaw, DL, South Carolina
After trading DeForest Buckner to the Colts, which essentially turned into this pick, the 49ers selected his replacement in Javon Kinlaw. With Lamb and Jeudy still on the board this is a bit of a surprise, but Kinlaw shouldn't disappoint due to his ability to rush the passer from the interior. This may not be a popular pick for fans that want excitement on the offensive side of the ball, but Kinlaw is a player that projects as a difference maker for years to come.
Grade: B+
15. Denver Broncos: Jerry Jeudy, WR, Alabama
Jerry Jeudy at No. 15? This is the definition of a steal. Jeudy steps into the league as one of the game's best route runners and immediately takes this Broncos' offense to the next level. There's no one happier after the first round than Drew Lock. Pairing Jeudy with Courtland Sutton, to go along with last year's first rounder Noah Fant, gives this offense the potential to be one of the league's best for a long time. Jeudy is electric with the ball and has unique game-changing ability. Enjoy, Broncos fans.
Grade: A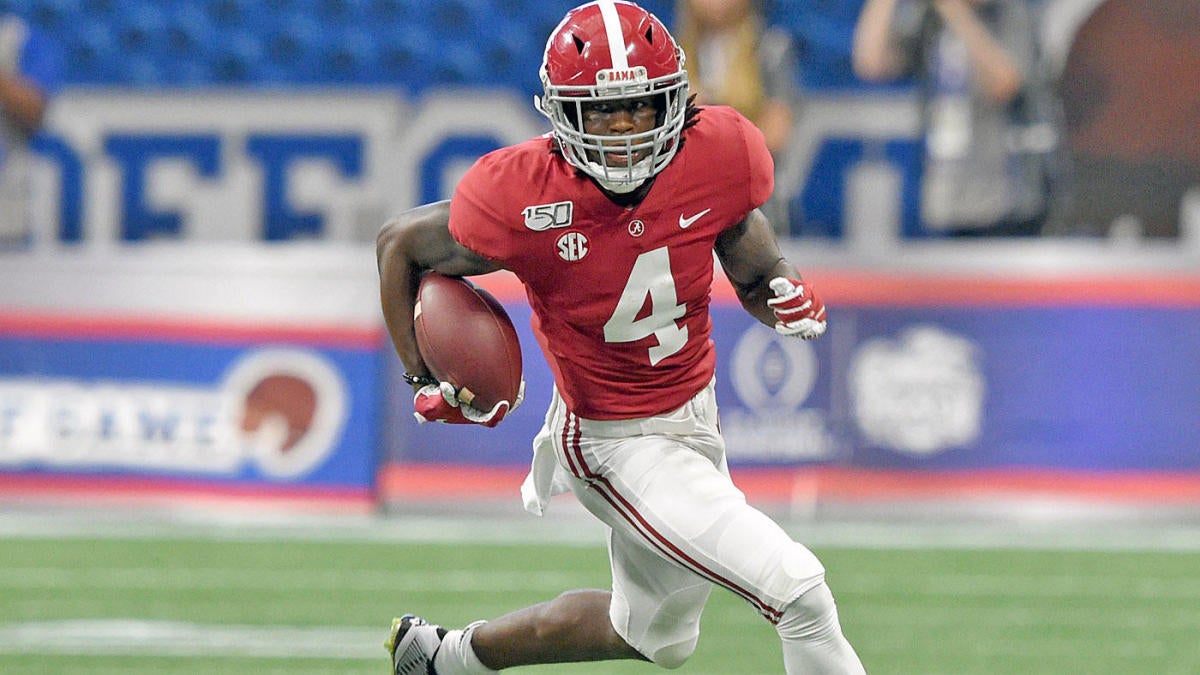 16. Atlanta Falcons: A.J. Terrell, CB, Clemson
It wasn't a secret that the Falcons were targeting a cornerback, but Terrell coming off the board at No. 16 feels a little early. He's fairly aggressive, a Clemson CB trait, and may draw some pass interference calls, but if he's able to shake this, he has CB1 abilities. There was some concern after his showing in this year's National Championship game where the LSU Tigers basically had their way with the Clemson defense, but high-quality CB's don't come around often so this pick seems to be a good fit for Atlanta.
Grade: B-
17. Dallas Cowboys: CeeDee Lamb, WR, Oklahoma
I was definitely expecting this selection to be a pass rusher, but taking Lamb as the best player left on the board is a solid choice. Amari Cooper and Michael Gallup where already a nice duo for Dak Prescott and the Cowboys, but adding Lamb gives the team yet another explosive player on what should be one of the league's top offenses (I suppose I should mention Zeke Elliott here too). There are still glaring needs on defense, such as edge rusher and cornerback, that will lower this grade for me, but I can't downgrade it too much as I am a huge Lamb fan.
Grade: B
18. Miami Dolphins (via trade w/ Pit): Austin Jackson, OL, USC
The trade of Minkah Fitzpatrick turns into protection for Tua in the form of Austin Jackson. Jackson will likely compete for a starting role from day one as the Dolphins are pretty weak at the tackle position. One of the draft's youngest prospects, Jackson has room to improve as he's not the most polished prospect; which kept him out of the conversation with the draft's top-four tackle prospects. Jackson was absolutely a pick based on need, which lowers my grade some, but it's hard to argue with the pick when you consider Tua's health as the team's top priority.
Grade: B-
19. Las Vegas Raiders (via trade w/ Chi): Damon Arnette, CB, Ohio St.
This one feels like a bit of a reach as Arnette projected more so as a second-round pick. There's no denying that CB was one of the team's biggest needs, but I've gotta assume that the Raiders could have leveraged this pick to accumulate additional draft capital while still landing Arnette later in the draft.
Grade: C
20. Jacksonville Jaguars (via trade w LAR): K'Lavon Chaisson, EDGE, LSU
Chaisson is a freak athlete that can do several things from the EDGE position. Already solid against the run, which isn't always the case when it comes to athletic pass rushers, Chaisson should be able to make an impact on the defensive side of the ball in year one for the Jaguars. The stats weren't always there while at LSU, but if the Jaguars can coach him up a little, Chaisson and last year's first rounder, Josh Allen, make for a nasty pass-rushing duo for the foreseeable future.
Grade: B
21. Philadelphia Eagles: Jalen Reagor, WR, TCU
Reagor has become known as the good player on a bad team throughout the pre-draft process. A freak athlete, Reagor fills one of the Eagles' biggest holes as he provides Carson Wentz a solid option on the outside. He's one of those guys that's described as a running back once the ball is in his hands, but I'm a little surprised Justin Jefferson wasn't the pick here – as the seemingly cleaner prospect. He should be a difference maker at the next level, but it will be the job of the Eagles' coaching staff to ensure that happens.
Grade: C+
22. Minnesota Vikings (via trade w/ Buf): Justin Jefferson, WR, LSU
The Vikings replace Stefon Diggs with… Justin Jefferson. There was a lot of chatter surrounding Jefferson prior to the draft, so it's a bit of a surprise he lasted this long (Vegas had his O/U selection at 21.5). Jefferson was a benefactor of LSU's explosive offense last year when Joe Burrow threw for 60 TD's, and while he won't blow up statistically in the NFL like he did in college (111-1,540-18), he should step in fairly early and compliment Adam Thielen nicely.
Grade: A-
23. Los Angeles Chargers (via trade w/ NE): Kenneth Murray, LB, Oklahoma
The Patriots did what they do – trade back – and the Chargers land the draft's top-ranked linebacker in Murray. The position of linebacker isn't valued in the NFL the way it used to be, but Murray fits the mold of the new-age linebacker that can fly to the ball and make impact plays. Murray has very low bust potential and should be an impact player for the Chargers for years to come. He was going to go in the first round, and pick No. 23 feels appropriate.
Grade: B+
24. New Orleans Saints: Cesar Ruiz, OL, Michigan
After adding Emmanuel Sanders to the WR room in free agency, the Saints were able to take who they believed to be the best player available. Ruiz can play any of the interior offensive line positions and adds additional protection for Drew Brees as the Saints try to maximize the final stage of his career. Once again, not a sexy pick, but a solid pick that helps the team build from the inside out as they try to maximize the remainder of Brees' career while still building for the future.
Grade: B+
25. San Francisco 49ers (via trade w/ Min): Brandon Aiyuk, WR, Arizona St.
After trading back a spot with their first-round pick earlier in the draft, the 49ers traded up to No. 25 with the Vikings to land their much-needed wide receiver in Aiyuk. Another WR that's explosive with the ball in his hands, Kyle Shanahan clearly has plans for Aiyuk as the team pairs Aiyuk's explosiveness with Deebo Samuel's toughness to form a solid, yet interesting, pair of wide receivers for Jimmy Garoppolo. Aiyuk was buried a bit in the WR rankings this year due to the depth of the class, but he's deserving of a first-round selection and couldn't have landed in a better situation.
Grade: B
26. Green Bay Packers (via trade w/ Mia): Jordan Love, QB, Utah St.
Well, this may be the shocker of round one. You've got the Packers in win-now mode with Aaron Rodgers, however, the team decides to make a pick in the first round that's geared towards the future. This one puzzles me as there's no reason the Packers shouldn't embrace the remainder of Rodgers' career. I'm all for making the correct moves for the future of your franchise, but this isn't gonna sit well with Packers fans.
Grade: C-
27. Seattle Seahawks: Jordyn Brooks, LB, Texas Tech
Not many people had Brooks in their first-round mocks, but this guy has the skills and ability to be one of the next productive LB's for the Seahawks. There is definitely some surprise that Patrick Queen wasn't the third linebacker off the board, but I can guarantee you that there are some upset teams that were looking forward to the opportunity of landing Brooks in the second round. The Seahawks had the luxury of going several ways with this pick, and that flexibility allowed them to land the LB of their choosing that several analysts have high hopes for.
Grade: B
28. Baltimore Ravens: Patrick Queen, LB, LSU
Why wouldn't the Ravens grab a stud linebacker? Most analysts predicted Queen as a first rounder and the Ravens proved them right by selecting Queen and putting him into the position of being this team's next big-impact defender. There was a case for WR here, but with the top guys off the board, why not add to the defense as it seems like the Ravens' offense will manage just fine as is.
Grade: B+
29. Tennessee Titans: Isaiah Wilson, OL, Georgia
The second offensive lineman from Georgia off the board as the Titans look to protect Ryan Tannehill and pave the way for Derrick Henry while filling the void left by losing Jack Conklin. We knew there would be several offensive lineman off the board in the first round, and while Wilson wasn't a popular name in first-round mocks until recently, it's a solid pick for a team that was able to fill one of their biggest positions of need with a fairly safe prospect.
Grade: B+
30. Miami Dolphins (via trade w/ GB): Noah Igbinoghene, CB, Auburn
I'm struggling to figure this one out. The Dolphins' secondary was a mess last year, and after signing Byron Jones in free agency to pair with Xavier Howard, it seemed like the Dolphins wouldn't make cornerback a first-round priority. He figures to compete for snaps at nickel corner, which is definitely a big need, but with the top safeties still on the board, this one is a bit of a head scratcher.
Grade: C
31. Minnesota Vikings (via trade w/ SF): Jeff Gladney, CB, TCU
Cornerback was a popular position mocked to the Vikings with their first pick in Thursday's opening round, but after landing their ideal choice at WR at No. 22, Gladney became a shoe-in at No. 31. Gladney's name was gaining traction over the last couple of weeks as one of the top corners in the draft, so landing him at No. 31 is a solid pick for the Vikings as their secondary desperately needs help after losing Xavier Rhodes and Mackensie Alexander earlier this offseason.
Grade: B+
32. Kansas City Chiefs: Clyde Edwards-Helaire, RB, LSU
Wow. The first running back off the board goes with the final pick of the night, and it's not D'Andre Swift or Jonathan Taylor. However, the pick makes sense from a scheme standpoint as CEH is not only impactful as a runner, but is probably the draft's best pass catcher out of the backfield. While this pick is a surprise, given the amount of hype surrounding Swift and Taylor, it makes sense for the Chiefs as Patrick Mahomes gets yet another weapon to utilize in both the pass and run game.
Grade: B
Let us know your thoughts on the first round in the comments below!
Ben Morgan is a co-host and blogger for the Loaded Box Podcast. Check out his article archive and find more from the Loaded Box on Twitter & Facebook