For the third straight season we've gathered 32 of our favorite people from around the industry to take part in our annual 32-person, first-round mock NFL Draft.
We've linked you to the Twitter page of each selector, so feel free to let them know what you think about their pick, or leave us your thoughts in the comments section below.
Here it is… your favorite mock draft of every offseason!
1. Cincinnati Bengals: Joe Burrow, QB, LSU
Pick made by Matt Minich of Cincy Jungle
Burrow flashed on tape early in the season and continued to show improvement throughout the year. He is an incredibly accurate passer with the ability to create big plays after the initial play has broken down. Burrow will make the Bengals competitive for years to come, and if they can build around him, they will be legitimate Super Bowl contenders.
2. Washington Redskins: Chase Young, EDGE, Ohio St.
Pick made by Zach Hicks of Stampede Blue
Washington is in the beginning of a rebuild and do have a nice young foundation in Dwayne Haskins, Derrius Guice and Terry McLaurin. The focus early in this rebuild though should be to just add talent and that's what they do here. Young is the top defender in this class with high-end potential at the next level. Adding Young is the first step in fixing Washington's defense.
Listen to Zach preview the top RB's in the 2020 NFL Draft!
3. Detroit Lions: Jeff Okudah, CB, Ohio St.
Pick made by Ryan Miner of Loaded Box
This is an easy pick, in my opinion, because once the Lions traded away Darius Slay, the position of cornerback became a very pressing need. I actually feel like the Lions would benefit greatly by trading out of this pick and attempt to draft Okudah at some point later in the top 10. Sure, signing Desmond Trufant helps, but their No. 2 cornerback position is wide open and Okudah fits it perfectly. Plug in the Ohio St. corner – and finally – the Lions start out the draft doing something right.
4. New York Giants: Isaiah Simmons, LB, Clemson
Pick made by Matt Hicks of The Dynasty Draft Room
Simmons is a versatile athlete that can help out in coverage and in the box – a much-needed skillset in the Giants' porous defense. Although the narrative here is offensive tackle, Dave Gettleman has never used a top pick on an offensive tackle. Instead, look for Gettleman to target Cesar Ruiz or Austin Jackson at the top of the second round; similar to his selection of guard Will Hernandez in the 2018 NFL Draft where he used his top selection on running back, Saquon Barkley.
Listen to Matt preview the top QB's in the 2020 NFL Draft!
5. Miami Dolphins: Tua Tagovailoa, QB, Alabama
Pick made by Matt Infante of Pro Football Network
There are so many draft analysts now starting to say that the Dolphins might prefer Justin Herbert to Tagovailoa that it almost seems like a smokescreen. In fact, local Miami papers have written stories recently claiming the Dolphins love Joe Burrow, and Herbert, and even Jordan Love. But not much about Tua since the season ended. Sometimes it's what you aren't hearing that matters most. In the end, I expect the Dolphins to make the pick that they have been waiting to make for over a year, and that is Tua Tagovailoa.
6. Los Angeles Chargers: Justin Herbert, QB, Oregon
Pick made by Paul Alan
The Chargers need to take full advantage of their sixth-overall pick, and have the opportunity to draft their next franchise quarterback without having to trade up. At 6'6″, 236 lbs, Herbert provides the Chargers with prototype size, elite arm strength and underrated athleticism that will allow him to threaten defenses in a variety of ways. Herbert throws well on the move, knows how to sell play-action and will have no shortage of weapons at his disposal in Los Angeles.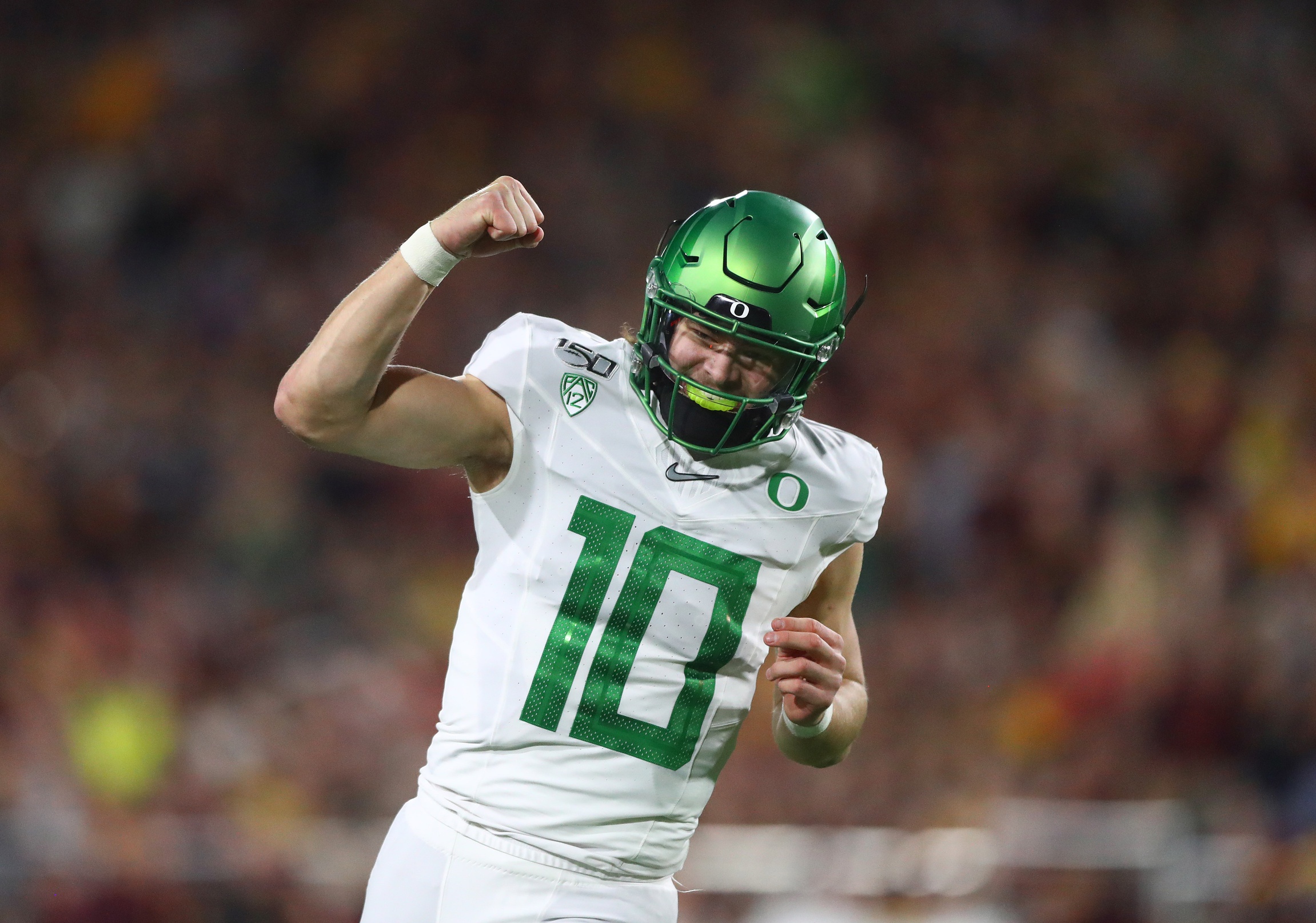 7. Carolina Panthers: Jedrick Wills, OL, Alabama
Pick made by Mikey Ostrowski of Loaded Box
If Carolina can't land Isaiah Simmons here, I'd like them to trade down. However, I wouldn't be disappointed if they came away with the best offensive lineman in the draft. I'm not sure who the Panthers' quarterback of the future is going to be at this time next year, but one thing is for sure – Carolina has to protect him more than it protected Cam Newton. Wills is an NFL-ready lineman that'll be able to help keep Teddy Bridgewater on his feet in 2020.
8. Arizona Cardinals: Tristan Wirfs, OL, Iowa
Pick made by DJ Premo of Loaded Box
Sure the Cardinals could have gone defense, but that does not seem to be the direction they are going right now. Their main focus is improving the important pieces around Kyler Murray. They have done a great job adding players at skill positions with DeAndre Hopkins, Kenyan Drake and drafting a young, talented wide receiver a couple of years ago in Christian Kirk, but all of that means nothing if Murray doesn't have time to get the ball out to these weapons. Protecting Murray is the priority.
9. Jacksonville Jaguars: CeeDee Lamb, WR, Oklahoma
Pick made by John Shipley of Jaguar Report
The Jaguars need a consistent player across from D.J. Chark, even if the value isn't great at No. 9 overall. Derrick Brown isn't enough of an impact player against the pass to be considered here, so we went with a playmaker to add to Gardner Minshew's arsenal. The defense needs a lot of work, but Lamb is the best of a difficult circumstance in terms of value and skill.
10. Cleveland Browns: Mekhi Becton, OL, Louisville
Pick made by Ben Morgan of Loaded Box
The free-agency signing of Jack Conklin was a nice start, but last time I checked, you start five offensive lineman. Enter Mekhi Becton, who several draft analysts believe will be the first offensive lineman off the board. With Becton falling to 10, the Browns solidify their tackle positions for the foreseeable future, and finally give Baker Mayfield the protection he needs to get the most from his playmakers. Becton isn't the sexiest name in the top 10, but we've seen the Browns shoot for sexy in the past, and look at how that's turned out. I don't mind the Browns trading back from No. 10 if they aren't in love with one specific player, but I also don't see them passing on the athletic Becton if he's available.
11. New York Jets: Jerry Jeudy, WR, Alabama
Pick made by Eliot Crist
Jeudy is an elite route runner, creates excellent separation, and is electric after the catch with his start and stop ability. Jeudy, often compared to Odell Beckham, gives the Jets a top-end receiver, which they haven't had since the Keyshawn Johnson days. Tackle is a big need as well, but with the top-three tackles off the board, the Jets took an elite player at a position they are desperate for.
12. Las Vegas Raiders: Henry Ruggs, WR, Alabama
Pick made by Mitchell Renz of Chat Sports
The Raiders' biggest need is wide receiver, and even though it wasn't easy passing on Derrick Brown, giving Derek Carr a No. 1 wide receiver with elite speed seemed like the best option for the Las Vegas Raiders. If you want an NFL comparison for Ruggs, the one I've said on my show, The Las Vegas Raiders Report, is Brandin Cooks.
Listen to Mitchell preview the Raiders offseason/draft plans!
13. San Francisco 49ers: Andrew Thomas, OL, Georgia
Pick made by John Chapman of 49ers Rush Podcast
The 49ers have a rare chance of picking in the top half of the first round. Joe Staley is turning 36 this year, and if Kyle Shanahan wants the future of his offense to keep running smoothly, then a premier left tackle is what is needed. Thomas can play guard in year one and then slide over to tackle when Staley, the best offensive lineman in 49ers' history, hangs up his cleats.
Listen to Part 1 & Part 2 of John previewing the top WR's in this year's draft!
14. Tampa Bay Buccaneers: Xavier McKinney, S, Alabama
Pick made by Ian Glendon of Full Press Coverage
With the "big four" tackles off the board the Bucs can head in one of several directions. They could attempt to trade back in the first and grab a second-tier lineman, reach for a running back, or in this scenario, select the best safety in the draft to bolster a secondary that is in need of some playmakers. McKinney is that safety. With a high football IQ, and a knack for finding the ball, McKinney would instantly help sure up the weakest part of the Buccaneers' defense.
15. Denver Broncos: Kenneth Murray, LB, Oklahoma
Pick made by John Hogue of The SuperFlex SuperShow
The biggest positions of need for the Broncos – a perimeter wide receiver opposite Courtland Sutton, and a left tackle for blindside protection for QB Drew Lock – both saw heavy runs in the top-14 picks, giving Denver and GM John Elway an opportunity to fill a void on defense. The offense, with presumed franchise QB Lock as the centerpiece, has been the story of the offseason. But head coach Vic Fangio has quietly built a championship-quality defense as well, with the additions of CB A.J. Bouye and DT Jurrell Casey. Fangio still lacks the ballhawking, run-stuffing interior linebackers that he featured in his Chicago Bears defenses, however. Enter Kenneth Murray, the speedy, athletic inside linebacker from Oklahoma. He's a rich man's Danny Trevathan, with elite burst and speed to go along with instinctive play recognition that keeps him in position to make a play from sideline-to-sideline. With linebacker size but defensive back speed, Murray fits perfectly into Fangio's joker-style defense, with versatile athletes rotating positions pre-snap. His speed and acceleration allow him to drop into coverage or add to an already ferocious pass rush on passing downs. While the fantasy football universe mourns a missed opportunity of CeeDee Lamb, Henry Ruggs or Jerry Jeudy joining an already explosive offense, the Broncos get the perfect defensive playmaker to complete the Fangio-built and led iteration of the Orange Crush and No Fly Zone defenses.
16. Atlanta Falcons: C.J. Henderson, CB, Florida
Pick made by Andrew DiCecco of Pro Football Network
With Desmond Trufant gone, the Falcons need a strong partner opposite Isaiah Oliver. Henderson, widely regarded as the second-best cornerback in this class, will be an instant plug-and-play addition. The rangy perimeter defender gives the Falcons a cover man with plus ball skills and the ability to turn and run with receivers of all shapes and sizes.
17. Dallas Cowboys: Javon Kinlaw, DT, South Carolina
Pick made by Kevin Hanson of Sports Illustrated
While Dallas bolstered its interior defensive line by signing Gerald McCoy and Dontari Poe in free agency, the team lost Maliek Collins and second-rounder Trysten Hill had a disappointing rookie campaign. It's unlikely that the Cowboys will have their choice of interior defenders at No. 17, but the team could prefer Kinlaw over Derrick Brown due to his pass-rushing upside. Kinlaw has an enticing blend of size, length, strength and quickness and played some of his best football against his toughest competition.
18. Miami Dolphins: Derrick Brown, DL, Auburn
Pick made by Chad Forbes
Brown is already an elite run stopper with upside as a pass rusher from the interior. He delivered a very impressive senior season at Auburn and is one of those unique defensive tackles that has the ability to reset the line of scrimmage. Don't overthink it, draft Brown here as the best player available.
19. Las Vegas Raiders: Jaylon Johnson, CB, Utah
Pick made by Raider Cody of Raider Cody Podcast
Johnson is a highly underrated corner with arguably the most athleticism at his position in this class (behind Okudah). He'd fill the Raiders' biggest need on the roster and fit the bill to line up opposite of Trayvon Mullen. His 15 pass breakups, six interceptions and two INT's returned for touchdowns over the last two seasons is huge.
20. Jacksonville Jaguars: Patrick Queen, LB, LSU
Pick made by Kris Hopper of Beer Fueled Fantasy Podcast
With the emergence of D.J. Chark and Gardner Minshew on offense, the Jaguars opt for defense here. Queen emerged during LSU's national title run as a linebacker with good speed and instincts, and helps fill a need next to Myles Jack in the Jaguars' linebacking corps.
21. Philadelphia Eagles: Denzel Mims, WR, Baylor
Pick made by Kyle Bennett of Underground Sports Philadelphia
The Eagles desperately need a wide receiver to grow with Carson Wentz and add to this offense. Mims has shown he has what it takes to perform at the next level with pure talent, speed, great hands, and fits perfectly with Doug Pederson's offense.
22. Minnesota Vikings: A.J. Epenesa, EDGE, Iowa
Pick made by Zack Patraw of The Dynasty Draft Room
I'm picking Epenesa here, and there might be some gruff about it, but I'm happy with this pick if the Vikings make it. The Vikings are in need of another edge rusher opposite Danielle Hunter. The Hunter/Everson Griffen duo was phenomenal when they were on the field together, and losing Griffen may be a bigger deal than Vikings fans anticipate. Epenesa has a similar game to Griffen in the sense that they both bring a lot of power to their game. He should fill in seamlessly with the departure of Griffen.
Listen to Zack preview the top edge rushers in the 2020 NFL Draft!
23. New England Patriots: K'Lavon Chaisson, EDGE, LSU
Pick made by Andrew Erickson of Gridiron Experts
The Patriots could use a pass rusher to further bolster their defense in 2020. Kyle Van Noy had a career-high 6.5 sacks last year, so they will need to find players to replace that production. Chaisson is a dynamic player that Bill Belichick can move around on his defense and he can already play against the run, which is a plus. He was a captain at LSU, who was littered with NFL talent. Chaisson also wore number "18" at LSU, which has a tradition behind it of recognizing players with leadership skills. He sounds like a Patriot to me.
24. New Orleans Saints: Jeff Gladney, CB, TCU
Pick made by Nate Williamson of FanSided College
This pick, though not one that is typically made for the Saints here in the first round, not only serves to function as an immediate-impact pick to pair with the current cornerbacks on the roster, who have been prone to mistakes, to say the least, but it also builds for the future. With Marshon Lattimore going to be eventually due a large contract (which they will likely choose to pay), and Janoris Jenkins now 31 years old, you'll have a potential top corner, or at least a solid contributor, on a rookie contract moving forward. The corner class is deep, and the Saints have other needs like linebacker and wide receiver, but these two classes are arguably even deeper heading down the board, and the Saints get a value pick here late in the first, with room to work with the rest of their picks.
25. Minnesota Vikings: Trevon Diggs, CB, Alabama
Pick made by Dan Thury of Beer Fueled Fantasy Podcast
The popular pick here would be a wide receiver, but with great depth, the Vikings will opt to pair an upside CB with their pick at No. 22, A.J. Epenesa. Diggs has the size and length that Mike Zimmer loves, and he will be the perfect replacement for Xavier Rhodes.
26. Miami Dolphins: Josh Jones, OT, Houston
Pick made by Ian Wharton of FanSided
Miami did as well as it could with a makeshift offensive line last year, but they need real talent for the long term. Jones has the tools to become a great left tackle in the NFL, which is one of the team's biggest needs.
27. Seattle Seahawks: Yetur Gross-Matos, EDGE, Penn St.
Pick made by Andy Patton of The Seahawks Wire
The Seahawks, regardless of whether they re-sign Jadeveon Clowney or not, are in desperate need of some help rushing the passer. Gross-Matos is a polished edge rusher who put up big numbers in college, and would give Seattle an immediate boost on the outside.
28. Baltimore Ravens: Justin Jefferson, WR, LSU
Pick made by Ryan Cearfoss of Going For 2
The Ravens taking Justin Jefferson gives them a high quality slot receiver. Jefferson potentially has the best hands in the draft and brings down everything thrown his way. This mixed with his ability to get open will make him a great safety blanket for Lamar Jackson. Jefferson did well for himself at the combine to go with his outstanding production last season, solidifying himself as a top-five receiver in the class.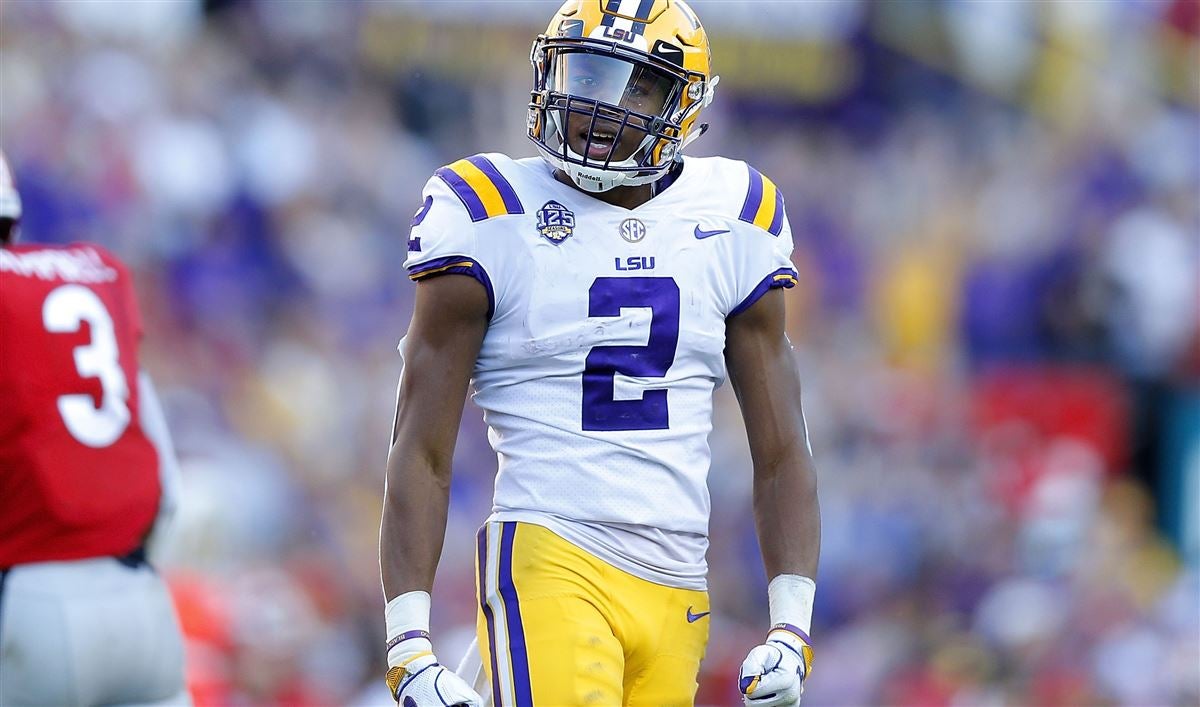 29. Tennessee Titans: Austin Jackson, OL, USC
Pick made by Walter Cherepinsky of Walter Football
The Titans were able to reach the AFC Championship by bullying their opponents in the trenches. It'll be difficult to do that with Jack Conklin and Jurrell Casey both gone, so the team needs to find some reinforcements in the 2020 NFL Draft. The best player to replace either player is Austin Jackson, who can slide into right tackle immediately to help Derrick Henry potentially repeat as the NFL's rushing champion.
30. Green Bay Packers: Brandon Aiyuk, WR, Arizona St.
Pick made by Jake Schyvinck of FanSided
The board plays out rough here for the Packers, and if this is truly how it goes down, I could see a trade back. However, there's no doubt wide receiver is a big need. While Aiyuk needs to work against press coverage, his speed to threaten vertically and his abilities after the catch are much needed in Green Bay right now. He's also got nuance as a route runner and has a large catch radius. Aiyuk would be a nice pair with Davante Adams.
31. San Francisco 49ers: Kristian Fulton, CB, LSU
Pick made by Geoff Lambert of Going For 2
A big position of need for the 49ers is cornerback. Richard Sherman had an excellent season in 2019, but he was exposed in the Super Bowl. Fulton won't need to come in right away and be a starter, but if his number is called, he has the skills to be a top-end corner in this league. Fulton was a bit of a late bloomer due in large part to his 2017 suspension, but the 49ers will jump at the chance to add him to an already stellar defensive unit.
32. Kansas City Chiefs: Jonathan Taylor, RB, Wisconsin
Pick made by Andy Singleton of Expand the Boxscore
The most likely scenario is the Chiefs trade this pick for more draft assets, considering they currently only have five picks in this year's pool. If they were to hold onto it though, the defending Super Bowl champions could make a booming splash by taking the insanely productive Taylor, who is now considered to be the best running back in the class. They watched the impact their division-rival Raiders were able to make by taking Josh Jacobs last year, and Andy Reid would have arguably his most versatile ball carrier ever to add another dimension to this potent offense.
Take a look at our other most-recent mock drafts:
Podcast: 2020 NFL Mock Draft w/ Loaded Twist
2020 NFL Mock Draft Version 4.0
Ben Morgan is a co-host and blogger for the Loaded Box Podcast. Check out his article archive and find more from the Loaded Box on Twitter & Facebook