What up NFL lovers?!?!? Last week I was preparing for a monster of a Hurricane. Always scary. I won't bore you with details. But I did about 420 mock drafts while praying it didn't hit us.
Side note: I'm Matt DeFalco, a 42 year old strip club manager and sports-loving degenerate gambler. Played most sports till my mid 30's and now I coach/play fantasy football. If loving sports is wrong I don't wanna be right.
We'll get to know each other more in the future. As for now, let's get Tropical.
Week 1 of EVERY football season has a large mix of fake gold. I'll put it this way. You can't play two series in the entire preseason and expect to just sync up in week one for four quarters.
The Green Bay/Chicago game is a great example. I believe that both teams will be offensive power houses. They just weren't ready for Week 1. A sad product we as fans have to endure for the first couple weeks.
Of course it's not all teams. Did you see the Patriots? Tom Brady played three quarters in his last preseason game (Yeah, I'm a Pats fan, sorry, I was born in Boston). Bottom line, PLAY STARTERS IN PRESEASON!!!!!
A big thank you to Ben Morgan for covering me last week. With that being said, let's get ready to rock n roll, Week 2 style.
Click HERE to get entered to win our Amari Cooper signed mini helmet, and enter registration code LOADED at pristineauction.com/register to get $5 added to your Pristine Auction account!
Kansas City Chiefs @ Oakland Raiders
Sunday, September 15 @ 3:05pm CST
Is it possible for Patrick Mahomes to be better this season? I was blown away by how well he played last week after spraining his ankle. He even did a no look pass to Travis Kelce in the end zone. Missed it, but man did he look like he was playing against children.
I'm curious to see what this offense evolves into while Tyreek Hill is out. Sammy Watkins is back to his No. 1 WR ways. One could argue they might even be better with Watkins as the No. 1. But Hill really accounted for a lot of the spacing for KC. They have depth and great coaching, let's see if they lose a step.
The KC defense isn't any better this year. Still the same flaws as last season. They'll need to keep up the high-octane offense.
Sadly for the Raiders, Jonathan Abram, their 27th overall pick, and starting safety, will undergo shoulder surgery. He'll likely miss the remainder of the season. A large blow to the Raiders defense.
I'm intrigued and impressed with the Raiders; even with all the drama surrounding this franchise for the last few weeks. The offense looked balanced and Derek Carr looked great. Tyrell Williams is definitely a No. 1 WR.
It's only Week 1 but the Raiders already look much better than last season. Darren Waller is my sleeper TE for a top-five finish. Kid does it all and does it well. And I can't forget my fantasy RB, Josh Jacobs. Oh yeah!!!! Jacobs looked good and loved him telling coaches to feed him.
This game should be a shootout. With both secondaries in rough shape, this could come down to who has the ball last. Slight edge goes to KC. Not sure how the Raiders' D will adjust without Abram.
Minnesota Vikings @ Green Bay Packers
Sunday, September 15 @ 12pm CST
Kirk Cousins attempted 10 passes last Sunday. Yes, 10 passes and a W. They barely went into the playbook, which will make Green Bay's week harder when it comes to preparing.
Cook ran the ball extremely well. The defense took a hit with a few injuries. They'll move some guys around and try to weather the storm. Facing Aaron Rodgers is always a great barometer for how good your D is. They'll have a tough task at hand in Lambeau for the Packers' home opener. But I do love this offense.
The only problem for the Vikings' offense this week…. The NEW and tough Green Bay defense. They've added some guys via free agency and through the draft, who seemed to play well with each other last week.
The Bears couldn't do much on offense. Credit to this fast and hard hitting D. Give Rodgers a defense and you're looking at a very tough team to beat. The offense didn't play well last week but made enough plays to win the game, which is all you need when your defense plays the way they did. I wouldn't count on Green Bay's offense being that mediocre every week. This is my game of the week. Should be fun to watch.
New Orleans Saints @ Los Angeles Rams
Sunday, September 15 @ 3:25pm CST
The rematch from last year's NFC Championship game. The one that incidentally ended in controversy.
I feel that the Saints may be one of the best and most consistent teams (besides the Patriots) in the NFL. And lets face it, they lost two playoff games in back-to-back seasons that they easily should have won. Last year's could have sent them to Super Bowl.
The Saints have had this game circled on the calendar all summer. Drew Brees speaks very highly of the Rams defense, and rightfully so. Teams usually have to double Aaron Donald so it'll be interesting to see how they handle the front four to give time for Brees to do his thang.
Alvin Kamara is in my mind the best RB in the game. He can do sooo many different things. I'm extremely impressed with his skillset. This offense is explosive and well balanced. As good as the Rams are, they'll have to play very well to keep the New Orleans offense at bay.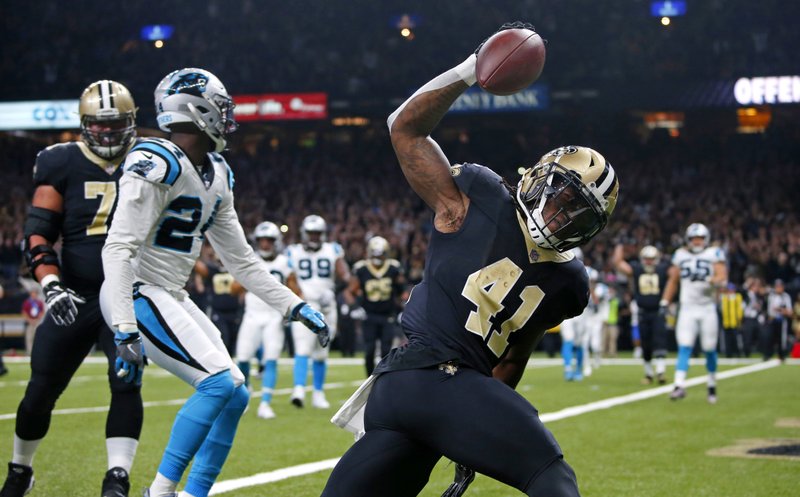 The Rams' defense speaks for itself. We know that. But what about this offense?
I watched the Super Bowl highlights. One thing that stood out from the game was Sean McVay praising Bill Belichick pre game, talking about everything he learned about what the Patriots do on offense.
As a fantasy football guy, we've all been wondering about Todd Gurley. In my opinion, I feel McVay will start to mirror what New England does, switching the RB in and out and throwing out different looks and formations.
After last week it's clear that RB's and TE's will be flipped and flopped around. I love McVay as a coach. Looking forward to watching this game.
Jared Goff and that receiving core are fun to watch. Usually Week 2 is where a lot of rust comes off. Let's see what they do this week against another defense that has gotten better since last season.
Be sure to check out the latest episode of the Loaded Box Podcast as the guys preview Week 2 in NFL with their fantasy football advice episode!
Matt DeFalco is a featured blogger for the Loaded Box Podcast. Check out his article archive and find more from the Loaded Box on Twitter & Facebook!