Wow, was Week 15 full of injuries – typically a bad thing when it comes to fantasy football – but that's the beauty of daily fantasy as you have the luxury of altering your lineup weekly.
And now this week you get a fresh start again. But before we dive into Week 16's bargains, let's take a look at the perfect Draftkings lineup from Week 15:
QB: Matt Ryan, $6,100
RB: Derrick Henry, $5,000
RB: Joe Mixon, $6,100
WR: Robert Foster, $4,300
WR: Kenny Golladay, $5,400
WR: Davante Sdams, $7,900
TE: Evan Engram, $4,100
FLEX: Dalvin Cook, $6,500
DST: Atlanta Falcons, $2,700
Looking at this, it's a very interesting lineup and I can't find anyone who actually had this lineup because, well, who's trotting out Robert Foster, Kenny Golladay and Evan Engram in the same lineup?
Davante Adams is a player who is always in lineups because he has been a top wide receiver week-in and week-out. Joe Mixon was an easy player to put into lineups as he was projected to smash against the Oakland Raiders, and that he did finishing with 30 points. However, DraftKings got wise on him this week as he is now $1,000 more at $7,100.
And a lot of people had a good feeling about Dalvin Cook last week as we all thought he was due for a big game eventually. Especially against the Miami Dolphins who have been struggling against running backs the entire season as he finished with 32.2 points for the week.
Let's jump into Week 16 and get you prepared for some bargain plays for those lineups!
Nick Foles, Quarterback, Philadelphia Eagles ($4,700)
It's hard to believe but it feels like Foles is back in the limelight and this is his opportunity to get the Eagles into the playoffs as they are fighting to stay in the hunt for the postseason. Last week Foles went into Los Angeles and beat the Rams, 30-23, going 24-of-30 for 270 yards, but no touchdowns and one interception. It was a pretty solid performance as all fantasy experts were saying only to start Zach Ertz (3/22) and leave Alshon Jeffery (8/160) on the bench. How'd that work out? Now we get Foles at home in a must-win game to keep their playoff hopes alive. I expect Foles to do what he needs to do this week at home against the Texans, who have been giving up an average of 23 points over the last two games, as prior to last week's game against the Jets they allowed Baker Mayfield to throw for 397 yards in Week 14 just be followed up by Andrew Luck and his 399-yard performance. Foles is a nice cheap option to build around if you're looking to incorporate one of the cheapest starting quarterbacks.
Elijah McGuire, Running Back, New York Jets ($4,700)
What do two teams who are out of playoff contention have in common? Well in this week's game between the Jets and Packers it's that they are both playing backup running backs. I like McGuire this week as he's been averaging 17.5 carries over the last two games since becoming the starter. Might as well see what you got in the young kid and this might be the last week to take advantage of this low-cost, bell-cow running back. McGuire has the potential to be a week-winning bargain upside play.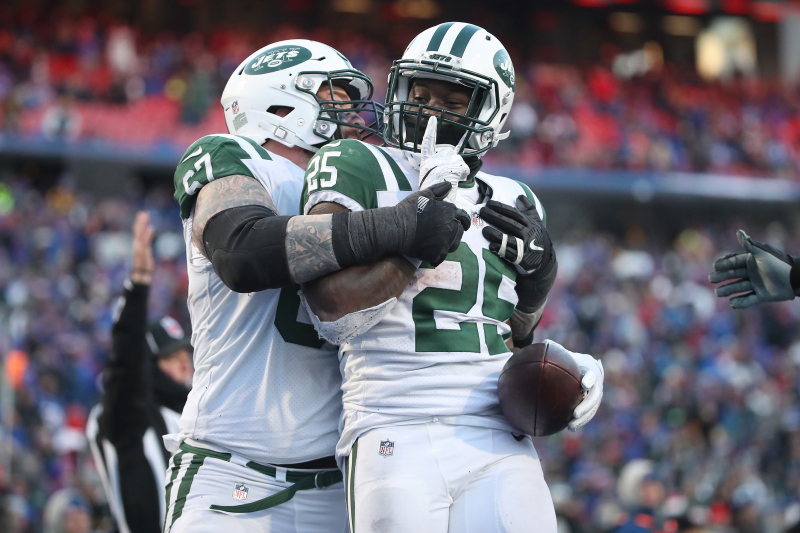 Jordan Howard, Running Back, Chicago Bears ($4,300)
Yes, I know Howard has been a bust the majority of this season as Tarik Cohen has been the back to own from the Chicago Bears. This week he gets a San Francisco team who has been "solid" against the run allowing 4.1 yards per carry, but have no fear using Howard this week as they just gave up 119 yards and a touchdown on the ground to Chris Carson. The Chicago Bears are shooting to get that top overall seed in the NFC playoff picture as the Los Angeles Rams have now lost two in a row and are fighting to be one of two teams to get a first-round bye. If this game becomes a shootout I could see Cohen being a nice RB2 at $6,400, but when I see a running back getting carries in the 16-20 range, I want them, and this week that will continue to be Howard.
Josh Reynolds, Wide Receiver, Los Angeles Rams (4,600)
8, 5, 7 and 12. What is this? Targets! Reynolds led the Rams last week in targets hitting the double-digit mark for the first time this season. With the Rams going to Arizona, I can see Patrick Peterson trying to shutdown the combination of Robert Woods and Brandin Cooks, which leaves Reynolds as the receiver who may benefit the most. With that being said, if I'm picking a Rams' wide receiver this week, give me the cheap, guilt-free one in Reynolds as he continues to try and fill that Cooper Kupp role (can we say it's noticeable?).
Tre'Quan Smith, Wide Receiver, New Orleans Saints ($4,000)
The Saints just haven't been the same offensively since their Week 13 loss to the Dallas Cowboys. Drew Brees hasn't thrown for over 204 yards since Week 11 and hasn't had a multi-touchdown week since Week 12. Snap out of it Saints! You hold first place and you have a Pittsburgh Steelers team who is coming in after a big victory over the Patriots. I feel this is going to be the get-right game for the Saints and a nice rebound for third-round pick, Tre'Quan Smith. He hasn't done much since Week 11, which goes for several Saints' players, as games were either close and lower scoring, or Brees was handing out touchdowns to a bunch of undrafted players. The Steelers will be doing everything they can to shut down Michael Thomas, which should leave the speedster in Smith facing a lot of single-coverage looks and hopefully breaking off a long TD. With his speed, Brees will know how to get him the ball. This will be a get-right game for all Saints players, and Smith will for sure be a beneficiary to it at this affordable price.
Antonio Callaway, Wide Receiver, Cleveland Browns ($3,900)
What's better than playing a crappy defense? Getting to play them at home! The last time Cleveland played Cincinnati, Callaway had four catches for 62 yards and a touchdown on five targets. Callaway has been up and down this year as a rookie, but more often than not he sees a nice amount of targets. Some might think this will be a Jarvis Landy ($6,200) week, but that's just too rich for my blood – you're just paying more for the name on this. Grab Callaway against this 28th-ranked pass defense as he's a great candidate for some nice return on investment. Book it!
Cameron Brate, Tight End, Tampa Bay Buccaneers ($3,900)
It seems like all this guy does is catch touchdowns every other week. Last week he didn't score, this week he is due against the Dallas Cowboys, who as a defense, are tied with the Cincinnati Bengals for giving up the third-most receptions to the tight end position with 77. This will be Brate's get-right game as like most tight ends not named Zach Ertz, Travis Kelce, George Kittle or Eric Ebron are very touchdown dependent. Brate's in line to get his this weekend.
Browns DST ($3,000)
The Bengals are without Andy Dalton, A.J. Green and now Tyler Boyd. The Browns are playing some of their best football at the right time and are still playoff eligible (well at least mathematically). This defense hasn't exactly been lights out, but they should be good enough against Jeff Driskel and whoever he plans on throwing to outside of Joe Mixon.
Want more DFS talk? Be sure to check out the latest episode of the Loaded Box Podcast as the guys give their Week 16 stacks, bargains and advice for those FanDuel & DraftKings lineups!
Ryan Miner is a featured blogger for the Loaded Box Podcast. Check out his article archive and find more from the Loaded Box on Twitter & Facebook