Last week was just one of those weeks in fantasy football that you just want to forget about and pretend never happened.
At least that's how we (Ryan & Ben) felt as our daily fantasy sports stacks never even gave our lineups the opportunity to succeed as Ryan's stack of Andrew Luck and T.Y. Hilton never got off the ground as the Colts failed to put a single point on the scoreboard, while Ben's Case Keenum/Emmanuel Sanders stack didn't do much better as Keenum threw for less than 200 yards and a single touchdown while Sanders caught four passes for under 20 yards.
With last week being a total wash, each contributor to this article still has one victory to their name, so hopefully someone can take the lead after this week. So read through both opinions on this week's selections and be sure to vote for the stack that you prefer by clicking on the tweet below!
Here are this week's nominees:
Ben's Stack:
Philip Rivers ($8,300 FanDuel; $6,500 DraftKings) / Keenan Allen ($7,900 FanDuel; $7,400 DraftKings)
This week sets up well to use an expensive quarterback and surround him with bargain options. There are juicy matchups across the board. From the Chargers' stack that I'm going with, to the Steelers against the Raiders, to the Saints against the Buccaneers, I believe the best DFS strategy this week is to use a fairly expensive stack and then fill in the gaps with you favorite bargain plays.
Here are some reasons why I'm going with the Rivers/Allen stack this week over the other expensive options.
You couldn't ask for a better opponent to face this week as the Chargers face the Bengals and their 31st-ranked pass defense. While the Bengals held Keenum and Sanders in check last week, the Broncos were able to get it done on the ground as Phillip Lindsay stole the show from a fantasy perspective with 157 rushing yards and two touchdowns.
The difference between the Chargers and the Broncos, however, is that leading RB Melvin Gordon is out once again this week, and the Chargers haven't really got their running game going since he's been out. Also, even when Gordon was healthy putting up RB1 numbers, Rivers was still living up to his DFS price as he's been a consistent play all season averaging over 20 FanDuel points per game.
Another nice bonus of using Rivers is the fact that he's consistent with his touchdown production. He's thrown at least two touchdown passes in every game this season including four three-TD performances.
When it comes to deciding which player to stack with Rivers the answer is pretty obvious. Has there been a better receiver than Allen over the last five weeks? If so, please point him out so I can get him added to this week's lineup!
He's averaging nearly 20 FanDuel points per game over the last five weeks including a 30-point performance last week against the Steelers' seventh-ranked pass defense.
Allen was on a dry spell when it came to scoring touchdowns as he was held scoreless for seven straight games after finding the endzone in Week 1. However, he's recorded a touchdown in each of the last four games and he's been the king of volume over the last five weeks averaging just over 11 targets per game.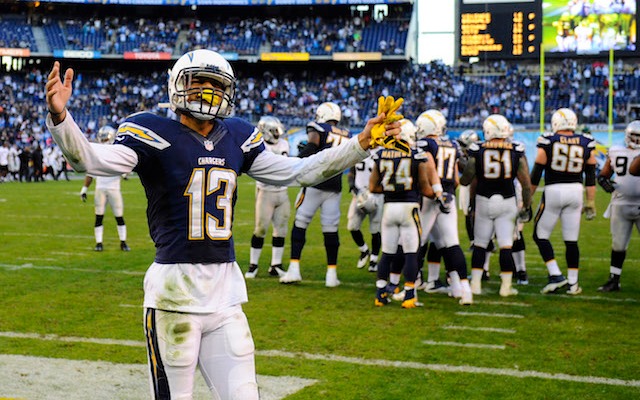 Late-season surges are nothing new to Allen as he had a similar pattern in stat accumulation last year when he recorded five of his six touchdowns in the last seven weeks of the season. There's no such thing as a guarantee when it comes to fantasy football – and don't let anyone trick you into believing there is – but I'm willing to spend a large percentage of my DFS salary cap this week on this Chargers' stack.
Playing this duo still allowed me to use one of my favorite running backs this week in Lindsay, and I filled in the rest of my lineup with average-priced/bargain-priced plays including Mark Ingram, Adam Humphries, D.J. Moore, Tre'Quan Smith and Rob Gronkowski.
Sample FanDuel Lineup:
QB: Philip Rivers, $8,300
RB: Phillip Lindsay, $7,900
RB: Mark Ingram, $6,600
WR: Keenan Allen, $7,900
WR: Adam Humphries, $6,500
WR: D.J. Moore, $6,300
TE: Rob Gronkowski, $6,200
FLEX: Tre'Quan Smith, $5,700
D/ST: Buffalo Bills, $4,200
Get signed up for our latest giveaway – a signed Davante Adams mini helmet – sponsored by Pristine Auction!
Ryan's Stack:
Matt Ryan ($8,200 FanDuel; $5,600 DraftKings) / Julio Jones ($8,400 FanDuel; $7,900 DraftKings)
This stack this week just feels like highway robbery to me so I'm definitely playing it this week. Not to say that I don't play my stacks because, well I do. This week I just feel really good about this one as it's just too hard to pass up with the "elite" options that I am able to get into it.
Matt Ryan is coming in averaging 24.2 DraftKings points, which is third behind Patrick Mahomes ($7,000) and Ben Roethlisberger ($6,800). Now he goes into Lambeau Field against a Packers team that hasn't exactly lived up to expectations this season so this game just screams possible shootout as the Packers are in the bottom third of the league in pass defense.
Julio Jones is coming off his worst game of the year as he saw his lowest amount of receptions and yards since Week 5 (5-62). He was targeted eight times last week and finished with two lonely catches for a forgettable 18 yards.
For a guy who has averaged 123.5 yards since Week 6, Jones is coming in as the sixth-most expensive WR on DraftKings. That's so laughable. The guy has one bad week and drops $600, and gets the Green Bay Packers? I'll take advantage of this opportunity as the Packers have given up 13.5 yards per reception and 17 touchdowns to wide receivers this season. Jones is just an easy play.
Now I wanted to have a fun lineup here and get a few solid studs to put around my QB/WR stack, giving me the low-basement, high-potential plays in Robert Foster and Frank Gore.
People will be putting Zay Jones in their lineup after seeing how him and Josh Allen are connecting. Also, Kelvin Benjamin and Andre Holmes were released this week, which should easily make Forster the WR2 for Buffalo. With his speed and Allen's cannon of an arm, a long touchdown could be in store for the undrafted rookie.
Now Gore just won't give up. The 35-year-old ageless wonder has been having a good, yet quiet season with 616 yards and one touchdown. If he had the touchdown total of teammate Kenyan Drake, just imagine what his fantasy value would be on this Miami Dolphins team. Gore was averaging 13 carries a game from Weeks 4-12 and now he gets the New England Patriots at home in a division rivalry. I would expect Gore to get back to double-digit carries and a touchdown, returning a nice value at his $3,300 price tag.
Now here is the fun part of my lineup. By going with those cheaper options that I talked about above, I was able to get a trio of studs in Alvin Kamara, David Johnson and Travis Kelce.
Kelce is basically a top-10 wide receiver with a TE tag. He was an easy add for me this week as the Kansas City Chiefs are pass happy as their run game isn't what it was a couple of weeks ago.
The final fill in for my wide receiver slot was Kenny Golladay. Sure, he will be getting Patrick Peterson this week, but Golladay has four inches on him and Peterson is past his prime. Plus getting a discounted value on a receiver who has been targeted an eye-popping 44 times over the last four games makes that volume not hard to fit into my lineup.
Sample DraftKings Lineup:
QB: Matt Ryan, $5,600
RB: Alvin Kamara, $8,100
RB: David Johnson, $6,500
WR: Julio Jones, $7,900
WR: Kenny Golladay, $6,400
WR: Robert Foster, $3,300
TE: Travis Kelce, $6,700
FLEX: Frank Gore, $3,300
DST: Cleveland Browns, 2,200
Be sure to check out this week's episodes of the Loaded Box Podcast as the guys preview the upcoming fantasy football week with their daily fantasy sports stacks, bargains and advice to go along with their weekly against the spread gambling advice!